2023 inductees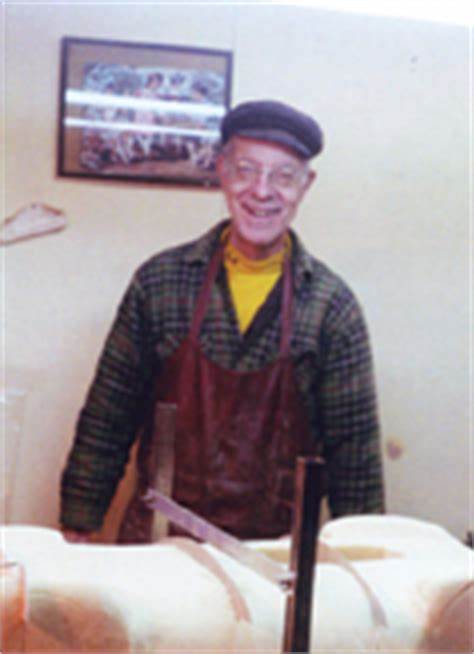 carl hungness publisher of indianapolis 500 yearbook
A high school drop out from DENVER COLORADO CArl was able to attend college with the agreement to go back and earn his high school degree
in 1968 carl began producing automobile posters
in 1972 carl had an ideal to republish Floyd Clymer's indianapolis 500 yearbook and began advertising in magazines the 1973 indianapolis 500 yearbook and thru the large amount of pre-book orders financed the production costs of the 1973 yearbook
carl wrote and published several books including "I Love To Make The Dirt Fly A Biography of Carl G. Fisher 1874-1939" ,"Go! the Bettenhausen Story The Race Against a Dream" and the Indianapolis 500 yearbooks from 1973 thru 1997
HE PURCHASED A PRINTING COMPANY IN THE LATE 70S TO DECREASE HIS PRINTING COSTS
carl's publishing company also published several other sports books outside of auto racing AS WELL AS SEVERAL POSTERS WHICH ARE STILL AVAILABLE TODAY
Carl's introduction to each year book was entitled "the Peeled eye" and the website monthly column is in that honor
a true artist cARL IS NOW A SCULPTOR AS WeLL AS A GLAZER AND RESIDES IN MADISON INDIANA
Dale Armstrong nhra driver and mechanic
Dale Armstrong ) was a Canadian drag racer and crew chief. After winning 12 National Hot Rod Association (NHRA) and 12 International Hot Rod Association (IHRA) events in the 1970s including the Pro Comp title in 1975, he became Kenny Bernstein's crew chief.[2][3] The combination produced four consecutive national championships in Funny Car (1985 to 1988) and another in T
Armstrong was born in Holden, Alberta, in 1941 He bought his first car, a 1936 Ford Coupe, for five dollars at age 14.[4] In 1957, he began drag racing the car on a dragstrip at an airport near Calgary.[4] It took him five attempts to make a 60-mile-per-hour (97 km/h) pass; he took out non-essential pieces of the car such as the back seat to lighten the load.His reputation for repairing cars quickly grew and soon there were cars lined up for repairs behind his family's garage.[4] He began drag racing in NHRA's Northwest division in a Chevrolet Z-11 in the B/Factory Experimental class in a front-ended machine that had 11-second passes at 115 miles per hour (185 km/h).[3] Armstrong and a friend towed his dragster to Southern California for the February 1964 Winternationals.[4] In January 1965, he moved to Southern California and began campaigning a Chevrolet II at local tracks since he could compete up to five nights per weekHe converted the car into a Funny Car and began running the car in early 1966 using the nickname "The Canuck".[3] The car appeared on the cover of Hot Rod Magazine in December 1966; the article in the magazine said "Even a diehard Chevy lover would have trouble telling just what had been the original vehicle"The supercharged engine achieved runs in the 8-second bracket with a top elapsed time (e.t.) of 8.89 seconds.In 1969 he drove a Chevrolet Camaro in the Super Stock class and he followed it up with making passes in Funny Cars "Travelin' Javelin" and Tom Strum's Swapper
Armstrong switched to the Injected Funny Car class in a 1973 Barracuda before moving to the new Pro Comp class in 1974.He joined Ken Veney's team and beat Veney in the finals of his first A/Fuel event at the Winternationals.[3] He also won the AA/Altered U.S. Nationals for Jim Foust that season before moving to Pro Comp in 1975.[3] While competing in Foust's Alcoholic BB/Funny Car, he won the Pro Comp championship including wins in the U.S. Nationals and Worlds.[3] Armstrong continued racing in Pro Comp for three more years. During that time, he won eight more National events including the 1977 U.S. Nationals.[3] In 1976, he won seven of nine IHRA Pro Comp National events and the championship.
He moved to Funny Car in 1980 and 1981 and had three final-round loses.He used Mike Kase's Dodge Omni at the 1981 World Finals to set a national record with a 5.891 second pass to break Bernstein's 5.90 mark.[3] During the 1981 season, he had two accidents. Armstrong described the fiery 240 mph crash of his Dodge Challenger at Columbus, Ohio: "Yeah, that was kind of a bad one," he said. "It told me it was time to get out of driving."
Armstrong joined Bernstein's team as his crew chief in 1982.[3] In late 1983, he took their new Ford Tempo-bodied Funny Car to a wind tunnel and found additional speed after some modifications.[3] Bernstein had a 5.80 e.t. with an all-time-best 260.11-mile-per-hour (418.61 km/h) pass in the 1984 Gatornationals finals to beat John Collins Bernstein ran third in points that season in his Budweiser Tempo Armstrong tested an on-board computer to see when the clutch was engaged and when the spark plugs were firing.[6]
Bernstein won the 1985 championship after winning six of 12 national events and reaching nine finals.The Armstrong-wrenched Tempo set two national records during the season.[ Bernstein continued winning in 1986; he won five of 14 events He qualified number one eight times, set the low e.t. ten times, and reached eight finals.[3] Bernstein had the first Funny Car 270 mile-per-hour pass at the U.S. Nationals (271.41 miles per hour (436.79 km/h) / 5.50 seconds) and lowered the record e.t. into the 5.4 second range with a 5.425-second run at the Chief Nationals.[3]
Armstrong continued as Bernstein's crew chief in 1987 and they used a controversial Buick LeSabre body Bernstein won a record-tying seven national events and achieved their third consecutive Winston points titleThe Buick had the first 5.3 second run at the Winston All-stars race with a 5.39-second e.t.[ Bernstein tied another Don Prudhomme Funny Car record when he won his fourth straight championship in 1988His Buick Reatta made six finals, winning three times, achieved six low e.t., and qualified number one five times. In 1989, Bernstein finished third in Funny Car before moving up into the Top Fuel class in the following season
Armstrong continued as Bernstein's crew chief in Top Fuel, and the combination produced six wins in 1992 which tied a class record. In 1993, Wes Cerny developed a cylinder head / magneto combination that Armstrong tuned for the first 300 miles per hour run At the Gator Nationals qualifying, Bernstein also set the record e.t. with a 4.823-second pass at 301.70 miles per hour (485.54 km/h) during qualifying for the Motorcraft Gatornationals in Gainesville Armstrong said:
Being the crew chief on the first car to run 300 means more to me than any national event win or any Winston championship. There isn't any question at all. People will forget what years we won the Winston championship, but they'll never forget when the first 300 was run and who did it.
At the 1994 season-ending Winston Select Finals at Pomona, Bernstein broke the 310 mph barrier with 311.85 and 314.46 passes.[3] In 1996, Bernstein won the Winston Top Fuel championship In doing so, he was the first driver to win Winston championships in Top Fuel and Funny Car.[3] Armstrong became one of the few crew chiefs to win titles in both classes.
Armstrong and Bernstein parted ways in 1997 after being together for 16 season; Bernstein had won 48 events and five championships with Armstrong.[Armstrong joined Don Prudhomme's Miller Lite team at the end of that season.Larry Dixon drove Prudhomme's dragster on the first 4.4 second pass (4.486) at the Matco Tools SuperNationals. In 2000, Armstrong joined Jerry Toliver's World Wrestling team in Funny Car - the team led the Winston points in August before finishing third]
Jan Opperman usac star
Jan Opperman was an American racecar driver. He won the 1971 Knoxville Nationals, the premiere event in sprint car racing. In 1976, he won the Hulman Classic at Terre Haute, Ind., which at the time featured most of the top sprint car drivers in the country and had several drivers in the field who would start the Indianapolis 500 later that month.
Born in Long Beach, California, Opperman died in Fountain, Florida, 16 years after suffering critical injuries from a crash during a race in Jennerstown, Pennsylvania. Known primarily as a sprint car driver, he also drove in the USAC Championship Car series, racing in the 1974 and 1976 seasons. He had 9 champ car starts, including the 1974 and 1976 Indianapolis 500 with 3 top ten finishes.
Considered a natural driving talent, Opperman attracted the attention of Indy 500 veterans Parneli Jones and A.J. Foyt. His first start at Indianapolis came with the team co-owned by Jones, a sprint car veteran and winner of the 1963 Indianapolis 500. Opperman spent his early sprint car racing career running "outlaw" rather than sticking to one sanctioning body. He won dozens of races each year traveling across the country from race track to race track in pursuit of the best paying races.
Opperman was just hitting his stride in the elite United States Auto Club's, sprint, midget and dirt car (called Silver Crown division today) divisions when he suffered critical head injuries while battling for the lead of the Hoosier Hundred at the Indianapolis State Fairgrounds in early September 1976. Opperman missed the 1977 season, but returned to racing on the outlaw circuit in 1978 but never again attained the level of success he achieved before that accident.
Early in his career, Opperman was known as a hippie and part of the drug culture. During the 1960s when living in Beaver Crossing, Nebraska he became a dynamic Christian, and, until his catastrophic accident, was working toward creating a ranch in western Montana for troubled youth.
One of Opperman's trademarks was a battered western hat that had been worn by his brother, Jay, who died while racing a sprint car at Knoxville Raceway on May 16, 1970.
Ron "Sleepy" Tripp midget car driver
Ron "Sleepy" Tripp is an American Hall of Fame midget car driver. Tripp got his nickname as a youth when he would fall asleep in his quarter midget car while waiting for his next race to start.
Tripp won the 1975 and 1976 United States Automobile Club (USAC) National Midget championships. He stayed on the national tour for several more years before he started racing in the Western States series, on the West Coast. He consistently placed first or second in the series points, winning championships in 1983, 1985, 1987, 1988, 1990, 1991 and 1992. He reached his 100th win May 2, 1998 at Ventura Raceway.[2] Sleepy sits on top of the Western States feature list with 104 wins.
He also had 59 National Midget car victories, which places him fifth on USAC's all-time National Midget Car series feature winners list And those 59 National USAC total victories, placing him 11th on USAC's all-time National career feature victory leaders list.[1] His combined National, Western and Regional USAC wins have him the winningest driver in midgets. With over 250 career wins to his name.
"Sleepy" was born Ronald James Tripp to parents Barbara and Gerald Tripp, August 13, 1953, and he was raised with his older brother, Bob and younger sister, Karen in Costa Mesa, California. Growing up in a racing family had the boys racing at a very young age, winning their way into the record books. The boys raced in Quarter midgets, winning numerous trophies along the way. They then tried their hand in motorcycles, before jumping up to the full-size midget cars. During Sleepy's high school years, he was a wrestler and accomplished football star at Newport Harbor High School, being named MVP and Captain for their 1970 League Championship football season. Last played in July 1971 at the Aloha All Star Football Classic at Honolulu Stadium. Has been married to Erin since Nov 1982, whom he met in New Zealand while racing, they have one daughter, Shay, who is married and has recently made Sleepy and Erin grandparents. Both of Sleepy's parents have since passed and the boys still work together at their families electrical contracting business.
After Sleepy took the 'Rookie of the Year' and USRC 1974 Championship he then headed for the Midwest and tried his luck with USAC, taking 'Rookie of the Year' honors and Championship in 1975 and then again winning the USAC Championship back-to-back in 1976. He was invited to race in Australia during their 1976/77 season, along with Johnny Rutherford (who was that years Indianapolis 500 winner). In turn, Sleepy raced 17-years in either Australia, New Zealand or both. He raced with USAC National series, until he returned to California to race the newly formed USAC Western States Championship, in which he joined car owners George and Gary Zarounian, to dominate the early years, winning the 1983, 85, 87, 88, 90, 91, 92 Championships. During those years, he won 104 features, putting him at the top of the feature win list. His racing career ended after crashing at a USAC/BCRA race at Stockton, California, in 2003.
First invited to tour 'down-under' through Australia and New Zealand in 1976/77 where he began to win races and fans for nearly two decades. After running his own car for six years, he teamed up with car owner, Danny Lendich, winning many of the prestigious races, such as the 50 Lap Classic, the World 30 Lap Derby, Bob Tattersal Memorial, Ross Goonan Memorial and the City of Auckland Grand Prix. In all, he has 34 feature wins at Western Springs Speedway in Auckland.
Tripp also had success in Australia during the 1970s and 1980s with many feature wins including winning the 1983 and 1984 Australian Speedcar Grand Prix on the paved Liverpool City Raceway, as well as both the Harry Neal and Rick Harvey Memorial's and the 40 Lap Speedcar Derby at Adelaide's Speedway Park. Despite regularly beating the local drivers, Tripp's laid back nature, and his style of car set up and driving which often involved racing with the left (inside) front wheel not even touching the track, proved popular with Australian crowds.
In the 80's, his name and popularity extend motor racing, as there was a racing horse, greyhound and rock band all named 'Sleepy Tripp'. Still today there is a trotter racing down-under with his name.
The afternoon of October 7th, 2012, on his way home from a weekend away to Mammoth, he crashed his motorcycle and was airlifted to Antelope Valley Hospital, where he spent a touch-and-go month long in ICU, eventually moved to Brea Kindred Rehab, to learn to walk again. Sleepy and Erin spent their 30th Wedding Anniversary at this hospital. Eventually released to go home the end of Jan, only to end up at Hoag Hospital with a heart infection and spent 6-weeks on a regimented medicated cleansing at Crystal Cove Rehab. Once they had got on top of the infection, he was released to go home. The Tripp's are very thankful to all their family, friends and fans that were behind his recovery all the way!!!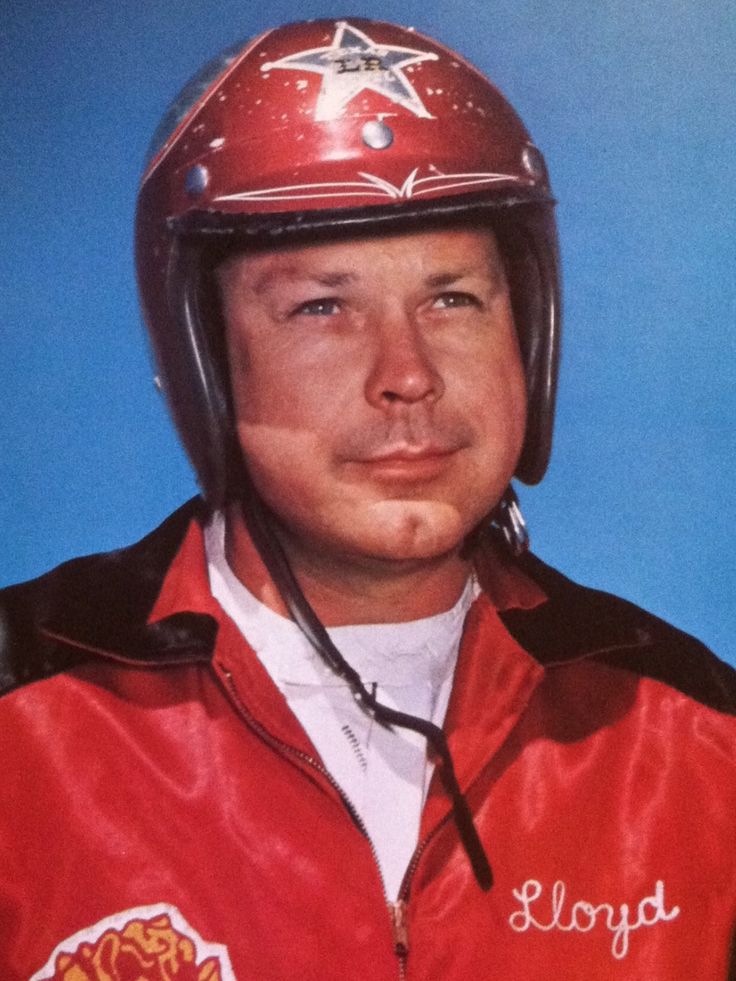 Lloyd Ruby indy car driver
Lloyd Ruby was an American racecar driver who raced in the USAC Championship Car series for 20 years, achieving 7 victories and 88 top-ten finishes. He also had success in endurance racing, winning the 24 Hours of Daytona (twice), the 1966 12 Hours of Sebring and the 1966 World Sportscar Championship.
Ruby raced in the USAC Championship Car series in the 1958–1977 seasons, with 177 career starts, including the Indianapolis 500 from 1960 to 1977. He achieved 88 top-ten finishes, and seven victories. His best finish at Indy was third, in 1964. In 1966, he led the Indy 500 for 68 laps.
Ruby also had two endurance racing victories in the 24 Hours of Daytona (1965–1966), both times partnering with Ken Miles. Ruby and Miles teamed up to win the 1966 12 Hours of Sebring and the 1966 World Sportscar Championship. Ruby was scheduled to drive in the 1966 24 Hours of Le Mans, however he was forced to withdraw due to spinal injuries suffered in a plane crash.[2] A year later, he teamed with Denny Hulme in a Ford GT 40 Mk IV for the 1967 24 Hours of Le Mans. Ruby played a key role in Ford Motor Company's GT40 program in the mid-1960s. He also raced in the 1961 United States Grand Prix.
Despite a Championship Car career replete with success, Ruby is probably best remembered for his many misfortunes at the Indianapolis 500. His biography, written by Ted Buss in 2000, was titled, Lloyd Ruby: The Greatest Driver Never to Win the Indy 500. Ruby led the race in five different years, for a total of 126 laps, however, his best finish at Indianapolis was third, in 1964. His only other top-five finish at Indy came in 1968. In 1991, he was inducted into the Auto Racing Hall of Fame.
Perhaps Ruby's most notorious hard-luck bout at Indy came in 1969. With race leader Mario Andretti experiencing overheating problems, Ruby was in a strong position to score a victory. During a pit stop around the halfway point, a crew member motioned Ruby to pull away too soon. The refueling nozzle was still engaged in the car's left saddle tank, and as Ruby dropped the clutch, the car lurched forward. The nozzle ruptured a hole in the gas tank, ending Ruby's day.
He died in 2009 at the age of 81 in his hometown of Wichita Falls, Texas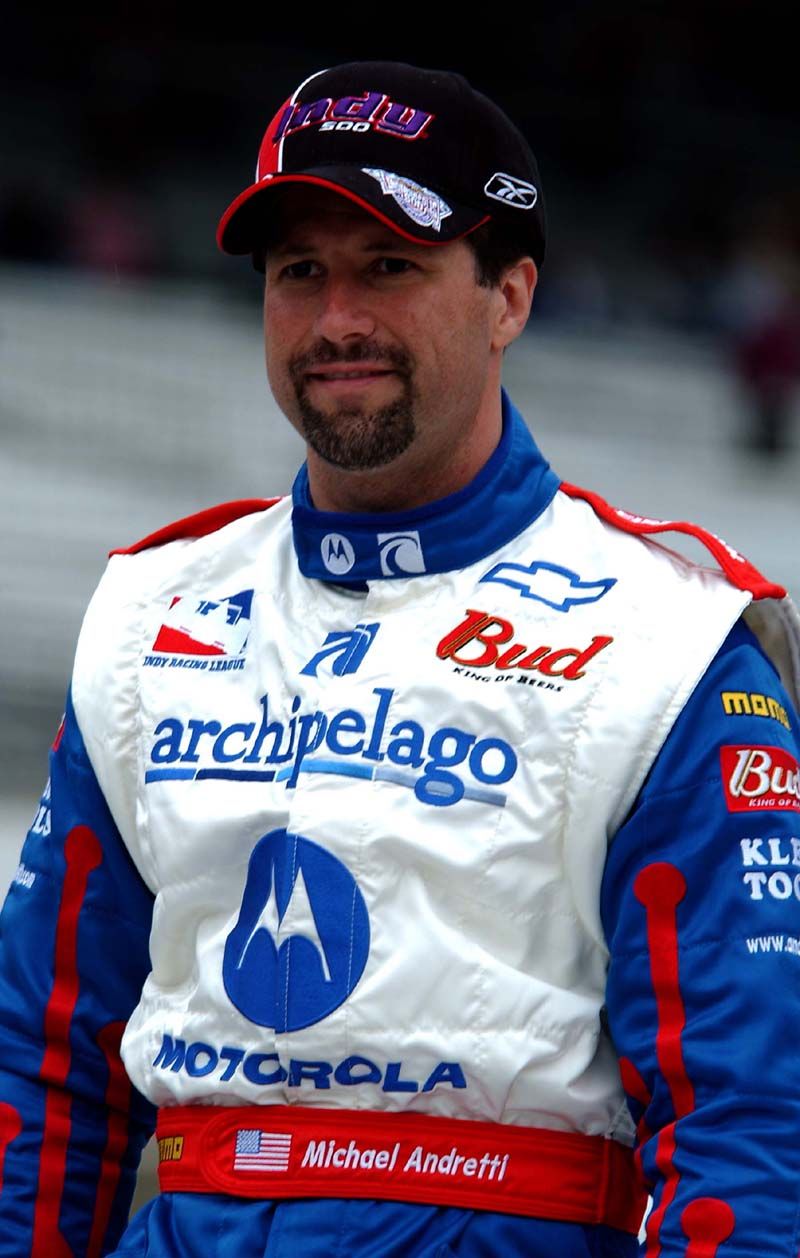 Michael Andretti cart champion
Michael Mario Andretti is an American semi-retired auto racing driver and current team owner. Statistically one of the most successful drivers in the history of American open-wheel car racing, Andretti won the 1991 CART PPG Indy Car World Series and amassed 42 race victories, the most in the CART era and fourth-most all time. Since his retirement from active racing, Andretti has owned Andretti Autosport, which has won four IndyCar Series championships and five Indianapolis 500 races.
He is the son of Formula One World Champion and Indianapolis 500 winner Mario Andretti, and the father of current IndyCar Series driver Marco Andretti.
Michael Andretti was born in Bethlehem, Pennsylvania in the Lehigh Valley region of eastern Pennsylvania to race car driver Mario Andretti, a four-time IndyCar champion and one-time Formula One champion, and his wife Dee Ann (née Hoch)
Following a successful career racing karts, winning 50 of his 75 races over eight years, Andretti moved into racing cars. He obtained his SCCA National License in 1980, then won six races to claim the SCCA's Northeast Division Formula Ford championship in 1981. He also drove in a number of Formula Vee races in regional SCCA events. In 1982, he won six of the 11 races on his way to winning the Robert Bosch US Formula Super Vee Championship. He also won the opening race of the 1983 Super Vee season before he moved up to drive in Formula Atlantic, and won his second title by winning the FIA Formula Mondial North American Cup the following season. Although he made his international sports car debut at the 1982 24 Hours of Le Mans, he was denied the opportunity to race, as the Mirage M12 he had chosen to race with his father was disqualified 80 minutes before the race was due to start. The father and son partnership returned to the Circuit de la Sarthe the following year, and were joined by Philippe Alliot in the Porsche Kremer Racing's Porsche 956, taking third place. Andretti also raced alongside his father in the Riverside 6 Hours where they were joined by A. J. Foyt and Preston Henn, but the Porsche 935 failed to finish. The father and son duo paired up again the 1984 24 Hours of Daytona, this time in a full-works Porsche 962, which made its race debut. They took pole position, but during the race, the engine broke
Andretti made his CART debut in 1983, racing for the Kraco Enterprises team. He re-signed for Kraco for the 1984 season, where he managed five third-place finishes and ended his rookie season in seventh overall. In the Indianapolis 500, he finished fifth and shared the Rookie of the Year award with Roberto Guerrero. He went on to win his first IndyCar race in 1986 in the Toyota Grand Prix of Long Beach. The season became a two-man battle for the championship title, between Michael and Bobby Rahal. Andretti would take the points lead with his victory on the Milwaukee Mile. A week later, on Father's Day, Michael was leading on the final lap at Portland, when his March-Cosworth 86C ran out of fuel, allowing his father, Mario, to beat him by just 0.07 seconds. It was one of the most shocking finishes in the history of IndyCar, and the closest finish until 1997. With Rahal continuing to win races, Andretti's consistent finishing only allowed Rahal a nine-point lead in the standing with two races remaining. Andretti won a key victory in at Phoenix. Going into the season finale at Tamiami Park, Andretti was just three points behind Rahal, but neither driver were a factor in the race, with Andretti retiring with a broken halfshaft
In a one-off race with Alfa Corse, he took part in the inaugural World Touring Car race, 500 km di Monza. Paired with Alessandro Nannini, they finished 16th overall, second in class. Back in CART, he continued with Kraco in 1987, and like 1986, the championship was between Andretti and Rahal. Michael would win the Michigan 500, drawing within nine points of Rahal. With him winning in dominating fashion at Nazareth Speedway, his championship hopes remained alive, although Rahal clinched the championship at the next race. Andretti would also win the season finale, Tamiami Park. He would finish runner-up for the second season in a row. Back in June 1987, Michael joined Hendrick Motorsport to race a Chevrolet Corvette GTP in the Mid-Ohio 500 km, this time joined by his cousin, John Andretti, where they finished 11th.
Following Porsche's defeat in the 1988 Daytona 24 Hours, Porsche entered a 962C at Le Mans for Mario, Michael and John. They were tremendously competitive in the first half of the race, until the Andretti family's car needed minor repairs before lapsing on to five cylinders, finishing sixth overall. Michael and Mario join Busby Racing for 1989 Daytona 24 Hours, only for their 962 to retire with brakes problems
The 1988 CART season was a lean year for Michael. He remained with Kraco and won only a single race, the Marlboro Challenge, for which no championship points were awarded.
For the 1989 season, Andretti signed with Newman/Haas Racing, partnering him with his father. He won two races that season, Molson Indy Toronto and the Marlboro 500 at the Michigan International Speedway, placing third in points. For 1990, Al Unser Jr. would become champion, Andretti was his nearest competitor, winning five races and four poles. In the second-to-last race of the season at Nazareth, Unser crashed out, giving Andretti a huge opportunity to close the gap. Andretti managed only a sixth-place finish, and could not capitalize on Unser's misfortune. Unser left Nazareth with a 27-point lead, enough to clinch the championship. Andretti would finish runner-up once again.
For the 1991 24 Hours of Daytona, Mario was joined by both Michael and his Mario's younger son, Jeff Andretti. Piloting a Jochen Dauer Racing entered Porsche 962, they were classified fifth overall, despite not finishing the race.
Andretti was the drivers' champion of the 1991 CART PPG Indy Car World Series. He won a total eight of 17 races, eight poles and led more than half of the laps during the season, but Rahal still took the championship battle down to the final race of the season. Andretti's season started slowly, recording DNFs in the opening two events, then the heartbreaking second place at the Indy 500. He recovered from this, winning four of the last five races of the season and with Rahal retiring during the title decider at Laguna Seca, he cruised to the title. The day before, he won the non-championship, Marlboro Challenge for a second time.
Remaining with Newman/Haas for 1992, Michael's season started slowly, but then wins three races out of four mid-season. Despite taking two more wins later in the year, including the season finale at Laguna Seca, Rahal beat him again to the title by just four points. He would leave for F1 at the end of the year, with his seat going to the reigning Formula One World Champion, Nigel Mansell, who would win the 1993 CART title in his rookie season.
For four seasons between 1989 and 1992, Michael had his father as his teammate at Newman/Haas. Together, they established a number of firsts, including the first father-son front row, for the 1986 Dana 200 for Special Olympics at Phoenix, and the first of 15 father-son podiums in the 1984 Cribari Wines 300K at Laguna Seca, with the last coming nearly a decade later in the 1992 Daikyo IndyCar Grand Prix, around the street of Surfers Paradise
The Andretti family's bad luck at the Indianapolis Motor Speedway is known as the Andretti Curse. He shared Rookie of the Year honours with Guerrero in 1984, when he finished fifth. However, in 1991, he led with 12 laps remaining, but finished second to Rick Mears after battling the multiple Indy 500 winner. The pair of them traded memorable late-lap outside passes for the lead in Turn One. The next year, 1992, he dominated the race, leading four-fifths of the laps, but, with 11 laps remaining after holding a two-lap lead, his fuel pump failed, and his car coasted to a stop. He was classified in 13th place. He also dropped out while leading the Indy 500 in 1989, 1995 and 2003. Andretti holds the record for most laps led in the Indy 500 without having achieved a victory
For the 1993 season, Michael signed for Marlboro McLaren, to partner with the triple World Drivers' Champion Ayrton Senna in their Ford HBD V8-powered MP4/8. He signed during the summer of 1992 and the deal was announced at Monza over the weekend of the 1992 Italian Grand Prix.
"I think he can win Grands Prix and become the World Champion," said Ron Dennis, McLaren's team principal. "It's not a question of which country you come from. It's how you demonstrate your desire to win."[22] There were practical factors that mitigated against Andretti being able to show competitive form in his debut season in F1. The rule changes introduced that season destroyed his hopes of unrestricted laps in free practice during which he could learn the tracks, as most were unfamiliar to him. From the start of 1993, just 23 laps were allowed in the morning's untimed session and only twelve in the qualifying session
With the pressure intensifying, Michael began the year with crashes in the Kyalami and at Interlagos. In the latter of these two, he had a massive collision at the start with Gerhard Berger in a Ferrari. He then qualified sixth for the Sega European Grand Prix at Donington Park, but he collided with Karl Wendlinger's Sauber on the opening lap. Next time out at Imola, he again fell foul of Wendlinger after a drive that might have ended with a visit to the podium, and many critics cited this as the key turning point for the America]
In the Gran Premio de España, Andretti finally completed a race, finishing fifth amongst the established front runners.[23] However, his showing was criticized by former McLaren World Champion James Hunt because Andretti was lapped by his teammate Senna.
During the F1 season, Andretti watched the 1993 Indianapolis 500 on a television set. During the race, his former team, now with Nigel Mansell driving, was passed by winner Emerson Fittipaldi on a restart with less than 20 laps to go. Even though he wasn't in the race, Andretti would also consider 1993 a near-miss; "I mean, he (Mansell) did well to be leading, but no way would Emerson and [Arie] Luyendyk have passed me on that restart, I can guarantee you."
He would finish in the points on three occasions, but he could never quite string things together consistently. He never fully got to grips with the McLaren MP4/8. Highly technical aspects which he was not used to in the technologically simpler Indy cars such as active suspension and traction control hampered Andretti's chances as did the standing starts used in F1. Some in the industry also felt that since he commuted to races and test sessions from the United States, rather than relocating full-time to Europe was also a contributing factor to his lack of success in Formula One. At the time, McLaren's Special Projects Manager, long-time Andretti family friend Tyler Alexander, who had been involved in F1 since the mid-1960s, had urged Michael to relocate to England as he knew times had changed from when Mario had raced to the 1978 World Championship. True enough, he finished third at Monza (which would prove to be his last Formula One race), but with three races remaining, he left the team and the championship by mutual agreement after the race
According to Michael's son Marco, the McLaren team "sabotaged" his father's chances at being competitive in order to replace him with the team's test driver Mika Häkkinen, who would require a smaller salary. "The reality of it was, they had Mika Häkkinen ready to come in for a lot less than what my dad was getting paid, and that's all it was. Right then and there, they had to make him look [bad]," claimed Marco in 2008. "They would make the car do weird things in the corner electronically, stuff out of his control." However, Andretti still had problems in practice for the Italian Grand Prix, and both he and Senna spun off with brake balance problems early in the race. Andretti was able to continue and fought back up to third, holding off Wendlinger. Throughout the season, Senna experienced similar reliability problems to Andretti, mainly electronic gremlins, particularly in San Marino, Canada, Hungary and Belgium, although Häkkinen equalled Andretti's third place Monza finish in Japan, while Senna won both the Japanese Grand Prix and the season ending Australian Grand Prix, his final race for McLarenAnd according to Häkkinen in a much later interview, Andretti was commuting to Europe from the United States, and was not in Europe enough when testing needed to be done, allowing Häkkinen to consistently show his speed and build a relationship with the team. Häkkinen had also said that Andretti's mental approach was all wrong, and he did not realize the kind of incredible sacrifices one needed to make in order to succeed in Formula One.[28]
It has also been reported that at the start of the 1993 season, Dennis signed Häkkinen as a backup to Senna, who was initially reluctant to commit to the team for the whole season (Senna's move to Williams had to wait until the next season because his rival Alain Prost was having his retirement season there and had it written into his contract that they could not sign the Brazilian triple World Champion as his teammate). This created a difficult atmosphere for Andretti, who would be in the shadow of the brilliant Brazilian, and also faced the threat of being replaced by Häkkinen
Andretti returned to the IndyCar racing after his unsuccessful season in Formula One with Target Chip Ganassi Racing, where he once again proved very successful. He went on to win in his very first race back in the series at the 1994 Australian FAI Indycar Grand Prix, around the Surfers Paradise Street Circuit in Queensland, Australia, having led every lap along the way. That win also got Reynard's first win in CART in their debut. Although the season may not have gone the way Michael would have liked, he did win again in the Molson Indy Toronto, taking a record fourth win. By the time he retired, Michael would have won seven times around the Exhibition Place.[30]
In 1995, he returned to Newman/Haas Racing. Taking only one win in Toronto, he had a consistent season, scoring points in every round which resulted in Andretti claiming fourth overall in the points standing. The following season, he would finish as runner-up to Jimmy Vasser, in a season marred by the death of Jeff Krosnoff and split with Indy Racing League, visiting victory lane on five occasions. Newman/Haas began a new relationship with Swift which did not prove to be very successful in 1997-1999. In 2000 the team used Lola chassis and Michael won the Firestone Firehawk 300 held at Twin Ring Motegi in Japan, and again in Toronto
Michael tried again to win Le Mans in 1997, again alongside Mario, but joined on this occasion by Olivier Grouillard. Following an accident during the night, the trio were forced to retire their Courage C36. Michael would not return to la Sarthe as a driver.
For 2001 he made the decision to move to Team Green as he wanted to try to win the Indianapolis 500 and Newman/Haas refused to enter the Indy Racing League event. Andretti ran in a third Team Green car with Motorola sponsorship and ran at Indianapolis. He led 16 laps, and was leading the race during a rain delay just beyond the halfway point. Had the race been halted due to the rain, he could have been declared the winner. The red flag, however, did not come out at the time and the race resumed. A punctured tyre, and a minor collision in the pits with eventual winner Hélio Castroneves, driving for car owner Roger Penske, slowed him down, and at the end of the day, Andretti settled for 3rd place. In July it was announced that Michael had bought the team and intended to shift the entire operation (which was renamed Andretti Green Racing) to the IRL.
His career in CART ended in 2002, in which he took his 42nd and final career victory at the Toyota Grand Prix of Long Beach - placing him in third place for all-time victories in championship car racing behind his father, Mario Andretti (52 wins) and A. J. Foyt (67 wins).
Andretti is also tied with Al Unser Jr. for the most wins in a CART/IndyCar season with eight victories. He achieved this during his championship-winning season of 1991. Throughout his time in IndyCar, he retained a consistent and impressive record, finishing in the top ten of the championship on 17 occasions
Andretti entered in the first four IRL events in 2003, culminating with the 2003 Indianapolis 500, after which he retired from full-time IndyCar racing. He led the race for 28 of the opening 94 laps before a throttle linkage failure put him out of contention once again. That year he bought into the "Team Green" squad run by brothers Kim and Barry Green in CART. It became Andretti Green Racing and for 2003, the team moved to the Indy Racing League IndyCar Series.[33][36]
The team claimed consecutive IndyCar Series titles in 2004 and 2005, with Tony Kanaan and Dan Wheldon respectively, winning 11 of the 17 races, including the Indianapolis 500. The 2007 enhanced the Andretti legacy, when Dario Franchitti captured Andretti Green Racing its third Series title in four seasons, and its second Indianapolis 500 win.
Andretti returned to the driver's seat for the 2006 Indianapolis 500 in a one-time effort to assist the development of his son, Marco, an IndyCar rookie for the 2006 season. Michael led the race with four laps to go, before falling to second behind his son a lap later. He went on to finish third, while Marco only just missed out on the 500 victory after he was passed just before the start/finish line on the last lap by three-time IndyCar champion, Sam Hornish Jr.
After qualifying his car in 11th place for the 2007 Indianapolis 500, Andretti went on to finish 13th. He then announced that this would be his last Indy 500 as a driver. Andretti leaves driving competition at Indy with a frustrating distinction: the driver who led the most laps (431) without winning the race. He competed in 16 Indy 500s, with a top finish of second in 1991, but led the race nine times.
By 2012, racing under the name of Andretti Autosport, they brought the 2012 IndyCar Series championship back home. Michael served not only as the team owners, but as the strategist on Ryan Hunter-Reay's four race victories. Hunter-Reay also captured the 2014 Indianapolis 500, with a close victory over Hélio Castroneves.
At the beginning of 2018, he partnered with Ryan Walkinshaw's Walkinshaw Racing and Zak Brown's United Autosports to create Walkinshaw Andretti United which competes in the Australian Supercars Championship. Andretti United expanded into Extreme E in 2021
On February 18, 2022, it was announced that Andretti had submitted a request with the FIA to enter Formula 1 under "Andretti Global".
2022 inductees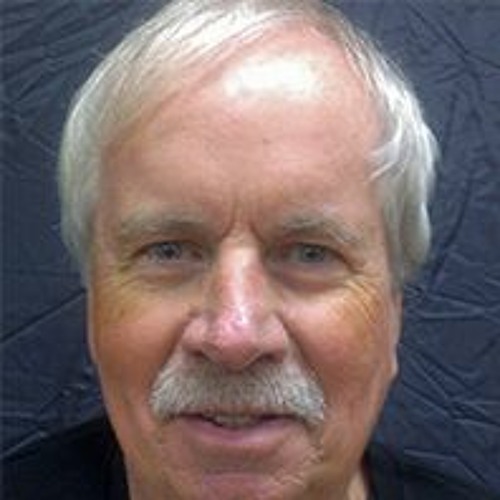 *robin miller broadcast journalist
Miller rose to prominence as an IndyCar journalist during his lengthy career with the Indianapolis Star, where he worked from 1968 to 2001. Among writers covering the IndyCar Series, Miller was acknowledged as the foremost authority, given his knowledge of the garage and the depth of his contacts He also wrote for Autoweek, Car and Driver, ESPN and Speed.
In 1972, he bought his first race car, from Andy Granatelli. He raced a Formula Ford in 1972, and then bought a midget car in 1974 from Gary Bettenhausen] He then competed in USAC midgets from 1975–83. Miller's best race came in 1980 when he qualified 5th out of 93 cars for the annual "Hut 100" at the Terre Haute Action Track, a dirt race that featured 33 starters in 11 rows of three like Indy and also sported several top Indy drivers of the time. He considered that race the highlight of his career, however, he blew his engine and dropped out. after about ten years, he quit driving due to his lack of mechanical knowledge, and massive debts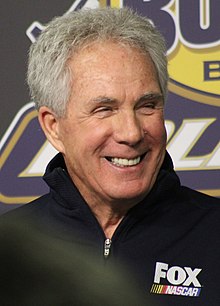 Darrell Waltrip three-time NASCAR Cup Series champion
Darrell raced from 1972 to 2000 in the former NASCAR Winston Cup Series (now called the NASCAR Cup Series), most notably driving the No. 17 Chevrolet for Hendrick Motorsports. Waltrip is a three-time Cup Series champion (1981, 1982, 1985). He also Posted a modern NASCAR series record of 22 top five finishes in 1983 and 21 top five finishes both in 1981 and 1986, Waltrip won 84 NASCAR Cup Series races, including the 1989 Daytona 500,a record five in the Coca-Cola 600 (formerly the World 600) (1978, 1979, 1985, 1988, 1989), and a track and Series record for any driver at Bristol Motor Speedway with 12 (seven consecutive from 1981 to 1984).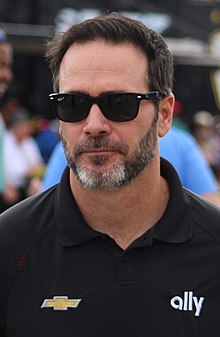 Jimmie Johnson seven-time nascar Cup champion
A seven-time NASCAR Cup Series champion, he competed full-time in the series from 2002 to 2020, driving the No. 48 Chevrolet with Hendrick Motorsports, before transitioning to open-wheel racing. Johnson's seven Cup championships, the first five of which are consecutive, his successes have caused many analysts and fellow drivers to consider Johnson as one of the greatest NASCAR drivers of all time.
He now competes in the NTT IndyCar Series, driving the No. 48 Honda on a part-time schedule for Chip Ganassi Racing and IMSA WeatherTech SportsCar Championship driving the No. 48 Cadillac on a part-time schedule for Ally Cadillac Racing.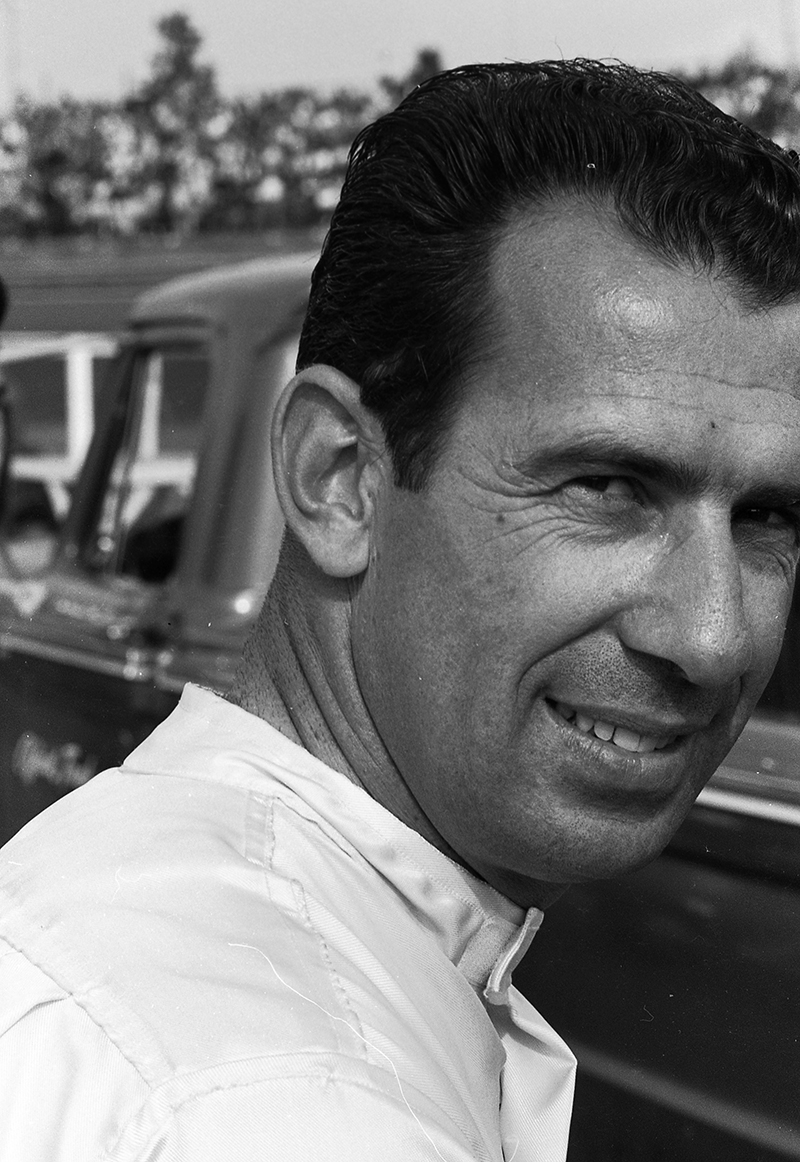 ned jarrett two-time Grand National Series champion
"Gentleman Ned Jarrett" is a American stock-car driver who won two National Association for Stock Car Auto Racing (NASCAR) championships (1961 and 1965).
According to legend, Jarrett first began driving cars at age nine, when his father would allow him to drive the family car to church on Sunday mornings. He competed in his first race at age 19, finishing 10th at the Hickory (North Carolina) Motor Speedway.Jarrett holds the distinction of greatest margin of victory by mileage, winning the 1965 Southern 500 by an astonishing 14 laps. He went on to capture the second of his two championships that year. When Ford announced its (temporary) departure from NASCAR in 1966, Jarrett decided to retire from racing, at the age of 34. He remains the only driver to retire as series champion.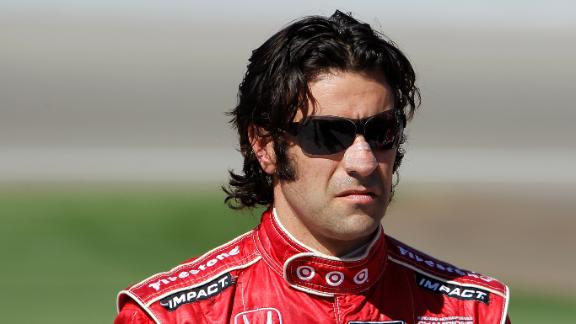 Dario Franchitti three-time indianapolis 500 champion
Dario is a four time IndyCar Series champion (2007, 2009, 2010, 2011), a three-time winner of the Indianapolis 500 (2007, 2010, 2012) as well as a winner of the 24 Hours of Daytona (2008).
Franchitti started his career in the United Kingdom in the early 1990s, competing in Formula Vauxhall and Formula Three and was also the winner of the McLaren Autosport BRDC Award in 1992. After Franchitti did not secure a single-seater drive in 1995, he was contracted by the AMG team to compete in touring cars in the DTM and its successor – the International Touring Car Championship. Despite two seasons with relative success, the series folded at the end of the 1996 season, again leaving Franchitti without a drive. Mercedes placed Franchitti in CART in 1997 with the Hogan Racing team.
at a indy car race in houston in 2013 Franchitti collided with Takuma Sato and E. J. Viso on the final lap, causing Franchitti to become airborne and fly into the turn 5 catchfence. and Franchitti suffered a spinal fracture, right ankle fracture, and a concussion Due to these injuries, as well as injuries caused by previous crashes, doctors told Franchitti that he would risk permanent paralysis if he continued racing.Franchitti then retired from competitive driving, but maintained his affiliation with Ganassi Racing by becoming a competition director.
Joe Weatherly Grand National Series champion, AMA Grand National Champion
Joe won NASCAR's Grand National Series championships in 1962 and 1963, three AMA Grand National Championships, and two NASCAR Modified championships.
Weatherly enjoyed behaving outrageously. He once took practice laps wearing a Peter Pan suit. Moreover, he frequently stayed out partying until the early hours, usually with fellow driver and friend Curtis Turner. This behavior earned him the nickname the "Clown Prince of Racing". In 1956 at Raleigh, while racing in the convertible series, Weatherly's engine blew. With the help of Ralph Liguori pushing from behind, he displayed showmanship to the fullest extent by crossing the finish line while standing in a "chariot of fire".
Weatherly died on January 19, 1964, from head injuries sustained in a racing accident at the fifth race of the 1964 season, at Riverside International Raceway. His head went outside the car and struck a retaining wall, killing him instantly. Weatherly was not wearing a shoulder harness, and did not have a window net installed on his vehicle, because he was afraid of being trapped in a burning car
2021 inductees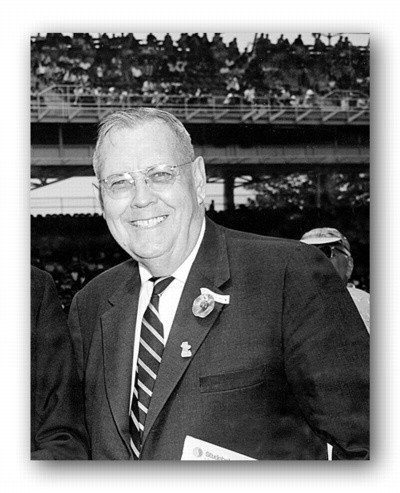 Floyd Clymer magazine publisher, a racing promoter, an author, and a motorcycle manufacturer
a pioneer in the sport of motorcycling, was a racer, a motorcycle dealer and distributor, a magazine publisher, a racing promoter, an author, and a motorcycle manufacturer
The Clymer name is best known for his publishing business. His first publication, Motorcycle Topics, was published in the late 1910s, and he resumed publishing magazines and books in earnest after WW2. He published the popular Clymer repair manuals for cars, motorcycles, and powersports vehicles in a standardized format to step-by-step disassembly and reassembly of the complete vehicle, illustrated with photographs. The 'Clymer manual became shorthand among home mechanics as a useful guide to vehicle maintenance and repair. In 2013 the Clymer manual business became part of the Haynes Group, and are still published under the Clymer name. Clymer also published dozens of books on cars and motorcycles, and was among the first to assemble historical surveys of the car and motorcycle industries with his Treasury of Early American Motorcycle, Treasury of Early American Automobile, Those Wonderful Old Automobiles, Henry's Wonderful Model T, and Historical Motor Scrapbooks from the 1950s. He also published an annual yearbook for the Indianapolis 500 from 1946-1968, as well as collections of British car and motorcycle magazine road tests. Clymer purchased Cycle Magazine from Petersen Publishing in July 1957, which had a circulation of several hundred thousand during his tenure through 1966. It was said of Clymer that "He never met a motorcycle he didn't like", and some criticized Cycle for failing to prompt improvements in motorcycle design through journalistic feedback.
floyd Clymer died of a heart attack in 1970, at age 74
Theodore E. "Pop" Myers Good Will Ambassador indianapolis motor speedway
THEODORE E. "POP" MYERS earned an important niche in the history and tradition of automobile racing by devoting the last 40-plus years of his life to improving the sport in general and the Indianapolis 500 race in particular. He joined the staff of the Indianapolis Motor Speedway in 1910, prior to the first Indianapolis 500, and served with distinction as Vice-President as well as General Manager under the regimes of all three track owners. For much of the time during those four decades Myers ran the day-to-day affairs along with his secretary, Miss Eloise "Dolly" Dallenbach. He made three trips to Europe as a "Good Will Ambassador" for the American racing fraternity and served for many years as a member of the American Automobile Association Contest Board. Myers was still working for the Indianapolis Motor Speedway when he passed away in February 1954.
Floyd "Pop" Dreyer the nation's top motorcycle rider in the 1920s
Pop went from one of the nation's top motorcycle riders in the 1920s and some of his records still have not been broken; he then went on to be one of the leading race car builders from the 1930s into the 1950s and led the way in kit car building. Many of his racing innovations are still being used today. He was also a race car owner and his drivers won national championships. He had a "Whos Who" list of race car drivers driving for his team car.Later in life he became a successful businessman and was on the the first in the United States to sell Honda motorcycles. He was never satisfied with stock equipment so he custom built aerodynamic flairings for motorcycles and was the first to use fiberglass in building sidecars for motorcycles.Out of all his hardships of life, Floyd was able to overcome and triumph not only on the race track but in life.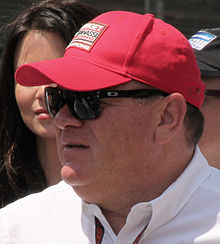 Floyd "Chip" Ganassi Jr. an American businessman, former racing driver
Floyd "Chip" Ganassi Jr. an American businessman, former racing driver, current team owner and member of the Motorsports Hall of Fame of America. He has been involved with the North American auto racing scene for over 30 years. He is owner and CEO of Chip Ganassi Racing which operates teams in the IndyCar Series, NASCAR Cup Series, WeatherTech SportsCar Championship, and Extreme E. He is the only team owner in history to have won the Indianapolis 500, the Daytona 500, the Brickyard 400, the Rolex 24 at Daytona, the 12 Hours of Sebring and most recently the 24 Hours of Le Mans - six of the biggest races in the world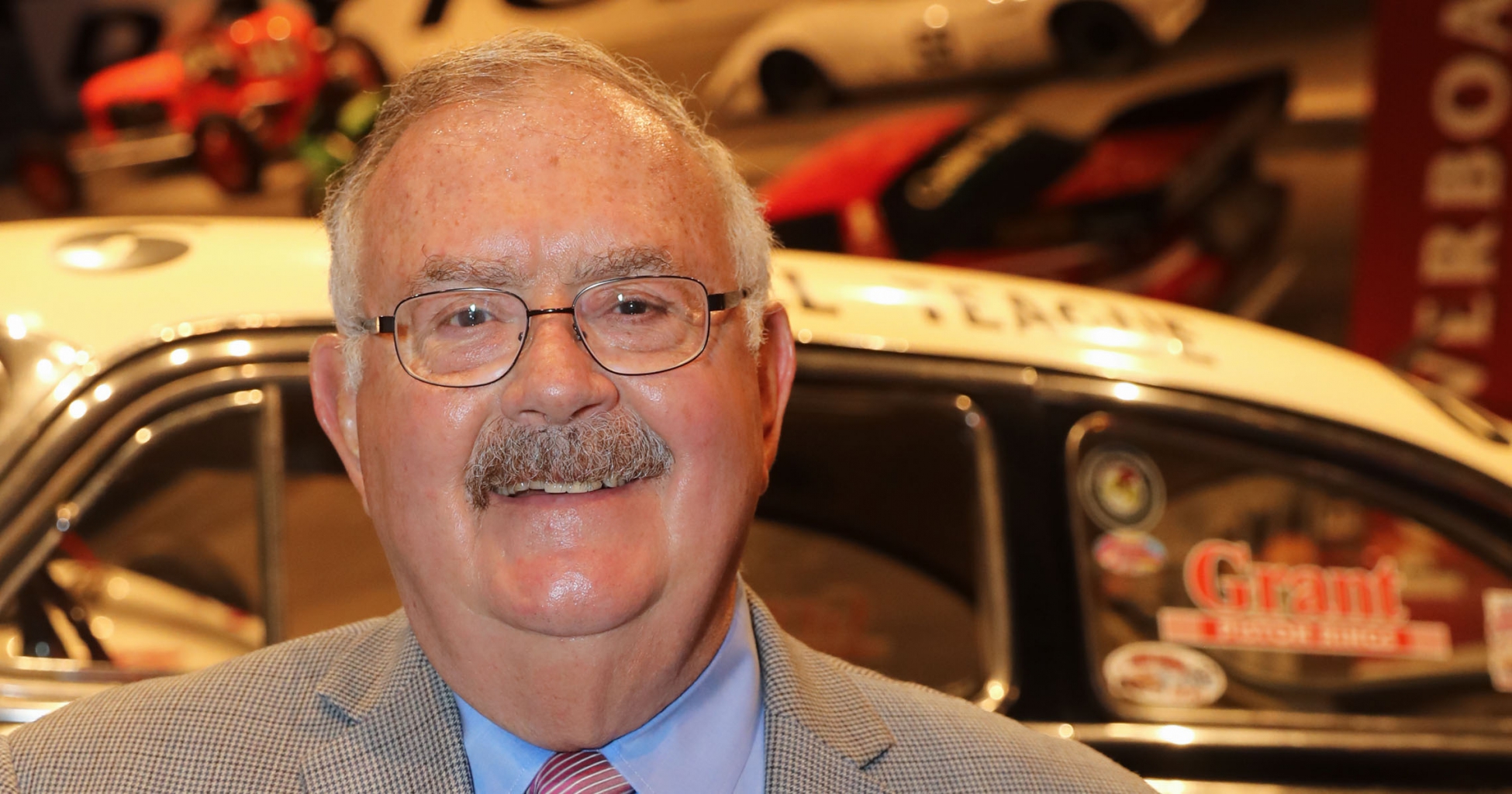 Ron Watson, founder president of the Motorsports Hall of Fame of America (MSHFA
Ron Watson, founder president of the Motorsports Hall of Fame of America (MSHFA), leaving a legacy of remarkable accomplishments in creating the MSHFA, then molding it into a respected organization that honors all forms of motorsports.Ron felt that motorsports needed a great hall of fame," said Levy, "then worked tirelessly for the next 30-plus years to make that dream a reality. In so doing he built an institution that's respected the world over and became himself one of the most important voices in the sport. He will be deeply missed by everyone who knew him.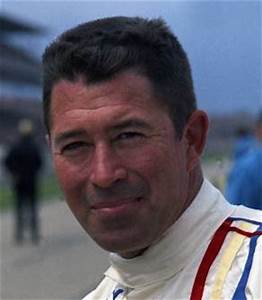 Roger McCluskey usac championship driver.
He won championship titles in three divisions of the United States Auto Club: Sprints, Stocks, and Champ Cars. He won the USAC Sprint Car title in 1963 and 1966, the USAC Stock Car title in 1969 and 1970. The Champ Car title in 1973. His first USAC Stock Car start resulted in a runner-up finish in Phoenix, Arizona in January 1968, when he drove as a substitute driver for Norm Nelson. mcCluskey earned four USAC Midget Car wins, 23 USAC Sprint Car wins, 23 USAC Stock Car wins and five USAC Championship Car (national championship) wins (including his last start at Milwaukee in 1979, which is a rarety since most drivers don't win their last race in their career). He was the USAC national champion in 1973. He started every Indianapolis 500 race from 1961 to 1979 except 1964, with a best finish of 3rd in 1973.He also made four NASCAR Grand National Series starts from 1969 to 1977 with a best finish of second in 1970 at Riverside International Raceway. He represented the USAC series in the 1974 International Race of Champions. McCluskey raced for the Holman and Moody team in a Ford GT40 Mk.IIB at the 1967 LeMans 24hrs of Endurance, France. During this event, McCluskey is credited with pulling Mario Andretti to safety-and thus saving his life-after Andretti had seriously crashed his Ford GT40 Mk.IV when a front brake locked.
2020 inductees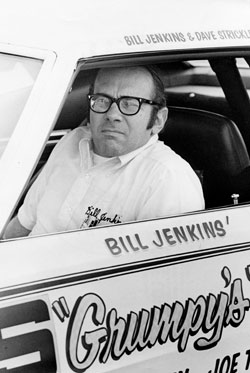 bill Jenkins nhra champion
William Tyler Jenkins nicknamed "Grumpy" or "The Grump", was an engine builder and drag racer. Between 1965 and 1975, he won a total of thirteen NHRA events. Most of these wins were won with a four-speed manual transmission. In 1972 he recorded 250 straight passes without missing a shift
He was formally trained as a mechanical engineer at Cornell University, and he used his training and skills to build engines. He has been inducted in numerous motorsports halls of fame for his engine building skills in the National Hot Rod Association (NHRA) Pro Stock class. His innovations include drag racing's first kickout oil pans, Pro Stock strut-style front suspension, and dry sump oiling system, and cool cans, electric water pump fan, gas port pistons, and slick-shift manual transmissions. Considered the "Father of Pro Stock", Jenkins-built engines were used to win five NHRA Pro Stock championships and three American Hot Rod Association (AHRA) championships.
He was nicknamed "Grumpy" for having a no-nonsense attitude at races. The Motorsports Hall of Fame of America said: "his continual search for improved performance left little time for idle chatter with his racing colleagues.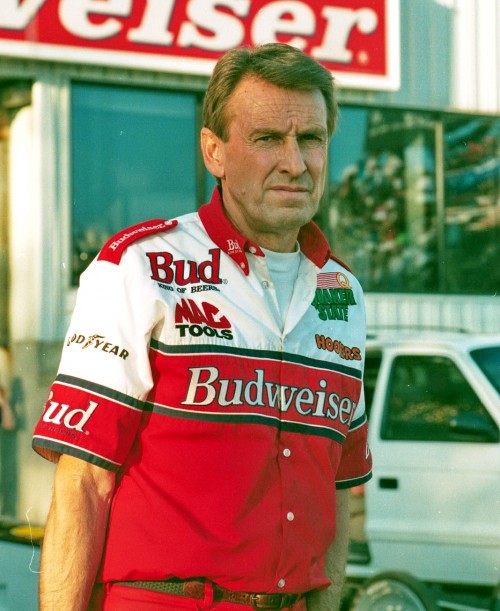 Dale Armstrong international Hot Rod Association champion
Dale Armstrong was a Canadian drag racer and crew chief. After winning 12 National Hot Rod Association (NHRA) and 12 International Hot Rod Association (IHRA) events in the 1970s,including the Pro Comp title in 1975, he became Kenny Bernstein's crew chief. The combination produced four consecutive national championships in Funny Car (1985 to 1988) and another in Top Fuel.[ Bernstein became the first driver to top the 300 miles per hour mark in an engine tuned by Armstrong.Armstrong has been inducted in numerous halls of fame. He died on November 28, 2014 at his home in Temecula, California at the age of 73. He had sarcoidosis.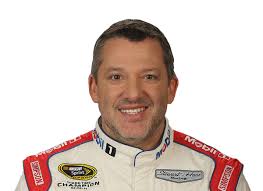 TONY STEWART indy car and nascar champion
Anthony Wayne Stewart nicknamed Smoke, is an American former professional stock car racing driver and current NASCAR team owner. He is a three-time Monster Energy NASCAR Cup Series champion as a driver, winning titles in 2002, 2005 and 2011. As a team owner, he has won Monster Energy Cup titles in 2011 with himself and in 2014 with Kevin Harvick as drivers. Throughout his racing career, Stewart has won racing titles in Indy, midget, sprint, and USAC Silver Crown cars. He is the only driver in history to win a championship in both IndyCar and NASCAR.
He last competed full-time in the NASCAR Sprint Cup Series (now known as the Monster Energy NASCAR Cup Series) during the 2016 season, driving the No. 14 Chevrolet SS for his own team, Stewart-Haas Racing, under crew chief Mike Bugarewicz. From 1999 to 2008, he drove the No. 20 Joe Gibbs Racing car, under crew chief Greg Zipadelli with The Home Depot as the primary sponsor. While driving for car owner Joe Gibbs, Stewart won two Cup Series championships in 2002 and 2005. In 2011, Stewart became the first owner-driver since Alan Kulwicki to win the Cup Series championship, which ended Jimmie Johnson's streak of consecutive championships at five. Stewart is the only driver to win the Cup Series championship under the old points system and the chase playoff format, and is the only driver to win the title under three different sponsorships (Winston in 2002, Nextel in 2005, and Sprint in 2011). He is also the first driver in the Cup Series to win the championship by virtue of a tie breaker (number of wins during the season is the first level tie breaker; Stewart had five while eventual runner-up Carl Edwards had one.) On May 22, 2019, Stewart was inducted into the NASCAR Hall Of Fame.
Jeff Gordon nascar champion
Jeffery Michael Gordon is an American former professional stock car racing driver, currently an announcer for Fox NASCAR, and a top executive for Hendrick Motorsports. He formerly drove the No. 24 Chevrolet for Hendrick Motorsports in 23 full-time NASCAR Sprint Cup Series seasons between 1993 and 2015, and served as a substitute driver for Dale Earnhardt Jr. in the No. 88 Hendrick Motorsports Chevrolet in select races during the 2016 season.
Gordon started his professional racing career in the Busch Series with Hugh Connerty Racing, followed by Bill Davis Racing, winning three races, and began racing full-time in the NASCAR Winston Cup Series for Hendrick Motorsports in 1993. He is a four-time Winston Cup champion, having won the title in 1995, 1997, 1998, and 2001. He also won the Daytona 500 three times in 1997, 1999, and 2005. He is third on the all-time Cup wins list with 93 career wins, the most in NASCAR's modern era (1972–present). Gordon's 81 pole positions led all active drivers and is third all-time; Gordon won at least one pole in 23 consecutive seasons, making this a NASCAR record. He was also the active "iron man" leader for consecutive races participated in with 797 through the 2015 season.
In 1998, NASCAR named Gordon to its 50 Greatest Drivers list. In 2008, ten years later, ESPN's Terry Blount ranked him 10th in the 25 Greatest Drivers of All-Time. Foxsports.com named him as the fifth best NASCAR driver of all time.
Gordon, along with Rick Hendrick, co-owns the No. 48 Chevrolet driven by Jimmie Johnson, who won seven Cup championships from 2006 to 2010, 2013, and in 2016. Gordon also has an equity stake in the No. 24 team. Gordon also owned a Busch Series team between 1999 and 2000, Gordon/Evernham Motorsports (co-owned with Ray Evernham; later solely owned as JG Motorsports), winning twice.
Gordon was born in Vallejo, California, and raised in Pittsboro, Indiana, and considers Sonoma Raceway and Indianapolis Motor Speedway as his "home" tracks. He currently lives in Charlotte, North Carolina, with his wife, Ingrid Vandebosch and their two children Ella Sofia and Leo Benjamin.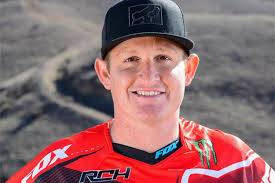 Ricky Carmichael AMA Supercross Champion
Ricky Carmichael is a former motocross racer known for his success in motocross in the early 2000s, having won the AMA Motocross Championship 450cc class seven times and the AMA Supercross Championship 450cc class five times. His unrivaled successes in the sport of motocross have given him the nickname "The GOAT"; standing for Greatest of All Time
After a dominant amateur career, Carmichael made his pro debut for the (Splitfire Pro Circuit) Kawasaki team in 1997. He was fast but erratic in Supercross; winning several main events. Crashes and inconsistency cost him the title to Suzuki's Tim Ferry. Outdoors, Carmichael was much more in his element, and he beat defending champion Steve Lamson for the win at the first round. Carmichael was very dominant and won the overall title in his rookie year.
He more than made amends for his rookie-season loss in Supercross by winning all 8 main events of the 1998 125cc East Region. He won the East/West shootout as well. Outdoors, he defended his title easily despite early challenges from Lamson, John Dowd, and Mike Brown.
Carmichael jumped to the 250 class for Supercross in 1999 with the Factory Kawasaki team. It started off reasonably well with some top 5 finishes, but had a violent crash in the early rounds and was forced to take time off. The rest of the year was filled with crashes and disappointing results and Carmichael failed to finish in the top 10 overall. He raced 125 outdoors once again with Pro Circuit, and again dominated that series for his third title in a row.
In 2000, Carmichael jumped to the 250 class full-time. He was much more consistent this year with regular top 5 finishes, including his first win at Daytona. He finished 5th overall behind eventual champion Jeremy McGrath; the latter's final title. Outdoors, Carmichael had no such trouble adapting the bigger bike and was the class of the field. He had some close battles with Sebastien Tortelli, but ended up winning the 250 National Championship in his first try.
By 2001, Carmichael had showed a new commitment to his fitness and preparation. After some early series battles with McGrath, Carmichael took a chokehold of the points lead and won 13 out of 15 Supercross races as well as the championship. After another battle with Tortelli and Kevin Windham outdoors, Carmichael won that title again as well.
Carmichael switched to Honda for 2002. He suffered a horrendous endo at round one of Supercross; earning no points. He mounted a furious comeback by winning 11 races from 16 and the title over David Vuillemin.
Carmichael accomplished something that year previously thought impossible. He won all 24 motos of the 2002 National season.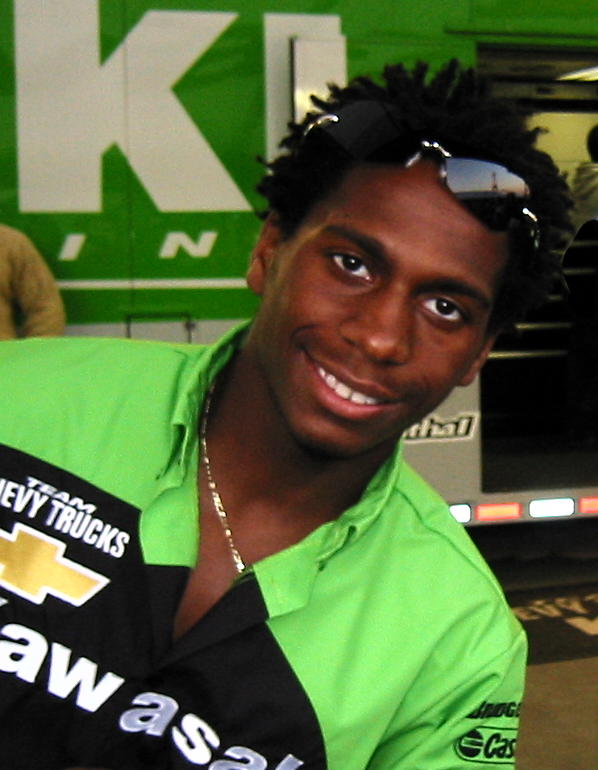 Bubba Stewart AMA Motocross Supercross Champion
James Stewart Jr. also known as Bubba Stewart, is an American former professional motocross racer who competed in the AMA Motocross and the AMA Supercross Championships. Through his years of racing, he earned the nickname "The Fastest Man on The Planet", due to his extraordinary talent, speed, athleticism and innovation.
In 2008 James won every race and every moto of the AMA Motocross season. The only other person to do this is Ricky Carmichael. James is second in all time 450 Supercross wins (50), and second all time in AMA outdoor national wins (98). He is also known for innovating the "bubba scrub" or just "scrub", which revolutionized the sport and became a fundamental skill needed to compete in Professional Motocross. He was the first to host his own television show "Bubba's World" which brought even more attention to the sport. He is arguably the most financially lucrative racer, bringing in endorsement deals paying him over $10M a year throughout his career. Known for his vibrant personality and big smile, James has been featured in news outlets like Rolling Stone, The New York Times, Maxim, ESPN The Magazine, GQ and many more. Additionally, Teen People named him one of "20 Teens Who Will Change the World". He has the record for best rookie season, having won 10/12 Motocross races in 2002.
James has 5 FIM World Champion titles from Motocross of Nations, and World Supercross. 4 AMA Supercross Champion titles, and 3 AMA Motocross Champion titles. He won the Redbull Straight Rhythm in both 2014 and 2015. He's a Motocross legend who battled the greats of multiple era's.
2019 INDUCTEES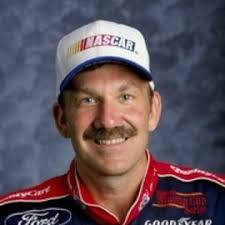 Dale Jarrett 1999 Winston Cup Series 1993, 1996, 2000 Daytona 500 Winner
Jarrett was born on November 26, 1956 in Conover, North Carolina, the middle child of Ned and Martha. Jarrett has an older brother, Glenn; and a younger sister, Patti. Jarrett's father Ned competed in the NASCAR Grand National Division between 1953 to 1966, winning two series championships in 1961 and 1965. Following retirement, Ned remained active in the racing community as manager of Hickory Motor Speedway and later established a career in broadcasting.
Jarrett spent his childhood traveling to his father's races across the Southern United States. He was introduced to golf by age twelve; he also played football, basketball and baseball while attending Newton-Conover High School. Jarrett led his high school's golf team to three conference championships, and was named the school's athlete of the year as a senior. Following graduation in 1975, Jarrett worked at Hickory Motor Speedway, the track his father managed.[8] Jarrett was offered a full golf scholarship from the University of South Carolina, which he declined. Though he continued to play golf, Jarrett was interested in following his father's footsteps as a racing driver.
In April 1977, Jarrett entered his first professional race in the Limited Sportsman Division at Hickory. His vehicle, a 1968 Chevrolet Nova, was built by Andy Petree and Jimmy Newsome.Jarrett started last and finished in ninth place; it was after this event when Jarrett knew that he wanted to race for a living. Jarrett continued to compete in the Limited Sportsman Division for two years, before moving up to the Dash Series and then the Late Model Sportsman Division, the latter in which he earned his first victory.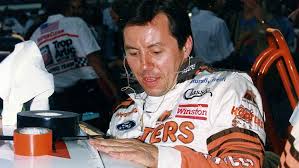 *Alan Kulwicki nascar race driver
Alan Dennis Kulwicki , nicknamed "Special K" and the "Polish Prince", was an American auto racing driver and team owner. He started racing at local short tracks in Wisconsin before moving up to regional stock car touring series. Kulwicki arrived at NASCAR, the highest and most expensive level of stock car racing in the United States, with no sponsor, a limited budget and only a racecar and a borrowed pickup truck. Despite starting with meager equipment and finances, he earned the 1986 NASCAR Rookie of the Year award over drivers racing for well-funded teams.
After Kulwicki won his first race at Phoenix International Raceway, he debuted what would become his trademark "Polish victory lap". Kulwicki won the 1992 Winston Cup Championship by what was then the closest margin in NASCAR history. He died early in 1993 in a light aircraft accident and therefore never defended his championship. He has been inducted into numerous racing halls of fame and was named one of NASCAR's 50 greatest drivers.
Kulwicki was known for being a perfectionist and doing things his own way. An engineer by trade, his scientific approach to NASCAR racing inspired the way teams are now run. Despite lucrative offers from top car owners, he insisted on driving for his own race team, AK Racing, during most of his NASCAR career. Described by his publicist as "a real hard type of person to get to know", he remained a bachelor throughout his life.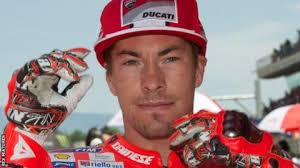 * Nicky Hayden AMA Superbike Champion
Nicholas Patrick Hayden, nicknamed "The Kentucky Kid", was an American professional motorcycle racer who won the MotoGP World Championship in 2006. Hayden began racing motorcycles at a young age. He began his road racing career in the CMRA before progressing to the AMA Supersport Championship and then to the AMA Superbike Championship. He won the AMA title in 2002 and was approached by the Repsol Honda team to race for them in MotoGP.
In his first season he performed well, finishing fifth in the championship and winning the Rookie-of-the-year award. However, this was followed by a difficult second season in which he managed eighth overall. Hayden then rallied in the 2005 season by scoring his first Grand Prix win at Laguna Seca, and finishing third in the standings at the end of the season. The next year, 2006, would be Hayden's greatest in motorcycle racing as he won the 2006 MotoGP world title, breaking Valentino Rossi's five-year consecutive streak. He remained with Honda for two more seasons without a world title, before moving to Ducati for 2009. Hayden had five largely unsuccessful seasons at Ducati, with his highest finishing championship position a seventh place in 2010. He subsequently moved to the Honda Aspar team in 2014 where he raced for two seasons before making a move to the Superbike World Championship with the Ten Kate Racing Honda team.
Hayden finished fifth in his first season in the World Superbike Championship with the highlight of his season being a win in Malaysia. For 2017 Hayden continued with the Red Bull Honda team (formerly Ten Kate Racing team).
On May 17, 2017, Hayden was hit by a car while riding his bicycle in Italy. He suffered a traumatic rain injury and died five days later in a local hospital. Hayden was posthumously inducted into the AMA Motorcycle Hall of Fame in 2018.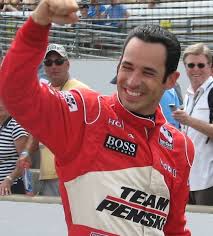 Hélio Castroneves 3 time indianapolis 500 winner
Hélio Alves de Castro Neves (Portuguese pronunciation: ju kastu nvis] better known as Hélio Castroneves, is a Brazilian auto racing driver competing in the WeatherTech SportsCar Championship. Prior to IMSA, Castroneves competed in the IndyCar Series, gaining 23 wins and 38 poles, and placed second in the season standings four times, third three times, and fourth five times. Castroneves also competed in the CART championship, with a highest championship points finish of fourth; he recorded six wins and seven pole positions in the series.
Castroneves won the Indianapolis 500 in 2001, 2002, and 2009, making him one of only nine drivers, and the only active driver, to have won at least three times. He also finished second at Indy in 2003, 2014, and 2017. Castroneves has won four pole positions for the Indy 500, including back-to-back poles in 2009 and 2010, the first driver to do so since Scott Brayton in 1996. He is also one of only five drivers – along with Wilbur Shaw, Mauri Rose, Bill Vukovich, and Al Unser being the other four – and the only active driver to win the Indy 500 in back-to-back races.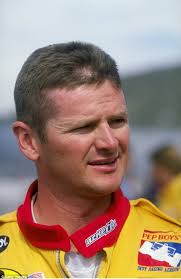 Sam Schimdt Indy racing league driver
Samuel "Sam" Schmidt is a former Indy Racing League driver and current NTT IndyCar Series and Indy Lights series team owner. Schmidt's brief IndyCar career included a win in 1999, but an accident before the 2000 season left him a quadriplegic.
After graduating from Pepperdine University, he became a successful businessman, eventually purchasing his father's parts company in 1989 at the age of 25.He raced at a competitive amateur level, supported by his business income, but dreamed of someday driving in the Indianapolis 500. He first drove professionally in 1995 in the USAR Hooters Pro Cup Series at the age of 31 which, by racing standards, is an unusually old age to begin a professional career. Nonetheless, he won Rookie of the Year honors.
In 1997 he made his first Indy Racing League start and became a rising star in the league. He raced three consecutive years at the Indianapolis 500, and earned his first race victory, from the pole position, at Las Vegas in 1999.[citation needed] He finished fifth in series points that year. During that offseason, while testing in preparation for the 2000 season, Schmidt crashed at Walt Disney World Speedway on January 6, 2000. The accident rendered him a quadriplegic, and put him on a respirator for five months.
After leaving the hospital, Schmidt, no longer able to actually drive a racecar, realized he needed to find a new passion and follow it. Inspired by meeting tetraplegic Formula One team owner Sir Frank Williams, he founded Sam Schmidt Motorsports, which has become the most successful team in the history of the Indy Lights series, winning the 2004 series championship with Thiago Medeiros, the 2006 title with Jay Howard, and the 2007 title with Alex Lloyd. Sam Schmidt Motorsports was a full-time IndyCar series team in 2001 and 2002, and continues to participate annually in the Indianapolis 500. In the Firestone Indy Lights series, as of August 2009 the team had posted 30 victories out of 100 starts.
After acquiring the FAZZT Race Team IndyCar team in 2011, Sam Schmidt Motorsports returned full-time to the IZOD IndyCar Series, and on May 21, 2011, driver Alex Tagliani won the pole position for the Indianapolis 500, the first pole for the team.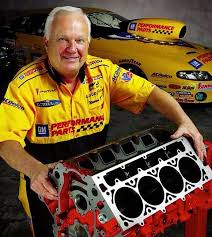 Warren Johnson nhra champion
Warren Johnson is a retired American NHRA drag racing driver. He is the driver with the most wins in pro stock with 97 career wins, six world championships and earned himself the nickname "The Professor of Pro Stock."
In 1995, Johnson had one of the biggest comebacks in NHRA history. After the alleged season ending vandalism of the cars driven by Darrell Alderman and Scott Geoffrion, Johnson started gaining points, and had gained over 500 points with the season half completed to clinch the championship that year.
In 1997 he became the first NHRA Pro Stock driver to exceed 200 mph with a pass of 200.13 mph at Richmond, Virginia. He became the first Pro Stock driver to make a sub-6.9 second pass with a 6.894-second run at Richmond, Va. In 2006 Johnson reached his 500th career race.
On May 2, 2010 at age 66 Warren became the oldest professional winner in NHRA history as we won the AAA Midwest Nationals in Madison Illinois.
Currently, Johnson is a member of the Kiz Toys' Board of Advisors. Kiz Toys is a toy company based out of Cumming, Georgia, and Johnson advises the company on automotive aspects of the KizMoto line, Kiz Toys' initial product line. Johnson reviews product designs and development on an ongoing basis and offers suggestions on current and future products associated with KizMoto. As of May 2010, he won the National Hot Rod Association's Pro Stock championship in six seasons and 97 NHRA national events. Johnson is also a two time IHRA champion in the Mountain Motor Pro Stock division.
2018 INDUCTEES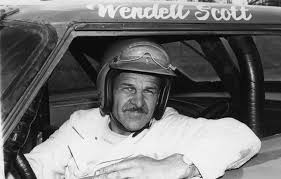 *Wendell Scott pioneer African American driver
born August 29, 1921 in the 'Crooktown' section of Danville, Virginia, was a remarkable man and accomplished many feats. Scott was the first, and remains the only, African-American to compete in and own a NASCAR team.
Wendell Scott began his career, as did many drivers of the era, off the track. He gained seat time driving a taxi in Danville as fast as it could go, and hauled moonshine whiskey at night. Scott accumulated 13 speeding tickets in his taxi, which caused him to lose his chauffeurs license. Hauling bootleg was exciting to him; he could buy liquor for 55 cents a pint and sell it for twice that amount, plus he had practice racing from the police and leaving them in a cloud of dust. He often bragged about how he could out run the police, for instance getting so far ahead and hiding in the shadows of the night until the police would come flying by. He was not always lucky though, and once was caught and placed on probation.
In 1949, a race promoter for the Danville Fairgrounds, in a quest to increase attendance for the track, was seeking an African-American to race. He went to the Danville police station to obtain a name, where the police promptly referred him to Wendell Scott. The promoter made Scott an offer, and he agreed with much enthusiasm. Scott used to watch the races with a friend and would often say, if given the chance, he would race.

Scott raced in the modified and sportsman division early in his career on dirt tracks in places such as Staunton, Lynchburg, Waynesboro, Roanoke, Zion's Crossroads, Ruckersville, and Natural Bridge in Virginia, and Hagerstown in Maryland. Scott also raced on the sands of Daytona in the 1950's. In this division, Scott won a total of 128 races. He was the Virginia State Champion in 1959, and the Southside Speedway Champion in that same year.
In 1961, Scott, along with his wife Mary, decided to make the move to the highest level of racing, NASCAR Grand National Division (now known as Winston Cup). He had to make the transition from dirt track to pavement, racing against such drivers as Ned Jarrett, Junior Johnson, Earl Brooks, Glen Wood, and Lee and Richard Petty. He also faced the challenge of going into many different tracks in the deep South at a time when segregation and racism were strong and brutal. Scott would confront many obstacles during his career in racing, often being hit on the track deliberately by other drivers, denied expense money, and turned away from tracks all because of the color of his skin. He loved racing, however, and took the bad with the good.
In 1963 NASCAR ran a split season and in December of that year, which started the 1964 season, Scott made automotive racing history. At Speedway Park in Jackson, Florida, in a 100-mile feature race, Wendell Scott finished the race first in what should have been the greatest day of his life. However, it turned out to be one of the worst when Scott was denied the win to Buck Baker. Scott and his team protested the call and after three hours of consultation a NASCAR official declared Scott as the winner. They labeled the incident as a scoring error, marking him a lap down. Scott actually ran 202 laps in the 200-lap event. It was later said that NASCAR ruled the finish out of fear of what might happen if Scott were to pull into victory lane in front of a crowd of white spectators. Scott said that he never would have kissed the beauty queen, but only shook her hand. Scott also noted that every time he passed Baker he would wave at him. This incident troubled Scott for the rest of his life. He wanted to hear his name and car number being announced over the speaker in victory lane. He did receive the winner's purse but never got the trophy for his driving performance.
Scott continued to race until a near death car crash in 1973 at Talladega Speedway in Alabama forced him to retire. He didn't have factory backing, but he did have spirit and his family: wife Mary, sons Wendell Jr., Franklin, and Michael, and daughters Willie Ann, Deborah, Cheryl, and Sybil.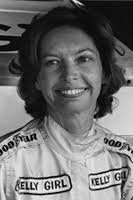 Janet Guthrie pioneer FEMALE driver
Janet Guthrie was born March 7, 1938, in Iowa City, Iowa. In 1976 she became the first woman to compete in a NASCAR Winston Cup stock car race. The next year, she was the first woman to race in the Indianapolis 500 and the Daytona 500. Guthrie was named to the Women's Sports Hall of Fame in 1980 and the International Motorsports Hall of Fame in 2006.
Race car driver and pilot Janet Guthrie was born on March 7, 1938, in Iowa City, Iowa. Janet Guthrie broke into the dangerous sport of professional auto racing to become the first woman to compete in the Indianapolis 500. Before she got behind the wheel of a race car, she was an experienced pilot. Guthrie learned to learn fly while she was in her teens.
After graduating from the University of Michigan with a bachelor's degree in physics in 1960, Guthrie worked as a research and development engineer for Republic Aviation. There she was involved in work that would later evolve into Project Apollo. Guthrie even applied to be an astronaut in 1964. While that dream didn't work out, she soon found her life's ambition behind the wheel of a race car.
Janet Guthrie bought her first race car, a Jaguar XK 120, in the early 1960s. She later switched to a Jaguar XK 140, which helped secure two Sports Car Club of America race victories. Guthrie also scored wins in her class in the 1967 and 1970 Sebring 12-hour races. By the early 1970s, she raced cars full time. Guthrie was the first woman to compete in a NASCAR Winston Cup stock car race in 1976. And she made history again the next year as the first woman to race in the Indianapolis 500 and the Daytona 500. At Indianapolis she came in 29th, and at Daytona she was the twelfth driver to cross the finish line. Guthrie also had her best Winston Cup finish that same year with a 6th place showing at Bristol.
In 1978, Guthrie returned to Indianapolis where she set the fastest time of the day twice. She ended up coming in 9th. Guthrie finished fifth at the Bettenhausen 200 in Milwaukee the following year, which was her best finish in Indy car racing. Also in 1979, she was the fourth driver to qualify at the Pocono 500, coming in after A.J. Foyt, Danny Ongais and Johnny Parsons. Guthrie went on to compete in the Daytona 500 the next year where she came in 11th. But after that, her career fizzled out because of a lack of funds. As she told AARP Bulletin, "I ran out of money. For the next three years I tried to find sponsorships and get back in the game. Finally I decided if I didn't cut it out I was going to jump through a window."
Despite the lackluster end of her career, Guthrie has been recognized for her contributions to her sport. She was named to the Women's Sports Hall of Fame in 1980 and to the International Motorsports Hall of Fame in 2006. Guthrie has shared her experiences with the 2005 memoir Janet Guthrie: A Life at Full Throttle. By out maneuvering many of her competitors, she showed the critics that women have what it takes to make it on the track. Her efforts have made it easier for later female drivers, such as Danica Patrick, to get into racing.
Willie T. Ribbs first African American driver to qualify for indianapolis 500
William Theodore Ribbs, Jr. was born on January 3, 1956, in San Jose, California, to Geraldine and William T. Ribbs, Sr. Rather than managing the successful family plumbing business founded by his grandfather in 1927, Willy T. Ribbs races cars professionally. He is the first African American to compete in the Indianapolis 500 and one of the only African American NASCAR racers.
Ribbs' love of cars and racing began at the age of four. At age nine, Ribbs worked as a ranch hand on his grandfather's ranch. His first foray into motorsports was driving Formula Ford cars in Europe soon after his high school graduation in 1975. He won the Dunlop Championship in his first year of competition, then returned to the United States and raced Formula Atlantic cars. Ribbs won the pole in the Long Beach Formula Atlantic race in 1982, outpacing veteran drivers before his engine failed. In 1983, he won five races in the SCCA Trans-Am and was honored as Pro Rookie of the Year. After competing in two NASCAR Winston Cup races in 1986, financial difficulties including the lack of corporate sponsorship kept his team from finishing the season.
In 1989, Bill and Camille Cosby stepped in and funded the Raynor-Cosby Motorsports team with Ribbs as the star driver. Ribbs won two top-ten events in his 1990 Championship Auto Racing Team (CART) Indianapolis debut. In 1991, he became the first African American to qualify for the Indianapolis 500, and he qualified again in 1993. However, by 1994 it was clear that corporate sponsors were not yet willing to back an African American motorsports athlete, despite Cosby's offer of free television commercials in return for sponsorship. Ribbs was released from his Indianapolis 500 contract and spent the year competing in the CART series, finishing in the top ten at Michigan and Denver Grand Prix races.
In 1999, Ribbs raced in the Las Vegas Indy Racing League (IRL). In 2000, he signed with Victoria Motorsports SCCA Trans-Am team and finished second at Long Beach, third at Detroit and fourth at Las Vegas. He was awarded the Johnson Triple Crown. In 2001, Ribbs joined the NASCAR Craftsman Truck Series with the support of Dodge, which initiated a motorsports diversity program to provide opportunities for minorities to race. This made Ribbs the first African American in the modern era to compete full-time in a major NASCAR division. Ribbs successfully raised his two children, Sasha and William Theodore Ribbs, III as a single parent.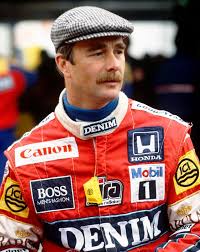 Nigel Mansell F-1 Champion
Nigel Ernest James Mansell OBE was born the 8th of August 1953 in Upton-upon-Severn, Worcestershire, England. His early childhood was unremarkable puctuated by frequent moving. He like other young boys was attracted to the exploits of Brutish sports figures including Jimmy Clark. After considerable success in kart racing, he would graduate to the British Formula Ford championship in 1977, despite suffering a broken neck in a testing accident. By now married he somehow convinced his wife Rosanne to sell the family home to finance a move into Formula 3.
In between crashes and breakdowns a certain Colin Chapman saw enough to offer the erstwhile Brit a tryout with Lotus to become a test driver for the Formula One team. Lotus, a shell of its former glory provided the car for his Formula One debut, at the 1980 Austrian Grand Prix, a fuel leak in the cockpit seemed to put him in his place and left him with painful first and second degree burns. There was never a better example of Nietzsche's dictum, "Was ihn nicht umbringt, macht ihn stärker", directly translated as "What does not kill him makes him stronger". Mansell became very close to the legendary Lotus boss Colin Chapman and was devastated by his sudden unexpected death in 1982. Out of a sense of loyalty to his departed mentor he stayed with the team for two more years.
In 1985 he joined another British team, Williams and experienced his first success after years of trials when he won the European Grand Prix at Brands Hatch. This was followed by more success but save for to incidents the World Championship was still out of reach. In 1986 a burst tire in Adelaide destroyed his season at the last possible moment while in 1987 a serious qualifying accident at Suzuka injured his back again and handed the title to his hated Williams teammate Nelson Piquet. The loathing was mutual but 1987 was not without moments of satisfaction for Mansel whose late race charge to beat the Brazilian at Silverstone unleased a flood of adulation in front of his home crowd. Setting lap records 11 times in the final moments of the race as he caught and passed the race leader. To pour salt into any wound that may have been reopened he stopped to kiss the tarmac at the spot where he'd overtaken Piquet.
Williams would suffer a down cycle when they were left to scramble for an engine and ended up with one provided by Judd. A perfectly competent firm Judd lacked the resources of the large automobile manufacturers. Mansell seized an oppurtunity at Ferrari and soon won the hearts of the Tiofosi with his barely controlled agression on the track. At the Hungaroring, a track notorius for it lack of passing oppurtunities Mansell stormed through the field from a lowly 12th on the grid to the top step of the podium. Clouds soon appreared on the horizon in the form of Alain Prost who joined the Prancing horse in 1990. Anouncing his retirement at Silverstone he instead rejoined Williams coming close to winning the title for the resurgent team. In 1992 all of the struggles suffered through the years fell a ways when Mansell driving a Williams-Renault stormed to his first World Championship. Mansell's single season record of nine wins in 16 races, combined with 14 poles and five consecutive GP victories has been matched only by Michael Schumacher.
Seemingly on the top of the world he may have been excused if he only saw enemies when he learned that Prost was negotiating the other seat at Williams to replace the more pliable Ricardo Patrese. Mansell decided to seek exile in America where he when IndyCar racing. He would soon find that the wall at Phoenix was where bravery ended and a respect for America's fearsome ovals would have to be born if he were to survive if not prosper. Remarkably it was the short ovals where he seemed to thrive the most and won the IndyCar Championship at his first go. Having won in the new series there was nothing left to prove and his enthusiasm began to wane and disputes with the team took a life of their own. Mario Andretti, a name synonymous with American racing and a racers racer would later remark that; "I guess if Ronnie Peterson was the best team-mate I ever had, Nigel Mansell was the worst". To be fair none of the other top stars of the period, Piquet, Senna, or Prost could be called easy teammates and they often got along best with those teammates of inferior talent.
The tragic death of Ayrton Senna and retirement of Prost would see Mansell return a third time to Williams. His last season in Formula One involved an aborted fling with McLaren where he was needlessly embarrassed by the team when it was found that he could not fit and drive the car safely and it had to be widened. He would not see the end of the season and retired for good. Was Mansell misunderstood, possibly, was he brave and quick, without a doubt.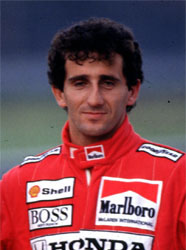 Alain Prost F-1 Champion
Alain Prost was deservingly dubbed 'The Professor' for his intelligent approach to racing. That, and his astute manoeuvrings outside the cockpit, which often paved his way into the right cars at the right times.
The result was 51 wins – more than any other driver at the time of his retirement – and four world championship titles. Had it not been for his notorious rivalry with Ayrton Senna, which descended into outright war during their two seasons as McLaren team mates, his career tallies might have been even more impressive.
Prost arrived in F1 with McLaren in 1980, having declined the offer of a one-off drive at Watkins Glen the year before. He often led team mate John Watson in his debut campaign, but his confidence in the car suffered after a series of dangerous suspension failures. He left to join Renault team who, with turbo engines, powered him to his first win on home ground in 1981.
The championship was a possibility in 1982 but chronic unreliability wounded his cause. He was also famously undermined by team mate Rene Arnoux, who refused to heed the team's instructions for Prost to be given the win as the pair led the field at Paul Ricard.
Arnoux left for Ferrari and Prost led the 1983 title race until the final round, when he lost out to Nelson Piquet. Renault then dropped him after he dared to criticise them for not keeping the car apace with technological developments.
But Prost had the last laugh – while Renault endured two winless seasons and then withdrew from F1, he returned to McLaren and won first time out at Jacarepagua. However six further wins that year were still not enough for him to capture that first-ever title – he was beaten by team mate Niki Lauda by the smallest-ever margin of half a point.
Prost finally clinched the crown in 1985 and added a second in 1986 in a dramatic finale in Adelaide. By 1987 McLaren's TAG-Porsche engines had fallen behind but McLaren boss Ron Dennis secured the coveted Honda powerplants – and the services of Ayrton Senna – for the next season.
The MP4-4s were untouchable in 1988. Prost held the upper hand for the first few races but Senna hit back hard, winning four in a row at mid-season. Although Prost accrued more points during the season, drivers could only count their best eleven finishes, and Senna's eighth win of the year saw him clinch the championship at the penultimate round.
The pressures of the championship had taken its inevitable toll on their relationship, particularly in Portugal where Senna forced Prost alarmingly close to the pit wall at high speed. Matters worsened in 1989 when Prost accused Senna of reneging on a pre-race agreement at Imola.
That championship was decided in controversial fashion. Prost went into the penultimate race ahead on points and when Senna made to overtake his team mate Prost, well off the normal racing line, tangled with his team mate. Both were seemingly out on the spot and although Senna recovered and went on to win the race, his subsequent disqualification secured Prost's third title.
Prost had already made arrangements to move to Ferrari. He took the number one with him and took the fight to Senna in the middle of the season. But returning to Suzuka the McLaren driver had the initiative and repaid Prost in kind for his tactics twelve months earlier. Though not quite with the same degree of subtltety – Senna rammed Prost off the track at the first corner at over a hundred miles an hour.
Prost's relationship with Ferrari soured in 1991. Winless against the might of McLaren and Williams, he was fired before the final round for criticising his car in circumstances not dissimilar to his departure from Renault.
But, as ever, he had a contingency plan – a contract with Williams team for 1993. The team had dominated the 1992 campaign and Prost was rarely tested as he collected a fourth title, though Senna headed him in the points early in the season.
Having departed the sport seemingly for good Prost tested for McLaren at the beginning of 1994, then decided to remain in retirement. In 1997 he returned as boss of an eponymous team, formerly Ligier, but over the next five years the team dwindled from race-winners in 1996 to non-points-scorers in 2000. Prost quit for good after the team folded in 2001. He now serves as an ambassador for Renault.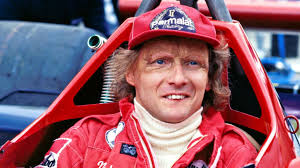 Niki Lauda F-1 Champion
Lauda was a champion Formula 1 race car driver known for his long-standing rivalry with fellow driver James Hunt.
was born into a wealthy Austrian family in 1949. Always interested in cars, Lauda began racing in his early 20s, joining Ferrari in 1974. He took his first world championship a year later, but his career took a nasty turn in August 1976 when he was involved in a terrible crash. Lauda returned to the driver's seat just six weeks later, and he reclaimed the championship in 1977. After initially retiring in 1979 to run an airline he had founded, Lauda returned to racing in 1982, taking the championship for the last time in 1984. He has since served as an adviser to Ferrari and as a television commentator, in addition to running his airline, Lauda Air.
Famed race car driver Niki Lauda was born Andreas Nikolaus Lauda on February 22, 1949, into a wealthy Vienna family, but he nevertheless had to earn his way into the world of Formula 1 racing. He became interested in auto racing at a young age through a general love of automobiles, getting his fix parking relatives' cars and thrashing around the Austrian countryside in a 1949 Volkswagen Beetle convertible. Lauda's first race came along in 1968, but, despite his early success (he came in second in that race), his family was fully against the idea of him becoming a race car driver.
Lauda worked his way through the Formula 3 and 2 circuits, supporting his struggling career through bank loans, before landing a spot on the Ferrari Formula 1 team in 1974. Ferrari was a company with a stellar reputation, but one that had not had a racing champion since 1964. Lauda turned that around in his second year as he compiled enough wins to take the championship with a wide margin over second place.
In 1975, Niki Lauda came head-to-head with James Hunt, the flamboyant British driver, for the first time at the Dutch Grand Prix. Hunt took the race, but more importantly Lauda took the championship that year, and the two began a career-long rivalry/friendship. The two drivers would meet again and again over the years, but a key race in 1976 would be different.
2017 INDUCTEES
Anton Hulman "Tony" George Indy Racing league founder
Anton Hulman "Tony" George (born December 30, 1959) is the chairman and former President and CEO of the Indianapolis Motor Speedway and Hulman & Company, serving from 1989 to 2009. He was also formerly on the Board of Directors of both entities. He founded the Indy Racing League and co-owned Vision Racing. Many commentators, such as Gordon Kirby, suggest that George's actions at the head of the Indianapolis Motor Speedway and in creating the IRL to rival the then-dominant CART led to a sharp decline in popularity of open-wheel racing in the United States as it split the fanbase, and gave a significant boost to the national popularity of NASCAR.
Tony George's grandfather, Tony Hulman purchased the Indianapolis Motor Speedway at the end of World War II. George is a former driver, having competed in the 1989 Indy Lights championship, finishing 12th in points and capturing 5 top-tens. His mother (Tony Hulman's daughter), Mari Hulman George (born 1934), formerly served as the speedway's Chairman and delivers its famed "ladies and gentlemen, start your engines" public address before every Indianapolis 500 from 1997-2015 and the Brickyard 400 from 1997, 1999-2015. He delivered the command for the 2017 Indy 500 using the Drivers Start Your Engines command.
Tony George became president and CEO of the Indianapolis Motor Speedway Corporation after the death of Joe Cloutier in 1989.
During his first few years as Speedway head, he oversaw new projects such as an infield road-circuit, Tower Terrace Suites, pit lane reconstruction (including the addition of a warm-up lane requested by many influential Speedway alumni), and a control tower.
Before George's arrival, the Indianapolis Motor Speedway (or "the Speedway") traditionally had only one race: the Indianapolis 500. He changed that with the announcement that a NASCAR race would be held at the Speedway. The Brickyard 400 made its debut on August 6, 1994, with Jeff Gordon taking the checkered flag. Many Indianapolis purists despise stock car racing at the most famous circuit in North American open-wheel lore. Some fans believe the configuration of the Indianapolis Motor Speedway, as well as the diamond cutting of the track surface makes it a poor facility for stock car racing, traditionally exhibited on high banked ovals.
In 1998, the IROC series came to the track, to little fanfare, and less success.
Later, George helped bring Formula One back to the U.S. with the United States Grand Prix held at the Speedway in 2000. This project involved building a road course inside the oval. The inaugural event in 2000 set an F1 attendance record. Controversy surrounded the 2005 United States Grand Prix, where only 6 of the 20 cars took the green due to problems with Michelin tires, which likely damaged the reputation of the event and the F1 in general in the USA market. Michael Schumacher became the first driver to win 5 races at the Indianapolis Motor Speedway by winning the 2006 race on July 2. The UK's Lewis Hamilton won the 2007 event, which turned out to be the last running. George and Formula 1 boss Bernie Ecclestone could not reach an agreement to continue the US Grand Prix at the Brickyard for 2008 and beyond.
The Speedway hosted its first MotoGP event in 2008. The motorcycles could not safely race through the banked turns at high speed, so a portion of the infield was plowed and paved to provide a bypass to Turn 13 of the original road course.
George resigned on June 30, 2009 as President and CEO of IMS and Hulman & Company claiming it to be so he could focus more time on the Indy Racing League. It has been reported that while George's mother Mari Hulman George (who is also chairman of the board) supported him, his sisters (who are the other directors) wanted him forced out. The board also rejected George's request to continue funding Vision Racing. George had spent hundreds of millions of dollars on IRL teams, drivers, entry fees, marketing plans, airplanes, personnel and his own team. However the IRL has been said to be continually losing money, and after the estimated $60 million overhaul of the Speedway to accommodate Formula One in 2000, George's sisters, Nancy George, Josie George and Kathi Conforti-George, voiced their concern to their mother over the spending habits of their brother, finally convincing Mari Hulman George to take unchecked power away from George in June 2009.
In January 2010, George resigned from the board of directors. In February 2011, however George again became a director of Hulman & Company when the board was expanded.[6] At a July 2016 NASCAR event at the Indianapolis Motor Speedway, Tony George was described as Chairman of the Board of Hulman & Company, which owns IMS and the IndyCar Series.
Shortly after being removed from the CART Board of Directors, George announced the creation of the Indy Racing League, which began racing in 1996. He claimed to create the IRL to challenge the already established CART series, and to encourage a more even playing field in open wheel racing. He claimed he wanted a series to run entirely on oval tracks, making it distinct from CART, which raced on road and street courses in addition to short ovals and superspeedways. George angered many CART participants by requiring 25 of the 33 spots in the Indianapolis 500 to be occupied by drivers in the IRL circuit. This meant that CART could not hold the Indianapolis 500 as a points scoring event on their calendar as not enough teams would be allowed to compete and earn points. CART decided to stage their own race on the same day, the U.S. 500 at Michigan International Speedway. Due to the lack of participation from the established CART teams, most of the biggest names did not enter the Indianapolis 500 for several years. Tony George became a figure of derision among some racing fans, and he is blamed for open wheel racing losing fans, sponsors and drivers to NASCAR.[8]
George was successful in increasing the visibility of Indianapolis Motor Speedway. The Indy 500 remains one of the highlights of the IRL race season and maintained a strong attendance. George also attracted NASCAR and Formula One (from 2000 to 2007) to Indianapolis. In 2008, the MotoGP series added the oval circuit to its schedule. However the IndyCar series had trouble drawing fans, plus it lost IndyCar drivers to NASCAR such as Sam Hornish, Dario Franchitti, and Danica Patrick. Despite the absorption of the Champ Car World Series (the successor to CART) to IndyCar series, the merged series is nowhere as popular or commercially successful as CART in the early 1990s.[2]
IRL

The IRL was founded in 1994 and began racing in 1996 claiming to offer a cost-effective, all-oval alternative to the PPG CART Indycar World Series. The basic beliefs behind the creation of the series were:
However, as the series evolved, it moved away from these principles, with more foreign drivers, increased costs and, eventually, racing on road courses and street circuits.
The IRL ("The League") struggled initially, until CART faced financial turmoil and CART teams began to return to the Indianapolis 500 in 2000. The concern over CART's future, financial stability, and the attraction to the sponsorship draw of the Indy 500 saw teams slowly moving over to the IRL from 2001 to 2003.
CART declared bankruptcy in the 2003 off season. George made a bid for certain assets of the company, while a trio of CART owners (Gerald Forsythe, Paul Gentilozzi, and Kevin Kalkhoven), along with Dan Pettit, also made a bid, calling their group the Open Wheel Racing Series (OWRS). George's offer was to purchase only select company assets, in an effort to eliminate any series that would rival his Indy Racing League. However, if George's bid (which was actually higher than the OWRS bid) had been successful, many vendors that were still owed money by CART would have not been paid. Therefore, a judge ruled that the OWRS group should be the purchaser of CART, which ensured a 25th anniversary season in 2004, running as Champ Car. Open Wheel Racing Series. (OWRS) would later change its name to Champ Car World Series (CCWS) LLC.
Prior to 2003 the IRL was unable to use the term "IndyCar" since that was licensed to CART. In 1992, The Speedway trademarked the term "IndyCar" which had been widely used by CART in championship branding and promotion. The Speedway then leased the term to CART through 1997. With the inception of the IRL, a lawsuit, and a six-year non-use agreement, formal use of the term disappeared. Widespread confusion ensued with CART still competing at "Indy" branded events in Canada and Australia, and both CART/Champ Car and IRL cars being popularly referred to as "IndyCars". In 2003 the non-use agreement expired and the IRL was able to adopt the recognized IndyCar moniker once again, thereafter becoming the IRL IndyCar Series.
Road courses entered the IRL schedule in 2005. Adding road courses added significant costs to the increasingly expensive league, because modifications to the chassis and engines (which were initially designed solely for the stresses of oval racing) would be required.[citation needed] This caused much criticism of George, and debate amongst fans, some of whom argued it went against what the IRL was founded. The fans opined that oval racing was more exciting than road and street racing, better represented the heritage of open-wheel, paid homage to the Indianapolis 500, was more cost effective and better allotted American drivers with the opportunity of success in open-wheel racing.[citation needed] The other side of the debate argued it was best for the IRL to adopt more road racing, and become similar to CART, the series that saw American open-wheel racing reach its peak (popularity, manufacturer and sponsor interest) with a diverse schedule, technical package, manufacturer involvement, and large costs.[citation needed] In addition, Champ Car, the successor to CART, had failed at providing as diverse a schedule as in the CART era. Becoming CART-like in its season schedule was suggested as a way to help grow the IRL fan base.
In 2005, George stepped down from his operational duties in the IRL to start his own team, Vision Racing, with his wife Laura George and actor Patrick Dempsey. The team was formed from the remnants of Kelley Racing, which disbanded after the 2004 season. George's stepson, Ed Carpenter, began driving for the team in 2005. Vision Racing shut down operations on January 28, 2009 due to a lack of sponsorship.[9]
On February 22, 2008, the IRL and Champ Car World Series signed a deal to unify the two open-wheel American circuits, bringing them under the umbrella of the IRL IndyCar Series. A statement was released by the two sides, saying, "Owners of Champ Car and the Indy Racing League completed an agreement in principle Friday that will unify the sport for 2008."
"Gerald Forsythe, co-owner of Champ Car, signed an agreement in principle in Chicago, joining his partner Kevin Kalkhoven and Indy Racing League founder and CEO Tony George who had signed late Thursday in Indianapolis."
johnny rutherford 3 time indianapolis 500 winner
John Sherman "Johnny" Rutherford III (born March 12, 1938), also known as "Lone Star JR", is an American former automobile racing driver. He is one of ten drivers to win the prestigious Indianapolis 500 mile race at least three times, winning in 1974, 1976, and 1980.
Rutherford began racing modified stock cars in 1959 and he also dabbled in stock car racing, making 35 NASCAR Sprint Cup Series starts from 1963 to 1988. Rutherford won in his first start, at Daytona International Speedway driving for Smokey Yunick. This made him one of the youngest drivers ever to win in NASCAR history, in a full points-paying NASCAR race.
.In 1959, Rutherford started driving modified stock cars in Dallas. He joined the International Motor Contest Association sprint car circuit in 1961 leading it for most of 1962. Rutherford later joined the United States Auto Club (USAC) starting in the Hoosier Hundred and later winning his first championship.
Rutherford won his qualifying heat race for the 1963 Daytona 500, becoming the youngest winner of a Duel as a championship race, a record that would stand as the races were taken off the championship schedule in 1971 (though it has since been broken, the race was not a championship race when it happened). Later that year he also had his first start in the Indianapolis 500. Rutherford's first Indy car race win took place at the Atlanta 250. He won the USAC National Sprint Car Championship in 1965.
On April 3, 1966, Rutherford suffered a serious crash at Eldora Speedway. His car flipped out of the track, and he suffered broken arms, a broken finger, and a head injury. He was forced to sit out the 1966 Indy 500.
Rutherford won pole position at the Indy 500 in 1973, 1976, and 1980. In 1973, Rutherford set a one-lap track record of 199.071 mph, falling just shy of becoming the first driver to break the 200 mph barrier at Indianapolis. Victories at the Indy 500 for him came in 1974, 1976 and 1980. In 1984, at Michigan International Speedway, Rutherford set an all time Indy car qualifying lap speed record of 215.189 mph. His win in the 1986 Michigan 500 at age 48 made him the oldest winner of a 500-mile race, a record that still stands. Rutherford recorded nine straight seasons with a victory making him one of just six drivers in Indy Car history to do so
In October 1977, Rutherford travelled 'down under' to compete in Australia's most famous motor race, the Bathurst 1000 km (800 mi) touring car race at the Mount Panorama Circuit. There, partnering fellow Indianapolis racer Janet Guthrie (who earlier that year had become the first woman to qualify for the Indianapolis 500), Rutherford drove a V8 powered Holden Torana for the team that had won the 1976 race, Ron Hodgson Motors. Driving a completely unfamiliar car (Australian cars have the steering wheel on the right side of the car) on a 6.172 km (3.835 mi) public road course carved into the side of a mountain, Rutherford qualified 26th out of 60 starters. During practice he complained about his car as it was not as good as the teams lead car driven by 1976 winners Bob Morris and John Fitzpatrick (JR was 8.2 seconds slower). Morris then got in the car and while not as quick as his own Torana, easily lapped over 5 seconds faster showing the problem was simply JR's lack of familiarity with the car and track. Wisely, JR made a cautious start to the race (another new experience was the standing start), but his race would come effectively to an end on lap 8 when he attempted to lap the Ford Escort RS2000 of 1966 winner Bob Holden. The Torana and Escort made contact and Rutherford ended up crashing into an earth bank at the top of The Mountain. The bent Torana was then brought back to the pits on the back of a tilt-tray truck (with the race still going at full speed and cars passing the truck going along the 2 km long Conrod Straight at over 150 mph (241 km/h)). It was then disqualified before being reinstated. Rutherford then completed another 5 laps before finally retiring with Guthrie not getting to drive.
Rutherford's NASCAR Winston Cup career included 35 starts from 1963 to 1988. He won in his first start, at Daytona International Speedway driving for Smokey Yunick. The win, in the second 100-mile Daytona 500 qualifying race, made him one of the youngest drivers ever to win in NASCAR history, in a full points-paying NASCAR race. (Until 1971, the qualifying races were full points-paying races.) In 1981, Rutherford drove twelve races, the most he ever raced in a single NASCAR season. In addition, Rutherford competed in five runnings of the International Race of Champions – 1975, 1977, 1978, 1980 and 1984.
Rutherford's 24th and final start at Indianapolis would be 1988. By that time he was running only a part-time schedule, and was splitting time working as a television analyst on NBC, ABC, CBS and ESPN and radio analyst on Indianapolis Motor Speedway Radio Network. He also served as the pace car driver for the PPG Indycar series for most of that period. He failed to qualify at Indy in three attempts (1989, 1990, 1992) and was not able to find a ride in 1991 or 1993. Starting in 1989, Rutherford began serving as the driver analyst on the IMS Radio Network. He was never able to achieve his milestone 25th Indy start.
During the month of May 1994, Rutherford officially retired from racing. At its inception in 1996, Rutherford took a full-time position as an official with the IRL, serving as pace car driver and driver coach. Rutherford also served as a racing consultant for Team Pennzoil
Rutherford, who has been invited to The White House on behalf of Indy on multiple occasions, is considered a popular ambassador and spokesman for the sport of Indy car racing.
John Force nhra champion
John Harold Force (born May 4, 1949 in Bell Gardens, California) is an American NHRA drag racer. He is a 16-time Funny Car champion driver and an 18-time champion car owner. Force owns and drives for John Force Racing. He is one of the most dominant drag racers in the sport with 144 career victories. He graduated from Bell Gardens High School and briefly attended Cerritos Junior College to play football. He is the father of drag racers Ashley Force Hood, Brittany Force, and Courtney Force. His oldest daughter Adria Hight is the CFO of John Force Racing [JFR].
Current drivers racing under him are son-in-law Robert Hight, and daughters Brittany and Courtney. Mike Neff was crew chief for John two separate times. Effective July 2013 Jimmy Prock replaced Mike Neff as crew chief, with Mike Neff becoming crew chief for Robert Hight. Neff, who was once the Crew chief for rival driver Gary Scelzi, raced in a 4th Funny Car for Team Force from October 26, 2007, following the death of Eric Medlen, until the end of the 2009 season. However, in 2010, after a 2009 season in which Force did not win a single race, Force parked his 4th car, and named Neff as his new crew chief instead. This decision resulted in Force winning his 15th NHRA Championship. His nickname among several of the drivers, as well as several announcers within the sport of drag racing is "Brute Force," a nickname he earned by his dominating wins during his run of ten straight NHRA championships. Force, his daughters, Courtney, Ashley, and Brittany, and son-in-law Robert Hight are collectively known as "The First Family of Drag Racing."
Force was born to Harold and Betty Ruth Force. As a child he lived in logging camps, Indian reservations, migrant farms, and trailer parks. He survived childhood polio with therapy and perseverance of his mother and family. He played football in high school and attended Cerritos College.
John is one of six children of Harold and Betty Ruth Force. John had five siblings. Walker, Louie, Tom (now deceased), and Cindy Hem (married to Skip Hem) were all older than John. Dana (Baby Force) Marino, is ten years younger than John. Walker and Cindy still live near John in Southern California. Walker Force and Louie Force have worked with John over the years, but Walker Force is the only sibling now working at JFR. Younger sister Dana (Marino) did not grow up in the same house or spend any time with the family in the early years of the Force Family Racing activities. Dana now attends some of the NHRA events as she is a part-time Intern-Journalist with "The Motorsports Report" based in Las Vegas, Nevada, and resides an hour south in Kingman, AZ. She is a realtor by trade, but is Aunt Dana to Adria, Ashley, Courtney and Brittany. Much of the family still attends NHRA National events to cheer on John, Robert Hight (Adria's husband), Courtney and Brittany when the events are closer to their homes in Pomona, Las Vegas, Sonoma, and Phoenix.In 1971, Force drove the Jack Chrisman-built Night Stalker Mustang, his first funny car. Early in his career, he drove a Corvette, a Monza and then in the 1980s switched to an Oldsmobile Cutlass through the end of the 1993 season. He drove a Chevrolet for 1994, quickly changing to a Pontiac in 1995 and 1996. Force was a Ford driver and team owner from 1997 until 2014, when he returned to Chevrolet.
Between 1987 and 1996, Force won sixty-seven of 203 NHRA national events, four of nine Big Bud Shootouts, and six World Championships.In 1996, with Austin Coil tuning, Force went to the final round in sixteen of nineteen national events, taking thirteen wins, one of the best records ever in Funny Car history. His domination would continue, with ten NHRA FC World Championship wins from 1993 to 2002, including six straight 1997-2002; his success was so amazing, he was accused of cheating (and was willing to strip off his firesuit to prove he was not). Between 1997 and 2006, Force went to the final in 105 of 228 events and took sixty-one tour wins, as well as qualifying for all ten Big Bud Shootouts, winning in 2000 and 2006.Between 1997 and 2006, Force went to the final in 105 of 228 events and took sixty-one tour wins. On top of that, he had ten of the quickest or fastest passes in Funny Car.
In 1992, the honor of putting Force on the trailer would go to Cruz Pedregon, driving the Larry Minor McDonald's-sponsored Olds to the championship.
Force's points finishes were 23rd, 8th, 26th, 16th, 20th, 4th, 13th, and 5th from 1978-1985. Force then had Castrol Motor Oil jump on as his main sponsor, and was even more successful. From 1986-1995, he finished 4th, 4th, 6th, 1st, 1st, 2nd, 1st, 1st, and 1st. He then had fellow driver and arch-rival Cruz Pedregon's younger brother, Tony, come aboard to drive John's 2nd car. From 1996-2000, John finished 1st all 5 years. In 2001, John had longtime friend and fellow drag racer Gary Densham drive a third car. In that same year, John once again finished as the champion, which he followed up with an astronomical 10th straight world title in 2002. In 2003, for the 1st time since 1992, John didn't win the title. It was not all lost however, because teammate Tony Pedregon won his 1st world title. At the end of the season, Tony Pedregon went on to join brother Cruz in their own racing organization, and Gary Densham went on to race independently. John found quick and personal talent in 2 young-guns. Eric Medlen, son of long-time JFR crewmember John Medlen, came on to race. John's other driver, Robert Hight, was his son-in-law and crewmember. Both had a lot of success in their season, but John topped both in 2004 with a 13th world title.
Since 2000, Force has been sponsored by BP's Castrol brand, continuing the relationship between Force and Castrol that began in 1985. After winning his fourth Funny Car title in 1994, Force earned the nickname of "Brute Force" from drivers, and even announcers such as Steve Evans. This nickname hearkens back to his early days on the track, when he drove his own unsponsored car, named "Brute Force". Force had a cameo in a 2004 episode of King of the Hill ("Dale Be Not Proud"), in which Dale Gribble donates a kidney to Force, after which it appears he does not need it.
In 2005, Force won 5 events, but only finished third in the championship standings, 32 points behind champion Gary Scelzi, and 24 points behind Ron Capps, both of Don Schumacher Racing [DSR].
In 2006, Force won his 14th NHRA World Funny Car Championship, defeating Capps in the quarter-finals of the Automobile Club of Southern California NHRA Finals which mathematically eliminated Capps and teammate Robert Hight from the championship. Force went on to win the event, his third of the season and 122nd of his career.
After the death of Eric Medlen, and John Force's crash in Ennis, Texas at the 2007 O'Reilly NHRA Fall Nationals, Force started 2007 poorly, suffering a DNQ ending a 20+ year consecutive qualifying streak. He rebounded, winning the O'Reilly NHRA Thunder Valley Nationals in Bristol, Tennessee, then proceeded on to three more final rounds, winning another race in Sonoma, California, putting him fourth in points and allowing him to make the first cut in NHRA's new point system, the Countdown to the Championship aka the "Countdown to Eight". He stumbled again in the next two races but, again, rebounded until his crash.
On September 23, 2007, Force was injured in a crash at the O'Reilly Auto Parts Fall Nationals in Ennis, Texas as he crossed the finish line against Kenny Bernstein. Bernstein's Funny Car drifted into Force's lane, clipping the final timing cone and a foam block which shot into Force's lane. Initially, it was thought that the block ruptured Force's left rear tire, causing it to come apart, violently shaking the chassis until it broke apart. However, it was determined by NHRA after thorough review, that the block went behind Force's tire and was not the cause of the wreck. Injuries sustained were a broken ankle, abrasion of his right knee, a dislocated left wrist, and badly mangled fingers and toes. Phil Burkart Jr. was added as Force's replacement for the remainder of the 2007 season, starting at Las Vegas.
2008 was a subpar season for Force who finished 7th, out of the top five for the first time since early in his career. However, after the death of driver Scott Kalitta, he was instrumental in the development of some of the safety precautions that were implemented throughout the rest of the season, and along with retired 6 time world champion Kenny Bernstein [4 Funny Car titles, 2 Top Fuel titles] and seven-time Top Fuel champion Tony Schumacher, with backing from NHRA's Track Safety Committee, assisted in developing a sensor that monitors the engines of Top Fuel dragsters and Funny Cars. Should the engine backfire at any time during a race, the fuel pump is automatically shut down, and the parachutes are deployed. The idea was to either minimize or eliminate the circumstances that led to Kalitta's death. This safety device became mandatory and was put into place at the start of the 2009 season. Also, a brake handle that, instead of needing to be pulled back toward the driver, was set up to be pushed away from the driver was made an optional setting for the Funny Car division. This change happened because when the 2008 season began, Force's right arm was still in a cast, due to broken fingers, and he needed a different way of using the brakes on the car, rather than the traditional handbrake that needed to be brought back toward the driver; also, in the 2007 accident in Texas, Force had lost some grip in his right hand, and had some problems putting enough pressure on the handbrake to unlock it from position to apply the brakes. This led to the development of the forward application handbrake, which has given several drivers in the Funny Car class quicker access to the brakes. Though Force only finished seventh in the points in 2008, he became influential within the NHRA for innovations in driver safety.
2009 once again saw Force finish outside of the top five. John finished 9th, daughter Ashley finished 2nd, and Mike Neff placing 10th. However, he would win his 16th overall championship as a car owner, with teammate Robert Hight's championship, placing Force as the winningest car owner in NHRA history.
The start of the 2010 season saw Force celebrate 25 years with the same sponsor, as well as 34 years in the NHRA. On February 14, Force won the season opener at Auto Club Raceway at Pomona in the 50th Winternationals in California defeating Ron Capps. After 13 events, Force had 4 wins, and lead the Funny Car points standings with 933, 58 ahead of teammate Robert Hight.
Going into the Auto Club of Southern California Finals in Pomona, CA on November 14, 2010, Force needed some help to win the championship. He started the day 38 points behind 28-year-old Matt Hagan, who ran for team rival Don Shumacher and his team. In order to capture the championship he needed to finish two rounds ahead of Hagan. With Bob Tasca III taking Hagan out in the first round, Force won his first round over Gary Densham and second round win over Bob Bode, securing the championship. He then went on to victory beating Melanie Troxel in the semi-finals and in the final, defeated Jeff Arend. John Force now has the distinction of being the oldest NHRA champion in history. Long time crew chief Austin Coil resigned from John Force Racing on November 16, 2010.
As of February 7, 2011, JFR has already flip-flopped cars between John, Robert, Ashley, and Mike. Ashley Force Hood announced that she was expecting her 1st child, and would sit out the 2011 Full Throttle Drag Racing Season. John Force would drive Force Hood's new Ford Mustang with Dean Antonelli and Ron Douglas tuning, sponsored by Castrol Motor Oil. Robert Hight will remain in the Auto Club of Southern California Ford Mustang. Mike Neff, after co-crew chiefing John Force's car with Austin Coil, will drive Force's car from John's 2010 championship season. Neff's Ford Mustang will be sponsored by Castrol Oil. As of February 7, 2011, JFR started testing for the 2011 season. Out of the 11 testers so far, Force is 1st, Hight was 5th, and Neff was 6th. As of July 31, Force is 7th in the points standings, while teammate Mike Neff is leading, and Robert Hight is in second.
2012 saw John welcome a fourth driver to his stable, former Top Alcohol Dragster champion, and daughter Courtney, who was in the running for the Auto Club Rookie of the Year Award, she will be driving the Traxxas Ford Mustang in her rookie season, and she has done something that only sister Ashley has done, beat her father in the first meeting between the two, taking John out of the Arizona Nationals in Phoenix in just the first round. Although Force was unable to retain the championship, finishing in fifth, he saw Courtney win something he never did, the NHRA Road to the Future Rookie of the Year award, and Courtney's second-place finish in the season helped cement John Force Racing's legacy for several years to come.
During the start of the 2013 season, Ashley announced her retirement from full-time competition, this left the Force team short a driver. Rather than find another driver to take Ashley's place within the Castrol GTX Funny Car, John did something he had never done before, field a Top Fuel car, with daughter Brittany behind the wheel. On July 26, 2013 it was announced that after the 2014 racing season Ford Motor Company would no longer be a part of John Force Racing.[14] It was also announced that after the 2014 racing season, primary sponsor Castrol would be leaving JFR after a 29-year business relationship[15]
During the penultimate race of the 2013 season, Force beat his daughter Courtney in the final round to win the race and his 16th NHRA Funny Car Championship.
In 2015 John announced a partnership with Chevrolet. He competed in the 2015 racing season with a new sponsorship deal from Peak Antifreeze.
*frank wheeler indianapolis motor speedway founder
frank wheeler A Auto Racing Pioneer. Born in Manchester, Iowa, at the turn of the 20th Century, he became the principle owner of the Wheeler-Schebler Carburetor Company. He later was a director of several firms, including the Stutz Fire Engine Company, when his passion for auto racing, led him to invest heavily in a 2-mile concrete speedway at Minneapolis-St. Paul, Minnesota. In 1909, together in partnership with Carl Fisher, Arthur Newby and James Allison, they founded the creation of Speedway City, Indiana. This race track was notable for being the premier auto race complex known as the Indianapolis 500 Speedway in 1911.
*John Marcum

arca founder
John Marcum was the co-founder of ARCA and a NASCAR official from Toledo, Ohio, United States. He raced in the 1930s and 1940s. He owned cars entered in two NASCAR Grand National (now Sprint Cup) races with one Top 10 finish. He was inducted in the International Motorsports Hall of Fame in 1994. Marcum would be inducted into the Dayton Speedway Hall of Fame October, 2010.
Marcum's first raced as a 14-year-old in his family car after lying about his age.Marcum raced against NASCAR founder Bill France, Sr. in the 1940s in open wheel roadsters. After France formed NASCAR in the late 1940s, he hired Marcum as an official, a position that he held from 1949 until 1952.
In 1953, Marcum created a Midwestern United States racing series called "Midwest Association for Race Cars" (MARC) with his wife Mildred in his hometown Toledo, Ohio. It was a regional stock car racing series, a Northern counterpart to the Southern stock car series of the day, Bill France's NASCAR. The first MARC race was at Dayton Speedway, in Dayton Ohio, on May 10, 1953. The series race slightly modified street cars.John Marcum, Blair Rattliff and Tom Cushman would be parts owner of Dayton Speedway in 1958.
The series was renamed "Automobile Racing Club of America" (ARCA) in 1964 when it began to race on superspeedways. France had contacted Marcum wondering if ARCA would want a race at the Daytona Speedweeks. Marcum jumped at the chance for national exposure. The ARCA/NASCAR relationship continues today. The series frequently schedule events at the same track on the same weekend. The ARCA event is frequently the Saturday support race to the Sunday NASCAR Cup event. For several decades, ARCA used older NASCAR Cup racecars at their events. Today ARCA's President is the late John Marcum's grandson Ron Drager. John's wife, Mildred Marcum, was an integral part of the organization and worked both in the ARCA office on a regular basis until her death at 98 in 2012.
*Arthur C. Newby indianapolis motor speedway founder
Indianapolis 500 Speedway co-founder. Arthur C. Newby was born on a small farm in rural Indiana and went to Indianapolis in 1881 seeking employment. He was hired as the office boy by the Nordyke and Marmon Company, where he worked his way into management. He was captured by the cycling craze in the late 19th century and helped found the Zig-Zag Cycling Club. In the 1890s, he and others started the Indianapolis Chain and Stamping Company, which became the Diamond Chain Company. Their mainstay product at the time was bicycle chains, supplying about 60 percent of the American market. He was also associated for several years with Hay and Wilts Manufacturing Company, makers of Outing bicycles. In 1898 he spearheaded construction of a quarter-mile wooden bicycle race track in Indianapolis, which was named the Newby Oval. Two of his partners on that racing track venture were James Allison and Carl Fisher, whom he later joined in founding the Indianapolis Motor Speedway in 1909. It was then he turned his focus to automobile racing and he partnered with others to form the National Motor Vehicle Company, which started out building electric, then gasoline-drive cars. Newby never married, and in his later years became a philanthropist, never seeking recognition. His favorite recipients for his support were hospitals and higher education.
2016 INDUCTEES
Bryan Clauson GREAT OPEN WHEEL RACER
Bryan Clauson was an American auto racing driver. Best known for his achievements in dirt track open-wheel racing, Clauson also competed in the NASCAR Nationwide Series, Indy Lights, and IndyCar Series and was a former development driver for Chip Ganassi Racing.
In 2016, Clauson attempted to compete in 200 races including the Indianapolis 500, World of Outlaws sprint cars, wingless sprint cars, and midget cars. On August 6, 2016, Clauson was involved in a midget car crash at Belleville High-Banks Speedway in Belleville, Kansas, and died the following night.
Born in Sacramento, California, Clauson made his USAC National Sprint Series debut just two days after his 16th birthday on June 17, 2005 at Limaland Motorsports Park, Ohio garnering a third place podium finish. On October 8, 2005, Clauson won the Open Wheel Oktoberfest Midget race at Columbus Motor Speedway, Ohio, becoming the youngest driver in USAC history to win a National feature event, aged 16 years, 3 months and 23 days. On August 12, 2006, Clauson recorded a historic USAC Sprint/Midget doubleheader "sweep" at Salem Speedway, Indiana winning both the 30-lap Midget race and 50-lap Sprint race held the same night, only the 24th such sweep in USAC history.
On August 31, Clauson scored his first career ARCA win at the Gateway International Raceway. Two months later he began competing in the NASCAR Busch Series, driving the No. 41 Memorex Dodge Charger for Chip Ganassi. He competed full-time during the 2007 season in the USAC National Sprint and Midget Series as part of the Keith Kunz Motorsports stable.
Despite his move to NASCAR, Clauson returned to his dirt-track roots on January 12, racing in the Chili Bowl, an indoor Midget race in Tulsa, Oklahoma, featuring some of the top names in racing, such as Jeff Gordon, Tony Stewart, Kasey Kahne, Jason Leffler, Gary Scelzi, Cruz Pedregon, Bobby Santos III, Brett Hearn and Tim McCreadie. After starting the feature mid-pack, he finished fourth overall.
In 2008, Clauson started the season in the No. 41 Polaroid/Texaco Havoline Dodge for Ganassi in the Nationwide Series, but was replaced by Kyle Krisiloff. He then drove the No. 40 Fastenal entry for Ganassi, filling in for Dario Franchitti in select races. He won his 1st pole at Daytona in July, but was replaced full-time by Franchitti the week after.
He was set to make his Cup debut at the Bank of America 500 at Lowe's Motor Speedway driving the No. 40 Target/MotorStorm: Pacific Rift Dodge but qualifying was rained out and the team, which did not have enough owner points, did not qualify. His second attempt at his Cup Series debut ended the same way at Atlanta Motor Speedway. Qualifying was rained out for the race on October 26, 2008; he would have driven the No. 40 Guitar Hero World Tour Dodge. In his first actual attempt at Texas, Clauson failed to qualify.
Clauson was supposed to drive the No. 40 in the Nationwide Series full-time in 2009, but the team shut down after Fastenal left the team. He won the Turkey Night Grand Prix in November.
Clauson joined the Tony Stewart Racing Silver Crown team in USAC 2010. During this season he was successful in winning the USAC National Midget championship for his own team, as well as the first-ever USAC National Drivers championship. Clauson earned a $300,000 scholarship to compete in all 6 Indy Lights oval races in 2011.
Clauson ran the 2012 Indianapolis 500 with Sarah Fisher Hartman Racing, but finished 30th with mechanical problems.
Clauson won the USAC Sprint Car Championship in 2012, and repeated in 2013.
Following the 2013 season, Clauson replaced Jerry Coons Jr. in the Joe Dooling/Rusty Kunz number 63 Westin Packaged Meats Esslinger powered Midget. On January 18, 2014, he won the Chili Bowl Nationals at the Tulsa Expo Center,[4] while teammate Michael Pickens, driving the number 63 Dooling Machine, Esslinger powered midget, flipped with 11 to go. Later that year, the Gold Crown Nationals at Eldora Speedway were postponed after a 5-hour rain delay, the next day they resumed racing and he led all 25 laps of the race for his first Gold Crown Midget win, holding off Christopher Bell in the No. 71 KKM midget.
Clauson returned to the Indy 500 in 2015, driving for the KV Racing Technology/Jonathan Byrd's Racing team, finishing 31st after an accident while moving out of the way for a faster car He also competed in the "Kokomo Classic" at Kokomo Speedway later that evening, where he finished 2nd to Kevin Thomas, Jr. in a photo finish
Clauson was attempting to compete in 200 races in 2016 which is being billed as "The Chasing 200 Tour, Circular Insanity". The tour included the 100th Indianapolis 500, USAC Midget and Sprint cars, World of Outlaws (WoO) sprint cars, and wingless sprint cars He normally ran about 150 shows per year; he hoped to double up by racing some 360 wingless sprint car class cars at 410 (WoO / USAC) winged sprint car events Clauson traveled the country living out of a mobile home.
On August 6, 2016, Clauson was competing in the Belleville Nationals midget race – his 116th race of the year – when he was involved in an accident in which he flipped his car after making contact with a lapped car and was hit by another. He was taken to Bryan Medical Center West and was in critical condition upon arrival. Clauson died at the hospital the following evening.
Tony Stewart remarked, "It sucks when it's anybody in racing. It's hard when you lose them, but it's even worse when they're somebody as close to you as Bryan was. I feel for Lauren today and Bryan's parents and his sister, and I hope to be able to see them soon, but just thinking about them more than anything right now
Peter Revson car driver who had successes in Formula One and the Indianapolis 500.
Peter Revson was born in New York City, the son of Julie (née Phelps) (1914–2000) and Martin Revson (1910–2016).
The nephew of Revlon Cosmetics industry magnate Charles Revson (1906–1975), Revson was an heir to his father Martin's fortune (reportedly worth over $1 billion). He was a young, handsome bachelor who was described as a "free spirit" who passed up an easy life for one of speed and danger. Off the track, he led his life at the same accelerated pace. Revson piloted a 32-foot (9.8 m) ChrisCraft and courted some of the most beautiful women in the world, including fashion model and 1973 Miss World, Marjorie Wallace. He had met Wallace at the Indianapolis 500; she was an Indianapolis native who was referred to as the "Hoosier Hotshot." He also fathered an illegitimate child, Adam,[citation needed] whom he predeceased and was the subject of a paternity action which was amicably resolved in 1977. He is believed to be living unassumingly in Chicago, Illinois, and is considered the last male heir to the Revlon empire.
Revson began racing in 1960 while at the University of Hawaii. He previously attended both Columbia University and Cornell University, although he never graduated from college. Revson finished second in a local club event, driving a Plus Four Morgan. He proceeded in his racing career, becoming experienced in Formula cars, Trans-Am sedans, Can-Am Group 7 racers, GTs, and Indianapolis racers.
In 1963 Revson raced professionally while barnstorming Europe, driving a Formula Junior which was towed behind a beaten up British bread van.[2] In 1968 he was part of the new Javelin racing program established by American Motors (AMC).[3] At the first Trans-Am Series attempt, the 12 Hours of Sebring, Revson and Skip Scott drove to a 12th overall and took 5th in their class.
In the 1969 Indianapolis 500 Revson was the top rookie finisher, placing fifth in the event. He drove a Brabham-Repco which experienced carburetor problems. During a post-race election, he was selected as runner-up for rookie of the year. For the year Revson achieved seven top five finishes in the TransAm series, driving a Mustang.
In 1970 he teamed with Steve McQueen to place second in the 12 Hours of Sebring. The same year Revson drove with Mark Donohue in the Penske Racing AMC factory-team Javelins, in the SCCA Trans Am. He piloted an L&M Lola Cars special and became a top contender in the Can-Am racing series.[2] Revson joined McLaren in 1971, becoming the first American to win the Can-Am Championship. That same season he finished second in the Indianapolis 500 after posting the fastest qualifying time.
He competed in the Indy 500 each year from 1969–1973. In 1972, Revson was named to the McLaren Formula One team. He remained with the team for two years, winning the 1973 British Grand Prix and the 1973 Canadian Grand Prix. He moved to Shadow in 1974. He is the last American born driver to win a Formula One race (Mario Andretti, who won in later years, is a naturalized American). His British Grand Prix victory made him the 50th World Championship Grand Prix winner.
Revson was killed during a test session on 22 March 1974, before the 1974 South African Grand Prix in Kyalami. While driving the Ford UOP Shadow-Ford DN3, he suffered a front suspension failure and crashed heavily into the Armco barrier on the outside of "Barbecue Bend". The car stood on its nose, wrapped itself around the barrier and caught fire, and although safety workers and other drivers managed to pull Revson from the wreckage, he was already dead.
Alberto Ascari (Italian pronunciation: [alˈbɛrto asˈkari]; 13 July 1918 – 26 May 1955) was an Italian racing driver and twice Formula One World Champion. He was a multitalented racer who completed in motorcycle racing before switching to cars. Back to back World titles in 1952 and 1953 sandwiched an appearance in the Indianapolis 500 in 1952. Ascari also won the legendary Mille Miglia in 1954. When Alberto was a child, his father, Antonio, who was also a famous racing driver, died in an accident at the 1925 French Grand Prix. Alberto once admitted that he warned his children not to become extremely close to him because of the risk involved in his profession. So this proved when he was killed during a test session for Scuderia Ferrari at the Autodromo Nazionale Monza. He was preparing for the Supercortemaggiore 1000 kilometre race that he was to have run with his protégé Eugenio Castellotti on the weekend that followed the accident.
The son of one of Italy's great pre-war drivers, Alberto Ascari went on to become one of Formula One racing's most dominant and best-loved champions. Noted for the careful precision and finely-judged accuracy that made him one of the safest drivers in a most dangerous era, he was also notoriously superstitious and took great pains to avoid tempting fate. But his unexplained fatal accident - at exactly the same age as his father's, on the same day of the month and in eerily similar circumstances - remains one of Formula One racing's great unsolved mysteries.
ALBERTO ASCARI TWO TIME WORLD CHAMPION
Following the end of World War II Alberto Ascari began racing in Grands Prix with Maserati 4CLT. His team-mate was Villoresi, who would become a mentor, team mate and friend to Ascari. The pair were successful on the circuits in the North of Italy. Soon he was bestowed with the nickname Ciccio, meaning "Tubby". Formula One regulations were introduced by the FIA in 1946, with the aim of eventually replacing the pre-war Grand Prix structure. During the next four transitional years, Ascari was at the top of his game, winning numerous events around Europe. He won his first Grand Prix, the Gran Premio di San Remo in 1948 and took second place in the RAC International Grand Prix the same year, at Silverstone. Ascari won another race with the team the following year, Gran Premio del General Juan Perón de la Ciudad de Buenos Aires. His biggest success came when he and Villoresi signed for Scuderia Ferrari. The team boss, Enzo Ferrari, had been a great friend and team mate to Antonio Ascari, and had taking a keen interest in Alberto's successes. That year, 1949 with Ferrari team and won three more races that year.
The first Formula One World Championship season took place in 1950, and the Ferrari team made its World Championship debut at Monte Carlo with Ascari, Villoresi and the famous French driver Raymond Sommer on the team.The team had a mixed year - their supercharged Tipo 125 was too slow to challenge the dominant Alfa Romeo team so instead Ferrari began working on an unblown 4.5l car. Much of the year was lost as the team's 2-litre Formula Two engine was progressively enlarged, though when the full 4.5l Tipo 375 arrived for the Gran Premio d'Italia (the final round of the championship) Ascari gave Alfa Romeo their sternest challenge of the year before retiring; he then took over team mate Dorino Serafini's car to finish second. The new Ferrari then won the non-championship Gran Premio do Penya Rhin.
Throughout 1951, Ascari was a threat to the Alfa Romeo team though initially he was undone by reliability. However, after winning at the Nürburgring and Monza he was only two points behind Fangio in the championship standings ahead of the climactic Gran Premio de España. Ascari took pole position, but a disastrous tyre choice for the race saw the Ferraris unable to challenge, Ascari coming home 4th while Juan Manuel Fangio won the race and the title.
For 1952 the World Championship season switched to using the 2-litre Formula Two regulations, with Ascari driving Ferrari's Tipo 500 car. He missed the first race of the championship season as he was qualifying for the Indianapolis 500, at the time a World Championship event. He was the only European driver to race at Indy in its 11 years on the World Championship schedule, but his race ended after 40 laps without having made much of an impression, as a result of a wheel collapse. Returning to Europe he then won the remaining six rounds of the series to clinch the world title (also taking five non-championship wins) and recording the fastest lap in each race. He scored the maximum amount of points a driver could earn since only the best four of eight scores counted towards the World Championship. Fangio missed most of the season after a crash in the Gran Premio dell'Autodromo di Monza in June.
He won three more consecutive races to start the 1953 season, giving him nine straight championship wins (not counting Indy) before his streak ended when he finished fourth in France, although it was a close fourth as the race was highly competitive. He earned two more wins later in the year to give himself a second consecutive World Championship.
Following a dispute over his salary, Ascari left Ferrari at the end of the season and switched to Lancia for the 1954 campaign. However, as their car was not eventually ready for the final race of the season, Gianni Lancia allowed him to drive twice for Maserati (sharing fastest lap at the RAC British Grand Prix) and once for Ferrari. Ascari did at least get to win the Mille Miglia driving a Lancia sportscar survivor the dreadful weather, and a throttle spring failure which was temporarily replaced with a rubber band.When the Lancia D50 was ready, Ascari took pole position on its debut and led impressively early on (and set fastest lap) before retiring with a clutch problem, meaning a full season of competing against Fangio's previously dominant Mercedes was much anticipated.
His 1955 season started promisingly, the Lancia taking victories at the non-championship races in Turin and Naples, where the Lancias took on and beat the hitherto all-conquering Mercedes. though in world championship event, he retired in Gran Premio de la Republica Argentina.[
22 May 1955, the Grand Prix Automobiles de Monaco, it was late in the race when he crashed into the harbour, through hay bales and sandbags after missing a chicane while leading, reportedly distracted by either the crowd's reaction to Stirling Moss' retirement or the close attentions of the lapped Cesare Perdisa behind. Whatever distracted him, he approached the chicane too fast, and chose the only way out and took his D50 clean through the barriers into the sea, narrowly missing a small barrel-sized iron bollard by about 30 cm.[His car disappeared into the Mediterranean Sea and sank, marked only an oil slick and stream of bubbles and steam. It was an agonizing three seconds before Ascari's pale blue helmet appeared bobbing on the surface. He was hauled into a boat before the frogmen could get to him. He escaped with a nothing worse than a broken nose, bruises and shock.
Just four days later, on 26 May, he went to Monza to watch his friend Eugenio Castellotti test a Ferrari 750 Monza sports car, which they were to co-race in the Supercortemaggiore 1000 km race (having been given special dispensation by Lancia). Ascari was not supposed to drive that day but decided to try a few laps. In his jacket and tie, shirt sleeves, ordinary trousers and Castellotti's white helmet he set off. As he emerged from a fast curve on the third lap the car inexplicably skidded, turned on its nose and somersaulted twice. Thrown out onto the track, Ascari suffered multiple injuries and died a few minutes later The crash occurred on the Curva del Vialone, one of the track's challenging high-speed corners. The corner where the accident happened, renamed in his honour, has been subsequently replaced with a chicane, now called Variante Ascari.
There were several similarities between the deaths of Alberto and his father. Alberto Ascari died on 26 May 1955, at the age of 36. Antonio Ascari was also 36 when he died, on 26 July 1925 (Alberto was only four days older). Both were killed four days after surviving serious accidents and on the 26th day of the month. Both had crashed fatally at the exit of fast left-hand corners and both left behind a wife and two children. Also, both had won 13 championship Grands Prix.[4] Another curiosity related to Alberto's death is that the only other driver to crash into the harbour at Monaco in the circuit's history, Paul Hawkins, also died on 26 May. Hawkins crashed into the harbour 10 years after Ascari, before dying when his Lola crashed into a tree at a Tourist Trophy race at Oulton Park in 1969.
Motor racing fans from all over mourned as Alberto Ascari was laid to rest next to the grave of his father in the Cimitero Monumentale in Milan, to be forever remembered as one of the greatest racers of all time. His distraught wife Mietta Ascari told Enzo Ferrari that "were it not for their children she would gladly have joined her beloved Alberto in heaven". His death is often considered to be a contributing factor to the withdrawal of Lancia from motor racing in 1955, just three days after his funeral (though the company was also in considerable financial trouble, needing a government subsidy to survive), handing his team, drivers, cars and spare parts over to Enzo Ferrari.
Daniel Clive Wheldon 2 time Indianapolis 500 winner
Daniel Clive Wheldon was born in Emberton, near Olney, Buckinghamshire, England, on 22 June 1978. He took up karting at the age of 4 with funding
In 2002, Wheldon moved up to the IRL IndyCar Series for two events with Panther Racing as teammate to Sam Hornish, Jr. Wheldon joined Andretti Green Racing the following year, taking the spot of Michael Andretti following his retirement, and collected league Rookie of the Year honours. In 2004, he won his first IRL race at Twin Ring Motegi in Japan; ultimately finishing as runner-up to teammate Tony Kanaan in the championship with three wins.
He won the Indianapolis 500, and the IndyCar Series championship, in the 2005 season. His six victories in 2005 also broke the record for most victories in one season (under IRL sanction), previously held by Sam Hornish, Jr. with five. His win at Indy was the first for an Englishman since Graham Hill's victory in 1966. In November 2005, it was announced that he would be driving for Chip Ganassi Racing in the IndyCar Series in 2006. Shortly after his first test with Ganassi, in February 2006, he won the 24 Hours of Daytona endurance sports car race with Ganassi teammates Scott Dixon and Casey Mears.
He began the 2006 season by beating Hélio Castroneves by 0.0147 seconds in the Toyota Indy 300 at Homestead-Miami Speedway; a sombre race due to the earlier death of Paul Dana in a practice session. Wheldon retired from the Honda Grand Prix due to contact with Sam Hornish, Jr. during a caution period. At the end of the season, Wheldon and Hornish were tied for the lead with each driver having 475 points. In the event of a tie, the driver with the most wins for that particular season is declared the champion. Hornish had four wins for the 2006 season to Wheldon's two; therefore Hornish was declared the 2006 IndyCar champion.
During the 2006 season, he was offered a place in the BMW Sauber Formula One team, but declined on discovering he would not be assured a regular drive. "I do want to race in F1. When my contract expires with Chip, I'll take a serious look at Formula One."
Commenting in 2007 on the perception of him as 'difficult', Wheldon said "I put everything into my racing, and I expect the same back. If I see people who aren't giving it I'm not afraid to say so but that sometimes comes out a little brash. That could be improved a little bit."[
He won the opening race at Homestead, dominating the event from the pole. He won again at Kansas. The season is most notable for his run in with Danica Patrick after a racing incident at Milwaukee left with a skirmish. He said of Danica, being 'feisty'.
On 22 June 2008 (his 30th birthday), Wheldon took his 15th career victory in the IndyCar Series after winning the Iowa Corn Indy 250 over Hideki Mutoh and Marco Andretti. He donated his winnings to help the victims of the recent tornadoes and flooding which had occurred in Iowa.
Wheldon was released from his drive at Ganassi on 2 September 2008.[6] He was replaced by Dario Franchitti. "I have enjoyed these last three seasons with Target Chip Ganassi Racing but will be moving on to pursue a very exciting opportunity for 2009", Wheldon said. This would later turn out to be a return to former team Panther Racing.[7] Wheldon drove the Panther car to a second-place finish in the 2009 Indianapolis 500; the second Indy 500 runner-up finish in a row for the team. However, his strong start to the season faded and Wheldon failed to crack the top 10 in 7 of the last 8 races. The following year, Wheldon finished second again, this time to good friend Dario Franchitti of his former team, Chip Ganassi Racing; his second-place finish and Franchitti's win was overshadowed by Mike Conway's horrific crash. This gave Panther its third straight runner-up finish at Indy. Wheldon remained competitive all year; challenging for wins on the oval tracks. Despite strong showings with Panther Racing, Wheldon still failed to win a race during his time with the team which frustrated his bosses. This led to his sudden firing from Panther Racing and was replaced by rookie J. R. Hildebrand; leaving Wheldon without a full-time ride for the 2011 season.
Wheldon attempted and won the 2011 Indianapolis 500 with Bryan Herta Autosport during the weekend of the 100th anniversary of the Indianapolis Motor Speedway, after Hildebrand hit the wall in the fourth and final turn on the final lap after trying to pass the decelerating Charlie Kimball, and slowly slid towards the finish; allowing Wheldon to pass en route to his second Indy 500 victory. This race was the fourth straight runner up for Panther Racing in the Indy 500 (Vitor Meira was runner-up in 2008). With the win, Wheldon became the first driver in Indy 500 history to win the race by leading a single lap.
The National Guard pit team for Hildebrand congratulated Wheldon on his win but when Wheldon was celebrating in victory lane he heard Panther Racing's staff say that he made an illegal pass under yellow. IndyCar denied this and said that the yellow was not thrown until after Wheldon had won the race and even if it was thrown before the pass Hildebrand's car was wounded and therefore was allowed to be passed in the race. Wheldon was very emotional after the win, due to his not having a ride for the rest of the season and the news that his mother had recently been diagnosed with Alzheimer's Disease. It was Wheldon's first series win in three seasons, his 16th win in the IndyCar Series and what would turn out to be the final win of his racing career.
Over the rest of the 2011 season, Wheldon helped IndyCar and Dallara test the new IndyCar chassis that was to debut in 2012.During the IZOD IndyCar World Championship at Las Vegas Motor Speedway on 16 October 2011, Wheldon was involved in a 15-car accident on the 11th lap, in which his car flew approximately 325 feet (99 m) into the catchfence cockpit-first and landed back on the racing surface after his head hit a pole lining the track The carnage and ensuing debris led race officials to almost instantly throw a red flag. Wheldon was extricated from his car by the Holmatro Safety Team and their Las Vegas-based colleagues and was airlifted to the University Medical Center of Southern Nevada for his critical injuries. After interviewing the championship contenders, IndyCar CEO Randy Bernard announced to the media that Wheldon was pronounced dead on arrival. He was 33 years old
Officials, after input from drivers and team owners, declared that they would abandon the race and that a five-lap, three-wide formation salute would be held in Wheldon's honour, along with his #77 displayed alone at the top of the scoring pylon. Wheldon had been the only racing driver participating in Go Daddy's IndyCar Challenge where he and a randomly selected fan would have been eligible for US$2.5 million each if he had won the race starting from last place.
An autopsy conducted on 17 October 2011 concluded that Wheldon died from blunt force trauma to his head. His head suffered two distinct impacts when his vehicle was airborne; the second impact with the fence post was fatal.
Wheldon's funeral was held on 22 October 2011 in St. Petersburg, Florida. Fellow drivers Dario Franchitti, Scott Dixon, and Tony Kanaan attended it and served as pall-bearers along with Wheldon's brothers.[23] A day later, IndyCar held a public memorial service for Wheldon at Conseco Fieldhouse in Indianapolis.
Gordon Johncock 2 time Indianapolis 500 winner
Johncock's first USAC victory was scored at the Milwaukee Mile in August 1965. He won six further races before winning the Indy 500 in 1973.
At the 1973 Indianapolis 500, Johncock was racing for STP/Patrick Racing. A major accident at the start involving Salt Walther, coupled with two days of rain, postponed the race until late Wednesday afternoon. When the race was held, Johncock's teammate Swede Savage was severely injured in a fiery crash on lap 58. A moment later, Armando Teran, a pit crew member on the same STP/Patrick team, was struck by a fire truck going northbound in the pits, and was fatally injured at the scene. When the race resumed, Johncock who had led the most laps, was leading when rain fell again on the 133rd lap. Nearing 6 p.m. in the evening, the race was red flagged and declared over. After a short and muted victory lane celebration, Johncock went to visit Savage at the hospital. Afterward, the celebratory victory banquet was cancelled. Instead, Johncock and his crew went to a local fast-food joint for hamburgers. About a month later, Savage died from his injuries.
In the 1975 Indianapolis 500, he started the race on the front row but retired with ignition problems on the 11th lap. Johncock won the USAC national title in 1976, snatching the title from Johnny Rutherford in the final race of the season at Phoenix International Raceway. In 1976 and 1978 he finished third at Indianapolis, and in 1977 he was leading A. J. Foyt when the car's crankshaft broke with sixteen laps to go.
Johncock took a second Indianapolis 500 victory in 1982, winning by 0.16 second over Rick Mears. This remains the fourth-closest Indy 500 finish in history. (Al Unser Jr.'s 0.043-second victory over Scott Goodyear in 1992 was the closest, followed by Ryan Hunter-Reay's 0.0600-second[1] victory ahead of Helio Castroneves in 2014, and Sam Hornish Jr's 0.0635-second victory ahead of Marco Andretti in 2006.) Mears was rapidly closing on Johncock in the final laps. In Mears' final pit stop, Mears' team made a miscalculation and filled his car with more fuel than it needed to finish the race. As a consequence Mears had to catch up a significant distance on Johncock, and on the 197th and 198th laps came from 3 seconds back to within car lengths. Johncock's tires were deteriorating by the lap, and with each turn the car understeered more severely. On the final lap, just after the white flag waved, Mears tried to pass Johncock for the win, with Johncock making a decisive defense of first place in Turn One, and Johncock began pulling away. In turn 4, Mears reeled him in and made a pass, but lost by 16-hundredths of a second (25 feet), which was at that time, the closest finish in Indy 500 history (now the 4th closest).
Mears would later joke about watching the tape over and over to see if 'this time I get around Gordy'. Johncock, during a live interview on ABC years later, offered that if the dramatic duel had occurred two or three years later—when Mears had additional experience—the Californian would probably have pulled off the winning pass.
Johncock took another three Indycar races, including the 1982 Michigan 500 to complete two legs of what was then known as the Triple Crown before retiring from racing in 1985 (the three 500-mile (800 km) races on the USAC Marlboro Championship Trail were known as such from 1970 until 1989, and again since 2014 (there was a Triple Crown of Indianapolis, Pocono, and Fontana in 2013, but Pocono was a 400-mile race in 2013)). Legend holds that the Indianapolis Motor Speedway held off resurfacing the bumpy concrete pit lane until Johncock retired, as he was known for his high-speed trips through the pit lane. He returned for occasional appearances in 1987, 1988, 1989, 1991 and retired for good after the 1992 Indianapolis 500.
Johncock's last Indycar win was in the opening round of the 1983 CART PPG Indy Car World Series at the Atlanta Motor Speedway driving a Cosworth powered Patrick Wildcat. Johncock, who started 3rd on the grid, won the 200 mile, 132 lap race at an average of 146.133 mph from the Penske-Cosworth of Al Unser and John Paul, Jr. in a 1982 model Penske-Cosworth.
Johncock competed in twenty-one NASCAR Sprint Cup Series events in his career. He earned three top-fives and four top-tens in his limited schedules. The best of those finishes were a pair of fourths in 1973 at Daytona and 1966 at Rockingham.
Johncock abruptly retired from Indycar racing during the first week of practice for the 1985 Indianapolis 500, just before qualifications. He served on the IMS Radio Network in 1985, but decided to return to racing in 1986. He planned to enter the 1986 Indianapolis 500, but his funding for a car fell through. He wound up sitting out the race. He attempted another return in 1987. During the first week of time trials, Jim Crawford suffered serious injuries to his feet. Johncock was hired to drive in replacement, and qualified for the race.
Johncock completed a sixth-place finish in the 1991 Indy 500, despite having flu-like symptoms the morning of the race. His final race was the 1992 Indy 500, where he dropped out with engine failure. Since his retirement, Johncock has distanced himself from motorsports, and focuses on his timber business in Michigan. He participated in a 2004 interview on ESPN Classic's "Big Ticket" review of the 1982 Indy 500. In the interview, he admitted that his interests in racing were now limited, and was no longer his daily focus. In discussing the 1973 race, Johncock appeared to have made peace with the circumstances. While most discredit the race as being rain-shortened, and for its overall miserable memories, Johncock insisted that his car was undoubtedly the fastest on the track, led easily, and was not simply in front at the time of the red flag by chance.
Johncock chose not to attend the 2011 Indianapolis 500, which celebrated the 100th anniversary of the first race. Despite the fact that all living former participants, and particularly living former winners, were invited, Johncock did not attend any of the festivities, seemingly by choice. A year later, Speedway officials again invited him to attend, and he did return to the Speedway and participated in pre-race festivities at the 2012 race.
Tom Sneva USAC NATIONAL CHAMPION INDIANAPOLIS 500 winnER
At Indianapolis in 1977, Sneva drove his famed Norton Spirit McLaren M24/Cosworth racer for car owner Roger Penske, and became the first driver to qualify for the Indianapolis 500 at a speed at 200 mph (321.9 km/h) or more. His one-lap track record on May 14 was 200.535 mph (322.7 km/h).
Sneva won 2 races in 1977 and became the first driver in Team Penske history to win a championship. In 1978, Sneva didn't win a race but with 5 second place finishes and 16 top fives, Sneva still won the championship. Despite this, Sneva was released by Penske after the 1978 season.
In 1984, Sneva became the first to qualify for the Indianapolis 500 over 210 mph (338.0 km/h) in his Texaco Star March 84C/Cosworth driving for the new Mayer Motor Racing team. His one and four lap track records on May 12 were 210.689 mph (339.1 km/h) and 210.029 mph (338.0 k/h).
Sneva's career at the Indianapolis 500 was known for fast qualifying, second-place finishes, near misses and several crashesThree times (1977, 1978, 1980) Sneva ended up the bridesmaid by finishing second. Finally, Sneva broke through in dramatic fashion in 1983 after a thrilling late race duel with Penske driver Al Unser, Sr. and the lapped car of Unser's rookie son, Al Jr. It was Sneva's 1983 win in his Texaco Star March 83C/Cosworth for Bignotti-Cotter Racing that led to his nickname of "The Gas Man." That win was also famous for it being the last of George Bignotti's record seven Indianapolis 500 wins as a chief mechanic. For Sneva, the victory was sweet revenge, as he had been fired by Roger Penske in 1978 despite having won back-to-back USAC championships.
Sneva's second-place finish in 1980 is notable as it is one of only two occasions of such a finish by a driver starting last. It is also the only time the driver who started last (33rd) led laps during the race. Several other times Sneva was in contention for the win, but did not make it to the end of the race. In 1981, Sneva charged hard from his 20th starting position to lead early in the race, but his untested Blue Poly March 81-C/Cosworth was fragile and his clutch failed early on.
One year later, Sneva was in a duel with eventual winner Gordon Johncock and eventual runner-up Rick Mears when his engine in his Texaco Star March 82-C/Cosworth began losing power and eventually failed near the end of the race. In 1983, Sneva captured his first Indianapolis 500 win, engaging in a duel with Al Unser and his son in the final 20 laps. Al Unser Jr. was widely criticized after the race for trying to mess Sneva up to help his dad win, as well as having passed several cars under caution, and jumping the final restart. Unser was issued no penalties.
As defending champion in 1984, Sneva dueled with Mears only 32 laps from the finish, but his CV joint failed, enabling Mears to win. The 1985 race was a testament to Sneva's ability as he drove an ill-handling Skoal Bandit Eagle/Cosworth to second place before exiting in a crash with the lapped car of Rich Vogler. It was this series of near misses combined with second-place finishes and hard-charging qualifying and racing style that made Sneva a fan favorite at Indianapolis.
He suffered one of the most famous crashes at Indianapolis during the 1975 race, his second. After touching wheels with Eldon Rasmussen, 26-year-old Sneva flipped up into the catch fence and tore his car in half, but suffered mostly minor burns on 15% of his body in the fiery crash. He walked to the ambulance but was placed in the intensive care unit at Methodist Hospital, mainly for lung issues due to the fire retardant Describing the crash years later Sneva quipped, "In a situation like that it's important to talk to yourself: 'Faint, you coward, faint!'"
In 1986, he was warming up his car during the pace lap, but lost control and crashed before the race started. In 1987, Sneva crashed three cars, two in practice, and one during the race. He crashed during the Indianapolis 500 in 1975, 1979, 1985, 1986, 1987, 1988, and 1992, a record for crashes during the race.
After Sneva's Indy victory in 1983, he never finished the race again. He dropped out of the race in 1984-1990, failed to qualify in 1991, and dropped out of the 1992 race as well. Some observers have attributed his decline in success to the switch to radial tires (the series transitioned to radials over a period from 1985–1987). His driving style was more apropos to bias ply tires.
Sneva showed his versatility by competing in eight NASCAR Winston Cup (now Sprint Cup Series) events in his career, spanning from 1977 to 1987. He earned one top-ten, a 7th in the 1983 Daytona 500.
Sneva's final start was the 1992 Indy 500. He arrived at Indy without a ride for 1993, and was unsuccessful in landing a car for the race. He retired with 13 career Indy car wins and 14 pole positions.
2015 INDUCTEES
Bradley "Buzz" Calkins winner 1st indy racing league event
Bradley "Buzz" Calkins was a Indy Racing League driver. After a successful run in Indy Lights from 1993 to 1995 where he finished 11th, 10th, and 6th in his three seasons, he and his Bradley Motorsports team purchased a 1995 Reynard chassis to compete in the inaugural season of the IRL. He won the series' inaugural race, the 1996 Indy 200 at Walt Disney World ahead of Tony Stewart and was that year's league co-champion with Scott Sharp. He competed in the Indianapolis 500 six times, with a best finish of 10th in 1998 His win in the series' first race would end up to be his only IRL win. He drove until 2001 when he retired and ventured into the business world today he is president of denver based bradley gas company
Ralph Liguori USAC AND NASCAR DRIVER
He competed in the USAC Championship Car series from 1957 to 1971 making 61 starts. His best finish was 2nd place at the Indiana State Fairgrounds Speedway in 1970. 1966 was his most active year, when he made 7 starts and finished 28th in the National Championship. He attempted the Indianapolis 500 six times (1959, 1962, 1963, 1964, 1967, and 1968) but he failed to make the field each time. Liguori continued racing well into his 70's and won a minor race in 2000 at 73 years old.
Liguori competed in 76 NASCAR Grand National (now Sprint Cup Series) races in his career.[2] He had 30 Top 10 and 5 Top 5 finishes in his career.[2] His best finish was a third place finish at Wilson Speedway in Wilson, North Carolina. He finished tenth in the 1954 season points.[2] Liguori made one start in the NASCAR Convertible Series during 1956.[
Bobby Allison Nascar Champion
When the phrase "Thrill of Victory and Agony of Defeat" was first coined, the author must have had Robert Arthur Allison in mind. "If I had kept a business chart of my racing career, it would have more peaks and valleys than the State of Arizona," he said.
He started his Winston Cup career in 1966 with a homemade Chevelle. "Somebody told me my chances of winning a race were about the same as Twiggy winning the heavyweight boxing championship. That made me mad" Allison recalls. Bobby Allison didn't win one race -- he won three. His fast start was accompanied by controversy, a years-long feud with Richard Petty and an ongoing war with the media.
Through it all, Allison became one of the winningest drivers on the circuit. He's fourth in wins, 84; fifth in poles, 57; fifth in prize money won, $7.2 million; led at least one lap for 39 consecutive races, a record; and third in miles led, 29,205.2 Allison won 38 races after his 40th birthday. Only 12 other drivers have won that many races in a career. Over a twenty-two year career that was interrupted by near tragedy on June 19, 1988, Allison was six times voted Most Popular Driver by the fans, twice honored as American Driver of the Year, and three times the National Motorsports Press Associations' Driver of the Year. He won the 1983 Winston Cup Championship after being a runner-up five times.
"Winning the championship is still my biggest thrill. It's the biggest of any one thing I've ever accomplished. But it's also that I'm on par with the Parsons, Yarboroughs, Pettys and Jarretts. It was an effort that really had started years and years before and had gone through trial after trial to get that far," said Allison.
One of 12 offspring born into the family of Edmund and Kitty Allison, Bobby was born on December 3, 1937. At age nine, he decided he was going to race cars. He started racing in 1955 at Hialeah, Florida. He had already moved to Hueytown, Alabama, when he launched his Winston Cup career. The former Judy Bjorkman and bobby were married on February 20, 1960, when Allison was still living in Florida. They had four children and it was son Davey who ran second to his father in the 1988 Daytona 500 and carried on the winning tradition of the "Alabama Gang" until his tragic death.
Allison, a perfectionist who won the Daytona 500, Winston 500 and World 600 three times each, and the Southern 500 on four occasions, has earned a place in the Motorsports Hall of Fame of America. Racing has exacted a tremendous price for Bobby Allison, and it is immeasurably better because of him.
Sir John Young Jackie" Stewart three time world champion
Sir John Young "Jackie" Stewart, the "Flying Scot", he competed in Formula One between 1965 and 1973, winning three World Drivers' Championships, and twice runner-up, over those nine seasons. He also competed in Can-Am. In 2009 he was ranked fifth of the fifty greatest Formula One drivers of all time by journalist Kevin Eason who wrote: "He has not only emerged as a great driver, but one of the greatest figures of motor racing."
He is well known in the United States as a color commentator (pundit) of racing television broadcasts having worked in that role in the Indianapolis 500, Daytona 500 and the Monaco Grand Prix from 1971 to 1986. In 1976 Stewart became the play-by-play announcer for the 1976 Winter and 1976 Summer Olympics, and he served as host of the Indianapolis 500 coverage for ABC's Wide World of Sports and ABC Sports, from 1982 to 1984. He has also been a spokesman for Ford, Rolex and Moët.
Between 1997 and 1999, in partnership with his son, Paul, he was team principal of the Stewart Grand Prix Formula One racing team.
Michael Schumacher 7 time world driving champion
Michael Schumacher a German racing driver. He is a seven-time Formula One World Champion and is widely regarded as one of the greatest Formula One drivers of all time[ He was named Laureus World Sportsman of the Year twice. He won two titles with Benetton in 1994 and 1995. After his second title he moved to Ferrari for which he drove eleven years. His time with Ferrari yielded five consecutive titles between 2000 and 2004.
He holds many of Formula One's driver records, including most championships, race victories, fastest laps, pole positions and most races won in a single season – 13 in 2004 (the last of these records was equalled by fellow German Sebastian Vettel nine years later). In 2002, he became the only driver in Formula One history to finish in the top three in every race of a season and then also broke the record for most consecutive podium finishes. According to the official Formula One website, he is "statistically the greatest driver the sport has ever seen".
After beginning with karting, Schumacher won the German drivers' championships in Formula König and Formula Three before joining Mercedes in the World Sportscar Championship. After one Mercedes-funded race for the Jordan Formula One team, Schumacher signed as a driver for the Benetton Formula One team in 1991. Establishing himself as a top driver, finishing third in 1992 and fourth in 1993, Schumacher became the first German World Drivers' Champion in 1994 by one point over Damon Hill. In 1995 he repeated the success, this time with a greater margin. Schumacher moved to Ferrari in 1996. Schumacher came close to winning the 1997 and 1998 titles, before breaking his leg at the 1999 British Grand Prix, ending another title run. Things then came good for Schumacher who won another five consecutive drivers' titles from 2000 to 2004. Schumacher retired from Formula One driving in 2006 staying with Ferrari as an advisor. He came close to an eighth title that year, but due to technical problems in the final two races he fell short to Fernando Alonso. Schumacher agreed to return for Ferrari part-way through 2009, as cover for the badly injured Felipe Massa, but was prevented by a neck injury. Schumacher returned to Formula One on a permanent basis from 2010 with the Mercedes team before retiring for a second time at the conclusion of the 2012 season.
His career was not without controversy, including being twice involved in collisions in the final race of a season that determined the outcome of the World Championship, with Damon Hill in 1994 in Adelaide, and with Jacques Villeneuve in 1997 in Jerez.Off the track Schumacher is an ambassador for UNESCO and a spokesman for driver safety. He has been involved in numerous humanitarian efforts throughout his life and donated tens of millions of dollars to charity.[Schumacher and his younger brother, Ralf, are the only brothers to win races in Formula One, and they were the first brothers to finish 1st and 2nd in the same race, a feat they repeated in four subsequent races.
In December 2013, Schumacher suffered a serious head injury while skiing. He was airlifted to a hospital and placed in a medically induced coma, having suffered a traumatic brain injury. He was in the coma for six months from 29 December 2013 until 16 June 2014. He left the hospital in Grenoble for further rehabilitation at the University Hospital (CHUV) in Lausanne On 9 September 2014, Schumacher was brought back to his home for further rehabilitation.] In November 2014, Schumacher was reported to be paralysed and wheelchair-bound as a result of the accident.
Ayrton Senna f-1 racing legend
Ayrton Senna da Silva was a Brazilian racing driver who won three Formula One world championships. He was killed in an accident while leading the 1994 San Marino Grand Prix. He was among the most dominant and successful Formula One drivers of the modern era and is considered by many as the greatest racing driver of all time
Senna began his motorsport career in karting, moving up to open-wheel racing in 1981, and winning the British Formula Three championship in 1983. He made his Formula One debut with Toleman-Hart in 1984 before moving to Lotus-Renault the following year and winning six Grands Prix over the next three seasons. In 1988, he joined Frenchman Alain Prost at McLaren-Honda. Between them, they won all but one of the 16 Grands Prix that year and Senna claimed his first World Championship. Prost claimed the championship in 1989, and Senna his second and third championships in 1990 and 1991. In 1992, the Williams-Renault combination began to dominate Formula One. Senna nonetheless managed to finish the 1993 season as runner-up, winning five races and negotiating a move to Williams in 1994.
Senna has often been voted as the best and most influential Formula One driver of all time in various motorsport polls. He was recognised for his qualifying speed over one lap and from 1989 until 2006 held the record for most pole positions. He was also acclaimed for his wet weather performances, such as the 1984 Monaco Grand Prix, the 1985 Portuguese Grand Prix, and the 1993 European Grand Prix. He holds a record six victories at the Monaco Grand Prix, and is the fourth-most successful driver of all time in terms of race wins. Senna courted controversy throughout his career, particularly during his turbulent rivalry with Alain Prost. In the Japanese Grands Prix of 1989 and 1990, each of which decided the championship of that year, collisions between Senna and Prost determined the eventual winner.
On Friday, Senna placed the car on the pole for a then-record 65th and final time, but he was upset by events unfolding that race weekend. Senna complained about the FW16's handling and reported that the car's performance was generally worse after the engineers' latest adjustments.] During the afternoon qualifying session, Senna's compatriot and protégé Rubens Barrichello was involved in a serious accident when his Jordan became airborne at the Variante Bassa chicane and hit the tyre-wall and fence. Barrichello suffered a broken nose and arm, and withdrew from the event. Barrichello reported that Senna was the first person he saw upon regaining consciousness
During Saturday qualifying, Austrian rookie Roland Ratzenberger was killed after the front wing of his Simtek-Ford broke entering the 310 km/h (190 mph) Villeneuve corner, sending the car into a concrete wall. Senna immediately visited the accident scene and medical centre. There he was met by FIA Medical Chief Professor Sid Watkins, who suggested to a tearful Senna to retire from racing and go fishing (a hobby they both shared), to which Senna replied that he could not stop racing. Senna was later called in front of the stewards for commandeering an official car and climbing the medical centre fence, and a row ensued, although Senna was not punished.
Senna spent his final morning on the Sunday talking to former team mate and rival Alain Prost to discuss the re-establishment of the Grand Prix Drivers' Association, with the aim of improving safety in Formula One. Prost had retired from the sport at the end of the 1993 season, and was now a media presenter. As the most senior driver in competition, Senna offered to take the role of leader, starting from the next race in Monaco. During the drivers' briefing, concerns had been raised about the mainly promotional use of a Porsche 911 lead car for the warm-up lap, with organizers agreeing to abandon the practice It is said that Williams Chief Engineer Patrick Head had pranked Senna on the grid by advising him that the lead car would not be excluded from the warm-up lap after all.
At the start of the Grand Prix, Senna retained the lead from Schumacher, but proceedings soon became interrupted by a startline accident. JJ Lehto's Benetton-Ford had stalled and was hit by the Lotus-Mugen Honda of Pedro Lamy. A wheel and debris landed in the main grandstand, injuring eight fans and a police officer. The safety car, a sporty version of the Opel Vectra medium family saloon, was deployed for several laps. The Vectra's slow pace was later questioned because of the consequential drop in tyre pressures on the Formula One cars. Senna had pulled alongside the Vectra and gestured to the driver, Max Angelelli, to increase his speed.On lap 6, the race resumed and Senna immediately set a quick pace with the third-quickest lap of the race, followed by Schumacher.
As Senna rounded the high-speed Tamburello corner on lap 7, his car left the racing line at around 307 km/h (191 mph), ran in a straight line off the track, and hit the concrete retaining wall at around 233 km/h (145 mph), after what telemetry showed to be an application of the brakes for around two seconds. The red flag was shown as a consequence of the accident. Within two minutes of crashing, Senna was extracted from his race car by Professor Watkins and his medical team, including intensive care anaesthetist Giovanni Gordini. Initial treatment took place by the side of the car, with Senna having a weak heartbeat and significant blood loss (around 4.5 l). Because of Senna's poor neurological condition, Professor Watkins performed an on-site tracheotomy and requested the immediate airlifting of Senna to Bologna's Maggiore Hospital under the supervision of Dr Gordini. At 18:40, the head of the hospital's emergency department, Dr Fiandri[120] made the announcement that Senna had died, but said the official time of death under Italian law was 14:17, which is when he impacted the wall and his brain stopped working.[118] Professor Watkins later said that as soon as he saw Senna's fully dilated pupils, he knew that his brainstem was inactive and that he would not survive.
.
2014 INDUCTEES
Arie Luyendyk 2 time indianapolis 500 winner
Arie Luyendyk, anglicised form of Arie Luijendijk is a Dutch auto racing driver, and two-time winner of the Indianapolis 500. In 2014, he was inducted into the Motorsports Hall of Fame of America. He is also known as "The Flying Dutchman".
Luyendyk started racing in the early 1970s, winning a number of Dutch national titles. In 1977, he won the EuropeanSuper Vee championship, and switched to Formula Three. Success continued to elude him until he moved to theUnited States in 1984, where he immediately won the Super Vee championship.
With the help of sponsor Provimi Veal, Luyendyk ran his first full Champ Car in 1985, winning the rookie of the year title both for the season and the Indianapolis 500. His first win in the series came five years later in 1990, at the most important race of the series, with a record average speed of 185.981 mph (299.307 km/h). Luyendyk won the 1990 Indianapolis 500 for Doug Shierson Racing. His average speed record which stood for 23 years, was finally broken in the2013 97th Indianapolis 500 by Tony Kanaan with an average speed of 187.433 mph (301.644 km/h).
Luyendyk continued to perform well at Indianapolis, scoring pole positions in 1993, 1997 and 1999, and retiring from the race while leading on three occasions. In 1996, he set the qualifying lap record at 237.498 mph (382.216 km/h), although he did not start on the pole because he qualified on the second day of time trials. He won the 1997 Indianapolis 500 from the pole over Treadway Racing teammate Scott Goodyear. It came under severe controversy when on the final restart the white & green flag waved to end a caution but the yellow lights stayed on with Arie Luyendyk pulling away to the win while the other competitors were confused. A similar finish involving a similar mistake almost took away a win from Luyendyk two weeks later. As a result USAC was removed of scoring the races.
Luyendyk also was selected to participate in the 1992, 1993, and 1998 editions of the International Race of Champions.
He retired from racing after the 1999 season, and for a short time, joined ABC Sports as a color commentator. He returned to the Indy 500 in 2001 and 2002. In 2003, he entered at Indianapolis for the final time. He suffered a crash during practice, and did not make an attempt to qualify.
Other Luyendyk victories include the 24 Hours of Daytona and the 12 Hours of Sebring. His son, Arie Jr., is an Indy Lights racer.
The last corner of the Zandvoort track in the Netherlands carries his name. In 1999, he was presented with the Sagamore of the Wabash award, reflecting upon his Indy 500 career
Mark Martin nascar legend
Mark Martin is the only driver from Arkansas competing in the top circuit of the National Association of Stock Car Auto Racing (NASCAR). He ranks tenth on the all-time win list and sixth on the all-time pole position list.
Martin was born on January 9, 1959, in Batesville (Independence County) to Julian Martin and Jackie Estes Martin. Martin's father was a truck driver who started a successful Batesville-based trucking company, Julian Martin, Inc., in 1960. As a hobby, Julian also sponsored a race team that competed on the numerous small local race tracks. Martin's father instilled a passion for driving in him when he was very young. Before Martin was big enough to reach the brake and accelerator, his father would put him on his lap and let him steer the car on the crooked roads of north Arkansas.
Martin persuaded his father to build him a race car in the fall of 1973. On April 12, 1974, at the age of only fifteen, Martin drove it in his first stock car race at a small dirt track in Locust Grove (Independence County). He won on his third start and completed the season by winning the most significant race in his division in 1974, the Arkansas State Championship held at the Benton Speedbowl in Benton (Saline County).
In 1977, Martin received his diploma from Batesville High School, but while his classmates were participating in graduation ceremonies, he was busy setting a new track record at a race in Springfield, Missouri. With high school behind him, Martin moved to Springfield and began competing in races throughout the Midwest in the more organized American Speed Association (ASA). He was named the 1977 ASA Rookie of the Year before winning the series championship in three consecutive years from 1978 through 1980.
Martin made his first attempt at the elite NASCAR Winston Cup series in 1981, with moderate success. Martin would run a full season in 1982 and attempt to win the Winston Cup Rookie of the Year. He finished fourteenth in the final point standings but finished second for Rookie of the Year. In 1983, his racing career then went sour. Having exhausted most of his personal resources the previous year, and suffering through a failed sponsorship, Martin was forced to sell his race team. He would spend most of the season bouncing around between several teams.
Martin swallowed his pride and took a step back from NASCAR racing, returning to the ASA. He won another ASA series championship in 1986. In 1988, Martin helped develop a stock car racing program for Jack Roush, a sports car team owner. Martin earned his first Winston Cup victory on October 22, 1989, at North Carolina Motor Speedway. Since joining with Roush, Martin has won thirty-five victories in the NASCAR Nextel Cup (formerly Winston Cup) division and finished second in the point standings four times (1990, 1994, 1998, and 2002). As of 2008, he has managed 395 top-ten finishes in over 700 career starts in NASCAR's top division and holds the record for most wins, with forty-seven in NASCAR's secondary Busch series. Martin has captured five championships (1994, 1996, 1997, 1998, and 2005) in the International Race of Champions series and is the series all-time winner with thirteen victories.
In 2004, Martin announced that the 2005 season would be his last in the Nextel Cup Series, but he later agreed to postpone his departure when his long-time friend and car owner, Jack Roush, asked him to stay for an additional year while the team found a suitable replacement. However, he kept racing, tying a record with his fifth second-place finish in 2009. (He shares this record with Richard Petty and Bobby Allison.) Martin is signed with Hendrick Motorsports through the end of the 2011 season. Despite having spent most of his adult life living in North Carolina and Florida, he has built a home in Batesville, where he owns an auto dealership, Mark Martin Ford, opened a museum to house his racing memorabilia. Martin and his wife, Arlene, have five children: Amy, Rachel, Heather, Stacy, and Matt, who is following his father into auto racing.
Emerson Fittipaldi 2 Time Indianapolis 500 winner and F-1 Champion
"Emmo" as he is known by legions of fans in America began his rise to fame in Europe. The son of well know Brazilian motor racing journalist Wilson Fittipaldi started racing motor bikes but soon moved to karts. In 1967, Fittipaldi with his older brother Wilson Jr. built their own karts and won everything in sight. Knowing that any future in motorsport led through England, Fittipaldi traveled to the distant shore in 1969 and came under the wing of legendary racing school owner Jim Russell, the first in a trio of great Brazilian drivers who were yet to come. Driving a Lotus Formula 3 car he won the Lombank F3 championship. His driving was smooth and controlled, trademarks that would continue throughout his career.
In 1970 he graduated to Formula 2, again driving a Lotus. In May of that year he was invited to a Formula 1 test drive by Colin Chapman. Duly impressed Chapman signed the young Brazilian to become the third team member after Jochen Rindt and John miles. Fittipaldi made his debut at Brands Hatch driving an old Lotus 49 in which he scored an 8th place. His second race in Germany saw him score his first points for fourth place. Later after the tragic death of team leader Jochen Rindt, he won the United States Grand Prix clinching the World Championship for his stricken teammate. This young well-mannered driver seemly appeared out of nowhere to rescue the devastated team.
Fittipaldi's 1971 season was interrupted by a road accident on his way home. His injuries while not life-threatening contributed to his lack of form that year but the following season saw him rise to the top, becoming the youngest World Champion in history. In 1973 he started the season as World Champion destined for another title. He seemed to have the measure of his competitors all save one, his teammate. Colin Chapman hoping to duplicate the super team of Clark and Hill added the Swede Ronnie Peterson. At first Fittipaldi seemed to take this challenge in stride when he won both the Argentine and Brazilian Grands Prix. But the strain of developing the car, only to be out-qualified by Peterson, soon told on the usually calm Brazilian. In France he made an uncharacteristic error in trying to pass South African Jody Scheckter, causing a collision that ended the race for both cars. Fittipaldi would finish the title chase in second that year and soon left for McLaren.
More than the threat of his fast teammate Fittipaldi might have surmised that Lotus was entering one of their down periods after the racing life of their superb Lotus 72 had reached its end. Three wins and numerous points scoring finishes allowed him to claim his second World Championship in 1974. The next year was a year of turmoil which included a half-hearted Brands Hatch Race of Champions and a walkout at the Spanish Grand Prix. Disgusted with the political machinations he found in Formula 1 he turned inward. Helped by sponsorship from the Brazilian sugar combine, Copersucar he formed his own team with his elder brother Wilson Jr. but try as they might they could not reproduce the magic of a decade earlier and it was a sad sight to see the double World Champion at the blunt end of the grid. Frustrated with the lack of success Fittipaldi retired to his native Brazil heavily in debt but through his many contacts and hard work he was able to rebuild his fortune.
His career while ending in disappointment had shown a driver of great talent, whose smooth style was best described in the title of his autobiography; Flying on the Ground. All could have ended there but the racer's heart still beat in his chest and.
In 1984 he made a remarkable comeback, not in Formula 1 but in the Indy Car series. He soon became a crowd favorite with his open love of racing and his gracious attitude to his fellow drivers, one of whom, Al Unser Jr. who would become his rival, teammate and friend something not exactly the norm in Formula 1. His smooth style and experience would result in two Indianapolis 500 victories on that fearsome track. He finally retired for good after suffering neck injuries in a crash at the start of the US 500 in Michigan in 1996 and later back injuries in a small airplane crash. Today he continues his involvement in motor sport on multiple levels loved by fans on two continents.
*wilbur shaw 3 time indianapolis 500 winner
Warren Wilbur Shaw (October 31, 1902 – October 30, 1954) was an American racing driver. He was president of the Indianapolis Motor Speedway from 1945 until his death in 1954. Shaw was the automotive test evaluator for Popular Science magazine
He was born in Shelbyville, Indiana on October 31, 1902. He participated in the 1927 Indianapolis 500
Wilbur Shaw won the Indianapolis 500 race three times, in 1937, 1939 and 1940. Shaw was the second person to win the 500 three times, and the first to win it twice in a row.In the 1941 race, Shaw was injured when his car crashed; it was later discovered that a defective wheel had been placed on his car.
During World War II, Shaw was hired by the tire manufacturer Firestone Tire and Rubber Company to test a synthetic rubber automobile tire at the Indianapolis Motor Speedway, which had been closed due to the war. He was dismayed at the dilapidated condition of the racetrack and quickly contacted then-owner Eddie Rickenbacker, the World War I flying ace and president and founder of Eastern Air Lines. When the United States entered World War II, ending racing at Indianapolis and elsewhere for the duration, Rickenbacker padlocked the gates and let the race course slowly begin to disintegrate.
During a meeting soon after the tire test, Rickenbacker informed Shaw that what was left of the track would be demolished and the land turned into a housing subdivision. Shaw sent out letters to the major car manufacturers trying to find a backer to buy the speedway. However, all indicated that should they buy the IMS they would turn it into a private testing facility for their own cars only.
Shaw then met Terre Haute businessman Tony Hulman who had inherited his family's business, Hulman & Company, a wholesale grocer and producer of coffee and baking powder, Clabber Girl.
A lifelong fan of automobile racing in general and the "500" in particular, Hulman listened with great interest to what Shaw had to say. Despite what Hulman saw amongst the weeds and deterioration when Shaw took him to Indianapolis, he purchased the Speedway from Rickenbacker in November 1945 for the sum of $750,000.
As a reward for his efforts to revive the Speedway, Shaw was appointed as its president, where he would have complete day-to-day control over the track. To this job, Shaw brought his extensive knowledge of the business of auto racing, something Hulman would admit that he himself didn't have, and Shaw's hard work only cemented the reputation of the "500" as the "Greatest Spectacle in Racing."
It seemed as though Shaw and Hulman had a "Midas touch" at the Speedway. Hulman poured money into improvements, and Shaw delivered the world's greatest automobile race to enthusiastic crowds, which grew in number by the year. The Indianapolis "500" of the late Forties and early Fifties was a very special event through the work of Hulman and Shaw, although Hulman was always sure to point out that it was Wilbur putting it all together.
Shaw was killed in an airplane crash near Decatur, Indiana, on October 30, 1954, one day before his fifty-second birthday. The pilot, Ray Grimes, and artist Ernest Roose were also killed.
Rusty Wallace nascar champion
Russell William "Rusty" Wallace was born on August 14, 1956 in Fenton, Missouri. Rusty and his two brothers (Kenny and Mike) were raised by their parents Russ and Judy Wallace. His dad was a champion racer in Missouri and the boys weren't far behind, with all three making careers in motorsports.
Rusty Wallace made his stock car racing debut in 1973 at Lakehill Speedway near Valley Park, Missouri. Between 1974 and 1978 he won over 200 races around the Mid-West and was a budding star when he joined the USAC's (United States Auto Club) stock car division in 1979. His racing success continued as Wallace won USAC Rookie of the Year Award in 1979. Rusty Wallace began racing in a handful of NASCAR Winston Cup races by 1980, driving the #16 Chevrolet for Roger Penske. In 1983 he went on to win an ASA AC Delco Challenge Series championship add to his already glowing resume.

Rusty Wallace made his official Winston Cup debut in 1984. That season he participated in all 30 races and bagged two top 5 and four top 10 finishes on the way to 14th place in points and Rookie of the Year honors. He won his first Winston Cup race driving the Alugard/Blue Max Pontiac in 1986 at the Bristol Motor Speedway in the Valleydale 500. Rusty earned his first pole position about a year later at the Miller 400 at Michigan International Speedway. He really began catching everyone's eye in the 1988 Winston Cup season, racking up 6 wins along woth nineteen top 5s and twenty three top 10s. He finished second in total points to Bill Elliott.

After coming close to winning the championship, Rusty Wallace would come back with a bang for the 1989 Winston Cup season. He raced in all twenty nine races and added 6 more victories along with thirteen top 5s and twenty top 10s. This was enough to win him the championship series that year, beating arch rival Dale Earnhardt by just 12 points for the honor. That year, he also started racing in the IROC series and was its champion in 1991. Throughout the 1990s, Rusty was a top performer in NASCAR's Winston Cup circuit winning 33 races, including a combined 18 in 1993 and 1994. Surprisingly, he did not win another Winston/Nextel Cup championship, finishing second to Dale Earnhardt in 1993. He won the 1993 Food City 500 at Bristol Speedway the same weekend that his good friend Alan Kulwicki died in a plane crash. Rusty dedicated the emotional win to Alan by doing Kulwicki's trademark reverse "Polish Victory Lap" after his win.

Rusty had an amazing streak going up until 2002. He had one atleast one race every year from 1986. This winning streak though was broken in 2002 and was the best amongst all active drivers. His last Nextel Cup victory came in 2004 as Rusty Wallace won the Advance Auto Parts 500 at Martinsville Speedway in Virginia. On August 30, 2004 the then 47 year old Wallace announced that the 2005 NASCAR Nextel Cup season would be his last as a full-time driver though he would run in some races on a part-time basis. To date he has 55 NASCAR wins, good enough for 8th place on NASCAR's all-time wins list. At the time of his retirement, he drove the Penske Racing's #2 Dodge that was sponsored by Miller Lite.

Rusty Wallace raced for over 25 years so one could not just expect him to walk away from the sport after his retirement. That is quite the case as he is still involved in various aspects of stock car racing. Rusty owns and operated Rusty Wallace, Inc. (RWI) which fields the #64 NASCAR Busch Series car driven by Jamie McMurray. He is also part owner (along with Roger Penske) of the Penske Racing South team that features Kurt Busch and Ryan Newman in the Nextel Cup series.

Rusty also has a huge passion for flying. He's a jet-rated pilot who would have flown for a career had it not been for stock car racing. He owns several airplanes (including a Learjet 31A) and a Bell 427 helicopter. He is also a fan of NHRA drag racing and golf. Rusty is married to his wife Patti, they have three kids (Greg, Katie, Steve) and live in a ranch outside Charlotte, North Carolina. Rusty Wallace has become the first on-air hire by ESPN and ABC Sports after being named lead auto racing analyst for their Nextel Cup coverage starting in 2007. He also owns five car dealerships in Tennessee.
Joe Amato NHRA CHAMPION
During the heyday of his very successful Top Fuel career in the late 80s and early 90s, they called his legions of fans "Joe's Army." While his stellar performances attracted the attention of many, it was his easygoing personality and accessibility that ultimately proved to be his best "recruiting" tool. Far from being an aloof "commanding general," Amato was, and continues to be today, just one of the guys. That, as much as anything else, endeared him to the fans and media.
Before his retirement following the 2000 National Hot Rod Association season, Amato had amassed a record the likes of which is unlikely to be surpassed in the future. In some respects Amato's standards may have the longevity of Joe DiMaggio's 56-game hitting streak, or Richard Petty's 200 NASCAR victories.
The number five plays a prominent role in this exceptional competitor's records. For but one example, Amato's 52 race wins are 19 more than his closest still-active competitor, with the level of competition being such that it's going to be extremely difficult to close the gap.
In terms of total professional victories, Amato is fifth – and sixth overall when his five sportsman wins are added. He's also fifth on the all-time Number 1 qualifiers list and the only five-time points champion in NHRA Top Fuel history. When he wasn't winning the championship outright, Amato was easily finishing in the Top 10, a consistency he maintained for 18 consecutive seasons. And let's not forget that Amato notched six impressive wins in the Budweiser Top Fuel Classic along the way.
Following his victory in the Mile-High Nationals in 2000, word leaked out that Amato had suffered what appeared to be a career-ending eye injury. Despite the setback, he completed the season fourth in the standings – winning again at the Keystone Nationals on his home track in Reading, PA. Sensing that the end of his career was coming, Amato was convinced to make the '01 season a retirement tour, but within hours wisely decided to hang up his helmet and concentrate on being a team owner.
From the ever-present Snoopy cartoon character that decorated his race cars to his effervescent personality, Amato was, and continues to be, a media and fan magnet. His interviews, often hilarious in delivery and content, effectively kept his business acumen from the public as Amato always made an effort to separate his business and racing lives despite the fact that they were irrevocably intertwined. Amato and his family were the founders of Keystone Automotive, which eventually morphed into Key Parts. Regardless of the name, it ultimately became the largest chain store operation in the eastern half of the country, with Amato personally responsible for a great deal of that growth. Amato eventually served on the SEMA Board of Directors, a position from which he had considerable influence on national legislation affecting the legality of high performance hardware for street-driven vehicles.
Unlike some former drivers, Amato has taken to the role of team owner with the same level of enthusiasm that he brought to his driving and business careers. He remains open, friendly and a fan favorite. Small wonder he's been elected to the Motorsports Hall of Fame. His "army" wouldn't have it any other way!
When the phrase "Thrill of Victory and Agony of Defeat" was first coined, the author must have had Robert Arthur Allison in mind. "If I had kept a business chart of my racing career, it would have more peaks and valleys than the State of Arizona," he said.
2013 INDUCTEES
*Joe Leonard AMA and USAC National Champion
Joe Leonard born August 4, 1932 in San Diego, California, is a retired American motorcycle racer and racecar driver.
Leonard won the first A.M.A. Grand National Championship Series in 1954 and won it again in 1956 and 1957.His record totals 27 wins, including the 1957 and 1958 Daytona 200.He retired from motorcycle racing at the completion of the 1961 season and turned his attention to auto racing.
Leonard raced in the USAC Championship Car series in the 1964–1974 seasons, with 98 career starts, including the 1965–1973 Indianapolis 500, sitting on the pole in 1968 in the Lotus 56 turbine car. He finished in the top ten 60 times, including 6 wins: 3 times at Milwaukee (1965, 1970, 1972), and once each at Ontario (1971), Brooklyn (1972), and Pocono (1972). His victories propelled him to the 1971 and 1972 USAC Championship Car Season Championship.
Joe Leonard has won multiple National Championships in both automobile and motorcycle racing back-to-back. In 1991
Charlie Patterson car owner "mr. racing everything"
Over fifty years of winning experience and hard work have earned Charlie Patterson the distinction of being recognized as an expert in the field of auto-racing. Charlie began his motorsports career back in 1958, at age twenty, as a crewman for an Indy Racing team. He spent the next thirty years mastering a variety of skills from lead fuel man to crew chief.

During this same period, from 1969 to 1989, Charlie also joined the ranks of car ownership fielding his own USAC Silver Crown and Midget racing teams with such notable drivers as Johnny Rutherford, Kenny Jacobs and Johnny Parsons behind the wheel. From time to time you could even find Charlie piloting one of his midget cars out on the open wheel circuit. Another early career highlight came when Charlie was hired as motorsports consultant and provided race cars for use in the filming of Paul Newman's motion picture WINNING.

The latest chapter on Charlie's colorful career comes with the formation of NEX• GEN Motorsports – a new driver search and placement program designed specifically to fulfill the growing sponsor demand that NASCAR and its teams provide a younger, more camera-friendly driver image as representative of the sport. In the world of product marketing, perception is reality and the consumer demographic being targeted is increasingly getting younger.

To the benefit of our industry, Mr. Patterson has the proven ability to single out those young men and women who possess the rarest combination of natural talent, star image and the personal dedication necessary to achieve championship status – both on and off the track. With "motorsports veterans" like Charlie Patterson watching the road, the Next Generation of auto racing has a very bright future ahead!
Bruce McLaren race-car designer, driver, engineer and inventor
Bruce Leslie McLaren 30 August 1937 – 2 June 1970 was a New Zealander race-car designer, driver, engineer and inventor.
His name lives on in the McLaren team which has been one of the most successful in Formula One championship history, with McLaren cars and drivers winning a total of 20 world championships. McLaren cars totally dominated CanAm sports car racing with 56 wins, a considerable number of them with him behind the wheel, between 1967 and 1972 (and five constructors' championships), and have won three Indianapolis 500 races, as well as the 24 Hours of Le Mans and 12 Hours of Sebring.
Born in Auckland, New Zealand, Bruce McLaren attended Meadowbank Primary School. As a nine-year-old, he contracted Perthes disease in his hip that left his left leg shorter than the right.
His parents, Les and Ruth McLaren, owned a service station and workshop in Remuera Rd, Remuera, Auckland.[2] Bruce spent all of his free hours hanging around the workshop and developed his passion during his formative years.
Les McLaren restored an aging Austin 7 Ulster which 14-year-old Bruce used in 1952 when he entered his first competition, a hillclimb. Two years later he took part in his first real race and showed promise. He moved up from the Austin to a Ford 10 special and an Austin-Healey, then an F2 Cooper-Climax sports. He immediately began to modify and improve — and master - it, so much so that he was runner-up in the 1957–8 New Zealand championship series.
His performance in the New Zealand Grand Prix in 1958 was noted by Australian driver Jack Brabham (who would later invite McLaren to drive for him). Because of his obvious potential the New Zealand International Grand Prix organisation selected him for its 'Driver to Europe' scheme designed to give a promising Kiwi driver year-round experience with the best in the world. McLaren was the first recipient, to be followed by others later including Denny Hulme.
McLaren went to Cooper and stayed seven years. He raced in F2 and was entered in the German Grand Prix at the Nürburgring in which F2 and F1 cars competed together. He astounded the motor racing fraternity by being first F2, and fifth overall, in a field of the best drivers in the world.
McLaren joined the Cooper factory F1 team alongside Jack Brabham in 1959 and won the 1959 United States Grand Prix at age 22 years 80 days, becoming the youngest ever GP winner up to that time. He followed that with a win in the Argentine Grand Prix, the first race of the 1960 Formula One season, and he would finish runner-up that season to Brabham.
McLaren won the 1962 Monaco Grand Prix, eventually finishing a fine third in the championship that year. The next year he founded Bruce McLaren Motor Racing Ltd, which remains in the Formula One championship simply as Team McLaren. McLaren continued to race and win in Coopers (including the New Zealand GP in 1964).
McLaren left Cooper at the end of 1965, and announced his own GP racing team, with co-driver and fellow Kiwi Chris Amon. Amon left in 1967 to drive for Ferrari. In 1968, McLaren was joined by another fellow Kiwi Denny Hulme, who had become world champion in 1967 with Brabham. McLaren took his fourth career win racing his own McLaren car at Spa in 1968, achieving the team's first Grand Prix win. Hulme won twice in the McLaren-Ford.
The 1969 championship was also a success, with McLaren finishing 3rd in the standings despite taking no wins. In tribute to his homeland, McLaren's cars featured the "speedy Kiwi" logo.
It was in powerful sports car racing where McLaren's design flair and ingenuity were graphically demonstrated. Just as the Can-Am began to become very popular with fans in Canada and the U.S., the new McLaren cars finished second twice, and third twice, in six races.
In 1967 they won five of six races and in 1968, four of six. The following year McLarens proved unbeatable, winning 11 of 11 races. In two races, they finished 1-2-3. (McLaren, Hulme and Mark Donohue).
In 1966 he and co-driver Chris Amon won the prestigious 24 Hour race at Le Mans in a Ford GT40.
Bruce was a competitive driver but in many ways his legacy, the McLaren Racing Team, is testimony to his abilities as an analyst, engineer and manager that contributed much to the success of the cars that bore his name. In the early days of the McLaren sports cars Bruce was testing and as he drove out of the pits he noticed the fuel filler access door was flapping up and down as he drove. The current aerodynamic thinking was that it should have been pressed more firmly in place as the speed of the car increased. Instead, it bounced more vigorously as the speed increased. Instantly his frustration at the sloppy work changed and he had an insight. Stopping in the pits he jumped from the car, ran to a mechanics tool box, grabbed a pair of shears and started cutting the bodywork away behind the radiator. Climbing back in the car he immediately began turning lap times faster than before.
From that session came the "nostrils" that have been a key McLaren design feature, even in the McLaren F1 road car, since that day.
Bruce McLaren noted that his team's cars were marginally less innovative than the Chaparral Cars of rival driver/designer Jim Hall but their superior reliability was rewarded by race and championship victories. Long after his death that culture prevailed and when Ron Dennis bought the team was reinforced by the lessons learned in his early career as a race mechanic.
Bruce McLaren died (aged 32) when his Can-Am car crashed on the Lavant Straight just before Woodcote corner at Goodwood Circuit in England on 2 June 1970. He had been testing his new M8D when the rear bodywork came adrift at speed. The loss of aerodynamic downforce destabilized the car, which spun, left the track and hit a bunker used as a flag station.
Conrad "Connie" Kalitta Drag Racing Driver
Conrad "Connie" Kalitta born February 24, 1938, in Michigan is the CEO of Kalitta Air and a retired American drag racing driver, once known as "The Bounty Hunter".
He grew up in Mount Clemens, Michigan, and was a 1957 graduate of Mount Clemens High School.
He raced from the 1950s through the 1990s. He was the first driver to hit 200 mph in an NHRA sanctioned event. He also helped Shirley Muldowney get started (in the "Bounty Huntress" car). Kalitta won 10 NHRA national events between 1967 and 1994.
Connie has won the U.S. Nationals in 1994 after losing in two prior finals to Don Garlits and Shirley Muldowney. He defeated Eddie Hill in the final round.
He was inducted into the Motorsports Hall of Fame of America in 1992. On the 2001 National Hot Rod Association Top 50 Drivers, 1951-2000, Kalitta was ranked #21. He was played by Beau Bridges in the Muldowney biography film Heart Like a Wheel.
He is the father of racer Scott Kalitta, killed in a fiery crash in Old Bridge Township, N.J.[2][3] in 2008, and uncle of racer Doug Kalitta. His step-daughter is Commander Shanti Sethi of the United States Navy, former commander of the USS Decatur
Rich Vogler * USAC National Sprint Car and Midget champion
Rich Vogler July 26, 1950, Chicago, Illinois – July 21, 1990, Salem, Indiana was a champion sprint car and midget car driver. He was nicknamed "Rapid Rich". He competed in the Indianapolis 500 five times, his best finish was eighth in 1989.
Vogler was the National Alliance of Midget Auto Racing (NAMAR) midget champion in 1973. He won the midget car track championships at the Indianapolis Speedrome in 1984 and 1985. He won the Fireman Nationals midget car race at Angell Park Speedway in 1985. Vogler became the first driver to win the USAC Sprint Car and Midget championships in the same year (1980). He won USAC National Sprint Car Series championships in 1980 and 1989, USAC National Midget Series championships in 1978, 1980, 1983, 1986, and 1988.
He won numerous major national events: the Hut Hundred eight times, the 4-Crown Nationals midget car event four times, the Copper Classic twice, the Hoosierdome Invitational twice, the WWRA Florida Winter Nationals in 1983, and the Night Before the 500 once. In 1987 he won the inaugural Chili Bowl Midget Nationals race.
Vogler finished seventeenth in his only NASCAR Busch Series start at the North Carolina Speedway in Rockingham in 1988.
His 134 wins (95 Midget, 35 Sprint, and four Silver Crown wins) in national events is second only to A. J. Foyt's 169.[3] Vogler had 170 total USAC wins, and won over 200 "outlaw" (non-USAC) midget races.
Days before his 40th birthday, Vogler was competing in a nationally broadcast ESPN Thunder Joe James / Pat O'Connor Memorial sprint car event at Salem Speedway. He was leading the race at the time, when his car crashed with just over a lap to go. Vogler was de-helmeted in the accident, and as a result was fatally injured. Because of USAC rules on a red flag reverting to the previous completed lap, he was declared the winner of the event following his death, which was his 170th win. He was scheduled to make his NASCAR Winston Cup (now Sprint Cup) series debut at Pocono Raceway the day after his fatal crash. He was awarded a 40th place finish (as a "Did Not Start").
The Pocono race was not his first attempted NASCAR Winston Cup start: two weeks before, he entered the Michigan race but failed to qualify.
His mother Eleanor started a college scholarship fund for aspiring Indiana students as part of Rich's concern over his sons, and the fund was started by USAC officials and sponsor Valvoline.
The first major fund-raiser for the fund has been a Daytona 500 viewing party in Indianapolis, today well-attended with a silent auction and notable names in auto racing in the state as guests. Usually, his mother and his sons appear at the annual fund-raiser. In 2008, the viewing party was moved to the Indianapolis Motor Speedway, where 1996 scholarship recipient Ryan Newman won the aforementioned race.
In April 1991, Winchester Speedway began the annual season-opening Rich Vogler Classic sprint car race, usually the first race at the track each year.
There is also a Team Vogler classic at the Indianapolis Speedrome. His father Donald Vogler died in a midget car accident at the Indianapolis Speedrome on May 1, 1981.
Robert Glenn "Junior" Johnson NASCAR Superstar
Robert Glenn "Junior" Johnson, Jr. born June 28, 1931 better known as Junior Johnson, is one of the early superstars of NASCAR in the 1950s and 1960s. He won 50 NASCAR races in his career before retiring in 1966. In the 1970s and 1980s, he became a NASCAR racing team owner; he sponsored such NASCAR champions as Cale Yarborough and Darrell Waltrip. He now produces a line of fried pork skins and country ham. He is credited as the first to use the drafting technique in stock car racing. He is nicknamed "The Last American Hero" and his autobiography is of the same name.
Johnson was born in Wilkes County, North Carolina, the fourth of seven children of Lora Belle Money and Robert Glenn Johnson, Sr. His father, a lifelong bootlegger, spent nearly twenty of his sixty-three years in prison, as their house was frequently raided by revenue agents. Junior spent one year in prison in Ohio for having an illegal still, although he was never caught in his many years of transporting bootleg liquor at high speed.
In 1955, Johnson began his career as a NASCAR driver. In his first full season, he won five races and finished sixth in the 1955 NASCAR Grand National points standings.
In 1958 he won six races. In 1959, he won five more NASCAR Grand National races (including a win from the pole position at the 1959 Hickory 250); by this time he was regarded as one of the best short-track racers in the sport.
His first win at a "superspeedway" came at the Daytona 500 in 1960. Johnson and his crew chief Ray Fox were practicing for the race, trying to figure out how to increase their speed, which was 22 miles per hour (35 km/h) slower than the top cars in the race. During a test run a faster car passed Johnson. He noticed that when he moved behind the faster car his own speed increased due to the faster car's slipstream. Johnson was then able to stay close behind the faster car until the final lap of the test run, when he used the "slipstream" effect to slingshot past the other car. By using this technique Johnson went on to win the 1960 Daytona 500, despite the fact that his car was slower than others in the field. Johnson's technique was quickly adopted by other drivers, and his practice of "drafting" has become a common tactic in NASCAR races
In 1963 he had a two-lap lead in the World 600 at Charlotte before a spectator threw a bottle onto the track and caused Junior to crash; he suffered only minor injuries.
He retired in 1966. In his career, he claimed 50 victories as a driver, and 11 of these wins were at major speedway races. He retired as the winningest driver never to have a championship.
Johnson was a master of dirt track racing. "The two best drivers I've ever competed against on dirt are Junior Johnson and Dick Hutcherson," said two-time NASCAR champion Ned Jarrett.
As a team owner, he worked with some of the legendary drivers in NASCAR history, including Darel Dieringer, LeeRoy Yarbrough, Cale Yarborough, Bobby Allison, Darrell Waltrip, Neil Bonnett, Terry Labonte, Geoffrey Bodine, Sterling Marlin, Jimmy Spencer and Bill Elliott. In all, his drivers won 139 races, which is third to Petty Enterprises and Hendrick Motorsports. His drivers won six Winston Cup Championships—three with Yarborough (1976–1978) and Waltrip (1981–82, 1985).
In 2011, Johnson announced that he would restart a race team with son Robert as driver. Junior Johnson Racing will be located in Hamptonville, North Carolina. Robert, the 2010 UARA Rookie of the Year, plans to run a 28–30 race schedule in 2011, which includes the entire K&N East Series schedule and some races in the UARA and Whelen All-American Series.
His first marriage ended in divorce in 1992. His marriage to his current wife Lisa in 1994 has resulted in two children, daughter Meredith Suzanne, and son Robert Glenn Johnson III, who is a sophomore at Duke University. He resides in Charlotte, North Carolina. Johnson is referenced in the Bruce Springsteen song "Cadillac Ranch".
On December 26, 1986, President Ronald Reagan granted Johnson a presidential pardon for his 1956 moonshining conviction. In response to the pardon, which restored his right to vote, Johnson said, "I could not have imagined anything better."
2012 INDUCTEES
Tom Bigelow Open Wheel Racer
Tom Bigelow born October 31, 1939, in Whitewater, Wisconsin), USA, is a former driver in the USAC and CART Championship Car series.
He began his racing career at the Badger Midget Racing Association at Angell Park Speedway in Sun Prairie, Wisconsin. His first attempt at the National Championship was in 1967, and he finished eighteenth. He had 1968 midget wins at Hales Corners Speedway in Hales Corners, Wisconsin and at the Sycamore, Illinois track. He won the first Astro Grand Prix in the Houston Astrodome in 1969. His come back in Midgets started in 1981 driving for Sandy Racing. In 1984 he was National USAC Midget Champion, two years in a roll, 1982 and 1983 he was USAC Spreedrome Champ.
He raced in USAC and CART in 17 seasons (1968–1983 and 1985), with 104 combined career starts, and started in the Indianapolis 500 every year during 1974-1982. He finished in the top ten 39 times, with his best finish in 2nd position in consecutive races in 1978 at Texas World Speedway and Milwaukee.
Bigelow was also the 1978 USAC Sprint Car Series Champion. He became the leader in USAC Sprint car wins with 52
He returned to his roots won the 1984 USAC National Midget Series Champion. He finished fourth, third, and ninth in the following three season. He also won the 1982 USAC Midwest Regional midget car title. His car (number 16) was owned by Carl Sandy, husband of Carol Sandy and father of Duane, Mathew, and Troy Sandy.
Tom made a single NASCAR start at the 1986 Atlanta Journal 500 at the Atlanta International Raceway, and he finished 40th with engine problems.
*Gary Lee Racing Broadcaster
A lifelong resident of Indianapolis and a graduate from Thomas Carr Howe High School Gary attended Vincennes University with a degree in broadcasting
Gary worked in the local Television Market for over 20 years and was hired by ESPN in 1981 and was part of the very first race telecast on ESPN...the Tony Bettenhausen 200 from the Milwaukee Mile.
Public address announcing was a big part of his career. Gary has done PA at more than 300 races including more than 100 Silver Crown races. Gary was on the PA for 30 consecutive years for The Hoosier 100 at the Indiana State Fairgrounds, 25 years at DuQuoin and 18 at Springfield and has done over 1100 auto racing events including banquets and MCing events
From 1977-1984 Gary was on the PA at the Indianapolis Motor Speedway. Gary spent 9 years on the IMS Radio Network and was the anchor for the first 3 years of the Indy Racing League.
What was to become known as Thursday Night Thunder had it's beginning at the Speedrome with Gary at the mike. He remained on the Thursday show from 1985 until 2000 and will always be linked with Larry Rice for the Larry and Gary racing broadcasts Gary did the the international broadcast for ESPN for 8 years on the IndyCar circuit.
Gary owned Whiteland Raceway Park in Whieland Indiana for over 10 years
Larry Rice Open Wheel Racing Legend*
Larry was an American racing driver in the USAC and CART Championship Car series.He was the 1973 USAC National midget driver's champion and won the USAC Silver Crown series in 1977 and 1981. He was inducted in the National Midget Auto Racing Hall of Fame in 1993.]
Larry's father Bob got him started in racing. Bob purchased Larry's first race car, a Kurtis Craft Half Midget from Bob Cunningham in Covington, Indiana prior to turning twelve years old. Larry went to Modified Midget racing at the Logansport, Indiana track from 1965-1967. While in modified midget racing Larry and his father introduced the first car with a suspension system in this type of racing. It was made by Kurtis out of Indianapolis, Indiana. Eventually all cars would have suspension systems on them.
Larry graduated from college with a teaching degree. He taught school briefly while racing the modified midget racing circuit. He was fondly known as "The Flying School Teacher" due to his ability to win races.
Larry's father Bob worked as a pit crew member for various race teams at the Indianapolis 500 in the 1970s.
Rice had a major win when he won the 1970 Hut Hundred. Rice finished third in 1972 USAC National Midget championship, helping his team (Shannon Brothers) win the owner's championship.[2] Rice followed up by winning the 1973 USAC National midget driver's championship himself.[2] Rice was also the 1977 and 1981 USAC Silver Crown Series champion. He won the Silver Crown and sprint car portions of the 4 Crown Nationals at Eldora Speedway in 1985. He won his second Silver Crown portion at Eldora in 1987.
He raced in 5 seasons (1974, and 1978–1979, and 1981), with 9 combined career starts, including the 1978 and 1979 Indianapolis 500 and finished in the top ten 3 times. He was co-named the 1978 Indianapolis 500 Rookie of the Year, along with Rick Mears, for his 11th place finish.
After he stopped racing in 1991, he became the color analyst on ESPN's Saturday Night Thunder program.The program featured midget, sprint, and Silver Crown racing. He also worked as ESPN's regular analyst on IRL races.
Rice later worked for K&K Insurance, specialising in motorsport insurance, and later formed his own insurance organisation, Short Track Independent Drivers and Associates, underwritten by Nationwide Insurance, with his son Robbie, who operates the racing insurance organisation today.
Rice died from lung cancer on 20 May 2009.
*Jim Hurtubise Open Wheel Legend
Jim Hurtubise (December 5, 1932 – January 6, 1989) was an American race car driver who raced in USAC Champ Cars (including the Indianapolis 500), as well as sprint cars and stock cars (USAC and NASCAR). He was from North Tonawanda, New York. Despite his limited success, he was a fan favorite throughout much of his career as many characterized him as an "old style" racecar driver
Hurtubise raced in the USAC Championship Car series in the 1959–1968 and 1970–1974 seasons, with 97 career starts. He finished in the top ten 38 times, with 4 victories, in 1959 at Sacramento, 1960 at Langhorne, and 1961 and 1962 at Springfield.] In 1964, after suffering serious burns in an accident during the Rex Mays Classic, in Milwaukee, doctors asked Hurtubise how he wanted his hands shaped permanently. "Just make 'em so I can hold a steering wheel," he replied.
Hurtubise died January 6, 1989 after suffering a heart attack near his home in Port Arthur, Texas. He was 56 years old. He is interred at Crown Hill Cemetery in Indianapolis.
Hurtubise ran in ten Indianapolis 500 races between 1960 and 1974. His best finish was a 13th in 1962. In 1972 he ran out fuel, but was towed through the infield, which resulted in his disqualification. In the 1968 race, he ran the last front engined car to date in the race. He attempted to qualify a front engined car for the Indy 500 every year from 1975 to 1981 but failed to do so in each of those years. On May 21, 1972, on "bump day", he put his Miller Beer sponsored car in line to make a qualification attempt shortly before the closing deadline of 6:00 PM. The time expired before it was his turn to qualify. He then removed the engine cover to reveal that the car had no engine, but five chilled cases of his sponsor's product, which he shared with the other pit crews and race officials. In 1978, he did not meet the certified speed and was denied an attempt to make the race. He sat in Bob Harkey's car and locked the brakes. He then ran on the track until he was apprehended by the police. But by 1979, was in USAC's good graces.
The Indianapolis 500 was part of the FIA World Championship from 1950 through 1960. Drivers competing at Indy during those years were credited with World Championship points and participation. Hurtubise participated in one World Championship race, finishing eighteenth.
In 1957, Hurtubise started his NASCAR career running two races. Over the next twenty years, he would race 36 races, winning one race at Atlanta Motor Speedway, and amassing eleven top ten finishes
He was inducted in the National Sprint Car Hall of Fame in 1993
Bill Elliott NASCAR National Champion
Bill Elliott was the youngest of three sons born to George and Mildred Elliott of Dawsonville, Georgia. George Elliott owned a home supply center and dabbled with auto racing. In fact he first owned a Grand National car in 1966, driven by Don Tilley at the fall race in Rockingham. Tilley finished 42nd in field of 44 cars after suffering steering problems.
Growing up Bill and his older brothers, Ernie and Dan, started working at the family business at an early age, and perhaps that is one of the reasons Bill still prefers to own his own team rather than work for someone else. By his early teens Bill was driving delivery trucks throughout the twisting roads of Northern Georgia, at rates of speed he smiles and says he would rather not discuss these days. The racing bug had already bitten. Bill and his brothers began in racing selling parts out of a truck to racers at tracks in the area. Ernie would eventually start his own engine business, while Bill specialized in building chassis and setting up suspensions. He also did a little racing and on September 7th, 1974 Bill won his first sportsman race at the Dixie Speedway in Woodstock, Georgia. More victories soon followed and the family saw Bill's talents as a God given gift that they should help him develop.
Elliott's first career Winston Cup start was Feb. 29, 1976 at the Carolina 500 in Rockingham, N.C. He started 34th and finished 33rd. His first win (117th start) was on a road course - Riverside (Calif.) International Raceway, Nov. 20, 1983. His first pole (56th start) was at the Rebel 500 at Darlington (S.C.) Raceway on April 12, 1981.
Bill Elliott celebrated 25 years driving in the prestigious NASCAR Winston Cup Series in 2000. It was Elliott's sixth season behind the wheel of the McDonald's Ford. He raced on a part-time basis from 1976 - 82. His first full season was in 1983.
Entering the 2000 season, Elliott had 40 career Winston Cup victories, 49 career pole positions and career earnings of $21,107,334. He was tied for 14th (with the late Tim Flock) overall in career wins, fourth overall for career poles and seventh overall for career earnings.
Elliott has won the famed Daytona 500 twice, 1985 and 1987. He won both races from the pole. He also has won two of NASCAR's prestigious, non-points races, the Busch Clash in 1987 and The Winston in 1986.
Elliott won the Most Popular Driver Award in 2000 for a record 15th time. Except for 1989 and 1990, Elliott has won the award every year since 1984. The award is voted by the fans in a contest conducted by the National Motorsports Press Association (NMPA).
Elliott started his 600th career Winston Cup race at the Diehard 500 at Talladega (Ala.) Superspeedway on April 16, 2000. He is one of 19 drivers to have more than 500 career starts, reaching that milestone on April 13, 1997 at the Bristol (Tenn.) Motor Speedway.
Elliott set the fastest qualifying speed in Winston Cup history with a lap of 212.809 mph at Talladega (Ala.) during the1987 Winston 500.
Elliott was the 1988 Winston Cup Champion. He is only one of three Ford drivers (Dale Jarrett, Alan Kulwicki) to win the championship since 1969. Elliott finished second in the point standings three times - 1985, 1987 and 1992. He lost the series championship to Kulwicki by 10 points in 1992, the narrowest winning margin in Winston Cup history.
Since he started to run a full season schedule in 1983, Elliott has finished in the top 10 every year except 1991, 1996, 1998, 1999, and 2000.
In 1996 Elliott missed seven races due to an injury (fractured left thighbone) he suffered in a crash in the Winston 500 at Talladega (Ala.) Superspeedway.
Elliott was the first driver to win The Winston Million, a $1 million bonus from R.J. Reynolds for winning three of four major superspeedway races in a single season. He accomplished this feat in 1985 (the inaugural year of The Winston Million program) with victories at the Daytona 500, Winston 500 (Talladega, Ala.) and the Southern 500 (Darlington, S.C.).
Along with winning the Winston Million, Elliott's 1985 banner year also included a Winston Cup season record of 11 superspeedway wins. For his achievements in 1985, Elliott was featured on the cover of Sports Illustrated. His two nicknames: "Awesome Bill from Dawsonville" and "Million Dollar Bill" also came as a result of his record-setting 1985 season.
Elliott was named the "American Driver of the Year" in 1985 and 1987 by the nation's motorsports media.
Prior to his first race on the Winston Cup circuit, Elliott raced on the Georgia short tracks with his brothers, Ernie and Dan.
Elliott's hobbies include snow skiing and flying his personal aircraft. He has a multi-engine instrument-rated and helicopter-rated pilot's license.
Johnny Parsons USAC racing driver
Johnny Parsons is the son of Arza and 1950 Indianapolis 500 winner Johnnie Parsons. His parents divorced, and Johnny was raised with half-brothers Dana and Pancho Carter, the product of Arza'a marriage with Duane Carter. The Carters grew up racing quarter-midgets in Indianapolis.
John who was once a police officer in California resigned to move to Indianapolis to become a full time driver in USAC in the early 70s
Parsons started twelve Indianapolis 500 races. His last Indy 500 start was the 1996 Indianapolis 500. His best finish was fifth in 1977 and 1985.
Parsons finished second in the 1977 USAC National points. Parsons has also twice finished second in the USAC championship dirt cars.
Parsons won 29 midget car features (as of 1994), including major wins at: the 4-Crown Nationals midget car feature twice, the 1979 Hut Hundred, and the 1986 Copper Classic midget feature.] He has won two Silver Crown and five sprint car features.
He is listed as #42 in the world as an all-time open wheel race winner.
Racing Hall of Fame member Johnny carries his father's name, with a different spelling.
When Davey Hamilton decided to come out of retirement to run in the 2007 Indy 500, Parsons replaced him as the driver expert for the Indianapolis Motor Speedway Radio Network's broadcasts of race activities.
Johnny raced way into the 21st century before his retirement he now lives in Indianapolis with his wife and still does does speaking engagements.
2011 INDUCTEES
*Sam Hanks 1957 Indianapolis 500 Winner
Sam Hanks was an American racecar driver who won the 1957 Indianapolis 500. He was a barnstormer, and raced midget and Champ cars.
He won his first championship in 1937 on the West Coast in the AMA. He barnstormed the country, racing on the board tracks at Soldier Field in Chicago and the Los Angeles Coliseum Motordome. Hanks reportedly won the first two board track races at Soldier Field in 1939. Hanks won the 1940 VFW Motor City Speedway championship. After World War II, he captured the 1946 URA Blue Circuit Championship. He won the 1947 Night before the 500 midget car race. He was the 1949 AAA National Midget champion. He won the 1953 AAA Championship in the Bardahl Special. He won the 1956 Pacific Coast championship in the USAC Stock cars.
He won the 1957 Indianapolis 500 at his thirteenth attempt at the race, the most tries of any Indy winner, and announced his retirement from racing in Victory Circle. He drove the pace car at the Indianapolis 500 from 1958 to 1963 He was inducted in the National Sprint Car Hall of Fame in 1998. He was inducted in the Motorsports Hall of Fame of America in 2000. Hanks was inducted in the National Midget Auto Racing Hall of Fame in 1984.
James Ashbury Allison (11 August 1872 – 1928), born in Marcellus, Michigan, was an American entrepreneur and businessman. He was the inventor of the Allison Perfection Fountain Pen and with Carl G. Fisher a founder of Prest-O-Lite, a manufacturer of automobile headlights. With Carl G. Fisher, Frank H. Wheeler, and Arthur C. Newby he was a founder of the Indianapolis Motor Speedway and the Indianapolis 500-Mile Race. Allison formed the Indianapolis Speedway Team Company later known as the Allison Experimental Company, and later as the Allison Engine Company which was eventually purchased by General Motors after Allison's death becoming the Allison Division of General Motors, a manufacturer of automotive transmissions (Allison Transmission), aircraft engines (Allison Engine Company), truck engines, and other products. Allison died of pneumonia in 1928 at the age of 56 and was buried in Crown Hill Cemetery in Indianapolis, Indiana. His Indianapolis home, Riverdale, is now part of Marian College.
James Allison moved to frankfort with his parents, Noah and Myra, in 1880. He quit school and joined his father's business, Allison Coupon Company, at age 12 in 1884. Just six years later, with the untimely death of his father, James assumed the vice-presidency of the company at age 18 in 1890. Allison Coupon Company still exists today as Allison Payment Systems. During the 1890s Allison became intrigued by the bicycle craze that was sweeping the nation. He joined the Indianapolis-based bicycle "Zig-Zag Club," where he met future business partners Carl G. Fisher and Arthur C. Newby. Fisher and Allison would remain confidants the rest of their lives.
James Allison, just 32 years old and already an executive at two companies, Allison Coupon and Allison Perfection Fountain Pens, was drawn into forming yet another when Carl G. Fisher called in 1904. The new company would prove to be the biggest yet, the producer of the first viable headlight for automobiles. Based on compressed acetylene gas as electric headlights were years from introduction, the new technology utilized brass canisters of the compressed gas funneled to the headlight through tubing. Fisher had met Percy "Fred" Avery, the holder of the patent for the product, and the three of them formed Concentrated Acetylene Company in September 1904. They called their product "Prest-O-Lite," which became the company's name when Avery parted with the firm in 1906. The partners hit the market with perfect timing as the automobile industry was growing rapidly and the ability to see at night was naturally a great benefit. Prest-O-Lite brought the already successful Allison and Fisher wealth well beyond what they had enjoyed earlier. When they sold the firm to Union Carbide in 1917 Allison reaped several million dollars.
Allison and Fisher continued to build businesses together throughout their lives. Their styles complemented each other famously. Fisher was the fountain of ideas, but impetuous. Allison was the steady hand and an outstanding manager. Lem Trotter, a mutual business colleague, said of Allison, "Fisher was the dreamer but Allison had the most brilliant mind of any man I ever knew. He was the industrialist."
Allison supported Fisher's efforts to lead the development of transcontinental highways, the Indianapolis Motor Speedway and Miami Beach. The two men were the senior partners in establishing the Indianapolis Motor Speedway with junior partners Arthur C. Newby and Frank H. Wheeler.
James Allison formed the Indianapolis Speedway Team Company to engineer race cars for the Indianapolis 500. The machine shop was located on the same grounds as Prest-O-Lite (directly across the street from the Speedway) until Prest-O-Lite was sold in 1917. The company engineered the car that won the 1919 race with driver Howdy Wilcox. The company re-tooled for World War I, becoming a major defense contractor as Allison Experimental Company. Re-named as Allison Engineering Company in the 1920s, the company was acquired by General Motors in 1929 after Allison's death in 1928.
Allison Engineering became two divisions of GM, one of which was sold to Rolls-Royce Aerospace in 1995. The other division, Allison Transmission, was acquired by a private equity firm in 2007, but still has a close affiliation with GM.
The Indianapolis Motor Speedway continues to evolve and expand as it approaches its centennial year in 2009.
Richard Day Most Respected Public Relations Person in the sport
Although he had never even seen a sprint car race when National Sprint Car Hall of Fame inductee Ted Johnson hired him to spread the good word about the World of Outlaws in 1987, Day immediately fell in love with the sport and quickly became one of the leading publicists in auto racing. He tirelessly served sprint car racing's car owners, drivers, sponsors, press, promoters and fans for 18 years while helping Johnson build the World of Outlaws into the sport's largest series. In recent years, Day has publicized various sprint car racing teams in addition to serving as a writer and editor for WhoWon.com.
As a one-man public relations department, Day was a behind-the-scenes force in sprint car racing despite his rare presence at the racetrack. While working almost exclusively from the World of Outlaws' Texas offices, he wrote so descriptively that fans said his reports made them feel like they had seen the races with their own eyes … and he did it utilizing only the notes competition directors and announcers on the scene relayed to him. Many thought the system was Johnson's way of saving money, but it was a stroke of genius because it allowed Day to not only write post-race reports, it also made him available to the press and promoters. Newspaper editors and publishers, including Chris Economaki of National SpeedSport News, appreciated the fact that Day never missed a deadline.
As the first auto racing series publicist to post press releases on an electronic media service – CompuServe in 1988 – Day ushered motorsports into the computer age. He also published press kits – which every promoter received a month before his or her race – as well as the World of Outlaws Souvenir Yearbook. While writing more than 1,000 press releases per year, Day built an immense media network that included more than 250 outlets around the world.
Day considered it a treat every time he visited a racetrack. He especially enjoyed the Knoxville Nationals, which he attended every August from 1988 to 2003. When TNN: The Nashville Network started televising sprint car racing's premier event in the mid-1900s, Day was there – behind the scenes – providing anchor Ralph Sheheen and analyst Brad Doty with interesting facts. One particular night – August 16, 1997 – was particularly interesting for the trio. Within seconds after Sheheen proclaimed to the national television audience, "It's incredible to be in a place where the top of the grandstand at the racetrack is the highest place in town," a tornado touched down nearby and everybody headed for cover. Sheheen and Day looked at each other and knew what they had to do. They each grabbed one side of Doty's wheelchair and carried him down 10 flights of stairs, through the crowd and safely into the press room.
Day did everything he could to gain more insight into the sport in an effort to write more exciting race reports. "Smiley" Sitton, owner of the car Norman Martin drove to victory in the first World of Outlaws preliminary feature race in March of 1978, gave him the opportunity to actually drive a sprint car at the Outlaw Driving School in 1996. Day promptly wrote a two-page article about the experience and submitted it to Open Wheel Magazine.
Richard Day has done a little bit of everything in sprint car racing while giving his heart and soul to the sport for more than 20 years. The National Sprint Car Hall of Fame would not be complete without him.
Mari Hulman George CEO Indianapolis Motor Speedway
Mari Hulman George, born Mary Antonia Hulman on December 26, 1934, in Terre Haute, Indiana, is the daughter of the late Anton "Tony" Hulman and Mary Fendrich Hulman, prominent Indiana philanthropists and business owners. She is the current chairman of the Indianapolis Motor Speedway and Hulman & Company.[Mari was the Hulmans' only child, but from the age of eleven she was often surrounded by the families of Indianapolis 500 drivers, whom she befriended. Perhaps it would come as little surprise that she would marry one such driver, Elmer George, on April 29, 1957. At 22 years of age, she became stepmother to Elmer's children from his first marriage, and the couple would go on to have four children together: three daughters, Nancy, Josie and Kathi; and one son, Anton Hulman George, who, like his namesake grandfather, would be better known as "Tony."
Elmer George, who met with little success as a driver, retired from racing in 1963, later becoming a Speedway vice-president and head of the IMS Radio Network.
For most of the couple's marriage, they owned a farm outside of Terre Haute, but spent much of their time at their 1,300-acre (5 km2) ranch in Wyoming.
After the death of Tony Hulman in 1977, his wife, Mary Fendrich Hulman, assumed the chairmanship of the Indianapolis Motor Speedway and Hulman & Co., the family's primary businesses. When Mrs. Hulman's health began to deteriorate, she retired and passed the chairmanship of the companies to her daughter in 1988. Mari Hulman George retains both positions today.
Like her father and mother before her, since 1997, Mari officially starts the Indianapolis 500 and Allstate 400 at the Brickyard races with the command, "(Lady/Ladies and) gentlemen, start your engines!"
Like her parents, Mari Hulman George is well-known throughout Indiana for her generosity to institutions of higher learning, with her alma mater, St. Mary-of-the-Woods College in West Terre Haute, Indiana among the top recipients of her monetary gifts. The college maintains the Mari Hulman George School of Equine Studies, founded in part due to her love of horses.
In 2001, the Indiana Department of Homeland Security renamed their search-and-rescue training area at Camp Atterbury the Mari Hulman George Search and Rescue Training Center, in recognition of her contributions to the care of animals displaced and otherwise affected by disasters. She has also been active in the rescue and adoption of racing greyhounds.
Bob Jenkins Premier Broadcaster
Bob Jenkins is an American television and radio sports announcer with NBC Sports Network, also known for his work at ABC and ESPN] calling IndyCar and NASCAR telecasts. He is currently the lead commentator for the IndyCar Series on NBC Sports Network.
Bob Jenkins was born in Richmond, Indiana and grew up in the nearby town of Liberty. He was one of the original cornerstone anchors on ESPN when it debuted in 1979, working there as one of the most senior members of the network until 2003. His primary duty was anchoring NASCAR on ESPN from 1979-2000 with Ned Jarrett and Benny Parsons. The trio was one of the most popular announcing crews in NASCAR. By the early 1990s, the crew (sans Jarrett, who was contracted with CBS) would also cover races on ABC Sports. During the 1980s, Jenkins also occasionally called CART races on ESPN, prior to the arrival of veteran Paul Page.
Jenkins hosted the weekly racing magazine show Speedweek during most of his tenure at ESPN. Jenkins was the television announcer of the Brickyard 400 on ABC from 1994-2000.
Concurrent to his work on ESPN & ABC, from 1979–1998, Jenkins worked on the IMS Radio Network. He reported various positions including the backstrech, turn four, and served as chief announcer of the Indy 500 from 1990-1998.
By 1999, Jenkins quit the radio crew to focus on television full-time. The ongoing IRL/CART split forced changes in the announcing crews at ESPN/ABC. In addition, ESPN/ABC would be losing NASCAR rights at the end of the season. Paul Page was assigned to the CART series broadcasts, and Jenkins was moved exclusively to the chief announcing position of the IRL and Indianapolis 500 broadcasts. The arrangement would continue through 2001.
For 2002, with CART floundering, Page was moved back to the IRL, and Jenkins was shifted to the lesser host position. The arrangement created a "crowded" booth with two veteran announcers. In 2003, on Bump Day at the Indy 500 on ESPN, Jenkins made an impassioned commentary, defending the event from media detractors. Many were ridiculing the race and the IRL for struggling to fill the field to the traditional 33 cars.
At the end of the 2003 season, Jenkins was released from ABC/ESPN.
Co-anchor for nationally syndicated farm news show, "AgDay".
After being released from ABC/ESPN in 2003, Jenkins joined the Indianapolis Motor Speedway staff in various roles including public address announcer and designated emcee of various events and press gatherings (such as the Victory Banquet, Last Row Party, and press conferences). In 2004, he had a short stint as an announcer for Champ Car on Spike TV but was soon fired by the production company. He joined SPEED and was an anchor for Speed News for a little over one year. Jenkins has also been a contributor to WIBC radio in Indianapolis.
In June 2006, Jenkins was released from his contract with SPEED.In early 2006 Jenkins became the communications director for the Premier Racing Association.
In July 2006, he was the chief announcer of the IMS Radio Network for the U.S. Grand Prix. In 2007, he was the announcer of Indy Pro Series broadcasts on ESPN2. He anchored the Allstate 400 on the radio, his first NASCAR race call since November 2000. For 2007-2008, he returned to the IMS Radio Network for the Indy 500, reporting from the turn two position.
In 2008, Jenkins returned to the ESPN booth for two IndyCar races, the Rexall Edmonton Indy and the Nikon Indy 300 in Surfers Paradise. Regular play-by-play announcer Marty Reid was unable to broadcast because of prior engagements.
In 2009, the IndyCar Series started a new television contract with Versus. Jenkins was signed as the chief announcer, and returned to Indy racing full-time for the first time since 2001. He opted out of reprising his turn two role on the radio network, because Versus was hosting a post-race show, and Jenkins would not have time to arrive at the studio in time. Jenkins, however, did record segments for air on the radio broadcast, as all three living "Voices of the 500" (Page, Jenkins, and King) participated in the broadcast.
In 2011, Jenkins continued at NBC Sports Group. During the month of May, and on race day at Indianapolis, he continued his part-time work on the public address announcing team.
Jenkins also has three movie credits, one of which was an on-camera appearance. In order to be realistic, the race announcers in the movie Days of Thunder were the actual ESPN crew of the time, which meant Jenkins was the announcer in several voice-over scenes. While at Speed Channel in 2005, he was the Speed anchor in Talladega Nights: The Ballad of Ricky Bobby. He also did voice over work in the movie Kart Racer.
His voice was used in the EA Sports NASCAR video game series, from NASCAR 98 to NASCAR 2001, the Codemasters video game IndyCar Series and IndyCar Series 2005 as well as the Destineer Games video game Indianapolis 500 Evolution.
His most recent work can be heard in the trailer for the independent film Trifocals (March, 2007).
Howard Augustine "Humpy" Wheeler Track and Race Promoter
Howard Augustine "Humpy" Wheeler, Jr. (born October 23, 1938 in Belmont, North Carolina, U.S.A) is the former President and General Manager of Lowe's Motor Speedway, one of the premier auto racing venues owned by Bruton Smith's Speedway Motorsports, Inc. Better known as H.A. or "Humpy" Wheeler, he has long been known as one of the foremost promoters of NASCAR auto racing.
During an appearance on the National Public Radio quiz show Wait Wait... Don't Tell Me! in July 2006, Wheeler explained the origin of his nickname. He said that when his father had played football at the University of Illinois, he was caught once smoking Camel cigarettes, earning the name "Humpy" for the camel's hump. His father's friends then began calling him "Humpy Jr." Growing up through high school, college football, and then racing, the name "Humpy" has stuck with him.
Wheeler begain his promotional career at age nine, selling tickets for a bicycle race.He was a defensive lineman for the South Carolina Gamecocks in the late 1950s. Interestingly, his teammates included future NASCAR communications director Jim Hunter (a running back), and Jim Duncan (later known as a marketing executive at Lowe's Motor Speedway).
After becoming the president of Charlotte Motor Speedway, Wheeler earned the reputation for organizing publicity stunts. A few weeks after driver Cale Yarborough gave the less-than-complimentary nickname 'Jaws' to rival driver Darrell Waltrip, Wheeler bought a giant dead shark, placed a dead chicken in the shark's mouth, and had it driven around the track on a flatbed truck before a race at Charlotte (Yarborough's sponsor at the time was Holly Farms Poultry). In 1984, the pre-race show for the World 600 was a reenactment of Operation Urgent Fury, the invasion of Grenada the previous year
In 2007, Wheeler announced that the Bank of America 500 would feature an "all-you-can-eat grandstand," where fans would pay a set ticket price, and would then get to eat as much as they wanted of the grandstand's food before, during, and after the race. The publicity for this event included Nathan's Hot Dog Eating Contest champion Joey Chestnut at the press conference.
Wheeler has a personal record of picking the correct winner of the NASCAR Sprint All-Star Race 10 of the last 19 years. In 2000, much to the dismay of Dale Earnhardt, Sr. Wheeler correctly picked cup rookie Dale Earnhardt, Jr. to win and Earnhardt Jr. went on to become the first rookie to win the event. In 2005, he picked Mark Martin and Martin won the race. In 2006, he picked Carl Edwards to win, but Edwards finished fourth (behind winner Jimmie Johnson). He picked Johnson to win the 2007 event, but Johnson finished second to Kevin Harvick. He again chose Edwards to win the 2008 event, but Edwards finished 10th; Kasey Kahne won the race.
The Coca Cola 600 held on May 25, 2008 was to be Wheeler's last race as President of the Lowe's Motor Speedway. Steve Byrnes of Speed TV honored Wheeler before the race and Wheeler in turn gave a speech thanking race fans from all over the United States in addition to people from foreign countries for coming to the race: "I owe a tremendous gratitude to you for buying tickets to our facility. If we meet again may you be in the palm of God."
Although he had announced that he would step down as President and General Manager of Lowe's Motor Speedway soon after the race, Wheeler had hopes of staying on as a part-time consultant especially in light of the upcoming 50th anniversary of the Speedway in 2009. However, apparently due to a falling out with Bruton Smith for reasons yet unknown, Wheeler's lengthy association with Lowe's Motor Speedway was unceremoniously ended. Smith thereafter wasted no time in appointing his son, Marcus Smith, as the new President and General Manager of the Speedway.
During an interview on Speed TV's "Wind Tunnel" on June 1, 2008, Wheeler stated that in addition to working as a part-time consultant, one of his primary projects during retirement will be working on a book devoted to his recollections of the numerous personalities he has known over his many years as a racing promoter at Lowe's Motor Speedway and prior to that during his years in Indianapolis and at the Bonneville Salt Flats in Utah.
Recently, in an off-track but still automotive related pursuit, Wheeler provided the voice for "Tex," a 1975 Cadillac Coupe de Ville cartoon character, in the 2006 Pixar hit film Cars.
On August 18, 2008, Wheeler announced the formation of The Wheeler Company, a consulting management firm focusing on general business, professional sports, and motorsports. Wheeler serves as chairman, with his son Howard III ("Trip") serving as president
Wheeler was inducted into the International Motorsports Hall of Fame on April 27, 2006 and to the Motorsports Hall of Fame of America on August 12, 2009.
In April 2011, Wheeler appeared on an episode of The History Channel's American Pickers in which he donated items to be placed in the NASCAR Hall of Fame.
In October 2011, Wheeler was announced as one of the principles behind the Grand Prix of America, a Formula One race to be run in New Jersey starting with the 2013 Formula One season.
Wheeler has had a long time interest in bicycle sports beginning with organizing bicycle races in his early teens. He continues to be an avid cyclist and can be seen at numerous cycling trails and tracks around his hometown. Along with this he is a prized boxer and continues to stay in shape doing so.
Wheeler has also become involved with flying radio control aircraft. He enjoys the off-track friends and acquaintances he has made in this hobby and can often be found on sunny days at a local flying field.
2010 INDUCTEES
*Charlie Wiggins * Pioneer African American Race car driver
Back in the Jazz Age, when the Ku Klux Klan was the law in Indiana, and the heel of Jim Crow's boot lay squarely on the back of black Hoosiers, there was an Evansville, Indiana shoeshine boy named Charlie Wiggins, possessing the civil rights of a stray dog, who would help pave the way for Jackie Robinson to break the race barrier in baseball, Charlie Sifford in golf, Earl Lloyd in basketball, and most importantly to this story, Willie T. Ribbs to become the first black man to race in the Indianapolis 500.
Charlie Wiggins grew up in a segregated Evansville. The KKK had come to power in Indiana and in 1924 would win every elected office at the state level. D.C. Stephenson, the head and organizing force of the Klan, was an Evansville resident. There was even talk of building a city on an Ohio River island for whites only. The city's newspapers at that time were blatantly racist and even held a contest to name the new city. Negro League baseball players, banned from white-only organized baseball, while playing exhibitions games here, called the attitudes of southern Indiana more racist than areas in the Deep South.
Charlie Wiggins was a downtown Evansville shoeshine boy in those days and was fascinated with the relatively new automobiles that were coming to town. He would entertain his customers by identifying the make and model of cars by simply hearing the motors as they drove down the street. With a stroke of luck he was shining shoes outside an auto repair shop when the owner offered him a job as an apprentice. Quickly, Charlie rose to chief mechanic and became recognized as the best mechanic in the city and would often diagnose the car's problem just by listening to the car engine.
Indiana's heritage was rich and played a significant role in the development of the automotive industry. In Indianapolis there were hundreds of makes and models being manufactured. Charlie realized that greater opportunity lay in Indianapolis and he and his wife, Roberta, whom the newspapers described as a 'fetching Evansville model', moved to the state capitol.
Charlie and his wife opened a garage on Indianapolis' segregated south side and quickly established himself as the city's top mechanic and was held in high regard by the city's elite and particularly by white race car drivers who were among the top contenders for the Indianapolis 500.
Assembling parts from auto junkyards, Charlie built his first race car, "The Wiggins Special" which reached speeds on dusty, rutted, dirt tracks as fast as those cars racing on the smooth surface the Indianapolis Speedway.
Every year Charlie would enter "The Wiggins Special" in the Indianapolis 500 and every year the governing body, The American Automobile Association, enforcing unwritten segregation rules, rejected his application. Charlie and other black drivers formed a racing association and competed among themselves at tracks around the Midwest, attracting large crowds who appreciated exciting racing and Charlie gained a reputation as the top black driver and became known among fans as "The Negro Speed King".
Donald Davidson, Historian of the Indianapolis Speedway, said, "A race track would get so dusty that the only way you could follow your way around, you couldn't see in front of you or around you, but you could look up and go by the trees and actually drive and when the trees turned, then you knew you were in a turn and then just hope that somebody wasn't in front of you."
Charlie caught the attention of William Rucker, a black, gregarious, cigar-chomping, polite, wealthy, powerbroker among the black and white leaders on Indiana Street, who had great confidence in the black man's ability to advance into the Machine Age. With the backing of several sponsors Rucker established the Gold & Glory Sweepstakes, an annual 100-mile race of speed and endurance for black drivers on the one-mile dirt track at the Indiana State Fairgrounds. To gain national attention, Rucker invited Chicago Defender journalist Frank Young to cover the race and on the race's inaugural event he wrote, "This auto race will be recognized throughout the length and breadth of the land as the single greatest sports event to be staged annually by colored people. Soon, chocolate jockeys will mount their gas-snorting, rubber-shod Speedway monsters, as they race at death defying speeds, The largest purses will be posted here, and the greatest array of driving talent will be in attendance in hopes of winning gold for themselves and glory for their Race."
The Gold & Glory Sweepstakes became a national success, attended by thousands and covered by the national newspapers and newsreel services. Charlie won three of the first six races, performing as both driver and mechanic.
As an outspoken critic of the segregationist practices of the Indianapolis Speedway, Charlie was often a target of the Ku Klux Klan. This harassment became more chilling when in 1930 when two teenage black boys were lynched on the Grant County, Indiana Courthouse lawn. At times the Klan would damage his garage and on several occasions he was attacked physically but he would always fight off his attackers, refusing to succumb to their terror.
When Harry MacQuinn, a white Indy 500 driver and friend of Charlie's, asked to use a "Wiggins Special" in a race at Louisville, Charlie agreed if he could drive the car during the qualifications to get the engine and car adjusted correctly. When the fans at the Louisville track realized a black man was driving the car, they swarmed the pits and threatened to lynch Charlie. For his safety the Kentucky Militia arrested him for 'speeding'.
In 1934 Bill "Wild Bill" Cummings was one of the top competitors in the AAA asked Charlie to serve in his pit crew for the Indianapolis 500. The Raceway had strict rules about employment and race and the only job Charlie could officially hold was that of a janitor. During the days he would sweep and clean as a decoy and then at night would sneak in with the pit crew to help manufacture a racecar for Cummings. Bill Cummings won the 1934 Indianapolis 500 in what newsreels described as one of the greatest races in Indianapolis 500 history, and for years after, Bill Cummings publicly recognized and thanked Charlie for his skill and expertise in the victory.
In 1936, during the Gold & Glory Sweepstakes, because of poor track conditions Charlie was involved in a 13 car wreck. He escaped death but so severely injured his right leg that they had to amputate. The racing career of The Negro Speed King was over. With the loss of its biggest draw, 1936 would mark the end of the Gold & Glory Sweepstakes, an institution that had remained financially successful through the height of the Great Depression.
However, Charlie's contribution to auto racing was far from over. He would champion the rights of black mechanics and drivers and continue to fight the segregationist practices of the American Automobile Association. He would train young black mechanics who would contribute greatly to the development of the automobile and racing, and he would be visited at his garage by many important white drivers and mechanics seeking his expertise. Notre Dame Historian Richard Pierce summed up Charlie by saying, "Charlie Wiggins was a hell of man. We could talk about Charlie Wiggins as a mechanic, his ability as a driver. We could say all those things. And without the pejorative function, without the sexist connotation, we have to say at the end of the day that he was a man."
Nearly penniless after years of medical costs due to his injuries received in 1936, Charlie Wiggins died in 1979 and was buried in an unmarked grave at Crown Hill Cemetery in Indianapolis.
*Art Pollard Open Wheel Driver
Art Pollard (May 5, 1927 - May 12, 1973), was an American racecar driver.
Born in Dragon, Utah, Pollard died in Indianapolis, Indiana as a result of injuries sustained in practice for the 1973 Indianapolis 500. The car clipped the wall coming out of turn one and did a half-spin as it headed to the grass on the inside of the short chute.
In 1965 at the age of 39 Art got the call to join the show on the Championship circuit which included the Indianapolis 500. Once again it was Portland's Rolla Vollstedt who provided the car. This period of time was the beginning of the rear engine revolution and Vollstedt had prepared a rear engine Offenhauser for the famous 500 mile race. Art made the field with a qualifying time of 157.985 mph but was bumped from the race on the final day of qualifications. His time turned out to be 35th fastest. He qualified for seven USAC races that summer with the best finish being fourth at the Milwaukee 100, an event he would later win. During the last half of that season he drove a car for Jim Rathman that was jointly owned by two of the original Mercury Seven astronauts Gordon Cooper and Gus Grissom. He finished his rookie season in twenty-third place in National Championship points.
The following year, 25 days after his 40th birthday, Art started his first Indy 500 race. His qualifying time of 163.867 mph in a turbocharged Offenhauser put him in 13th position on the starting grid. He was running fourth place at the midway point in the race when he spun out which required a push to restart the engine which cost him a penalty lap that ultimately dropped him to an eighth place finish.
The year that catapulted Art to fame and fortune was 1968 when he qualified one of the STP-turbocars for the 11th place starting position at "the brickyard". With only a few laps left in the race he was running in fourth place and closing on Mel Kenyon and Dan Gurney who were running in second and third, when a tiny fuel pump drive shaft broke and forced him out of the race. At the Milwaukee 200 that same year he qualified for the pole position at a record speed of 119.245 mph. He lead the race for the first 135 miles until his brakes failed. Mechanical problems plagued him for that entire season. He and Mario Andretti both shared a new track record at Phoenix and Art held the lead in the race for the first 45 laps before a universal joint broke.
He drove for Andy Granatelli's STP team again in 1969 but with a conventional V8 engine this time. During the 1970 season he became involved with the ill-fated Art Pollard Car Wash Systems. In '71 he drove for Gilmore broadcasting then returned to the STP team in 1972. Art was in a car owned by Jim Fletcher from Phoenix in 1973.
Mostly because he was 40 years old before he raced at Indy he was regarded as the "old man" on the USAC circuit. One of his most amazing qualities, however, was how youthful he was in both thought and spirit. Because he was relatively young when he was killed he never really did get old and it's interesting to look through the photo history of his racing career at how little he really did age from the time he started racing until his death.
Perhaps his most admirable quality was his ability to take a moment of his time and make everybody he talked with feel important. He really was an extraordinary individual blessed with many rare qualities and talents. His reflexes, coordination and courage were probably God given but he was a kind and decent guy because thats the kind of guy he wanted to be. He seldom, if ever, used profanity, he almost never got angry and he was cool under pressure.
Art Pollard was a credit to the sport of auto racing, everybody who lives here in Roseburg and particularly the membership of the Pacific Racing Association. He is our most famous son andwhether you were priviledged to know him or not you can take pride in the fact that Art was one of us.
The chassis dug into the grass and flipped upside-down, slid a short distance and then flipped back over as it reached the pavement again in turn two, finally coming to a stop in the middle of the track. The total distance covered was 1,450 feet (440 m). The car was demolished. The impact tore off two wheels immediately, and the wings were also torn off during the slide.
Pollard's lap prior to the crash was timed at a speed of 192+ mph. Pollard was rushed to Methodist Hospital in the new Cardiac ambulance. His injuries were reported to include pulmonary damage due to flame inhalation, burns on both hands, face and neck, and a broken arm. He drove in the USAC Championship Car series, racing in the 1965-1973 seasons, with 84 career starts, including the 1967-1971 Indianapolis 500 races. He finished in the top ten 30 times, with 2 victories, both in 1969, at Milwaukee and Dover. He had just turned 46 one week before he died.
* Harry Miller Race Car Designer
Cars built by Miller won the Indianapolis 500 nine times; three more instances were won by his engines running in other chassis. Miller cars accounted for no less than 83% of the Indy 500 fields between 1923 and 1928.
If Offenhauser engines, a re-badged Miller derivative, and the dominant engine at the Indy 500 and on the Champ car circuit in the 1950s and 1960s (although it kept winning until the 1970s) are added, the number of wins at Indianapolis alone increases by 28, with over 200 more elsewhere. It was not until 1981 that an Indy 500 start did not feature a single Miller-derived engine.
Miller started off manufacturing carburetors for passenger and race cars. His involvement with the racing side of his carburettor business led to repairing and later building race cars. After repairing the 1913 Peugeot Grand Prix car which was the state of the art at the time, Miller and his employees, Leo Goosen and Fred Offenhauser designed the Miller racing engine from the Peugeot 4 cylinder, double overhead camshaft, 4 valves per cylinder layout. This began a thoroughbred line of race motors that dominated American racing well into the 1970s.
Miller went bankrupt in 1933. His shop foreman and chief machinist Fred Offenhauser purchased the shop and continued development of the engine as the Offenhauser or "Offy" engine until the start of World War 2. Fred retired from the business in 1946, selling out to two of his racing friends: three-time Indianapolis 500 winner Louis Meyer and Meyer's one-time riding mechanic and highly skilled engine builder Dale Drake.
Meyer and Drake Engineering, with Leo Goosen as chief engineer, continued to develop the Offy throughout the 40s, 50s, and into the 60s; often filling the engine bays of all 33 Indy 500 starters with Offy engines or their close cousins the V8 Novi engines.
After Lou Meyer sold out of Meyer and Drake in the 1960s to form his own company to sell Ford double overhead-cam V8 racing engines in competition with the Offy, Dale Drake and Leo Goosen persevered and reorganized Meyer and Drake as Drake Engineering. After enduring three years of Ford DOHC dominance at Indy, Drake's company prevailed in 1968 with the first turbocharged engine to win at Indianapolis behind Bobby Unser.
Descendants of the Offys (and thus the Millers) in the form of the turbocharged Drake-Goosen-Sparks (DGS) and Drake-Offy engines battled against descendants of the Ford DOHC until the Cosworth DFV and DFX engines originally developed as Formula 1 engines by Mike Costin and Keith Duckworth finally became too powerful at reduced manifold pressure (turbo boost) (artificial limits pushed through by Ford and Chevy as they could not compete with the Head Design of the Offy which could run at much higher boost levels. The Offy was not designed for lower boost levels and by the time they could design an engine with the short notice given them it was to late) limits mandated by the race sanctioning bodies for the Offys to overcome. The last Offy to finish a race at Indianapolis powered Gary Bettenhausen from a starting position of 32nd to a 3rd place finish in 1980.
Cale Yarborough NASCAR Champion
There are three things Cale Yarborough never said: 1. I need a relief driver. 2. My car isn't comfortable. 3. I don't care who wins the pole position.
William Caleb "Cale" Yarborough was a throwback to the days of Barney Oldfield, Ted Horn, Curtis Turner, and other immortals who drove by the seat of their pants. He was a daredevil, but one with brains and talent.
"I never had a relief driver during my 30 years of racing and that's one record I'm most proud of," says Yarborough, who retired as a driver following the 1988 season. No other driver with at least 500 starts on the Winston Cup tour can make that claim.
One of Yarborough's pet peeves is hearing a driver say the "car isn't comfortable." He has driven more than one ill-handling car to victory. "My problem was I didn't know if it was (handling right) or not. So it didn't make any difference," he said with a laugh. "I know it has to be just right for most of the (drivers). I was hired to drive a race car and I drove it to the best of my ability. I didn't care how it felt. It didn't make any difference. The car had to get the job done whether it was right or wrong. So I just drove it."
There was no one who tried harder than Yarborough to win the pole position. That's the reason he still ranks third today although he retired following the 1988 season. "Running for the pole was like running for a win. I always tried to win. No one remembers who runs second," he says.
Yarborough, who bought a Winston Cup team in September 1986 is still looking for his first win under the title "car owner,". In addition to his NASCAR successes he also raced briefly on the USAC Indy Car circuit because "he wanted to put some grits and gravy in victory lane at the Indianapolis 500."
The 5'7" tall, 175-pound Yarborough was a giant in a stock car. He won 83 of 558 races, an impressive 14.87 winning percentage. It's the fourth best percentage in NASCAR for anyone competing in more than 300 races. His 83 wins are fifth on the all-time list. He also won 70 poles, third on the all-time list.
While winning more than $5 million in prize money, Yarborough accomplished some other impressive statistics. He's the only driver to win the Grand National (now Winston Cup) championship three years in succession (1976-78), and the only champion (1977) to be running at the finish of every race.
Of anyone leading at least 7,500 miles of race competition, Yarborough ranks second with 34,079.9 miles led and first in percentage at 16.0% He's less than 10,000 miles behind Richard Petty, who entered more than twice as many races as Yarborough. He's also second to Petty in leading the most laps (101) in a race.
Despite being a charger in every race, Yarborough failed to finish in only 197 of his 558 races. In 340 races, he led at least one lap; only two drivers have led more races.
Born on March 27, 1939, Yarborough today is working on building a business empire with his wife of 33 years, Betty Jo, and with his three daughters: Julie, Kelley, and B.J. He faced adversity in his younger days, but he always managed to face it and go on to bigger and greater things.
"When I speak to groups, I try to get people to understand that they can do something to change situations they don't like," says Yarborough, who was born in Sardis, S.C., and still lives there.
Paul Page Premier Broadcaster
Paul Page (born November 25, 1945) is an American motorsports broadcaster who was the lead announcer for ABC Sports' coverage of CART and the IRL from 1988 to 2004. He currently is the lead announcer for NHRA.
Page was born in Indiana, but grew up as an "army brat" living in Stuttgart, Germany. Page graduated high school in Highland Park, Illinois. He is married to fellow broadcaster Sally Larvick. He studied at the University of Tulsa. He served six years in the U.S. Army.
Page's broadcasting career began on WIBC in Indianapolis, Indiana, in 1968. On December 1, 1977, while doing a helicopter traffic report, Page was nearly killed in an accident, as he crashed near a Speedway, Indiana, high school.
In the 1980s, Paul was also a commentator for the motorsports show American Sports Cavalcade on the cable network TNN, The Nashville Network. While working for TNN, he covered NHRA drag racing, World of Outlaws sprint car racing, AMA supercross, monster truck racing and truck and tractor pulling from TNT Motorsports, and swamp buggy racing, among others.
From 1974-1987, Page served on the Indianapolis Motor Speedway Radio Network. Page served as a pit reporter from 1974–1976, and as Chief Announcer from 1977–1987. Page served as anchor of auto racing telecasts on NBC from 1978–1987, covering both Indycar, NASCAR, and the NHRA. He also worked on NBC's Sportsworld. Page has many network broadcasting firsts. He called races at the Formula 1 in Long Beach and Ceasars Palace. He also was the announcer on NBC for the 1st CART race in 1979 at Phoenix.
In 1988, Page switched to ABC Sports, and was their lead anchor for CART IndyCar racing, including the Indy 500. During that period, he also worked on NASCAR and IROC broadcasts. Parallel to his work at ABC, Page also worked at ESPN, primarily as the anchor for CART IndyCar telecasts. When the IRL was founded in 1996, he started covering those events as well. His work on the Indianapolis 500 in '88 and '89 garnered Emmy Awards for "Best Sports Special".
Paul gave the opening introduction to Papyrus's IndyCar Racing & IndyCar Racing II video game, released in 1995. Page also was selected to be the short-phrase commentator for the Destruction Derby 2 wrecking/racing video game of 1996.
While working for ABC, he was also their lead AMA Supercross commentator when ABC would cover dirt bike racing.
His place on ABC's IRL coverage was taken by Todd Harris for the 2005 in a move that proved unpopular. Page was reassigned to cover other events for the ESPN family of networks, most notably the X Games, NHRA, and has quietly become a fixture calling the annual Nathan's Hot Dog Eating Contest. He called both IRL and Champ Car races. In 2006, Page split announcing duties with Marty Reid on ESPN's coverage of NHRA Drag Racing, sharing duties with Reid, when Reid was on assignment, ironically calling the Indy Racing League. Page became the full-time anchor in 2007.
In 2009, Page returned to the Indianapolis Motor Speedway Radio Network coverage of the 2009 Indianapolis 500. It was Page's first Indy 500 race he covered since the 2004. He had also voiced the race between 1988 and 1998. He was back for the 2010 Indianapolis 500.
Page is currently the lead announcer for the NHRA Full Throttle Drag Racing Series (formerly known as NHRA PowerAde Drag Racing Series) on ESPN and ESPN2.
In 1989 and 1990, his work was awarded two Emmy's for the coverage of the Indianapolis 500. He also was host / play by play in shows or series that garnered 13 other Emmy's
*Sid Collins The Voice of the 500
Sid Collins (born Sidney Cahn) (July 17, 1922 – May 2, 1977) was an American broadcaster best known as the radio voice of the Indianapolis 500 on the Indianapolis Motor Speedway Radio Network from 1952-1976. He made famous the term "the greatest spectacle in racing."
Born into a Jewish family who owned a convenience store in Indianapolis, Indiana, Cahn changed his professional name to Collins for fear of anti-semitism and discrimination in his chosen field of broadcasting.
Collins worked for WIBC in Indianapolis. One year after he started at WIBC, he became the Indianapolis Motor Speedway (IMS) track announcer for the south turn.He became a radio announcer for the track after Bill Slater became ill. He was named the chief announcer in 1952. That year he introduced his "full coverage concept", which replaced a five minute rundown each hour He sent letters to all of the radio stations on their network, but only 26 stations participated The next year 110 stations participated and the number grew until it became 1200 by 1980.With live television coverage of the race prohibited until 1986,Collins' radio coverage drew a large audience every year, and his announcing became synonymous with the race itself. He told the world the deaths, accidents, incidents and crashes during the race. Collins received over 30,000 letters asking for a copy of the eulogy that he gave to Eddie Sachs after Sachs died in a crash on the second lap of the 1964 Indianapolis 500.
He anchored New York's TVS Network auto racing network broadcasting from Trenton, Milwaukee, Langhorne, Castle Rock, and Colorado for two years. He announced national television coverage of the Indianapolis 500 festival parade with Garry Moore, Steve Allen and Bob Barker for Hughes Sports Network. He was the subject of stories in Hot Rod Magazine and The Saturday Evening Post
Collins always signed off by quoting a serious thought or some poetry.
In April 1977, Collins visited the Mayo Clinic where he was diagnosed with ALS. On May 2, 1977, at the age of 54, Collins committed suicide by hanging himself in a closet with a necktie. After hearing of his diagnosis, Collins had confided to friend and successor Paul Page that he was planning on taking his own life. Collins had been scheduled to announce the 1977 Indianapolis 500.
Collins was awarded nine American Auto Racing Writers and Broadcasters awards as the best auto racing broadcaster in the nation. He was cited by Indiana University's Radio/TV School as an outstanding graduate and was named to the Indiana Journalism Hall of Fame in 1979.
2009 INDUCTEES
Parnelli Jones

Driver Owner 1963 Indianapolis 500 winner
Rufus Parnell "Parnelli" Jones (born August 12, 1933 in Texarkana, Arkansas), is a retired American racing driver and racecar owner. He is most remembered for his 1963 Indianapolis 500 win, and almost winning the 1967 Indy 500 in a turbine car. He is also remembered for bringing the stock block engine to USAC Sprint car racing as one of the "Chevy Twins" with Jim Hurtubise.
In his career, Parnelli Jones won races in many types of vehicles: sports cars, IndyCars, sprint cars, midget cars, off-road vehicles, and stock cars. He is associated with the famous Boss 302 Mustang with his wins using the engine in the 1970s. Jones' son P. J. Jones was also a diverse driver, with IndyCar and NASCAR starts and a championship in IMSA prototype sports cars. His other son Page Jones was an up-and-coming driver before suffering career ending (and life-threatening) injuries in a sprint car at the 4-Crown Nationals, and has been in rehabilitation, working with his father-in-law. Following the death of 1960 Indianapolis 500 winner Jim Rathmann, Jones is now the oldest living "500" winner.
Jones' family moved to Torrance, California, where he grew up (and still lives). He was nicknamed Parnelli by his boyhood friend Billy Calder, who hoped that the Jones family would not discover their son was racing cars as a 17-year-old minor. Jones participated in his first race in a Jalopy race at Carrell Speedway in Gardena, California. He developed his racing skills by racing in many different classes in the 1950s, including 15 stock car racing wins in the NASCAR Pacific Coast Late Model Series.
His first major championship was the Midwest region Sprint car title in 1960. The title caught the attention of promoter J. C. Agajanian, who became his sponsor. He began racing at Indianapolis in 1961.
Jones was named the 1961 Indianapolis 500 Rookie of the Year, an honor that he shared with Bobby Marshman. Jones led early in the race and ran among the leaders until being hit in the fact with a stone, bloodying his face, blurring his vision and slowing him to a 12th-place finish.
In 1962, he was the first driver to qualify over 150 mph at the Indianapolis 500, winning the pole position at a speed of 150.370 mph (241.997 km/h). Jones dominated the first two-thirds of the race until a brake line failure slowed him, and he settled for a seventh-place finish.
In the 1963 Indianapolis 500, he started on the pole. This was the year the controversial Lotus-Ford rear-engined cars made their first appearance, and had ruffled the Indianapolis establishment. With Scotsman Jim Clark in a Lotus-Ford closing on Jones in the waning laps, Jones' car developed a horizontal crack in the external oil reservoir. At that moment, driver Eddie Sachs crashed on the oil-slickened racing surface and brought out a yellow caution flag, slowing the field. Agajanian, Jones' car owner, argued with chief steward Harlan Fengler not to issue a black flag, insisting the oil level had dropped below the level of the crack, and that the leak had stopped. As Agajanian pleaded with Fengler, Lotus head man Colin Chapman rushed up to join the conversation and demanded that Fengler follow the rules about disqualifying cars with oil leaks. With the end of the race just minutes away, Fengler took no action, and Jones went on to win. The Lotus-Ford team, while unhappy with the obvious favoritism displayed by race officials toward Jones and Agajanian, also acknowledged Jones' clear superiority in the event. In addition, Ford officials recognized that a victory through disqualification of Clark's biggest competitor would not be well received by the public, so they declined to protest.
Also that year, legendary vehicle fabricator Bill Stroppe built a Mercury Marauder USAC Stock car for Jones. Jones won the 1963 Pikes Peak International Hill Climb in the car, and broke the stock car speed record.
In 1964, he won 7 races (and tied for a win) on his way to the USAC Stock car crown. He won the Turkey Night Grand Prix midget car event. Mercury decided to pull out of stock car racing after the season.
He won five of the nine midget car events that he entered in 1966, including the Turkey Night Grand Prix. He finished fourteenth in the final points despite competing in only nine of 65 events.
In 1967, he drove in the Indianapolis 500 for owner Andy Granatelli in the revolutionary STP-Paxton Turbocar. Jones dominated the race but dropped out with three laps to go when a small, inexpensive transmission bearing broke. After 1968, turbine-powered cars were legislated out of competitiveness.
Also in 1967, as part of his stock car contract with the Lincoln-Mercury division of the Ford Motor Company, Jones drove a Mercury Cougar for Bud Moore in the second-year Trans Am series. In April, Jones dueled with teammate, friend and rival Dan Gurney in a brutal 300-mile (480 km), 4-hour event at Green Valley, Texas in 113-degree heat, losing by inches to Gurney.
Stroppe suggested that Jones try his hand at off-road racing in front of a large crowd at a Christmas party in 1967. Jones at first said no, since he had enough of dirt. Stroppe suggested that maybe off-road racing was too hard for Jones, and the challenge started Jones' off-road career. Jones and Stroppe teamed up for the 711-mile (1,144 km) Star Dust 7/11 race across the Nevada desert in early 1968. Jones had never driven or pre-run the Ford Bronco. Jones hit a dry wash at full speed, which broke the wheels and blew out the front tires. Jones would later have a guest appearance in the original film Gone in 60 Seconds featuring him and his Bronco which was stolen in the plot. Jones had become hooked on off-road racing.
In 1968, Jones headed a super-roster of seven drivers signed by Andy Granatelli to drive STP Lotus 56 turbine cars in an unprecedented single-team assault on the Indianapolis 500. The deaths of Jim Clark and Mike Spence, plus a serious injury to Jackie Stewart, whittled the entry to four. Jones, testing his reworked 1967 car in practice, was dissatisfied with the car's performance compared to the newer "wedge"-shaped Lotus 56 turbines, and had concluded the car was unsafe. He stepped out of the car, which was subsequently assigned to Joe Leonard, who promptly wrecked the car in practice. Jones retired from driving IndyCars, but later admitted, "If I hadn't already won Indy, they could never have kept me out of that car."
Jones entered the 1968 NORRA Mexican 1000 (now Baja 1000). Jones led until the 150-mile (240 km) marker. The Off-road Motorsports Hall of Fame describes Jones' racing style: "Jones and Stroppe had to find a way to keep their vehicles in one piece. During races Jones would push the vehicles at maximum speeds until they gave way, with Stroppe telling him at top volume the entire time to take it easier on the vehicle."
Jones had a special car fabricated that looked like a Bronco, but had racing parts that could withstand rigorous jarring that off-road vehicles endure. Jones named the vehicle "Big Oly" after his sponsor Olympia Beer. Jones used the vehicle to lead the Mexican 1000 from start to finish in a new record time of 14 hours and 59 minutes.
Jones had major wins in the 1973 season. He won his second Mexican 1000 in 16 hours and 42 minutes. He also won the 1973 Baja 500 and Mint 400 off-road events. Jones had a major accident at SCORE International's 1974 Baja 500, and stepped away from full-time off-road racing to become a race car owner.
Jones raced SCCA Trans Am sedans owned by Bud Moore: Mercury Cougar (1967) and Ford Mustang (1969—1971). Parnelli's dominance of the extremely competitive 1970 season brought Ford the manufacturer's championship.
Jones retired with six IndyCar wins and twelve pole positions, four wins in 34 NASCAR starts, including the 1967 Motor Trend 500 at Riverside, 25 midget car feature wins in occasional races between 1960 and 1967, and 25 career sprint car wins.His fifteen wins is eighth on the all-time in NASCAR Pacific Coast Late Model history.[
Jones started Vel's Parnelli Jones Racing, which won the Indianapolis 500 again as an owner in 1970 and 1971 with driver Al Unser driving the Johnny Lightning special. The team also won the 1970, 1971, and 1972 USAC National Championships.
Jones owned the Parnelli Formula One race team from late 1974 to early 1976, although it achieved little success.
Jones returned to off-road racing as owner of Walker Evans' 1976 SCORE truck, and Evans won the championship. They teamed up for the 1977 CORE Class 2 championship.
Jones owned vehicles that took class wins at the Baja 500 and Baja 1000. His USAC Dirt Car won two championships and the Triple Crown three times.
*Clint Brawner Mechanic Race Car Designer
Clint Brawner was born on December 15, 1916 and survived 71 years before taken by cancer. Married to Kay for 38 years, Brawner's life was focused on racing, especially Indy cars.
He contributed enormously to the success of the many race car drivers who steered the cars he prepared, among them Jimmy Bryan, Bobby Ball, Troy Ruttman, Bill Vukovich, Bob Sweikert, Eddie Sachs, Chuck Hulse, Art Pollard, A.J. Foyt, Roger McCluskey, Jimmy Caruthers and Mario Andretti (for whom he was crew chief at Indy in 1969 during Andretti's only win in the 500 mile race). A great observer of racing talent, Brawner gave some of the greatest stars of his era their first shot at the big time.
His protoge, Jim McGee, learned his lessons well and has for many years been one of the top mechanics and team managers in Indy car racing. "Clint was the greatest mechanic to come down the road," said McGee. "He could do more with less than any guy I ever saw. He had a tremendous ability to fix things, forsee problems and know the limitations of equipment. "
As a kid, Brawner worked on the mechanical things that were uniquely necessary for life in Phoenix. A selftaught mechanical genius, he could do it all- build cars, build engines, set cars up and advise the drivers. "He understood how things worked," said McGee. "People like A.J. Watson, Jud Phillips and those guys, whenever there was something they couldn't do or didn't want to do, they'd leave it front of Clint's garage." Brawner's philosophy of "man made it, man can fix it" was appropriate to him alone.
In '64, Brawner, working with McGee, was a major player in the rear engine Hawks which ran through '69, including the car Andretti won the 500 with that year. Eddie Kuzma built the tubs and body work while Brawner and McGee did the rest.
A tireless worker, Brawner worked at racing from early in the morning until late at night seven days per week. For him, the essence of life was his wife, to whom he was very devoted, and his racing cars. His skill, work ethic and focus led to 51 Indy car victories and four poles in the Indy 500.
Brawner was so well respected, he was able to express himself freely without repercussion. McGee remembered, "He was not a politician at all. Ford sponsored us one year and he went up and chewed these guys out about what a [terrible] passenger car they had. They needed to do this, do that to the car. Then we'd go ask the same guys for three or four engines and they'd just shake their head at him." But, Brawner got his engines.
Skin cancer plagued Brawner for much of his life. He wore a bandanna and a straw hat as tools of survival against the disease. Although he thought he had it beaten in the early 80s, on December 23, 1987, it snuffed out the life of one of the greatest mechanical minds in the history of American auto racing.
*Rex Mays Race Car Driver
As a racer, Rex Mays was tougher than his cars; as a person, he enjoyed the reputation of being a fair, honest, and gracious man. Born in Riverside, California in 1913, Rex quickly became the driver to beat at legendary Legion Ascot Speedway in Southern California. He won the AAA Pacific Coast Championship in 1934 and 1935, and his winning ways at Ascot led to his chance to run the big cars at Indy in 1934. His second race at Indy was typical of his luck. He won the pole and led until mechanical problems struck shortly after the half-way point. He was to lead often, but a pair of seconds were his best reward at the speedway.
Although victory eluded him in the 500, he was the first driver e' win the pole three times, and he broke his own record with a fourth pole in 1948. It would be 27 years before AJ. Foyt would finally match that record-41 before Rick Mears would break it. Mays led nine of the twelve races he entered for a total of 266 laps. This was fifth on the all-time leader board at the time and the most of anyone without a victory.
Had Mays ventured to Europe he might have been an early Grand Prix star. He raced in the 1937 Vanderbilt Cup in New York and finished third. Tazio Nuvolari was so impressed with Mays' talent, he reasoned the outcome might have been different had he been behind the wheel of a proper Grand Prix car instead of an old Alfa Romeo. Considering that this was the peak of the German government-sponsored Auto Union and Mercedes dominance of Grand Prix racing, May's thirdthe only top three finish of the year for a non-German car-spoke loudly of his talents.
His America 1 rivals respected his driving skills just as much as the Europeans. After winning the 1941 Indy 500, Mauri Rose told reporter Russ Catlin, "he [Mays] wouldn't let up and I knew he never would. I had the faster car, but one of us was bound to make a mistake. I knew it wouldn't be Mays. I had to let his car beat him." The record books show that Mays won back-to-back National Championships in 1940 and 1941. But they don't show that he raced in an era when money was scarce and good cars even scarcer. Mays raced for the love of the sport.
Mays' postwar exploits were noted for fantastic battles and incidents of personal courage and leadership. At the 1948 Milwaukee race, for example, Mays crashed his own car to avoid hitting Duke Dinsmore, who had been thrown from his car onto the track; Mays proceeded to risk his own safety to direct the oncoming traffic around the helpless driver in the blinding dust. A plaque was placed on the barrier at the Milwaukee Fairgrounds dedicated to Mays' heroics. In later years, the race was named in his honor.
In 1949 Mays was signed to partner Duke Nalon in the Novi Mobil Special at Indy. The pair easily took first and second in qualifying; it was the seventh time Mays had started from the front row. The railbirds were ecstatic: Rex Mays was behind the wheel of the mighty Novi, the fastest driver in the fastest car. Speedway President Wilbur Shaw was quoted as saying "Rex Mays is the man who will tame that car. Rex is the complete driver and the only thing that can keep him from winning this race is the car. If that car is worthy of him then it is the first one." Sadly, both Mays and Nalon were out by the 50th lap as a result of mechanical failures.
'The 1949 race was Mays' last trip around the Brickyard. later that year, he was battling for position on the 13th lap at a Del Mar event when a wheel caught a rut and flipped, throwing him from the car. His tragic death, just over a year after that of good friend, and fellow Hall of Famer, Ted Horn, convinced his fellow drivers that seatbelts were a vital safety feature. Mays left behind Dorothy, his wife of 16 years, and two small children.
At the time of his death, Mays had been looking forward to the return of big time racing to his California home. His spirit saw that come to pass, as his legacy was carried on in the Rex Mays 300 held at Riverside International Raceway in the late 1960's, just a few miles from his old neighborhood. Big time racing in the form of Indy cars had returned to Southern California and Rex Mays was a leader once again.
* Wally Parks The father of drag racing
Wally Parks is the father of drag racing. Those eight words fall far short of describing the contributions this incredibly active octogenarian has made to American motorsports. His foresight and determination have helped make what was once considered racing's outcast into one of its most successful forms of entertainment. Arguably the largest participant form of motorsports in the country, Parks had the guts to fight local opposition to a standstill during the sport's formative years, and has since overseen the introduction of everything from television to prominent series sponsorships as what was once little more than a backwater activity blossomed into a very professional undertaking.
A born hot rodder, Parks returned home after serving in the Pacific campaign in World War II to be elected president of the Southern California Timing Association, the organization that sanctioned racing on California's dry lake beds. Shortly thereafter he went to work with another lakes racer, Robert E. Petersen, on a new publication entitled Hot Rod Magazine. While Petersen managed the growing company's business affairs, Parks used his journalistic skills to help make the fledgling publication grow into a substantial venture. At the same time he watched with growing concern as hot rodders began to race on the streets of Southern California, knowing it was only a matter of time before everything he and other serious rodders were working toward would be buried beneath an avalanche of public displeasure. The result was the formation of the National Hot Rod Association, which today, with almost 80,000 members, is the largest motorsports association in the world.
In this very limited space it's impossible to list the contribution Parks has made to motorsports. After leaving Petersen Publishing in 1963 to take over the NHRA operation full time, Parks was soon named a director of ACCUS-FIA, of which he's still a vice-chairman. Parks was the first Ollie Award winner on the Car Craft Magazine All-Star Drag Racing Team, which recognizes an individual's career-long contributions to drag racing. The SEMA Man of the Year in 1973, Parks was also enshrined in the International Motorsports Hall of Fame in Talladega in 1992.
Unlike many others in important positions, Parks has never shied away from admitting his mistakes, but in his case those mistakes have been few and far between. His ability to see coming trends in motorsports almost before they've broached the horizon line has helped keep the NHRA a viable and constantly growing organization. During his tenure the NHRA has become the owner of three of the nation's most influential race tracks, while "National Dragster" has become the most polished and widely circulated house organ publication in motorsports. Parks was, of course, its first editor.
Under Park's leadership NHRA drag racing has become an activity professional enough to attract the nation's most forward-thinking marketing executives, while at the same time remaining "down home" enough to encourage literally thousands of participants to race at their local tracks week after week. From a few temporary drag strips located on abandoned airports the sport has grown to include almost 200 tracks from coast to coast, many of them multi-million dollar facilities purpose-built to efficiently handle the almost 1,000 entries and as many as 100,00-plus spectators who assemble for one of today's 19 NHRA National events.
Donald Davidson Indianapolis Motor Speedway historian
Donald Davidson is the current historian of the Indianapolis Motor Speedway, the only person to hold such a position on a full-time basis for any motorsports facility in the world.
British born, Davidson first learned of the Speedway when he became passionately interested in Grand Prix motor racing in the mid-1950s. It didn't take long for his interest to transfer over to the Indianapolis 500, plus other forms of American oval track racing. He came to the Speedway in 1964 after writing to radio announcer Sid Collins and amazed the crowd by being able to recite the record of every driver who had ever competed in the "500." He came back in 1965 and was hired by the United States Auto Club as statistician, a position he held for 31 years. As of January 1998 he officially became the historian of the Speedway. He is also now the longest-serving commentator on the Indianapolis Motor Speedway Radio Network staff, having served in at least some capacity on every radio broadcast of the Indianapolis 500 since 1965.
Davidson returned to the Speedway to attend the race in 1965. He reunited with Sid Collins and the Radio Network staff. He joined the staff as a popular fixture, and sought permanent employment in Indianapolis.
A few days after the 1965 race, he secured a job as a full-time statistician at USAC.
In 1966, Sid Collins arranged for Davidson to host a 15-minute daily semi-radio program on 1070 WIBC during the month of May. The program was called "Dial Davidson," and allowed phone-in callers to ask Davidson questions about the Indianapolis 500.
In 1967, Davidson was unable to continue the program because he was going through basic training in the National Guard. He missed a considerable part of the month of May at Indy in 1967, but was able to attend the race and serve on the radio network broadcast.
After management changes at 1070 WIBC in 1970, the station vastly increased their coverage of the Indianapolis 500 for 1971. Davidson was invited back to host a one-hour nightly quiz show about the Indy 500. The show was unnamed for the first two to three years, although Lou Palmer called it "Do it to Donald" and Chuck Riley called it "Stymie the Limey." Callers won prizes if Donald did not know the answer.
After a few seasons, the show evolved from a call-in quiz show to a caller-based question & answer talk show. Davidson began fielding the callers' questions, preferably of a nostalgic nature, about the history of the Indianapolis 500. By the late-1970s, the program adopted the name The Talk of Gasoline Alley (in reference to the nickname of the garage area at the Indianapolis Motor Speedway). Davidson was often invited (most often by now-deceased team owner Jonathan Byrd) to broadcast the program from one of the garages, and mechanics were usually heard in the background working on the cars.
Eventually, the show was expanded to two hours, with the second hour carried on Network Indiana. Starting in 1994, the program began to be added to the station's evening programming when events other than the 500 began to be held at the Indianapolis Motor Speedway, including the week in July/August for the Brickyard 400, the weekend involving the F1 U.S. Grand Prix, from 2000-2007, as well as the Moto G.P. beginning in 2008. Starting in 2006, the program has also been available as a podcast.
In 2008, after 37 years on 1070 WIBC, the station was reorganized, and the program moved to 1070 The Fan.
On May 27th, 2010, Davidson was inducted as a member of the Auto Racing Hall of Fame at the Indianapolis Motor Speedway.
As chief historian for USAC and the Indianapolis Motor Speedway, Davidson has written, or contributed to numerous books about auto racing and the Indianapolis 500. His earlier contributions include the annual Carl Hungness 500 Yearbooks and magazine articles. In 1974 and 1975, he wrote a short-lived series of Indianapolis 500 yearbooks entitled "Donald Davidson's 500 Annuals." During the month of May for numerous years, Davidson penned a daily column in the Indianapolis Star about Indianapolis 500 history.
After many years of helping others with their books on the Indianapolis 500, Davidson wrote his own, put out through the publishers of Autocourse, entitled Autocourse Official History of the Indianapolis 500, co-authored by Rick Shaffer.
Davidson has appeared on numerous television programs, including SportsCentury, and Indy 500 The Classics on Speedvision.
Davidson is a lecturer at IUPUI and offers a regular class in motorsports history in the fall.
*Ernest Schlausky A.K.A. CROCKY WRIGHT* Motorsports Pioneer
Ernest Schlausky, A.K.A. "Crocky" Wright, one of midget car racing's most respected historians and a widely beloved icon within the sport
A passionate devotee of midget car racing for more than three quarters of a century, the New Jersey-born Crocky probably did more that any other individual to chronicle the history of midget racing on the East Coast. A prolific writer, even into his late 70s, he wrote literally hundreds upon hundreds of articles for a variety of weekly racing papers over a period of several decades (typically, merely in return for credentials at the pit gate) in addition to a number of books. He authored an ambitious six-volume history of East Coast midgets; a stats-filled hard-cover history of the fabulous short-lived late-1930s high-banked Nutley (New Jersey) Velodrome; a 1961 tribute to the life and career of the then recently fatally injured Johnny Thomson (for which Crocky turned all of the proceeds over to Thomson's widow); a similar effort shortly thereafter praising injured driver Rex Easton (turning all of the proceeds over to Easton's family), in addition to a variety of midget racing yearbooks, biographies on other drivers, a history of East Coast three-quarter midget racing, some fiction work, and even his own fascinating and sometimes amusingly irreverent memoirs, which nevertheless contained some surprisingly haunting and tender passages.
Crocky, who was honorably discharged after four years with the 762nd Tank Battalion in the Pacific theater during WWII, aspired to be a driver himself, dabbling with it off and on over a period of more than 20 years, mostly with the American Racing Drivers Club. He never achieved much success, but he could still say that, yes, he did indeed race against Len Duncan, Dutch Schaefer, Ernie McCoy and even a very young Mario Andretti.
When Crocky first became enamored of midget racing in the late 1930s, he was actually an even bigger devotee of "night" motorcycle speedway racing on cinder tracks. His hero was Emerson "Crocky" Rawding, an East Coast standout who briefly raced in England before having to leave his equipment behind in the rush to jump on a States-bound ship when war was declared in September, 1939. Not only did Ernie Schlausky assume his hero's nickname, but he also copied the black and white checkered paint job of Rawding's helmet, turning it into a trademark of his own.
While motorcycle speedway was never successful in returning after WWII, Crocky did take part in some of the futile attempts to revive it. He had better luck as a stunt man, performing as a member of a troupe formed by another leading speedway rider, "Putt" Mossman. Under Mossman's guidance, Crocky perfected the stunt of crashing a motorcycle through flaming boards, something he introduced to a whole new audience at the Indianapolis Speedrome at age 70, and again at what was then Indianapolis Raceway Park at age 77. Crocky was very proud that some of his accomplishments were documented along with those of Evel Knievel in an exhibition at the Smithsonian Institution in Washington, D.C. In 2004 Crocky was presented the prestigious "Jim Blunk Award" at the USAC National Awards Banquet in recognition of his contributions to USAC Midget racing.
Crocky championed the cause of numerous drivers over the years, most famously Tony Stewart, who Crocky discovered as a 16-year-old three-quarter midget driver in Rushville, Ind. in 1987. He soon became Stewart's volunteer "PR" person, a fact the eventual multi-USAC, IRL and NASCAR champion never forgot. When Crocky himself was inducted into the National Midget Auto Racing Hall of Fame in a 2005 ceremony at Sun Prairie, Wisc., who should walk into the room just as the induction was taking place but Stewart himself, having gone out of his way to fly a considerable distance from a NASCAR engagement for the purpose of surprising his longtime friend.
2008 INDUCTEES
A.J. WATSON CAR DESIGNER
A. J. Watson was a car builder and chief mechanic from 1949 through 1984 in the Indianapolis 500, winning the race seven times, which leaves him tied for the record for most wins by a builder.
A native of southern California, Watson came to Indianapolis in 1948 but missed the race. He returned the following year with a home-built car that failed to qualify. For the next 11 years, his cars not only qualified but were leaders in many years. From 1955 to 1958 he was associated with the John Zink team, and from 1959 on with Bob Wilkes. His cars dominated the race through 1964. Although he continued entering cars for another two decades, he was never able to regain the commanding position of his heyday.
In 1964, with many teams following Lotus's example and moving to rear engined "funny cars", Watson built a pair of cars based on Rolla Vollstedt's successful car. These worked reasonably well but could not reproduce the success he had with his front-engined "roadsters". He built monocoque rear-engined cars in 1966 and 1967 with ever-decreasing success.
From 1969 until 1977, Watson ran Eagles and then built a small series of highly derivative new 'Watson' cars in 1977, 1978 and again in 1982 based on Lightning and March designs before retiring. He is frequently listed on the Indy 500 entry sheet as the "race strategist" for PDM Racing, though his role with the team is largely honorary.
*Fred Offenhauser Automotive Engineer
Fred Offenhauser was an automotive engineer and mechanic who designed the Offenhauser racing engine, nicknamed the "Offy", which dominated competition in the Indianapolis 500 race for decades.
Offenhauser began working in the shop of Harry Arminius Miller in 1913 at age 25, when the state of the art double overhead cam, four valve per cylinder Peugeot Grand Prix car, an engine design which would be contemporary even today, won the Indianapolis 500. Miller named Offenhauser the head of Miller's engine department in 1914. Bob Burma was campaigning the engine that year, but when World War I made it impossible to get parts, Miller's shop got the job of maintaining it. The design so impressed Miller and Offenhauser that they designed an engine on largely similar principles.
In 1917, Offenhauser designed and built Barney Oldfield's famous "Golden Submarine".
In 1919, Leo Goossen joined Miller's shop and Offenhauser became plant manager. Miller's company went bankrupt in 1933. Offenhauser bought the patterns and equipment from Miller, and began developing the engine with Goossen.[ The engine experienced great success at the Indianapolis 500, with 24 victories in 27 years. Offenhauser himself was not frequently seen in Indianapolis.
In 1934, Offenhauser built his first 97 cubic inch engine for midget car racing. The car won its first race in Curly Mills' car.
Offenhauser sold the business in 1946 to Louis Meyer and Dale Drake. Meyer and Drake continued producing the motor using the Offenhauser name.
*GRAHAM HILL INDIANAPOLIS 500 WINNER WORLD DRIVING CHAMPION
Norman Graham Hill was a British racing driver and two-time Formula One World Champion. He was born in Hampstead, London.
Graham Hill is the only driver to win the so-called Triple Crown of Motorsport.
After serving in the Royal Navy as an Engine Room Artificer, Hill re-joined Smiths Instruments. He had been interested in motorcycles but in 1954 he saw an advert for the Universal Motor Racing Club at Brands Hatch offering laps for 5 shillings. He made his debut in a Cooper 500 Formula 3 car and was committed to racing thereafter. Graham joined Team Lotus as a mechanic soon after but quickly talked his way into the cockpit. The Lotus presence in Formula One allowed him to make his debut at the 1958 Monaco Grand Prix, retiring with a halfshaft failure.
In 1960, Hill joined BRM, and won the world championship with them in 1962. Hill was also part of the so-called 'British invasion' of drivers and cars in the Indianapolis 500 during the mid-1960s, triumphing there in 1966 in a Lola-Ford.
In 1967, back at Lotus, Hill helped to develop the Lotus 49 with the new Cosworth-V8 engine. After team mates Jim Clark and Mike Spence were killed in early 1968, Hill led the team, and won his second world championship in 1968 . The Lotus had a reputation of being very fragile and dangerous at that time, especially with the new aerodynamic aids which caused similar crashes of Hill and Jochen Rindt at the 1969 Spanish Grand Prix. A crash at the 1969 United States Grand Prix broke his legs and interrupted his career.
Upon recovery Hill continued to race in F1 for several more years, but never again with the same level of success. Colin Chapman, believing Hill was a spent force, placed him in Rob Walker's team for 1970, sweetening the deal with one of the brand-new Lotus 72 cars. Although Hill scored points in 1970 he started the season far from fully fit and the 72 was not fully developed until late in the season. Hill moved to Brabham for 1971-2; his last win in Formula One was in the non-Championship International Trophy at Silverstone in 1971 with the "lobster claw" Brabham BT34. But the team was in flux after the retirements of Sir Jack Brabham and then Ron Tauranac's sale to Bernie Ecclestone; Hill did not settle there.
Hill was known during the latter part of his career for his wit and became a popular personality - he was a regular guest on television and wrote a notably frank and witty autobiography when recovering from his 1969 accident, Life At The Limit. Hill was also irreverently immortalized on a Monty Python episode ("It's the Arts (or: Intermission)" sketch called "Historical Impersonations"), in which a Gumby appears asking to "see John the Baptist's impersonation of Graham Hill." The head of St. John the Baptist appears on a silver platter, which runs around the floor making putt-putt noises of a race car engine.
Hill was involved with four films between 1966 and 1974, including appearances in Grand Prix and Caravan to Vaccarès, in which he appeared as a helicopter pilot.
Although Hill had concentrated on F1 he also maintained a presence in sports car racing throughout his career (including two runs in the Rover-BRM gas turbine car at Le Mans). As his F1 career drew to a close he became part of the Matra sports car team, taking a victory in the 1972 24 Hours of Le Mans with Henri Pescarolo. This victory completed the so-called Triple Crown of motorsport which is alternatively defined as winning either:
*JOHN "JACK" BRABHAM WORLD DRIVING CHAMPION
John Arthur "Jack" Brabham, racing driver who was Formula One champion in 1959, 1960 and 1966. He was a founder of the Brabham racing team and race car constructor that bore his name.
Brabham was a Royal Australian Air Force flight mechanic and ran a small engineering workshop before he started racing midget cars in 1948. His successes in midgets and Australian and New Zealand road racing events led to him going to the United Kingdom to further his racing career. There he became part of the Cooper Car Company's racing team, building as well as racing cars. He contributed to the design of the mid-engined cars that Cooper introduced to Formula One and the Indianapolis 500, and won the Formula One world championship in 1959 and 1960. In 1962 he established his own Brabham marque with fellow Australian Ron Tauranac, which became the largest manufacturer of customer racing cars in the world in the 1960s. In 1966 Brabham became the only man to win the Formula One world championship driving one of his own cars.
Brabham retired to Australia after the 1970 Formula One season, where he bought a farm and maintained various business interests, which included the Engine Developments racing engine manufacturer and several garages. As of 2008, he is the oldest surviving Formula One world champion.
HENRY " SMOKEY" YUNICK* NECHANIC CAR DESIGNER
Henry "Smokey" Yunick was a mechanic and car designer associated with motorsports in the United States.
Yunick was deeply involved in the early years of the NASCAR, and he is probably most associated with that racing genre. He participated as a racer, designer, and other jobs relating to the sport but was best-known as a mechanic, builder, and crew chief. He was renowned as a crotchety, crusty, opinionated character who "was about as good as there ever was on engines," according to Marvin Panch, who drove stock cars for Yunick and won the 1961 Daytona 500. His trademark white uniform and battered cowboy hat, together with a cigar or corncob pipe, were a familiar sight in the pits of almost every NASCAR or Indianapolis 500 race for over twenty years. In 1990 he was inducted into the International Motorsports Hall of Fame.
MARION "MICKEY" THOMPSON * DRAG RACER OFF ROAD RACING CHAMPION
Marion Lee "Mickey" Thompson was an American off-road racing legend. He won many championships as a racer, and later formed sanctioning bodies SCORE International and Mickey Thompson Entertainment Group (MTEG). He also raced in dragsters and land speed record automobiles.
Thompson was born in Alhambra, California. He was known universally as "Mickey." In his early twenties, he worked for the Los Angeles Times newspaper while becoming involved in the new sport of drag racing. He developed a brilliant career as both a driver and an innovative automotive technician; later as a designer, manufacturer and seller of racing and performance equipment. In addition to being a drag racing champion, Mickey Thompson set more speed and endurance records than any other man in automotive history. He is credited with designing and building the first slingshot dragster and for creating the signal starting and foul light systems used in drag racing. In 1968, he redesigned the Funny Car, and his vehicle went on to win the 1969 NHRA Springnationals and Nationals for driver Danny Ongais.
In 1960, at the Bonneville Salt Flats, Thompson achieved international fame when he became the first American to break the 400mph barrier hitting 406.60 mph surpassing John Cobb's one-way Land speed record of 402mph. In his long career, Thompson raced everything from stock cars to off-road vehicles and engineered numerous competition engines. He went into the performance aftermarket business in the early 1960's and then, in 1963 he created "Mickey Thompson Performance Tires" that developed special tires for racing including for Indianapolis 500 competitors. In 1965 he published "Challenger: Mickey Thompson's own story of his life of speed."
Thompson founded SCORE International in 1973, a sanctioning body to oversee off-road racing across North America. He and his wife Trudy formed the "Mickey Thompson Entertainment Group" (MTEG) which ran an indoor motocross and off-road vehicle racing show and competition that brought the sport from the back-country terrain to stadiums in the heavily populated metropolitan areas.
Thompson also was noted for being the first manager of Lions Drag Strip near Long Beach, California in 1955.
2007 INDUCTEES
* Bill France Jr. NASCAR EXECUTIVE AND PROMOTER
William H.G. "Big Bill" France yanked stock car racing from liquored-up, backwoods brawls, cleaned it up and turned it into a legitimate sport. Then he handed the baton to his oldest son who took the sport to unimaginable heights.
For 32 years or so, starting in January of 1972, William C. France, known to all as Bill France Jr., was the "go-to'' guy at the National Association of Stock Car Auto Racing.
When you look at France's reign, you can gain a greater appreciation for what the man did for the sport of stock car racing.
He took a sport popular only in the Southeast and turned it into a national phenomenon. Now NASCAR, with a fan base of 75 million folks, is nipping at the heels of the NFL in terms of national popularity.
When France was appointed president by his father, NASCAR racing was a regional sport. The majority of Winston Cup Series events were not on television and those that did get air time were mixed into sports anthology shows such as ABC's "Wide World of Sports."
In a groundbreaking live, flag-to-flag broadcast, France had a breakthrough when he signed a deal with CBS Sports in 1978 to televise the 1979 Daytona 500.
The race produced astronomical ratings due in part to winter weather conditions in the Midwest and Northeast (keeping people in front of their TVs) and a spectacular finish on the track in Florida. Richard Petty won when Donnie Allison and Cale Yarborough crashed each other out on the final lap, then exchanged punches at the scene of the accident.
Soon after, Winston Cup and Busch Series broadcast rights started selling like crazy to sports-minded cable networks such as ESPN, TNN and TBS. Under France's direction, NASCAR got its first taste of big-league attention when it signed an NFL-like $2.4 billion television contract with FOX, NBC, and Turner in 1999. The contract took effect in 2001.
After the manufacturers' wars of the 1950s and 1960s, Detroit had cooled to NASCAR racing in the 1970s and that led France to look for new money outside the automotive corporate sector.
Beginning with R. J. Reynolds, Bill France Jr. brought a host of non-automotive related corporations into sponsorship positions with NASCAR, which boasts some of the most brand loyal fans on the planet.
Race cars, which once plugged only spark plugs, oil and gas companies, have now become high speed billboards for wireless phones, home improvement centers and laundry detergent.
France's three top priorities on the competition side of the company were always safety, close finishes and holding the line on expense.
The $20 million NASCAR Research and Development Center officially opened last spring in Concord, N.C., to help pursue France's three goals, with safety a paramount issue.
While other forms of racing have advanced technology, NASCAR uses the same simple engine components that were available in the 1950s. You won't find fuel injection or turbo systems in stock car racing.
France believes low tech keeps the competition close and saves race teams vast amounts of money.
France also has guided NASCAR through several patches of troubled waters.
At the height of the energy crisis in the mid-1970s, France shortened the 1974 Daytona 500 to 450 miles to show its concern for the country's gas predicament.
In the 1980s France again battled Capitol Hill on a tax bill that would have done away with most business leisure expense deductions, which would have been disastrous for NASCAR's corporate clients.
Presently, France has stepped out of the limelight at NASCAR and turned the day-to-day management of the sanctioning body over to his son and his lieutenants.
Nevertheless, he still figures to shape auto racing as chairman of International Speedway Corp., which boasts 12 major racing facilities.
Did France achieve all he set out to do as NASCAR czar all those years?
"I did what I was supposed to do with a lot of help from a lot of people," he continued. "I got some recognition for it and some credit for it, which quite frankly should slide on down the line to the people who came up with the idea.
"
*Carl Fisher American entrepreneur Founder Indianapolis Motor Speedway
Carl Graham Fisher) was an American entrepreneur. Despite having severe astigmatism, he became a seemingly tireless pioneer and promoter of the automotive, auto racing, and real estate development industries.
Regarded as a promotional genius for most of his life, in the late 19th century, he became a bicycle enthusiast and became involved in bicycle racing and later auto racing. After being injured in stunts, he helped develop paved racetracks and roadways. An Indiana native, Fisher operated what is believed to be the first automobile dealership in the United States and he helped organize the Indianapolis Motor Speedway.
In 1913, Fisher conceived and helped develop the Lincoln Highway, the first paved road planned across the entire United States. A convoy trip a few year later by the U.S. Army along Fisher's Lincoln Highway was a major influence upon then Lt. Col. Dwight D. Eisenhower years later in championing the Interstate Highway System during his presidency in the 1950s.
Carl Fisher followed the east-west Lincoln Highway in 1914 with the conception of the north-south Dixie Highway, which first led from Indianapolis, and eventually extended in several northern branches from the Mid-West U.S. at the Canadian borders to southern mainland Florida. Under his leadership, the initial portion was completed within a single year, and he led an automobile caravan to Florida from Indiana.
At the south end of the Dixie Highway in Miami, Florida, Fisher became involved in the successful real estate development of the new resort city of Miami Beach, built on a largely unpopulated barrier island and reached by the new Collins Bridge across Biscayne Bay directly at the terminus of the Dixie Highway. Fisher was one of the best known and active promoters of the Florida land boom of the 1920s. By 1926, he was worth an estimated $100 million, and redirected his promotional efforts when the Florida real estate market bubble burst after 1925. His final major project, cut short by the Great Depression, was a "Miami Beach of the north" at Montauk, located at the eastern tip of Long Island, New York.
His fortune was lost in the Stock Market Crash of 1929 and the Great Depression in the United States which followed shortly thereafter. He found himself living in a small cottage in Miami Beach, doing minor work for old friends. Nevertheless, years after his fortune had been lost, at the end of his career, he took on one more project, albeit more modest than many of his past ventures, and built the famous Caribbean Club on Key Largo, intended as a "poor man's retreat."
Although he had lost his fortune and late in life considered himself a failure, Fisher is widely regarded as a very successful man in the long view of his life. He was inducted into the Automotive Hall of Fame in 1971. In a 1998 study judged by a panel of 56 historians, writers, and others, Carl G. Fisher was named one of the 50 Most Influential People in the history of the State of Florida by The Ledger newspaper. PBS labeled him "Mr. Miami Beach." Fisher Island, one of the wealthiest and most exclusive residential areas in the United States, just south of Miami Beach, is named for him.
Tom Carnegie Chief announcer at the Indianapolis Motor Speedway for 60 years.
Few of us can honestly say we've contributed to the lexicon of a sport, but one man certainly has: Phrases like: "Heeeezzzzzz ON IT!" Or, "It's a newwwww track rrrrecord!" Or, "Mario is slowing on the backstretch!"
All courtesy of Tom Carnegie, the announcer at the Indianapolis Motor Speedway for 60 years.
"He is one of those rare individuals who created a persona that can be imitated, but can never be duplicated," says the subject of one of those trademark phrases, Mario Andretti. "He represents so many exciting moments in motor racing."
Through the myriad changes in motorsports, Carnegie's voice is one of the few constants. After a couple of artificial hips and artificial knees, he shows no signs of slowing.
Carnegie, a native of the Kansas City area, had hoped to play professional sports until a viral fever hospitalized him for months and weakened his legs to the point where he knew he'd never play with the pros. But even as a young man, Carnegie had those pipes, and it led him to broadcasting. He ended up in Indiana, and his narration of a car parade caught the ear of Indy 500 officials. He called his first Indy 500 in 1946. Until then, he'd seen only one race, and that was in Illinois while on vacation. It took 10 years, he says, before he was comfortable with the job.
Throughout the years, Carnegie has had a front-row seat for triumph and tragedy. In the early days, injuries and fatalities occurred on a regular basis. After losing many friends in racing, perhaps most notably one of his best friends, racer Jim Clark, Carnegie learned why many people in motorsports try not to get too attached to drivers.
Carnegie considers the advances in safety to be the most positive change he's witnessed. "We didn't know anything about safety then. Danger was just a fact of life."
Dramatizing the dramatic has been Carnegie's challenge—and his forte. And not only on race day. For decades, his descriptions of the relentless quest to break speed barriers built main event sized crowds—for time trials!
Still, the last Sunday in May was Carnegie's Main Gate to immortality.
For 61 Memorial Day Weekends, Tom Carnegie's calendar was full. As were the calendars of hundreds of thousands of fans, for whom it just wasn't Indy until they heard those phrases, those Carnegie-isms.
Phrases that, Carnegie says, "just happened. I never intended to patent any of them." Maybe he should.
After the 2006 race, Tom Carnegie put down the Indianapolis Motor Speedway microphone for the last time. The Indy 500 will never be the same
"When he is no longer in the announcer's booth, there will be a huge void," says Mario Andretti. "You cannot say that about too many individuals in life. He is an intricate, exciting part of our sport and of the biggest spectacle in racing, the Indianapolis 500."
*Henry Ford Race Car innovator
Few automakers are more closely associated with motorsport than Ford Motor Company.
That commitment began with the entrepreneurial zeal of its founder, Henry Ford. In the earliest days of the automobile, many people worked on motor carriages, and a variety of trials, tests and races were held that attracted widespread attention. Ford noted the acclaim and enthusiasm automobiles brought, so he built his first cars to establish his name through motorsports. He also noted the prize money, sometimes as large as $10,000.
Oliver Barthel and Ford built a racer for the October 10, 1901, races sponsored by the Detroit Driving Club. When it came time for the feature, preliminary races had taken so much time that the main 25-lap race was shortened to just ten laps. To the starting line came three entrants: Henry Ford aboard his racer, the famed Alexander Winton on his and another driver who discovered a mechanical problem and withdrew. Ford had never raced before, but fortune was in his favor after Winton's machine began leaving a trail of smoke after three laps. Racing had indeed brought what he wanted-acclaim. But the experience was such that Ford retired as a competitive driver, saying, "Once is enough."
That success led to the formation of the Henry Ford Co. on November 30, 1901. The company didn't go in the direction Ford wanted, so he left to join forces with Tom Cooper, the foremost cyclist of the time, in building a much more aggressive racer, the 999. Because of its potential speed, Ford became concerned about his driver's safety. But he need not have been too concerned: his driver, 23-year-old Barney Oldfield, had already proven himself in bicycle racing. Oldfield practiced at Grosse Pointe the week before the occasion of the next race, the Manufacturer's Challenge Cup held October 25, 1902.
Four drivers started; again, the main opposition was Winton. Oldfield led from the start, as he opened up 999 and didn't let off. His lead grew to the point of lapping the two lagging cars, and Oldfield soundly beat Winton, who dropped out on the fourth lap. Ford's 999, with its 70, perhaps 80 horsepower, was described as "low, rakish, and makes more noise than a freight train." It was in that machine that two things happened: Oldfield made Ford famous and Ford made Oldfield famous. Both went on to become the most recognized figures in early motoring-Ford as a builder, Oldfield as a driver.
The excitement that Henry Ford's products generated became the source of explosive growth in motorsport throughout the 20th century. Today, Ford is the only automaker that can claim victory in the Indy 500, Daytona 500, 24 hours of LeMans and Daytona, 12 Hours of Sebring, the Monte Carlo Rallye and the Baja 1000. That commitment is certain to continue in the future, given Ford's ongoing, global support of virtually all forms of motorsport. Henry would certainly have been proud.
* Ralph Depalma Indianapolis 500 winner and racing pioneer
Ralph DePalma was an Italian-American racecar driving champion, most notably winner of the 1915 Indianapolis 500.
Born in Troia Apulia, Italy, DePalma's family emigrated to the United States when he was eight years old. As a young man of twenty-two, he began racing motorcycles before switching to the automobile dirt track racing circuit in 1909, the year that the American Automobile Association established the national driving championship.
DePalma was immediately successful in car racing. In 1911, DePalma won the first Milwaukee Mile Championship Car race. However, he is still remembered for the dramatic manner in which he lost the 1912 Indianapolis 500. After leading for nearly 196 of the 200 laps, his Mercedes cracked a piston and with only 2 laps remaining, he and his mechanic had to push the car across the finish line to take twelfth place. He went on to earn the U.S. national driving championship that year, but was almost killed in an accident at on October 5th at the Milwaukee Mile during the 400-mile Vanderbilt Cup. Hospitalized for a considerable time, he recovered and was back to racing the following spring.
In 1912 and again in 1914, DePalma won the Elgin National Trophy at Elgin, Illinois and in 1914 he scored what he called his greatest victory when he beat Barney Oldfield to capture the Vanderbilt Cup in Santa Monica, California. DePalma had been let go by the Mercer Automobile Co. racing team in favor of the great Barney Oldfield and in a Mercedes "Gray Ghost," DePalma showed he was a master tactician in beating Oldfield's much faster car. Things got even better that year when he again won his second U.S. national driving championship. The following year, 1915, he drove to long-awaited victory at Indianapolis.
Ralph DePalma was an intense competitor but one of the most popular racers with his fellow drivers and the fans because of his good sportsmanship, a quality he displayed on and off the track. In June 1917 he lost to Barney Oldfield in a series of 10 to 25 mile match races ath the Milwaukee Mile. On February 12, 1919 at Daytona Beach, Florida, he drove a Packard to a world speed record of 149.875 mph over a measured mile. International competition began following the adoption of the three liter engine limit in the U.S. and Europe in 1920. DePalma began the year driving for the French manufacturer, Ballot. His Ballot vehicle was one of the fastest qualifiers at the 1920 Indy but bad luck dogged him in the race. However, DePalma traveled with other Americans to Le Mans to compete in the French Grand Prix. There, he finished second to the Dusenberg driven by fellow American, Jimmy Murphy.
Ralph DePalma had a small role in the 1920 Hollywood film, High Speed and in 1924 played the part of the Champion in an action/drama written by Wilfred Lucas titled Racing for Life. In 1923, he established the DePalma Manufacturing Company in Detroit to build race cars and engines for automobiles and aircraft.
Ralph DePalma retired from racing after a career in which he competed in 2,889 races, winning an astonishing 2,557. He died in South Pasadena, California in 1956 and was interred in the Holy Cross Cemetery in Culver City, California. The Mercedes in which he narrowly lost the 1912 Indianapolis 500 remains on display at the Indianapolis Motor Speedway Hall of Fame Museum.
DePalma was the brother of 500 competitor John DePalma and the uncle of 1925 Indy winner Pete DePaolo.
* Benny Parsons NASCAR Winston Cup Champion

Wicked-looking black clouds boiled ominously over Charlotte Motor Speedway on May 25, 1980 as darkness approached.
In the press box, gallows humor prevailed.
"I imagine this is what the End Of Time sky will look like," someone said.
Lightning bolts blazed in the distance.
There also was great electricity on the track.
Benny Parsons and Darrell Waltrip were locked in an exciting, tense battle for victory in a race then known as the World 600.
The lead see-sawed, it seemed, almost every time around the 1.5-mile layout between the two drivers, who were two laps ahead of their nearest challenger.
They swapped the front spot eight times in the final 26 laps, four times in the final 10.
Parsons managed to pull ahead on the 399th of the 400 laps and then held off Waltrip by half a car-length to triumph in what many observers rate the most thrilling finish in the history of the Charlotte track, which dates to 1960.
That victory, plus the 20 others he scored at NASCAR's top level in a two-decade career, have earned 1973 Winston Cup Series champion Benny Parsons induction into the Motorsports Hall Of Fame of America.
His 12 superspeedway wins include the 1975 Daytona 500, the 1978 Rebel 500 at Darlington, the 1984 Gabriel 400 at Michigan International Speedway and the '84 Coca-Cola 500 at Atlanta.
NASCAR's roster of drivers is replete with relative rags-to-riches stories. Few are more compelling than that of Benny Parsons.
Benny grew up far back in the Blue Ridge Mountains of North Carolina in a beautiful, remote cove known as Parsonsville.
He lived in a log home with his great-grandmother, helping the elderly lady with her chores. Benny's parents had moved to Detroit for work following World War II, but he stayed behind to attend Millers Creek High School, where he played football.
Another sport he loved was stock car racing, and Benny seldom missed watching from the grandstand when the NASCAR stars competed at the local track, North Wilkesboro Speedway.
After graduating from high school, Benny joined his parents in Detroit, where his father operated a cab company. Benny began working at a service station. One night some fellows towing a race car behind a pickup truck stopped at the station for fuel en route to an area short track. They invited Benny to come along and he climbed into the bed of the pickup. When the regular driver didn't show up, Benny took the wheel of the race car that night.
Thus began a driving career that was to produce that Winston Cup championship in '73, one of the sport's most memorable.
Parsons crashed early in the season-finale at N.C. Motor Speedway at Rockingham, much to the dismay of a very partisan crowd. At that time Benny lived at nearby Ellerbe, N.C., where he was president of the local school's Parent-Teachers Association.
In a remarkable development, members of other teams rallied to help make repairs and get Parsons' badly damaged car rolling again so that he could amass enough points to win the title. He was able to complete 308 of the race's 500 laps, finished 25th and edged Cale Yarborough by 67 points.
That rivals came to his rescue is a measure of the respect that the personable Parsons, now 64, has commanded throughout his racing career.
Benny never rated himself a strong qualifier, but he was fastest in time trials 20 times. And among his notable achievments is becoming the first NASCAR driver to officially qualify in excess of 200 mph when he hit 200.176 at Talladega Superspeedway in 1982, taking the pole for the Winston 500.
After his retirement as a driver in 1989, Benny became a member of ESPN's NASCAR telecast team and won an Emmy for his prowess as an analyst. He now provides expert commentary on NBC's NASCAR telecasts.
In looking back on a wonderful driving career, Benny Parsons touchingly rates among his favorite accomplishments a short track triumph in 1979. That win came in the Holly Farms 400 at little North Wilkesboro Speedway, only 15 miles or so from that old log home at Parsonsville.
2006 INDUCTEES
* CHRIS ECONOMAKI SPEED SPORT NEWS FOUNDER AND PUBLISHER
CHRIS ECONOMAKI is a legendary American motorsports commentator, pit road reporter, and journalist. Chris Economaki has been given the title "The Dean of American Motorsports.
Economaki was born in Brooklyn, New York. Economaki's father was a Greek immigrant and his mother a great-niece of Robert E. Lee. He saw his first race at age 9 at the board track in Atlantic City. He was immediately hooked on the sport. He once attempted driving a midget car at a cinder track in Pennsylvania. "It wasn't for me," says Economaki. "It was a really frightening experience. That was the first and last time I drove in competition
He started his career at age 13 selling copies of National Speed Sport News newspapers. He wrote his first column at age 14 for the National Auto Racing News. Economaki became the editor of the National Speed Sport News in 1950. He began writing a column called "The Editor's Notebook", which he continues to write over fifty years later. He eventually became owner, publisher, and editor of the National Speed Sport News. His daughter Corinne Economaki is the current publisher. The newspaper is considered "America's Weekly Motorsports Authority".
He has co-written an autobiography called Let 'Em All Go: The Story of Auto Racing by the Man who was there.
SHIRLEY MULDOWNEY NHRA LEGEND 1ST WOMAN TO WIN MAJOR EVENT
SHIRLEY MULDOWNEY the "First Lady of Drag Racing" was the first woman to receive a licence to drive a top fuel dragster by the NHRA. She won the NHRA Top Fuel championship in 1977 in 1980 and 1982. After a crash in 1984 she was sidelined for a long period but returned to the circuit in the late 1980s. She continued to race, mostly without major sponsorship, throughout the 1990s in IHRA competition as well as match-racing events. She returned to the NHRA towards the end of her career, running select events until her retirement at the end of 2003.
Muldowney's success came in the face of enormous opposition from those who felt drag racing was no place for women. Don Garlits, the "Big Daddy" of drag racing, has said about her:
Muldowney was described by longtime drag racer Fred Farndon as the "best 'natural' driver (top fuel or funny car), no question".
She was nicknamed "Cha-Cha" - a name chosen by car owner and then boyfriend Connie Kalitta. She later dropped the moniker, stating: "There is no room for bimbosim in drag racing."
Shirley Muldowney is married to Rahn Tobler, who was her crew chief. After Muldowney's retirement, Tobler became crew chief for the Mac Tools Top Fuel dragster of Doug Kalitta Connie Kalitta's nephew.
DON PRUDHOMME NHRA DRIVER
Don 'Snake' Prudhomme is an American dragster racer, who won the NHRA funny car championship four times in a thirty-five-year career. He was the first funny car driver to exceed 250 mph. He retired in 1994 to manage his own racing team. With driver Larry Dixon, Prudhomme's team won the top fuel championship in 2002 and 2003. Known for his yellow 1970 Plymouth Barracuda in which he raced rival driver Tom " Mongoose" McEwen in his red 1970 Plymouth Duster, later both drivers gained more attention from the Hot Wheels versions that were released in 1970. Hot Wheel celebrated their 35th anniversery in 2003 with a two day event.
STEVE KINSER 17 TIME WoO CHAMPION " KING OF THE SPRINTS"
Steve is a professional sprint car racer. He has won 20 championships in the World of Outlaws (WoO) series, and currently drives the #11 Quaker State car. Kinser left the World of Outlaws in 2006 to compete with the new National Sprint Tour series.
Steve also finished 14th in the 1997 Indianapolis 500. He has been a perennial competitor in IROC winning a race at Talladega Superspeedway in 1994. He also finished a career best 6th in IROC points in 1994.
He began the 1995 season as a full-time NASCAR Winston Cup driver for Kenny Bernstein, but he was released after only five starts after a best finish of 27th and average finish of 35th.
GEORGE BIGNOTTI 7 TIME INDIANAPOLIS 500 WINNER CHIEF MECHANIC
A. J. Foyt won 27 races in cars prepared by Bignotti while other drivers who scored wins for him included Al Unser, Gordon Johncock, Tom Sneva, Joe Leonard, Wally Dallenbach, Rodger Ward, Graham Hill and Jud Larson.
George also holds the record for most victories for a chief mechanic in the Indianapolis 500-Mile Race - seven! His cars won in 1961, 1964, 1966, 1970, 1971, 1973, and 1983 driven by Foyt, Hill, Unser, Johncock and Sneva.
He started as a race car owner in the San Francisco area and in 1954 made his debut as a crew member at Indianapolis.
In 1956, teaming with co-car owner Bob Bowes, he scored his first Indy Car win in the 100-miler at the Arizona State Fairgrounds in Phoenix. I he driver was Jud Larson.
A. J. Foyt joined the team in 1960 and USAC National Championships ensued, both in 1960 and 1961. A. J. also grabbed the Indianapolis 500 in 1961, but in the summer of 1962 they decided to part company. Reforming as a team before the end of the year, they immediately stormed back to the winners circle and ended up second in the point standings. Piling up 27 victories in just five seasons, they again claimed the USA National Championship in 1963 and 1964.
Following a final split with Foyt in 1965, Bignotti collaborated with John Mecom on what evolved into the Vel s Parnelli Jones superteam , comprised of drivers Al Unser, Mario Andretti and Joe Leonard. George subsequently led a heavily revamped Patrick Racing Team starting in 1973 and the Dan Cotter team beginning in 1981, enjoying a measure of success with each.
*COLIN CHAPMAN INFLUENTIAL DESIGNER, INVENTOR AND CAR BUILDER
Colin was an influential designer, inventor, and builder in the automotive industry. In 1952 he founded the sports car company Lotus Cars. He studied structural engineering at University College, London where he joined the University Air Squadron and learned to fly. After graduating in 1948, he briefly joined the Royal Air Force. His knowledge of the latest aeronautical engineering techniques would prove vital towards achieving the major automotive technical advances he is remembered for. His Formula One Team Lotus won seven World Championships and the Indianapolis 500 between 1962 and 1978. The production side of Lotus Cars has built tens of thousands of relatively affordable, cutting edge sports cars. Lotus is one of but a handful of British performance car builders still in business after the industrial decline of the 1970s
2005 INDUCTEES
*LEE PETTY LEGENDARY NASCAR DRIVER
Lee Petty was one of the pioneers of NASCAR and one of its first superstars.
Lee Petty was thirty-five years old before he began racing. He began his NASCAR career at NASCAR's first race at Charlotte Speedway (not Charlotte Motor Speedway). He finished in the Top 5 in season points for NASCAR's first eleven seasons. He won the NASCAR Championship on three occasions and the inaugural Daytona 500 in 1959.
In that inaugural Daytona 500 race, Petty locked horns with Johnny Beaucamp during the final laps of the race. The finish was so close that evne though Johnny was declared the unofficial winner, it took 3 days to decide the winner. In the end, with the help of the national newsreel, Petty was officially declared the winner and cemented his place as one of stock-car racing's all time greats.
BOBBY UNSER 3 TIME INDIANAPOLIS 500 WINNER
Bobby is the brother of Al Unser and Jerry Unser, the father of Robby Unser, and the uncle of Al Unser, Jr. and Johnny Unser. Often under-rated, he was an astute and occasionally very rapid exponent of the subtle art of oval racing. He is one of seven drivers to win the Indy 500 three times and one of only two to have won the 500 in three different decades (1968, 75, 81).
Bobby was apart of one of the most controversial finishes in Indy 500 history. In lap 149, during a caution period, Bobby and Mario Andretti made their pit stop and headed back to the race, the problem was Bobby passed 8 cars during the caution, while Mario passed 2 cars himself, a subject that was heatily debated on ESPN Classic's Big Ticket episode in 2000. Unser won the race, but was stripped the next morning to the 2nd place finisher Mario Andretti, but Unser got his win back in October 1981.
Bobby was the 1975 IROC champion.
Bobby Unser won the USAC Indy car championships in 1968 and 1974. He also competed in the 1968 United States Grand Prix at Watkins Glen International, driving for the BRM team.
He also drove in 3 NASCAR Grand National races from 1969 to 1973 with a best finish of fourth.
*JIMMY BRYAN USAC NATIONAL CHAMPION
Jimmy was born in Phoenix, Arizona, Bryan died in Langhorne, Pennsylvania as a result of injuries sustained in a champ car race. He drove in the AAA and USAC Championship Car series, racing in the 1952-1960 seasons with 72 starts, including each year's Indianapolis 500 race. He finished in the top ten 54 times, with 23 victories.
Bryan won the 1958 Indianapolis 500 and the 1954(AAA), 1956 and 1957(USAC) National Championship.
As the Indianapolis 500 counted as a round of the Formula One World championship from 1950 to 1960 his career is credited with participation in 9 grands prix, with 1 win, 3 podiums and 18 championship points scored. (Note that drivers who won the Indy 500 only are often not listed in totals of Grand Prix winners, as the race's inclusion in the World Championship was largely symbolic, with very few F1 drivers taking part.)
He died after a crash in a Champ car race at Langhorne Speedway in 1960, on the same day that two drivers were killed in the Belgian Grand Prix, making the day one of the most tragic in racing history.
*EDDIE SACHS SPRINT MIDGET DRIVER
Eddie Sachs was a United States Auto Club driver who was known as the "Caped Crusader of Auto Racing" and "Clown Prince of Auto Racing" for his personality at the Indianapolis 500-Mile Race.
His career included eight USAC Championship Trail wins, 25 top-five finishes in 65 career AAA and USAC starts, including the 1958 USAC Midwest Sprint Car Championship, in a career which included consecutive pole positions (1960-1961) in the Indianapolis 500, coming closest to winning the race in 1961 but falling short by one position.
Sachs and sports car driver and Indy rookie Dave MacDonald were killed on the second lap of the 1964 Indianapolis 500 in a fiery crash involving seven cars, which resulted in the USAC ban on gasoline and the switch to methanol-alcohol fuel.
*TONY BETTENHAUSEN AAA NATIONAL CHAMPION
Tony won the National Championship in 1951 and 1958. He is a member of numerous Halls of Fame.
He was born in Tinley Park, Illinois. He was nicknamed the "Tinley Park Express" in honor of his hometown.He was nicknamed "Tunney" after heavyweight boxing champion Gene Tunney. "Tunney" later became "Tony."
Bettenhausen was part of the "Chicago Gang" with Duke Nalon. They toured tracks in the Midwest and East Coast of the United States.
He drove in the AAA and USCAC Championship Car series, racing in the 1941 and 1946-1961 seasons with 121 starts, including 14 in the Indianapolis 500. He finished in the top ten 74 times, with 21 victories.
He won the track championship at the Milwaukee Mile in 1942, 1946, and 1947. He was the Chicago Raceway Park champion in 1941, 1942, and 1947.
He won the 1959 Turkey Night Classic, and the Hut Hundred in 1955 and 1956.
He won the National Championship in 1951 after recording eight victories and two second place finishes in fourteen events. He announced his retirement from all racing but the Indianapolis 500 after the season. He decided to return full-time for the 1954 season. He was involved in a midget car wreck in Chicago. He suffered head injuries after striking a concrete wall. He was in critical condition for several days.
In 1958 he became the only driver to win the national championship without a win. He was assured the title with a second place finish at Phoenix. He finished second in the national championship to Rodger Ward in 1959.
Bettenhausen was killed in 1961 in a crash at Indianapolis while testing a car for Paul Russo.
As the Indianapolis 500 counted as a round of the Formula One World championship from 1950 to 1960 his career is credited with participation in 11 grands prix, with 1 podium and 10 championship points scored.
*MAURI ROSE 3 TIME INDIANAPOLIS 500 WINNER
Mauri was born in Columbus, Ohio.
He started from the pole position driving a Maserati in the 1941 Indianapolis 500, but spark plug problems put him out of the race after sixty laps. He then took over the Wetteroth/Offenhauser car being driven by Floyd Davis that had started in 17th place and won the race. In 1947 and 1948, Rose captured back-to-back Indy 500's driving a Deidt/Offenhauser
Mauri Rose made his fifteenth and final Indianapolis 500 start in the 1951 race which that year was part of the Formula One circuit. Knocked out from an accident after 126 laps, the forty-five-year-old Rose retired to a home in California. For the 1967 race, officials of the Indianapolis Motor Speedway invited him to drive the Chevrolet Camaro Pace Car.
While his career in racing was filled with success, Rose considered his most important accomplishment to be his invention of a device that made it possible for amputees to drive an automobile.
2004 INDUCTEES
*RAY HARROUN 1ST WINNER INDIANAPOLIS 500
He was born on January 12, 1879 in Spartansburg, Pennsylvania.
He participated in the original setting of the record from Chicago to New York in 1903, and the re-taking of that record in 1904. He and four others drove in shifts non-stop to establish the record of 76 hours at the end of September, 1903. That time was bested by another team nearly a year later, and in October 1904, the Columbia team re-set the record at 58 hrs, 35 min. That record stood for nearly two years. Other drivers in both years included Bert Holcomb (who was in charge of the runs), Lawrence Duffie (Demonstrator of the Gasoline Dept of Electric Vehicle Company, which manufactured Columbia cars), and Harry Sandol. In 1903, the fifth driver was David R. Adams; in 1904 it was Eddie Bald.
Nicknamed the "Little Professor" for his hand in creating the Marmon Wasp. Harroun is best known for winning the first running of the Indianapolis 500 Mile Race on May 30, 1911. He is known to have started at least 60 AAA-sanctioned races, during the years 1905-1911. (Statistics on some of the shorter races document only the top three finishers, so some starts resulting in lower finishes may not be known.) From 1909 to 1911, Harroun drove primarily for the team operated by Indianapolis-based auto maker, Marmon. However, at least one 1909 race result shows him driving a Buick. And, statistics from 1905 through 1908 show him driving cars described as "Harroun Custom" and "Harroun Sneezer."
Harroun's race wins included: a 1910 100-mile race at the Atlanta Motordrome; the 1910 200-mile Wheeler-Schebler Trophy Race (at the Indianapolis Motor Speedway); the May, 1910, 50-mile Remy Grand Brassard Race (also at IMS); three races at Churchill Downs (home of the Kentucky Derby); three races at the original Latonia Race Track; and races at tracks in New Orleans, Los Angeles, Long Island and Memphis. He is best known for winning the first Indianapolis 500, driving a Marmon.
Harroun won a total of 8 races at the Indianapolis Motor Speedway, the second-most of any driver in the 100-year history of the track. (The only driver with more victories at IMS is Johnny Aitken, with 15 wins in 1909-1916.)
During the years that Harroun was driving, the AAA designated some races each year as "championship" events. However, there was no actual year-long championship, and no points were awarded. In 1927, points were assigned retroactively, and champions were designated for those years. At that time, Harroun was designated the champion for the 1910 season.
At the first Indianapolis 500 in 1911, his use of what would now be called a rear-view mirror, rather than the riding mechanic specified in the rules, created controversy, but was ultimately allowed. Harroun went on to win at an average speed of 74.602 miles per hour (120.060 km/h). Harroun, who came out of retirement to race in the first 500, would not race after 1911. Harroun's historic Firestone-shod yellow #32 Marmon "Wasp," in which he won the Indianapolis 500, is on display at the Indianapolis Motor Speedway Hall of Fame Museum.
After retiring from racing, Harroun continued engineering work for Marmon, and later for the Maxwell racing team.In 1917, Harroun started his own automobile company in Wayne, Michigan, where a street is now named for him. In 1927 he joined Lincoln Products. He continued to work in the automotive industry until his retirement at age 79. He died on January 19, 1968
DAVID " THE SILVER FOX" PEARSON 3 TIME NEXTEL CUP CHAMPION
David was Known as the "Silver Fox", he debuted on the Grand National racing circuit in 1960 and earned Rookie of the Year honors that same season. He went on to win the NASCAR Championship in 1966, 1968 and 1969. Pearson ranks as one of the greatest of all NASCAR drivers and his duels with Richard Petty are legendary. Between August 8, 1963 and June 12, 1977, they finished one/two on sixty-three occasions, with Pearson coming out on top with thirty-three victories. Their most famous encounter came at the 1976 Daytona 500 when the two were running bumper-to-bumper on the final lap. They slammed hard against each other's front fender and both hit the wall. Petty's damaged car spun off the track just twenty-five yards from the finish line and the engine quit running and he could not get it to restart. All Petty could do was sit in his famous #43 and watch as Pearson's wrecked #21 limped across the finish line to claim victory.
Pearson won the "Most Popular Driver" award in 1979 and 1980. After twenty-six seasons in racing, he retired in 1986. He finished his career in second place behind Richard Petty on NASCAR's all-time win list with 105, and second in all-time pole positions.
Pearson is one of eight drivers in NASCAR history to win a Career Grand Slam, by winning the sport's four majors; Richard Petty, Bobby Allison, Darrell Waltrip, Dale Earnhardt, Jeff Gordon, Jimmie Johnson, and Buddy Baker are the other six to have accomplished the feat.
*MARK DONOHUE SPORTS CAR DRIVER
Mark was an racecar driver known for his ability to set up his own race car and drive it consistently on the absolute limit. Donohue is probably best-known as the driver of the 1000+ bhp "Can-Am Killer" Porsche 917-30.
Donohue met an experienced race driver named Walt Hansgen while running in SCCA events around the country. Hansgen quickly realized that Donohue had unbelievable talent as a driver, but more importantly, had an incredible working knowledge of vehicle mechanics and dynamics thanks to his engineering background. Hansgen befriended Donohue, and even provided an MGB for Donohue to race at the 1964 Bridgehampton 500-mile SCCA endurance event, which Donohue won. In 1965, Hansgen invited him to co-drive a Ferrari 275 at the 12 Hours of Sebring endurance race. This would be Donohue's big break into international sports car racing. Hansgen and Donohue combined to finish 11th in that race.
Mark paricipated in The Indianapolis 500 for several years and won the 1972 Indianapolis 500 driving for Roger Penske
Midway through the 1975 F1 season, Penske abandoned the troublesome PC1 and started using the March 751. Donohue had recently arrived in Austria for the Austrian Grand Prix following the successful closed-course speed record attempt in Alabama just a few days earlier. During a practice session for the race, Donohue lost control of his March after a tire failed sending him careening into the catch fencing. A track marshal was killed by debris from the accident, but Donohue didn't appear to be injured significantly. However, a resulting headache worsened and after going to the hospital of Graz the next day, Donohue lapsed into a coma from a brain hemorrhage and died.
DON " BIG DADDY" GARLITS NHRA CHAMPION
Don is considered the father of drag racing. He is known as "Big Daddy" to drag racing fans around the world. A pioneer, with the help of T.C. Lemmons, and after he lost a portion of his foot in a drag racing accident, he perfected the design rear-engine "top fuel" dragster (notable because it put the most explosive parts of the dragster behind the driver) and was an early endorser of a full-body, fire-resistant suit. He was the first drag racer to officially surpass 170, 180, 200, 240, 250, 260, and 270 miles per hour; he was also the first to top 200 in the 1/8 mile.
Drag Racing was a California-based sport. Don Garlits, being from Florida, was the outsider who came in and beat them at their own game. He was sometimes referred to as the Floridian, before permanently adopting the nickname, "Swamp Rat," which also became the theme for each generation of his innovative dragster designs. Such is his uniqueness.
Garlits was the first driver to win three National Hot Rod Association national titles and three world championships, the last coming at the age of 54. He won a total of 144 national events. On October 20, 1987, His home-built Top Fuel dragster, Swamp Rat XXX, the sport's only successful streamlined car, was enshrined in The Smithsonian museum in Washington, D.C., which also houses The Spirit of St. Louis and NASA's first manned space capsule.
"Big Daddy" was compelled to retire due to separated retina, a product of the 4g deceleration produced by a Top Fuel Dragster's chutes.
AL UNSER SR. DIRT TRACK MASTER 4 TIME INDIANAPOLIS 500 WINNER
Al is a former American automobile racing driver, the younger brother of Bobby Unser and father of Al Unser, Jr.. He is the second of three men to have won the Indianapolis 500-Mile Race four times, the fourth of five to have won the race in consecutive years, and is the only person to have both a sibling (Bobby) and child (Al Jr.) as fellow winners. Al's brother Jerry and nephews Johnny and Robby have also competed in the 500.
His father Jerry Unser and two uncles, Louis and Joe, were also drivers. Beginning in 1926 they competed in the Pikes Peak International Hill Climb, an annual road race held in Colorado.
Joe Unser became the first member of the Unser clan to lose his life to the sport, killed while test-driving a FWD Coleman Special on the Denver highway in 1929.
Al's oldest brother Jerry became the first Unser to drive at the Indianapolis Motor Speedway, qualifying 23rd and finishing 31st in the 1958 Indianapolis 500. However, tragedy struck the next year when he was killed from injuries sustained in a fiery crash during a practice session.
Middle brother Bobby drove in his first Indianapolis 500 in 1963, becoming in 1968 the first member of the family to win, and in 1983 son Al Unser Jr. drove in his first.
While driving the Johnny Lightning Special and winning the Indianapolis 500 in 1970 and 1971 for Vel's Parnelli Racing, a team owned by Vel Melatich and Parnelli Jones, he had Mario Andretti and Joe Leonard as his team mates.
He began racing in 1957, at age 18, initially competing primarily in modified roadsters, sprint cars and midgets. In 1965 he raced in the Indianapolis 500 for the first time and finished ninth.
He won the Indy 500 in 1970, two years after his brother, Bobby. During the race, he led for all but 10 of the 200 laps and averaged 155.749 miles per hour. His quick pit stops were a factor in the victory. That season he won a record 10 times on oval, road and dirt tracks to capture the United States Auto Club national championship.
In 1971 he won the Indy 500 again, starting from the fifth position with an average speed of 157.735 mph.
Unser's bid to become the first three-time consecutive Indy 500 champion was thwarted when he finished second to Mark Donohue in the 1972 Indianapolis 500.
Starting 1978 Indianapolis 500 from 5th position in an FNCTC Chaparral Lola, he was considered a long shot. He took the lead on lap 75 and won following the fortuitous engine failure of challenger Danny Ongais, averaging 161.363 mph.
*BILL VUKOVICH SR. 2 INDIANAPOLIS 500 WINNER
Bill was of Serbian descent, known variously as "Vuky", "The Silent Serb" and "The Mad Russian" for his intense driving style, and called by several of his generation the greatest driver ever encountered
Before he began Indy racing, Vukovich drove midget cars for the Edelbrock dirt track racing team. In 1952, his sophomore year in the Indianapolis Motor Speedway's 500-Mile Race, he quickly moved up from his starting position in the middle of the third row to take the lead, and led 150 laps in dominant fashion before suffering steering failure on the 192nd of the 200 laps. He returned to win the race in consecutive years, 1953 and 1954, but was killed in a chain-reaction crash while holding a 17-second lead on the 57th lap of the 1955 event.
Vukovich was exiting the second turn, trailing three slower cars — driven by Rodger Ward, Al Keller, and Johnny Boyd — when Ward's car swerved as the result of a strong gust of wind. Keller, swerving into the infield to avoid Ward, lost control and slid back onto the track, striking Boyd's car and pushing it into Vukovich's oncoming path. Vukovich's car struck Boyd's, became airborne, and landed upside down after going over the outside backstretch retaining wall, killing him. Vukovich was the second of two not only former winners but also defending champions of the race to have died in competition, following Floyd Roberts in 1939, and the only former winner to have been killed while leading. Coincidently, Robert's car was also hurdled over the backstretch fence during his fatal accident.
As the Indianapolis 500 counted as a round of the Formula One World championship from 1950 to 1960, his career is credited with participation in 5 grands prix, with 2 wins, 19 championship points and 1 pole position scored. However, it should be noted that Indianapolis' inclusion in the championship was largely symbolic and the Indy drivers rarely entered any other Formula One races. Because of this Indy winners are often not listed in totals of Grand Prix winners and especially in statistics tables. As an example, Vukovich has an F1 winning percentage of 40%, which puts him just behind the 5-time champion Juan Manuel Fangio (47%). In percentage of lap-leader statistics in the history of Indianapolis, Vukovich holds for multiple-500-mile-race competitors a decisive record 485 laps led out of a possible 685 (70.8%).
His son, Bill Vukovich II, and his grandson, Bill Vukovich III, also competed in the Indianapolis 500, with Vukovich II taking second in 1973, and Vukovich III being named Rookie of the Year in 1988.
2003 INDUCTEES
*JIMMY CLARK 2 TIME F-1 CHAMPION AND INDIANAPOLIS 500 WINNER
Jimmy was a Scottish Formula One (F1) racing driver. Twice World Champion, he was the dominant driver of his era.
He was born James Clark Jr. into a farming family at Kilmany House Farm, Fife, the youngest child of five, and the only boy. In 1942 the family moved to Edington Mains Farm near the town of Duns in Berwickshire in the Scottish Borders. He was educated at primary schools, first in Kilmany and then in Chirnside, and then following three years of preparatory schooling at Clifton Hall near Edinburgh he was sent to Loretto School in Musselburgh, near Edinburgh.
Although his parents were opposed to the idea, Clark started his racing career driving in local road rallies and hill climb events driving his own Sunbeam-Talbot, and proved to be a fearsome competitor right from the off. By 1958 Clark was racing for the local Border Reivers team, racing Jaguar D-Types and Porsches in national events, and winning 18 races.
Then on Boxing Day 1958, Clark met the man who would launch him to superstardom. Driving a Lotus Elite, he finished second to Colin Chapman. Chapman was sufficiently impressed to give Clark a run in one of his Formula Junior cars, and the rest, as they say is history.
After Aston Martin's F1 programme fell through, Clark was a free agent. Colin Chapman snapped him up for his F1 squad, and Clark made his debut in the 1960 Dutch Grand Prix. Throughout his F1 career from 1960 to 1968 Clark drove only for the Lotus team. He developed a near telepathic relationship with Chapman, which contributed to their outstanding success together. Chapman's innovative and nimble designs combined with Clark's skills at the wheel made for a nearly unbeatable force. 1962 saw Clark battling Graham Hill who drove for BRM for the World Championship in Chapman's brilliant Lotus 25, but in the final race an oil leak caused him to drop out just as victory seemed a formality.
His first Drivers' World Championship came driving the Lotus 25 in 1963, winning seven out of the ten races and Lotus its first Constructors' World Championship. That year he also competed in the Indianapolis 500 for the first time, and only the oil on the track from winner Parnelli Jones' car prevented him from winning, as he finished in second position and won Rookie of the Year honours. In 1964 Clark came within just a few laps of retaining his crown, but just as in 1962, an oil leak from the engine robbed him of the title, this time conceding to John Surtees. Tyre failure put paid to that year's attempt at the Indianapolis 500. He made amends and won the Championship again in 1965 and also the Indianapolis 500 in the Lotus 38. He had to miss the prestigious Monaco Grand Prix in order to compete at Indianapolis, but made history by driving the first mid-engined car to win at the fabled "Brickyard," as well as becoming the only driver to date to win both that race and the F1 title in the same year.
At the same time, Clark was competing in the Australbasia based Tasman series, run for older F1 cars, and was series champion in 1965, 1967 and 1968 driving for Lotus. He won 14 races in all, a record for the series.
The FIA decreed from 1966, new 3-litre engine regulations would come into force. Lotus were less competitive. Starting with a 2-litre Coventry-Climax engine in the Lotus 33, Clark did not score points until the British Grand Prix and a third-place at the following Dutch Grand Prix. From the Italian Grand Prix onward Lotus used the more complex BRM H16 engine in the Lotus 43 car, with which Clark won the United States Grand Prix. He also picked up another second-place finish at the Indianapolis 500, this time behind Graham Hill.
During 1967 Lotus and Clark used three completely different cars and engines. The Lotus 43 performed poorly at the opening South African Grand Prix, so Clark used an old Lotus 33 at the following Monaco Grand Prix, retiring with suspension failure. Lotus then began its fruitful association with Ford-Cosworth. Their first car, the Lotus 49 featuring the most successful F1 engine in history, the Ford-Cosworth DFV, won its first race at the Dutch Grand Prix, driven by Clark. He won with it again at the British, United States and Mexican Grands Prix; and, in January 1968, at the South African Grand Prix. He had established himself as the dominant driver in the dominant car, save for its reliability.
Jim Clark's 1967 Italian Grand Prix drive in Monza is regarded one of the greatest drives ever in F1. After starting from pole, he was leading in his Lotus 49 (chassis R2), when a tyre punctured. He lost an entire lap while having the wheel changed in the pits. After rejoining 16th, Clark then showed his genius by driving at his own limit, something which is not required when leading. He ripped back through the field, progressively lowered the lap record, eventually equalling his pole time of 1m 28.5s (233.9 km/h), to regain the lost lap and the lead. He was narrowly ahead of Brabham and Surtees starting the last lap, but his car had not been filled with enough fuel for such a performance - it faltered, and finally coasted across the finish line in third place. This performance is considered unmatched in the long history of F1.
Other examples for his skills are his drive in a Lotus 23 sportscar during the 1962 1000km Nürburgring race or the qualifying for the 1967 German Grand Prix, when he took pole position by nine seconds and more.
The 14.2-mile Nürburgring-Nordschleife circuit brought out the very best in Clark. In the 1962 1000km he drove the small Lotus 23, fitted with a 1500 cc Lotus-Ford twin-cam engine. On a patchily damp track, he outperformed the similar-powered Porsche 718 and the more powerful cars from Ferrari, with drivers like Phil Hill, Dan Gurney and Willy Mairesse at the wheel, and led with nearly 2 minutes outright until, affected by fumes from a broken exhaust, he went off course into the bushes.
Jim Clark also raced at Crimond in the North East of Scotland on 16th June 1956 in his very first car race he was behind the wheel of a DKW "sonderklasse".
Amazingly though, despite his mercurial talent, Clark never won at Monaco. He came close once in 1963 only to be stopped with 22 laps to go with a broken gearbox.
On 7 April 1968, however, Jim Clark's life and driving career was brought to a premature and tragic end. He was originally slated to drive in the BOAC 1000km sportscar race at Brands Hatch but instead chose to drive in a minor Formula 2 race for Lotus at the Hockenheimring in Germany, mostly due to contractual obligations with Firestone. On the fifth lap, his Lotus 48 veered off the track and crashed into the trees, killing him instantly. The cause of the crash was never definitively identified, but investigators concluded it was most likely due to a deflating rear tire. Colin Chapman was devastated and publicly stated that he had lost his best friend. As a sign of respect, Chapman ordered the traditional green and yellow badge found on the nose of all Lotus road cars to be replaced with a black badge for a month following Clark's death. The 1968 F1 Drivers' Championship was subsequently won by his Lotus team-mate Graham Hill, who pulled the heartbroken team together and held off Jackie Stewart for the crown, which he later dedicated to Clark.
Clark achieved 33 pole positions and won 25 races from his 72 Grands Prix starts in championship races. He is remembered for his ability to drive and win in all types of cars and series, including a Lotus-Cortina, with which he won the 1964 British Touring Car Championship, IndyCar, NASCAR, driving a Ford Galaxie for the Holman Moody team, Rallying, where he took part in the 1966 RAC Rally of Great Britain in a Lotus Cortina, and nearly won the event before crashing, and sports cars. He competed in the Le Mans 24 Hour race in 1959, 1960 and 1961, finishing 2nd in class in 1959 driving a Lotus Elite, and finishing 3rd overall in 1960, driving an Aston Martin DBR1.
He was also able to master difficult Lotus sportscar prototypes such as the Lotus 30 and 40. Clark had an uncanny ability to adapt to whichever car he was driving. Whilst other drivers would struggle to find a good car setup, Clark would usually set competitive lap times with whatever setup was provided and ask for the car to be left as it was.
He apparently had difficulty understanding why other drivers were not as quick as himself. After his death, Clark's father told Dan Gurney that he was the only driver his son ever feared. When Clark died, fellow driver Chris Amon was quoted as saying, "If it could happen to him, what chance do the rest of us have?"
Jim Clark is buried in the village of Chirnside in Berwickshire. A memorial stone can be found at the Hockenheimring circuit, moved from the site of his crash to a location closer to the current track.
*GASTON CHEVROLET DRIVER INVENTOR
Gaston was a French-born racecar champion driver and automobile manufacturer.
Born near Beaune, in the Côte-d'Or département of France where his Swiss parents had emigrated to a few years earlier, he was the younger brother of Louis (1878-1941) and Arthur Chevrolet (1884-1946). After brother Louis emigrated to the United States and earned enough money, he sent for Gaston and Arthur to join him. Once there, Gaston worked as an automotive mechanic and joined his brother in auto racing.
In 1916, Gaston Chevrolet became a partner with his brothers in the Frontenac Motor Corporation. Driving a Frontenac race car, he competed in the 1919 Indianapolis 500, finishing in tenth place while brother Louis finished seventh. The following year, Gaston Chevrolet broke the European dominance at the Indianapolis Speedway, winning the race in a redesigned Monroe-Frontenac. In the process, he became the first driver in the history of the 500 mile race to go the distance without making a tire change. Following his victory at Indianapolis, he competed in several more events, winning a 100-mile match race against Tommy Milton and Ralph Mulford. With winter, racing moved to the West Coast and at the Los Angeles Speedway board track in Beverly Hills, California Gaston Chevrolet was killed when his racecar crashed on lap 146.
Gaston Chevrolet is interred next to his brothers in the Roman Catholic Holy Cross and Saint Joseph Cemetery in Indianapolis, Indiana.
KENNY BERNSTEIN NHRA CHAMPION
Bernstein won two NHRA top fuel championship and was NHRA funny car champion four times. He was the first driver to win the NHRA championship in both divisions. In 1992 he was the first drag racer to exceed 300 mph in competition. He was an innovator of corporate sponsorship in drag racing, and his team's deal with Budweiser, which earned his cars the name of 'Budweiser King', is the longest running sponsorship deal in motorsports history.
He retired in 2002 and currently runs a car for his son Brandon Bernstein. However, he has announced that he will return to racing in the Monster Energy Dodge Charger funny car in 2007.
Bernstein owned King Racing, a NASCAR team in the late 1980s and early 1990s. He is also the only owner to record victories in NASCAR, the NHRA, and Indy Car racing.
*RODGER WARD 2 TIME INDIANAPOLIS 500 WINNER
Rodger won the 1959 and 1962 Indianapolis 500. He also was the 1959 and 1962 USAC Championship Car champion.
Born in Beloit, Kansas, Ward died in Anaheim, California. He drove in the AAA and USAC Championship Car series, racing in the 1950-1966 seasons with over 150 starts, including the 1951-1964 and 1966 Indianapolis 500 races. He finished in the top ten in more than half his starts, with 26 victories.
Ward was the oldest living winner of the Indy 500, and, at the time of his retirement, was the only driver to be in the top 10 of all Indianapolis 500 statistics.
Before Indy racing, Ward drove midget cars for the Edelbrock dirt track racing team. He was also the 1951 AAA Stock Car champion.
Ward raced in the 1959 United States Grand Prix and the 1963 United States Grand Prix and, as the Indy 500 was a Formula One race from 1950-1960, is credited with participating in 12 grands prix with 1 victory, 2 podiums and 14 championship points.
MARIO ANDRETTI F-1 DAYTONA 500 AND INDIANAPOLIS 500 WINNER
Mario was born in Montona d'Istria, Italy (now Motovun, Croatia) is an Italian American racing driver, and one of the most successful Americans in the history of auto racing.
During his career, Andretti won four Champ Car titles, the 1978 Formula One World Championship, and the 1979 IROC championship. To date, he remains the only driver ever to win the Indianapolis 500, the Daytona 500, and the Formula One World Championship.
In the USA, the name Mario Andretti has become synonymous with speed, similar to Stirling Moss in the UK and Barney Oldfield in the early twentieth century in the United States.
Andretti began racing cars in 1959, just after his family had moved to the United States, on dirt oval tracks near Nazareth, Pennsylvania, in an old Hudson. His twin brother, Aldo Andretti, raced on the same tracks in the same car (at different times), but quit after an accident. Andretti placed 3rd in the Indianapolis 500 in his first year.
Mario made his debut in the U SAC series in 1964, and won the championship the very next season. He took part in many different categories of racing including drag racing, and by 1969, he had won the Indianapolis 500, the Daytona 500 and the 12 Hours of Sebring.
Andretti also started driving in Formula One, taking the pole for his first race at Watkins Glen in 1968, and winning his first race in 1971 for Ferrari. By the mid-1970s, Andretti started to focus on Formula One, driving for Parnelli Jones's fledgling Parnelli Formula One team and Colin Chapman's famous Lotus outfit. In 1977, at Long Beach, he became the only American to win the United States Grand Prix West, in the Lotus 78 "wing car". With the revolutionary "ground effect" Lotus 79 of 1978, Andretti won six races in 1978, and took the title—a bitter-sweet victory in the light of the death of his teammate Ronnie Peterson, whom Andretti had grown to regard as a close friend. However, Andretti would find little success after 1978 in Formula One, failing to win another race in that series. In the following year, 1979, he was summarily outclassed by his Argentinian teammate Carlos Reutemann. In 1980, he was paired with Italian ace Elio de Angelis. Again, Mario was usually beaten by his team-mate. Nearly two years later, hired by Ferrari to enter the final two races of the 1982 season, he took an impressive pole position at the Italian Grand Prix at Monza (the Italian-born Andretti's success causing what Nigel Roebuck said was the loudest roar the famous circuit had ever seen), just as he did at Watkins Glen in his debut race in 1968.
He returned to Champ Cars in the 1980's, and won his fourth title in 1984, the first series title for Champ Car owner, sports car driver, and actor Paul Newman. His last victory in that class came in 1993. Andretti kept racing to try to win the only important missing award—the 24 hours of Le Mans, but failed to do so. His best finish is 2nd in 1995, and 3rd in 1983 (Porsche 956), both with his son Michael.
Mario ran only a few NASCAR races, but he captured the crown jewel in the series by winning the 1967 Daytona 500 for legendary car owners Holman-Moody.
Andretti also made the saying "Mario is slowing down!" famous at the Indianapolis Motor Speedway. While no one doubts his credentials as one of the greatest drivers in the history of motorsports, Andretti's futility at Indy is also, unfortunately, legendary.
In the 1985 Indianapolis 500, he was passed by Danny Sullivan who then spun in front of him, pitted on his own caution, and then passed Mario again to go on for the win. His frustration came to a head in the 1987 Indianapolis 500 when he dominated the month of May and led most of the race but was taken out by an electrical problem.
Mario finished all 500 miles just five times with the 1969 Indianapolis 500 victory included. Andretti suffered broken ankles in the 1992 Indianapolis 500 crashing hard in turn four during the race. His last race at Indy was the 1994 Indianapolis 500.
While shaking down a car for his son in tire testing at Indianapolis before the month of May in 2003, Andretti survived a horrifying accident. His car hit a piece of debris left on the track by another car and went flying end over end between turns one and two. The crash was captured by a local television station helicopter. Luckily, the car landed right side up and Andretti walked away from the crash with very minor injuries.
For all his greatness and legendary skill, Andretti, and, by extension, the Andretti family, will long be associated with what many consider to be simply bad luck at the Indianapolis Motor Speedway and the Indianapolis 500.
Both of Mario Andretti's sons, Michael and Jeff, are also involved in auto racing, and Michael has won the Champ Car title as well. As of 2003, he was Champ Cars' winningest driver. Mario's nephew, John, has had success in both Champ Cars and NASCAR, winning races in both series. His grandson, Marco, won a championship in Champ Cars' "Stars of Tomorrow" kart racing series, before moving into the Star Mazda single-seater series. Marco is currently running his first full season in the Indy Racing League (IRL), driving for his father Michael's Andretti-Green Racing Team, and upon finishing second in the 2006 Indianapolis 500, became the first third-generation-recipient of the race's Rookie of the Year Award, following in the footsteps of both his father and grandfather.
Mario Andretti and son Michael Andretti both reside today in their respective close sitting mansions overlooking the town of Nazareth, Pennsylvania, from the north side of the town, home to Mario Andretti and his family since the 1950's. Andretti continues day-to-day work as a spokesman for Texaco and Firestone (his longtime sponsors). He is also something of a spokesman for CART, although he has been spotted at IndyCar races recently as he watches over his grandson Marco.
*JOHNNIE PARSONS SR AAA NATIONAL CHAMPION AND INDIANAPOLIS 500 WINNER
Johnnie won the Indianapolis 500 in 1950.
As the Indianapolis 500 was included in the Formula One World Championship from 1950 to 1960, he is credited with participation in 9 grands prix, debuting on May 30, 1950, with 1 race victory, 1 podium, and a total of 12 championship points.
Parsons had the dubious distinction of being the only Indianapolis 500 winner to have his name misspelled on the Borg-Warner Trophy. Silversmiths carved "Johnny" instead of "Johnnie." The error was corrected posthumously when the trophy was restored in 1991. Ironically, he had a son named Johnny who competed at Indy a dozen times.
2002 INDUCTEES
MEL KENYON " KING OF THE MIDGETS "
Mel began his racing career in 1954 racing Chevy Coupes. Then, in 1958, Mel began his historic career in the midgets that continues today (as of June 2006).
In that span, he has raced to unprecedented accompishments in the series, which includes: seven USAC Midget Championships standings, eight runner ups in the USAC Midget season points standings, 111 USAC Midget Feature wins, three NAMARS midget championships, and over 380 midget feature wins in all.
Mel's first career race came in a USAC Champ Car race in Langhorne, Pennsylvania. The engine in Mel's car blew up, and sent oil all over his car and his firesuit. After losing control of the car, Mel hit the wall, and was knocked unconscious while two cars slid in the oil and ran straight into Mel's fuel tank.
As a result of the accident, Mel lost all of his fingers on his left hand. Along with his brother and father, Mel designed a special glove that would fit on to his hand and hook on to the steering wheel.
In addition to his midget racing exploits, Mel captured four top-5 finishes in his eight career starts in the Indianapolis 500. Kenyon finished 5th in 1966, 3rd in 1968, 4th in 1969, and 4th in 1973.
*WILBUR SHAW 1ST 3 TIME INDIANAPOLIS 500 SAVED INDIANAPOLIS MOTOR SPEEDWAY
Wilbur Shaw won the Indianapolis 500 race three times, in 1937, 1939 and 1940. In the 1941 race, Shaw was injured when his car crashed; it was later discovered that a defective wheel had been placed on his car.
During World War II, Shaw was hired by the tire manufacturer Firestone to test a synthetic rubber automobile tire at the Indianapolis Motor Speedway, which had been closed due to the war. He was dismayed at the dilapidated condition of the already-historic racetrack. Then-owner Eddie Rickenbacker, the famed World War I flying ace and president of Eastern Air Lines, was not exactly sentimental about the track, of course. When the United States entered World War II, ending racing at Indianapolis and elsewhere for the duration, Rickenbacker essentially padlocked the gates and let the great race course slowly begin to disintegrate.
During a meeting soon after the tire test, Rickenbacker informed Shaw that what was left of the track would be demolished and the land turned into a housing subdivision ... unless Shaw could find someone else who might have other ideas. Little did Rickenbacker know that he had presented a challenge to a man who relished challenges.
Shaw immediately began looking for a "savior" for his beloved Speedway, and in short order was introduced to a man who lived not too far from Indianapolis; a man who had the resources to do virtually anything. In Terre Haute, Indiana, Tony Hulman had inherited his family's business, Hulman & Company, a wholesale grocer and producer of coffee and baking powder, and he made a fortune by raising the country's level of consciousness about the company's mainstay baking powder -- Clabber Girl.
A lifelong fan of automobile racing in general and the "500" in particular, Hulman listened with great interest to what Shaw had to say. Despite what Hulman saw amongst the weeds and deterioration when Shaw took him to Indianapolis, he purchased the Speedway from Rickenbacker in November 1945 for the sum of $750,000.
As a reward for his efforts to revive the Speedway, Shaw was anointed as its president, where he would have complete day-to-day control over the track. To this job, Shaw brought his extensive knowledge of the business of auto racing, something Hulman would admit that he himself didn't have, and Shaw's hard work only cemented the reputation of the "500" as the "Greatest Spectacle in Racing."
It seemed as though Shaw and Hulman had a "Midas touch" at the Speedway. Hulman poured money into improvements, and Shaw delivered the world's greatest automobile race to enthusiastic crowds, which grew in number by the year. The Indianapolis "500" of the late Forties and early Fifties was a very special event through the work of Hulman and Shaw, although Hulman was always sure to point out that it was Wilbur putting it all together.
Sadly, at the height of his power in the racing world, Shaw was killed in an airplane crash near Decatur, Indiana on October 30, 1954, one day before his fifty-second birthday. The pilot, Ray Grimes, and artist Ernest Roose were also killed.
BOB GLIDDEN ONE OF top NHRA Winning DRIVERS
Bob Glidden is an American drag racer. He was retired from Pro Stock racing in 1997 and returned in 2010. Glidden retired as the driver with the most wins in National Hot Rod Association (NHRA) history at that time (a feat recently topped by 15 time Funny Car champion John Force), and he is currently the third most successful drag racer (85 National Event wins) in the history of the NHRA behind Warren Johnson (97) and John Force (132). Glidden's ten Pro Stock championships included five in a row beginning in 1985.[ Among his numerous accomplishments, Glidden won nine straight NHRA national races in 1979 and was the No. 1 qualifier 23 times in a row, including the entire 1987 season. At one point, he won 50 eliminations rounds in a row.
Glidden almost became the first driver in a doorslammer to reach 200 miles per hour when he ran 199.11 miles per hour at an International Hot Rod Association (IHRA) race in Darlington, South Carolina. However, a Top Sportsman car driven by Bill Kuhlmann ran 202 miles per hour later that evening. He has won several IHRA races and won one IHRA championship.[2]
Glidden began his drag racing career in the 1960s in a Ford 427 Fairlane. He is most closely associated with Ford cars, a manufacturer that used throughout his career. In 1968 he changed to a 428 Cobra Jet Mustang. He started out in Stock and moved up to Super Stock. He was sponsored by Ed Martin Ford, where he worked as a mechanic. He was a frequent winner in Division 3 before turning Pro in 1972. In those days, the series included participation in both national and divisional races.
He sold his two Super Stock Mustangs late in the season 1972, and purchased a Pinto Pro Stock from Jack Roush and Wayne Gapp. He quit his job at Ed Martin Ford to race full-time. In his first Pro race, he finished second to Bill Jenkins at the final Supernationals of the 1972 season. Glidden had his first national win the following season at the U.S. Nationals. His 9.03 second run at a national record 152.54 miles per hour (mph) was fastest qualifying time in the fastest Pro Stock field. He beat Gapp in the event finals. 1974 was his second full season in Pro Stock. He won three events including the Springnationals and U.S. Nationals. That season he set the record for the lowest elapsed time (e.t.) and the highest speed (8.83 seconds and 154.90 mph respectively) at a Division 3 event at Bowling Green, Kentucky. The feat earned him 400 bonus points towards the championship. He had a 8.81 second qualifying run at the U.S. Nationals to lower his e.t. record, and he beat Gapp in the event finals. These wins contributed to his come-from-behind win to beat rivals Gapp and Wally Booth for the season championship.
Glidden followed with a banner year in 1975. He had five top qualifier runs and eight top speeds during the season. He used three cars during the season. While in a midseason slump, he reacquired his 1974 Pinto. His seven events wins (including the Winternationals, World Finals, Gatornationals, and Fallnationals) helped propel him to his second straight Winston title. He set low e.t. six times.Glidden had an off year in 1976, finishing sixth in the points.He finished second in 1977 behind Don Nicholson.
Glidden returned for his third Winston title in 1978. He started the season in his Ford Pinto, winning at the season opening Winternationals and at the Cajun Nationals. The end of the season was in his Ford Fairmont, which took event wins at races including the Summernationals.[4] The car finished the season undefeated in five national competitions. He had seven national victories that season, tying Don Prudhomme for the most that year. The seven wins broke the previous Pro Stock single season record of six wins set by Jenkins. He earned a record 16,035 points and lower the national e.t. record time to 8.59 seconds.
Glidden retired his undefeated Ford Fairmont in 1979 in favor of a Plymouth Arrow.[4] He opened the season with a victory at the Winternationals, and did not lose a round until June. The streak ended 14 races races and 50 rounds when he fouled in the second round at the Mile-Hile Nationals.[4] He won seven national events, earning the maximum points at four events by setting low e.t., qualifying number one, and setting the top speed at each event. He also earned maximum points in his four divisional events.
Glidden chased Lee Shepherd for the 1980 Winston title all season, leading the points standing only after the final race. He won his fifth overall and third straight championship at the final event. He caught a break when Shepherd broke his transmission in the second round. Glidden set the low e.t. and top speed in his final round win to earn the maximum points and the season championship. Shepherd won the 1981 to 1984 Pro Stock championships. Glidden received a new Ford Thunderbird in the middle of the 1984 season, and it quickly became the dominant car on the Pro Stock circuit.Glidden led the 1985 points standings from start to finish, winning five national events. It was his sixth Pro Stock championship.
Glidden started the 1986 season out slowly. His Winternationals and Gatornationals ended in early round loses.After winning the semifinals of the Southern Nationals in April, his parachute was caught by a gust of wind. His Thunderbird spun, hitting the opposite guardrail. The car did six barrel rolls as it was destroyed. Glidden was unhurt. He returned at the Cajun Nationals with a different car. His first victory of the season came in July at the Mile-High Nationals. It was the first of his three straight victories. He won six of the last seven events to win his seventh Winston title.
In 1987 Glidden won eight races including his 60th national win. He ended his season with five straight wins and his eighth Pro Stock championshipHe reached the finals ten times that season, winning a record 42 rounds of competition. He qualified number one in all 14 events. His two season streak ended at the 1988 Gator Nationals with 22 straight top qualifiers. His 1988 season was similar to 1987. After struggling early in the season, he won five of the last seven races en route to his fourth straight title. He retired his Thunderbird after 19 national victories in favor of a Ford Probe at the Supernationals.The cars set a national e.t. record at 7.277 seconds, the quickest Pro Stock run in NHRA history. He used the Probe to win at the Fallnationals, which was his 67th career victory.
Glidden dominated to win his tenth and final championship in 1989. He started the season on a strong note, winning five of the first seven events and seven out of the first eleven.He won nine times that season, ending the 1980s with 49 wins
Glidden won three events in 1990, one event in 1991, two events in 1992, and two events in 1993. He won his 85th and final national event at the Mopar Nationals in 1995, after missing most of the 1995 season due to open heart surgery during the off season. Glidden retired after two events in the 1997 season. He was dissatisfied with his sponsorship arrangement.After retiring, he worked on Ford's motor program for its Winston Cup program He has been the crew chief for numerous drivers since his retirement. He returned to the driver's seat for Steve Schmidt's team at the 1998 U.S. Nationals, but he failed to qualify for the event that he won nine times.
He was inducted into the International Motorsports Hall of Fame in 2005. In 2001, a panel ranked him fourth in the National Hot Rod Association Top 50 Drivers, 1951-2000. The Motorsports Hall of Fame of America inducted Glidden in 1994
ROGER PENSKE 14 TIME INDIANAPOLIS 500 WINNING CAR OWNER
Roger is the owner of a very successful automobile racing team Penske Racing, the Penske Corporation, and other automotive related businesses.
He also is one of the corporate directors at General Electric and was chairman of Super Bowl XL in Detroit, Michigan. He is a 1959 graduate of Lehigh University in Pennsylvania.
Starting in 1958, Penske purchased, raced and sold race cars, and was very successful both financially and on the track.
By 1960, he was a well known race car driver (Sports Illustrated SCCA Driver of the Year), winning prestigious races until 1965, when he retired as a driver, to concentrate on the business of owning and running a successful race car team. Interestingly enough, although Penske competed in two Formula One Grand Prix, and won a NASCAR Pacific Coast Late Model race at Riverside in 1963, he never ran the Indy 500.
His team first competed in the Indianapolis 500 in 1969, winning that event 14 times between 1972 and 2006, and their first NASCAR win was in 1973. His teams have won many races in the subsequent years. He closed his European-based Formula One business in 1977. In 1982, he became the Chairman of the Penske Truck Leasing business.
Penske Racing now operates a NASCAR team comprising Kurt Busch, Ryan Newman, and his development driver Billy Wease. They also operate an Indy Racing League team composed of Helio Castroneves and Sam Hornish, Jr. Previously, they ran cars in the CART series that included some of the best drivers of the time, including Gary Bettenhausen, Tom Sneva, Mario Andretti, Bobby Unser, Al Unser, Al Unser, Jr., Emerson Fittipaldi, Rick Mears, Danny Sullivan, Paul Tracy and Gil de Ferran.
ANDY GRANATELLI STP FOUNDER DRIVER
Anthony "Andy" Granatelli (born March 18, 1923; Dallas, Texas) was the CEO of STP (motor oil company) and a major figure in automobile racing events.
Along with brothers Vince and Joe, Andy first worked as an auto mechanic and 'speed-shop' entrepreneur, modifying engines such as the 'flathead' Ford into racing-quality equipment. During World War II, he became a promoter of automobile racing events, such as the "Hurricane Racing Association," which combined racing opportunities for up-and-coming drivers with crowd-pleasing theatrics. Hurricane events, according to Granatelli in his autobiography They Call Me Mister 500, included drivers who were experts at executing—and surviving—roll-over and end-over-end crashes, and also an ambulance that not only got caught up into the race but also ejected a stretcher (with a dummy on it) into the way of the racers.
In 1946, the three brothers entered the first of several Indianapolis 500's, as the Grancor racing team. They did their own mechanical work, and brought innovations like fully independent suspension, yet never made it to "Victory Lane." In 1948, Andy decided to try to qualify as a driver, and nearly did so, but a horrendous crash during his qualifying run ended that part of his career.
Granatelli eventually became very visible in the racing world in the 1960s as the spokesman for STP oil and gasoline treatment products, appearing on its television and radio advertisements as well as sponsoring racecars. He clad his pit crews in white coveralls with the oval STP logo scattered all over them, and once wore a suit jacket with the same STP-laden design.
His cars became a significant presence at the Indianapolis 500. While he first gained notoriety by re-introducing the legendary Novi, his most famous entries were his turbine-powered cars in 1967 and 1968. In both years, he endured the excruciating frustration of seeing probable race-winners fail near the end; Joe Leonard's breakdown in the Lotus 56 with 10 laps remaining in 1968 had been topped the previous year when Parnelli Jones, leading comfortably with just three laps to go, suffered the failure of a six dollar transmission bearing in the STP-Paxton Turbocar and retired, handing a sure victory to A.J. Foyt.
He was finally rewarded with an Indianapolis 500 winner in 1969. After his innovative Lotus 4-wheel-drive car was destroyed in practice upon establishing itself as one of the most dominants cars to date, his driver Mario Andretti, nursing the burns from the Lotus crash, won at the wheel of a year-old backup car. Before Andretti could be traditionally kissed in 'Victory Lane' by the Queen of the "500 Festival," Granatelli got there first, and his joyful kiss on Andretti's cheek is one of the 500's most memorable images.
He fielded cars in the Indy 500 until 1991.
He was inducted into the International Motorsports Hall of Fame in 1992 and the Motorsports Hall of Fame of America in 2001. Granatelli was inducted in the National Sprint Car Hall of Fame in 2011.
One of the last things Rocky Marciano did before his death was a car commercial. The world heavyweight champion (1952–1956) was on a visit to Chicago. He was coming from a dinner at Granatelli's home where he reportedly gave Granatelli's son boxing lessons after he was being picked on in school. Marciano died hours later in a plane crash.
Andy Granatelli was famous for purchasing the small automotive repair chain Tuneup Masters. He renamed the company "Andy Granatelli's Tuneup Masters" and opened locations in Arizona, Nevada, New Mexico, Oklahoma, Texas and Utah. This was done largely through the acquisition of other small automotive chains. The company was never franchised and remained privately held until the late 1980s, when it was sold to Cardis (Carquest Autoparts). Cardis, a Cerritos-based distributor and retailer of automotive parts, bought TuneUp Masters from Granatelli's group in a cash and stock deal then valued at up to $53 million, with at least $40 million paid in cash. At the time of sale they had approximately 150 stores. Andy followed the marketing success of his STP decal branding by affixing the TM decal to every car serviced. The chain was famous for offering complete automotive tune-ups for $49.95, flat rate, with no extra charges for parts. This was a popular price and led to tremendous growth throughout the 1980s. Eventually the chain was sold, probably due to the increasing complexity of cars, and the difficulty of offering comprehensive service for such a low price. The business model was changed from flat-rate to a base flat-rate, with additional charges for a list of add-ons such as air filters. This business model was much less effective, because the cost to customers rapidly increased.
STP, the engine oil additive which Granatelli made famous, stands for "Scientifically Treated Petroleum", according to Granatelli's autobiography, They Call Me Mister 500. A common STP slogan has been, "STP, The Racer's Edge".
Granatelli was the man responsible for the STP sponsorship of racecar driver Richard Petty. The 30-plus-year sponsorship almost did not happen because Granatelli wanted the car painted solid red. Petty was adamant that they team would use the Petty Blue they were known for. An agreement was reached that the car would be half red and half blue. When Petty was given the contract there was a line that said Petty would receive an extra $50,000 on top of the $250,000 if he would paint the entire car red. Petty crossed out the line and put RP beside of it, saying he was not going to stop using his signature blue. After having much success sponsoring Petty, Granatelli made a deal with Petty that as long as he drove a race car STP would sponsor him, the longest sponsorship in the history of NASCAR.
RICK MEARS 4 TIME INDIANAPOLIS 500 WINNER
Rick is the third of three men to have won the Indianapolis 500-Mile Race four times (1979, 1984, 1988, 1991), and the current record-holder for pole positions in the race with six (1979, 1982, 1986, 1988, 1989, 1991). Mears is also a 3-time Champcar national champion (1979, 1981 and 1982).
Mears was raised in Bakersfield, California, and began his racing career in off-road racing. He switched to Champcar racing in the late 1970s, making his debut for the small Art Sugai team, driving an obsolete Eagle-Offenhauser. His speed attracted the attention of Roger Penske. Although at the time Penske Racing had the services of Tom Sneva and Mario Andretti, Andretti was also racing in Formula One with Lotus at the time and Penske wanted another young driver who would focus exclusively on American racing. For 1978 Mears was offered a drive in nine of the eighteen championship races, including the Indianapolis 500.
Mears qualified on the front row at Indy, but did not lead a lap and retired at half-distance with a blown engine. Two weeks later, at the Rex Mays 150 at Milwaukee, he bounced back to win his first race. He added another win another month later at Atlanta and rounded off the year with his first road course win at Brands Hatch as the USAC cars made their first, and last, visit to England.
In 1979 the National Championship sanction changed from the USAC to Championship Auto Racing Teams (CART), and Mears emerged as the driver to beat. At Indianapolis he won his first "500" by virtue of staying at the front of the field and taking the lead as other drivers dropped out with mechanical problems. This intelligent and patient approach was to become Mears trademark style.
Three wins and four seconds in the eleven CART-eligible races was easily enough to wrap up his first championship. Mears worst finish in 1979 was fifth. 1980 the revolutionary ground effect Chaparral put every other team on the back foot and Mears had to be content with 4th place overall and only one win, scored at Mexico City.
1981 and 1982 saw Mears at the top of his game, both in terms of speed and consistency. Ten wins in two years were enough for another two championship titles. At the 1982 Indy 500 he came within .16 of a second of adding a second Indy win. In a rare mistake the team loaded too much fuel during Mears' final pit-stop and the delay put him behind Gordon Johncock. The photo-finish would stand for ten years as the closest finish to an Indy 500.
For 1983 the Penske team would acquire the famous yellow colours of Pennzoil but a recalcitrant chassis meant the team had to rely on consistency over speed. Although teammate Al Unser took the title, the team switched to the March chassis for 1984. This would prove a blessing and a curse as Mears scored his second Indy win that May but suffered severe leg injuries later in the year in a crash at Sanair. The March chassis, like most contemporary open-wheel racing cars, sat the driver far forward in the nose, with little protection for the legs and feet.
In 1980 Mears had tested a Formula One Brabham. However, as he was expected to bring money to the team, rather than receive a salary, he declined the offer. After 1984 his F1-level of speed on road-courses was blunted by the injuries to his right foot and the 1985, 1986 and 1987 years were relatively quiet seasons by Mears' standards, with only two wins, both scored at Pocono, a tri-oval track.
In 1988, after several years using the March chassis, the Penske team were ready to unleash their new car, the PC-17, and a potent new Chevrolet racing engine. The new car powered Mears into an exclusive club; the three-time Indy winners. Like his previous wins it was a triumph of speed and patience. Mears eventually won by a clear two laps as he was the only front-runner who hadn't run into problems. A year later he took a record-setting fifth pole position at Indy, but retired from the race with mechanical gremlins. Emerson Fittipaldi took the 500 and also beat Mears to the Championship in the last race at Laguna Seca, despite Mears winning that race.
Fittipaldi joined Mears at Penske for 1990, but the year belonged to Al Unser, Jr., who scored six wins. 1990 would be Mears' last in the Pennzoil livery as Marlboro stepped-up their sponsorship of the team.
Twenty laps from the end of the 1991 Indianapolis 500 it looked like Mears was set to be the runner-up behind Michael Andretti. However, when a subsequent yellow flag period erased Andretti's 15 second lead, Mears gained the lead as Andretti opted to pit for new tyres. It would be a short-lived lead as Andretti passed Mears around the outside into the first turn.
But Mears was not beaten. A lap later he returned the favour with his own breathtaking outside pass and shot back into the lead. Turning up his turbo-boost he then pulled away to win a fourth Indy 500, making him one of only three individuals to win the event four times. In August 1991 at Michigan he won his last race. At the 1992 Indy 500 Mears broke a wrist in a crash during practice and then crashed out of the race for the first time in his career. He raced only another four times in 1992 and announced his retirement from driving at the Penske team's Christmas party.
As of 2005 Rick Mears continues to work as a consultant to Penske racing, the team with which he won all of his Champcar races.
He is the brother of Roger Mears and the uncle of Casey Mears.
*Louie Meyer first three-time winner of the Indianapolis 500
July 21, 1904 – October 7, 1995) was an American Hall of Fame race car driver who was a three-time winner of the Indianapolis 500.
He was born in lower Manhattan, New York on July 21, 1904. He was the son of French immigrants, Meyer was raised in Los Angeles, where he began automobile racing at various California tracks.
He went on to become the first-ever driver to win the Indianapolis 500 three times, capturing the prestigious race as a rookie starter in 1928 (though having driven as a relief driver for Wilbur Shaw the year before), then again in 1933 and 1936.[1] Louis Meyer started the tradition of drinking milk (buttermilk at the time) in victory lane at the 1933 Indianapolis 500 race, when he drank a glass of milk. Following his 1936 Indianapolis 500 victory, he drank from a glass milk bottle instead, as most race winners have done since.[2] Following the suggestion of former race winner, Tommy Milton, that year he became the first driver to receive the Pace Car as part of the race winnings. Louis Meyer won the United States National Driving Championship in 1928, 1929 and 1933.
Meyer's wife June did not even know he was racing in the 1928 Indianapolis 500. Earlier in the day she was in Pennsylvania picking up a wrecked car and after that went to see her brother-in-law Eddie Meyer race in Reading. She found out about her husbands victory after the track announcer in Reading asked the crowd to give a big hand to Eddie Meyer, the brother of the Indianapolis 500 winner.
He died on October 7, 1995 in Searchlight, Nevada, aged 91, where he had been living in retirement since 1972. He was interred at Inglewood Park Cemetery in Inglewood, California.
Meyer's son Louis (Sonny) Meyer, Jr. assisted him in engine work at his race shops, and worked on the various DOHC Ford engines in USAC racing, including building 15 Indianapolis 500-winning engines. Grandson Louis III (Butch) built Oldsmobile Aurora engines for Team Menard in Indy Racing League IndyCar Series competition, winning the 1996-97 (18-month season) and 1999 championships before becoming the current Indy Pro Series director. When he was 90, after he retired racing from being thrown out of his car, he would drive jet skies and motorcycles and eventually died in 1975. He was not related to fellow driver Zeke Meyer.
2001 INDUCTEES
*ANTON " TONY" HULMAN OWNER INDIANAPOLIS MOTOR SPEEDWAY
Anton " Tony" Hulman was a businessman from Terre Haute, Indiana and graduated from Yale University in 1924. His business, Hulman & Company, produces Clabber Girl Baking Powder, which Tony made popular through the use of clever advertising in the 1930s.
Born into one of Terre Haute's wealthiest families, young Tony was raised in one of the city's finest homes and seemed destined to enter the family business. He was educated at the Lawrenceville School in New Jersey and Worcester Academy in Massachusetts. A stellar athlete with a trim physique, Tony excelled in the high hurdles and the pole vault at Worcester.
Upon his graduation from Yale in 1924, the young Hulman returned to Terre Haute to take his place in the family business, a place he would have to earn. His father, Anton Hulman, Sr., instructed the people of Hulman & Co., "Don't give Tony a place in the business. Let him work for it."
By 1926, Tony was the company's sales manager, and by 1931, at the age of 30, management of the whole company passed from father to son.
Hulman is probably best known for buying the dilapidated Indianapolis Motor Speedway from a group led by World War I flying ace Eddie Rickenbacker immediately after World War II. Influenced by three-time Indy 500 winner Wilbur Shaw (who became the track's president in the early years of the Hulman regime), Hulman made numerous improvements to the track in time for the race to be held in 1946.
Following Shaw's death in a plane crash on October 30, 1954, Hulman stepped into his soon-to-be-familiar role as the "face" of the Speedway. Ever popular with drivers and fans alike, the normally shy Tony relished the job.
He is famous for starting the tradition of launching the Indianapolis 500 with the command, "Gentlemen, start your engines!" Into the 1970s, despite the fact he'd given the command so many times before, he would always practice it extensively beforehand, and on race day, he would invariably pull a card from the pocket of his suit as he stepped to the microphone. Over the years, many have wondered what was written on that card. On it were the words of the starting command written in the following manner: "GENNNNNTLEMENNNNN, STARRRRRT YOURRRRRR ENNNNNNNGINES!" Luke Walton, who was the Speedway's announcer during Hulman's early years at the helm, had previously been a radio announcer and worked extensively with Tony to make sure he got it "just right," thus the card with its "stretches" to ensure each word was delivered with the proper emphasis!
*WILLIAM " BILL " FRANCE SR. FOUNDER NASCAR
Bill was the co-founder of NASCAR, the sanctioning body of United States-based stock car racing.
France was familiar with Daytona Beach's land speed record history when he moved his family from Washington D.C. to Daytona in 1935 to escape the Great Depression. He had less than $100 (US) in his pocket when they left D.C.. He set up a car repair shop in Daytona.
On March 8, 1936, the first stock car race was held on the Daytona Beach Road Course, promoted by local racer Sig Haugdahl . The race was marred by controversial scoring and huge financial losses to the city. France finished fifth.
Haugdahl talked with France, and they talked the Daytona Beach Elks Club to host another event in 1937. The event was more successful, but still lost money. Haugdahl didn't promote any more events.
France took over the job of running the course in 1938. There were two events in 1938. Danny Murphy beat France in the July event. France beat Lloyd Moody and Pig Ridings to win the Labor Day weekend event.
There were three races in 1939. There were three races in 1940. France finished fourth in March, first in July, and sixth in September.
France was busy planning the 1942 event, until the Japanese bombed Pearl Harbor. France spent the World War II working at the Daytona Boat Works. Most racing stopped until after the war. Car racing returned to the track in 1946.
France knew that promoters needed to organize their efforts. Drivers were frequently victimized by unscrupulous promoters who would leave events with all the money before drivers were paid. On December 14, 1947 France began talks at the Ebony Bar at the Streamline Hotel at Daytona Beach, Florida that ended with the formation of NASCAR on February 21, 1948. He built the Occoneechee Speedway in 1947.
By 1953, France knew it was time for a permanent track to hold the large crowds that were gathering for races at Daytona and elsewhere. Hotels were popping up all along the beachfront. On April 4, 1953, France proposed a new superspeedway called Daytona International Speedway. France began building a new 2.5 mile superspeedway in 1956 to host what would become the new premiere event of the series – the Daytona 500. The event debuted in 1959, and has been the premiere event since.
He later built the Talladega Superspeedway which opened in 1969.
He served as Chairman and CEO of NASCAR. R.J. Reynolds became the title sponsor in 1970, a moved that changed the name of the series from "Grand National" to "Winston Cup". Reynolds convinced France to drop all dirt tracks and races under 100 miles from the NASCAR schedule in 1972, a move that defined the "modern era" of the sport. Big Bill then turned the reigns of NASCAR over to his son Bill France Jr. France kept an office at the headquarters until the late 1980s
RICHARD " THE KING" PETTY 7 TIME NASCAR CUP CHAMPION
Richard is a renowned former NASCAR Winston Cup Series driver. He is most well-known for winning the NASCAR Championship seven times (Dale Earnhardt is the only other driver to accomplish this feat, but with 76 victories and a lone Daytona 500), winning a record 200 races during his career, winning the Daytona 500 a record seven times, and winning a record 27 races (ten of them consecutively) in the 1967 season alone. (A 1972 rule change eliminated races under 250 miles in length, reducing the schedule to 30 [now 36] races.) Petty is arguably the greatest NASCAR driver of all time. He also collected a record number of poles (127) and over 700 top-ten finishes in his 1,185 starts, including 513 consecutive starts from 1971-1989. He also won seven Daytona 500s and nine Most Popular Driver awards.
Petty is a second generation driver. His father, Lee Petty, won the first Daytona 500 in 1959 and was also a NASCAR champion. Richard's son, Kyle Petty, is also a well-known NASCAR driver. Tragically, Richard's grandson, Adam Petty, was killed in an accident at New Hampshire International Speedway on May 12, 2000. Meanwhile, Adam's brother Austin works on day-to-day operations of the Victory Junction Gang camp, a Hole in the Wall Gang camp established by the Pettys after Adam's death.
ANTHONY JOSEPH " A.J." FOYT FIRST 4 TIME INDIANAPOLIS 500 WINNER
A.J. is considered by many as the greatest American automobile racing driver of all time.
He joined USAC Championship Car series racing in 1957, and, in 1961, he became the first driver to successfully defend his points championship and win the Indianapolis 500 race. He raced in each season from 1957-1992, starting in 374 races and finishing in the top ten 201 times, with 67 victories.
Ford engines were widely expected to dominate the 1964 Indianapolis 500. Foyt hoped his Offenhauser engine would be able to keep up with the Fords. Foyt lapped the field to win the race. The race is known for a lap 2 crash that claimed the lives of Dave MacDonald and Eddie Sachs.
The track doctor at a 1965 Riverside International Raceway race pronounced Foyt dead at the scene of a severe crash, but fellow driver Parnelli Jones revived him after seeing movement. Foyt suffered severe chest injuries, a broken back, and a fractured ankle.
In the 1967 Indianapolis 500, Parnelli Jones' turbine car was expected to easily defeat the field of piston engines. Jones lapped the field, but his car expired with a few laps left in the race. Foyt had to weave through five wrecked cars down the final front stretch to win the race, a race that took two days to complete.
In the 1977 Indianapolis 500, Foyt ran out of fuel, and had to make up around 32 seconds on Gordon Johncock. Foyt made up 1.5 to 2 seconds per lap by turning up his boost, which risks blowing up the motor. Johncock's motor broke just as Foyt had caught him, and Foyt passed for the win.
He won at the Indianapolis Motor Speedway 4 times. In 1961, 1964, 1967, 1977
Foyt only needed 10 races to get his first NASCAR victory. Richard Petty dominated the 1964 Firecracker 400 until he went out with engine problems. Foyt swapped the lead with Bobby Isaac for the final 50 laps of the summer event at the Daytona International Speedway. Foyt passed Isaac on the final lap to win the race.
Foyt ran out of gas near the end of the 1971 Daytona 500, and Petty passed him for the win. Foyt again had the car to beat in the 1972 Daytona 500, but this time he succeeded. Only three drivers led during the race.
Foyt won the 1971 and 1972 races at the Ontario Motor Speedway for Wood Brothers Racing. The track was shaped like the Indianapolis Motor Speedway. The 1972 race was his last NASCAR win.
DAN GURNEY F-1 NASCAR AND INDY CAR DRIVER
Dan Gurney is one of the most important figures in the history of American auto racing. He was born in Port Jefferson, New York, but moved to California as a teenager. He has been a driver, a car manufacturer and a team owner at racing's highest levels since 1958. He is one of only four US-born drivers to win a Formula One Grand Prix other than the Indianapolis 500, and the only one to win in a car of his own manufacture. (The other three are Richie Ginther, Phil Hill and Peter Revson)

Gurney also won races in the Indy Car, NASCAR, Can-Am and Trans-Am Series. In 1967, after winning the 24 hours of Le Mans together with A.J. Foyt, he spontaneously sprayed champagne while celebrating on the podium. Apart from starting this tradition, he also was the first to put a simple extension on the upper end of the rear wing. This device, called Gurney flap (or wickerbill), increases downforce with minimal airflow disturbance.
After driving a Ferrari at Le Mans in 1958, Gurney was invited to take a test run in a works Ferrari, and his Formula One career began with the team in 1959. In just four races that first year, he earned two podium finishes, but the team's strict management style did not suit him. In 1960 he had six non-finishes in seven races behind the wheel of a privately-entered BRM.
After rules changes came in effect in 1961, he teamed with Jo Bonnier for the first full season of the factory Porsche team, scoring three second places. After Porsche introduced a better car in 1962 with an 8 cylinder engine, Gurney broke through at the French Grand Prix at Rouen-Les-Essarts with his first World Championship victory - the only GP win for Porsche as an F1 constructor. One week later, he repeated the success in a non-Championship F1 race in front of Porsche's home crowd at Stuttgart's Solitude race track. Due to the high costs of racing in F1, Porsche did not continue after the 1962 season, though. While with Porsche, Gurney met a team public relations executive named Evi Butz, and they married several years later.
Gurney was the first driver hired by Jack Brabham to drive with him for the Brabham Racing Organisation. While Brabham himself scored the maiden victory for his car at the 1963 Solitude race, it was Gurney again who took the team's first win in a championship race, in 1964, again at Rouen. In all, he earned two wins (in 1964) and ten podiums (including five consecutive in 1965) for Brabham before leaving to start his own team.
In 1962, Gurney and Carroll Shelby began dreaming of building an American racing car to compete with the best European makes. Shelby convinced Goodyear, who wanted to challenge Firestone's domination of American racing at the time, to sponsor the team, and Goodyear's president Victor Holt suggested the name, "All American Racers", and the team was formed in 1965. Gurney was not comfortable with the name at first, fearing it sounded somewhat jingoistic, but felt compelled to agree to his benefactor's suggestion.
Their initial focus was Indianapolis and Goodyear's battle with Firestone, but Gurney's first love was road racing, especially in Europe, and he wanted to win the Formula One World Championship while driving an American Grand Prix Eagle. Partnered with British engine maker Westlake, the Formula One effort was called "Anglo-American Racers." The Weslake V12 engine was not ready for the 1966 Grand Prix season, so the team used outdated four-cylinder 2.7-liter Coventry-Climax engines and made their first appearance in the second race of the year in Belgium. Gurney scored the team's first Championship points by finishing fifth in the French Grand Prix at Reims.
The next season, the team failed to finish any of the first three races, but on June 18, 1967, Gurney took a historic victory in the Belgian Grand Prix. Starting in the middle of the first row, Gurney initially followed Jim Clark's Lotus and the BRM of Jackie Stewart. Clark encountered problems on Lap 12 that dropped him down to ninth position. Having moved up to second spot, Gurney set the fastest lap of the race on Lap 19. Two laps later, he and his Eagle took the lead and came home over a minute ahead of Stewart.
This win came just a week after his surprise victory with A.J. Foyt at 24 hours of Le Mans, where Gurney spontaneously began the now-familiar winner's tradition of spraying champagne from the podium to celebrate the unexpected win against the other Ford GT40 teams.
Unfortunately, the victory in Belgium was the high point for AAR as engine problems continued to plague the Eagle. He led the 1967 German GP at the Nurburging when a driveshaft failed two laps from the end with a 42-second lead in hand. After a third place finish in Canada that year, the car would finish only one more race. By the end of the 1968 season, Gurney was driving a McLaren -Ford. His last Formula One
*DALE EARNHARDT 7 TIME NASCAR CUP CHAMPION
Dale Earnhardt was best known for his career driving stock cars in NASCAR's top division. He was born in Kannapolis, North Carolina, to Ralph Lee Earnhardt and Martha Coleman. Earnhardt had four children, Kelley King, Taylor, Kerry, and Dale Jr. His widow, Teresa Earnhardt (whom he married in 1982) is the owner of Dale Earnhardt, Inc., the race team and merchandising corporation Earnhardt founded with her in the 1990s.
Earnhardt is best known for his success in the Winston Cup Series. He won seventy-six races, and his seven championships are tied for most all-time with Richard Petty. His highly aggressive driving style made him a fan favorite and earned him the nickname "The Intimidator."
Earnhardt died in a last-lap crash during the 2001 Daytona 500, the fourth NASCAR driver to die in the nine months since Adam Petty's death in May 2000. Due in large part to overwhelming fan outcry, NASCAR began an intensive focus on safety that has seen the organization mandate the use of head-and-neck restraints (currently, only the HANS device is approved for competition), oversee the installation of SAFER barriers at all oval tracks, set rigorous new rules for seat-belt and seat inspection, develop a roof-hatch escape system, and develop a next-generation race car built with extra driver safety in mind, dubbed the Car of Tomorrow.
Dale Earnhardt began his Winston Cup career in 1975, making his first start at the Charlotte in the longest race on the Cup circuit, the World 600. Earnhardt drove an Ed Negre car and finished 22nd in the race. Earnhardt would compete in 8 more races until 1979, when he would join Rod Osterlund Racing, in a season that would see a rookie class of future stars - Earnhardt, Bill Elliott and Terry Labonte.
In his rookie season, Earnhardt would win four poles, one race (at Bristol), 11 Top 5 finishes, 17 Top 10 finish, and finish 7th in the points standings, in spite of missing four races because of a broken collarbone, winning Rookie of the Year honors.
In his sophomore season, Earnhardt, now with a 20-year old Doug Richert as his crew chief, would begin the season winning the Busch Clash. With wins at Atlanta, Bristol, Nashville, Martinsville, and Charlotte, Earnhardt easily won his first Winston Cup championship.
In 1981, after Osterlund sold his team to J. D. Stacy during the season, Earnhardt left for Richard Childress Racing, where he would finish 7th in the points standings, despite not winning. The following year, under Childress' suggestion, he joined car owner Bud Moore for the 1982 and 1983 seasons. During the 1982 season, Earnhardt would struggle; while winning Darlington, he failed to finish 15 races, finishing 12th in the points standings, which would tie a career worst finish. In 1983, Earnhardt would rebound, winning his first of 13 Twin 125 Daytona 500 qualifying races. Earnhardt would record wins at Nashville and at Talladega, finishing eighth in the points standings.
After the 1983 season, Earnhardt would return to Richard Childress Racing. During the 1984 and 1985 seasons, Earnhardt would visit victory lane six times, at Talladega, Atlanta, Richmond, Bristol (twice), and Martinsville, finishing fourth and eighth, respectively.
The 1986 season would see Earnhardt win his second career Winston Cup Championship and the first owner's championship for RCR, winning five races, ten Top 5 finishes, and sixteen Top 10 finishes. Earnhardt would successfully defend his championship the following year, visiting victory lane eleven times and winning the championship by 288 points over Bill Elliott. In the process, Earnhardt would set a NASCAR modern era record of four consecutive wins and won five of the first seven races. The 1987 season also would see Earnhardt earn his nickname "The Intimidator" after spinning out Elliott in the final segment of The Winston.
The 1988 season would see Earnhardt racing with a new sponsor, GM Goodwrench, replacing Wrangler. It would be during this season that Earnhardt would garner a second nickname, "The Man in Black", owing to the black paint scheme in which the #3 car was painted. He would win three times in 1988, finishing third in the points standings behind Bill Elliott and Rusty Wallace. The following year, Earnhardt would win five times, but a late spinout at North Wilkesboro arguably cost him the 1989 championship, as Rusty Wallace would edge Earnhardt for the championship.
The 1990 season started with another disappointing result in the Daytona 500. Speed Week started auspiciously with victories in the Busch Clash and his heat of the Gatorade Twin 125's. Near the end of the 500, he had a 4 second lead when the final caution flag came out with a handful of laps to go. When the green flag came out, Earnhardt was leading Derrike Cope. On the last lap, Earnhardt ran over a piece of metal at the final turn, cutting a tire. Cope, in an upset, won the race while Earnhardt finished 5th. The #3 Goodwrench Chevy team took the flat tire that cost them the win and hung it on the shop wall. Apparently, this strategy worked, because Earnhardt won nine races. He also won his 4th Winston Cup title, beating out Mark Martin by just 26 points.
The 1991 season saw Earnhardt win his 5th Winston Cup championship. He scored just 4 wins, but took the title by 195 points over Ricky Rudd. One of the biggest highlights of the season for Earnhardt was scoring the win at North Wilkesboro. Harry Gant, who had tied Earnhardt's mark of 4 consecutive wins and was going for a 5th, lost the brakes late in the race, giving Earnhardt the chance he needed to make the pass for the win.
After winning his second set of consecutive titles, Dale Earnhardt was determined to make it 3 in a row, but Ford's new engine and aerodynamic package for the Thunderbird dominated, winning 13 consecutive races from the end of the 1991 season into the first nine races of 1992. Earnhardt's only win in 1992 came at Charlotte, in the prestigious Coca-Cola 600, ending the 13-race win streak for the Ford teams. Earnhardt would finish a career-low 12th in the points for the 2nd time in his career, and the only time he had finished that low since going to RCR. At the end of the year, longtime crew chief Kirk Shelmerdine left to become a driver. Andy Petree took over as crew chief.
Hiring Petree turned out to be beneficial, as the #3 GM Goodwrench Chevy returned to the front in 1993. Earnhardt once again came close to a win at the Daytona 500, dominating throughout Speedweeks before finishing 2nd to Dale Jarrett on a last-lap pass. Earnhardt would score 6 wins en route to his 6th Winston Cup title, including wins in the Coca-Cola 600 and The Winston at Charlotte, and the Pepsi 400 at Daytona. Earnhardt beat Rusty Wallace for the championship by 80 points.
In 1994, Earnhardt achieved a feat that he himself had believed to be impossible - he scored his seventh Winston Cup championship, tying the legendary Richard Petty. Earnhardt was very consistent, scoring 4 wins, and winning the title by over 400 points over Mark Martin. Although Earnhardt would continue to dominate in the seasons ahead, this would prove to be the last Winston Cup title of his career.
Earnhardt started off the 1995 season by finishing second in the Daytona 500 to Sterling Marlin. He would win 5 races in 1995, including his first road course victory at Sears Point and the prestigious Brickyard 400 at Indianapolis Motor Speedway, a win he called the biggest of his career in 1995. But in the end, Earnhardt lost the title to Jeff Gordon by just 34 points.
Earnhardt began 1996 with a repeat of 1993 - he dominated Speedweeks only to finish second in the Daytona 500 to Dale Jarrett for a 2nd time. Earnhardt won early in the year, scoring consecutive victories at Rockingham and Atlanta. In late July at Talladega, he was in the points lead and looking for his eighth title despite the departure of crew chief Andy Petree. Late in the race, Ernie Irvan lost control of his #28 Havoline Ford Thunderbird, igniting a frightening crash that saw Earnhardt's #3 Chevrolet hit the tri-oval wall head-on at nearly 200 miles per hour. After hitting the wall, Earnhardt's car flipped and slid across the track, in front of race-traffic. His car was hit in the roof and windshield, and the accident led NASCAR to mandate the "Earnhardt Bar", a metal brace located in the center of the windshield that reinforces the roof in case of a similar crash.
Rain-delays had cancelled the live telecast of the race and most fans first learned of the accident during the night's sports newscasts. Video of the crash showed what appeared to be a fatal incident, but once medical workers arrived at the car, Earnhardt climbed out and waved to the crowd, refusing the be loaded onto a stretcher despite a broken collarbone, sternum, and shoulderblade. Many thought the incident would end his season early, but Earnhardt refused to give up. The next week at Indianapolis, he started the race but exited the car on the first pit stop, allowing Mike Skinner to take the wheel. When asked, Earnhardt said that vacating the #3 car was the hardest thing he'd ever done. The following weekend at Watkins Glen, he drove the #3 Goodwrench Chevrolet to the fastest time in qualifying, earning the "True Grit" pole. T-shirts emblazoned with Earnhardt's face were quickly printed up, brandishing the caption, "It Hurt So Good." Earnhardt led most of the race and looked to have victory in hand, but fatigue finally took its toll and Earnhardt ending up 6th, behind race winner Geoff Bodine. Earnhardt would not win again in 1996, but he still finished 4th in the standings behind Terry Labonte, Jeff Gordon and Dale Jarrett. David Smith would leave as crew chief of the #3 team at the end of the year to become team manager of the new #31 Lowe's Home Improvement Warehouse RCR entry of Mike Skinner (NASCAR) as a teammate to Earnhardt and Larry McReynolds would replace him.
In the 1997 season, Earnhardt went winless for only the 2nd time in his career. The only (non-points) win came during speedweeks at Daytona in the Twin 125-mile qualifying race, his record 8th straight win in the event. Once again in the hunt for the Daytona 500 with 10 laps to go, Earnhardt was taken out of the Daytona 500 by a late crash which sent his car upside down the backstretch. Earnhardt would hit the low point of his year when he would black out early in the Mountain Dew Southern 500 in Darlington, causing him to hit the wall. He would go to the hospital and be cleared to race, but had no idea what caused it. Despite no wins (all of Chevrolet's wins were by Hendrick Motorsports -- Ford won all other races in 1997, Pontiac won once) the RCR team finished the season 5th in the final standings, with no DNF's.
After 20 years of disappointment in the Daytona 500 Earnhardt finally won the race in 1998. He started Speedweeks by winning his Twin 125-mile qualifier race for the ninth straight year. On race day, Dale showed himself to be a contender early. But at halfway, it seemed that Jeff Gordon had the upper hand. But by lap 138, Earnhardt had taken the lead, and thanks to a push by teammate Mike Skinner, he would not lose it. Earnhardt beat Bobby Labonte to the checkered flag in the race. Afterwards, there was a large show of respect for Earnhardt, in which every crew member of every team lined pit road to shake his hand as he made his way to Victory Lane. Earnhardt then drove his #3 into the infield grass, starting a trend of post-race celebrations. He spun the car twice, throwing grass and leaving tire tracks in the shape of a #3 in the grass. Earnhardt then spoke about the victory, saying "I have had a lot of great fans and people behind me all through the years and I just can't thank them enough. The Daytona 500 is over. And we won it! We won it!" Unfortunately, the rest of the season would not go as well. He slipped to 12th in the standings halfway in the season, and Richard Childress decided to make a crew chief change, taking Mike Skinner's crew chief Kevin Hamlin and putting him with Earnhardt while giving Skinner Larry McReynolds. Earnhardt was able to climb back to 8th in the final standings.
Before the 1999 season, fans had started talking about Earnhardt's age and thinking that with his son Dale Jr. getting into racing that Earnhardt might be contemplating retirement. Earnhardt swept both races for the year at Talladega, leading most observers to conclude that Earnhardt's talent was limited to the restrictor plate tracks, which requires a unique skill set and an exceptionally powerful car to win. But half-way through the year, Earnhardt began to show some of the old spark. In the August race at Michigan International Speedway, Earnhardt led laps late in the race and nearly pulled off his first win on a non-restrictor plate track since 1996.
One week later, he provided the sport with one of its most controversial moments.
At the August Bristol race, Earnhardt found himself in contention to win his first short track race since Martinsville in 1995. When a caution came out with 15 laps to go, leader Terry Labonte got hit from behind by the lapped car of Darrell Waltrip. His spin put Earnhardt in the lead with 5 cars between he and Labonte with 5 laps to go. Labonte had four fresh tires and Earnhardt was driving on old tires, which made Earnhardt's car considerably slower. Labonte caught Earnhardt and passed him coming to the white flag, but Earnhardt drove hard into turn two, bumping Labonte and spinning him around. Dale went on to collect the win while spectators booed and made obscene gestures. "I didn't try to turn him around, I just wanted to rattle his cage", Earnhardt said of the incident. Earnhardt would finish 7th in the standings that year, and looked like a contender again.
In the 2000 season, Earnhardt had a resurgence, which some attributed to neck surgury he underwent to correct a lingering injury from his 1996 Talladega crash. He scored what many considered the 2 most exciting wins of the year - winning by .006 seconds over Bobby Labonte at Atlanta, then gaining seventeen positions in four laps to win at Talladega, claiming his first No Bull 5 million dollar bonus. Earnhardt also enjoyed strong second-place runs at Richmond and Martinsville, tracks where he'd struggled at through the late '90s. On the strength of these performances, Earnhardt took the No. 3 GM Goodwrench Chevrolet Monte Carlo to 2nd in the standings. However, poor performances at the road course of Watkins Glen, where he wrecked coming out of the innerloop, and mid-pack runs at intermediate tracks like Lowe's and Dover denied Earnhardt of the coveted eighth championship title.
Always a media favorite, in the weeks before the 2001 Daytona 500, Earnhardt stirred up controversy by skipping the annual fan and media preview event, drawing ire from fellow driver Jimmy Spencer. Two weeks before the Daytona 500, Earnhardt kicked off the annual Speedweeks at Daytona by competing with his son, Dale Earnhardt, Jr., in the Rolex 24, a twenty-four hour sports car race which utilizes the Daytona International Speedway's infield roadcourse. The father-son duo were part of a four-man driving team, each taking turns driving the #3 Chevrolet Corvette in two-hour shifts. Earnhardt seemed to enjoy this new style of racing immensely, and the involvement of the Earnhardts brought a surge of publicity to the event and to American sports car racing in general.
Despite the early start, Speedweeks would be a disappointment for Earnhardt, who had a long-running tradition of winning at least one race during the two-week season kick-off. Earnhardt finished second to Tony Stewart in the Budweiser Shootout, a seventy-lap exhibition race for drivers and teams who won a pole position during the previous year, and also for any previous winner of the Shootout. Earnhardt was also denied victory in the Gatorade Twin 125 qualifying race in which he participated; the finishing order of the Twin 125s determine the starting order for the Daytona 500. Earnhardt had won every Twin 125 event he competed in during the 1990s, and was leading on the final lap in 2001 when Sterling Marlin pulled off a slingshot pass going down the backstretch, denying Earnhardt victory. In the IROC event held prior to the Daytona 500, Earnhardt was leading late in the race when he was accidentally spun out. He managed to control the IROC car in spectacular fashion, driving through the track's infield grass at speeds well over 150 miles per hour, but victory was again stolen from the 49 year old Earnhardt.
Taking it in stride, Earnhardt appeared relaxed and confident in television interviews on the morning of the 2001 Daytona 500.
When the Daytona 500 started, Earnhardt showed early promise, leading the race and running up front for most of the event. During a pit stop, Earnhardt made contact with the #36 car of Ken Schrader. Though the incident didn't cause any damage, it would later prove ironic.
A multicar wreck late in the race eliminated several cars in spectacular fashion. Tony Stewart, who had beaten Earnhardt in the Budweiser Shootout, found his car tumbling wildly down the backstretch. As it tumbled, Earnhardt managed to weave his way through wrecked cars and come out unscathed. The race was stalled to facilitate cleanup of the track, and when the race resumed, it was Earnhardt and DEI drivers Earnhardt, Jr. and Michael Waltrip who were running up front. As the laps wound down, Waltrip was leading Junior and Earnhardt.
Going into the final turn during the last lap, Earnhardt's car seemed to slow. There was contact between the back bumper of Earnhardt's car and the nose of Sterling Marlin's. Earnhardt's car spun off the track's steep banking, onto the flat apron, and then turned sharply up the track, toward the outside retaining wall. For a moment, it looked like Earnhardt would hang onto the car and drive to a top-five finish, but another car - the #36 Pontiac driven by Ken Schrader - rammed Earnhardt's Chevrolet in the passenger door and spun the car nose-first into the wall. Earnhardt's #3 hit at a critical angle at nearly 150 miles per hour. The left-rear wheel assembly broke off the car on impact. The hood pins severed and the hood flapped open, slamming against the windshield as the car slid slowly down the track. To most observers, the crash looked minor, and certainly not as dramatic as his famous 1996 wreck at Talladega, when Earnhardt's car was pelted several times in the roof and windshield as it rolled across the track.
While Michael Waltrip raced toward the checkered flag to claim his first victory, with Junior, close behind, the cars of Earnhardt and Schrader slid off the track's asphalt banking toward in the infield grass just inside of turn four. After climbing from the wreck of his car, Schrader was the first person to approach Earnhardt's car post-crash. As medical crews converged upon the crash scene, a Fox reporter asked Schrader about Earnhardt's condition. "I'm not a doctor," Schrader said solemnly. Hours later, at a NASCAR press conference, it was announced to the world what millions already feared from Schrader's somber reply - Dale Earnhardt was dead.