Thompson Captures First Career Track Title Along With Seven Triumphs
Inside Line Promotions - HARRISBURG, Ore. (Nov. 19, 2019) - Tyler Thompson enjoyed a career-best season in 2019.
Thompson tied a career high with seven feature victories, including his first career 360ci winged sprint car triumph. He also garnered his first career track championship at his home track of Cottage Grove Speedway in Cottage Grove, Ore.
"It was definitely very cool," he said. "Cottage Grove is a special track to me so to get my first track championship there meant a lot. Also this was our first year of focusing more on 360s. We really weren't looking at points so I tried to avoid the pressure, but we felt it a little bit because we were leading and didn't want to lose that.
"It was really cool to get our first 360 win because limiteds are great, but it was more special because 360s are more widely known across the country. Plus starting out next year we've already won one. It's builds a lot more confidence going into next season."
Thompson also posted a third-place showing in the ISCS Series championship standings thanks to a pair of victories.
In total Thompson registered a half dozen limited sprint wins and the one 360 sprint car victory. Five of the wins came at Cottage Grove Speedway with Thompson also earning his first career triumph at Skagit Speedway in Alger, Wash., along with a victory at Grays Harbor Raceway in Elma, Wash.
"Every win is special, but that was a big win at Skagit," he said. "Also to build a car and win with it that week was special. We wrecked Monday of Speedweek at Coos Bay Speedway (in Coos Bay, Ore.). We had to rebuild it Tuesday morning and figure it out by the end of the week. We won that Friday in Elma.
"It was a tough season with a lot of bad luck, wrecks and other stuff that happened. To be competitive and win the races we did along with the Cottage Grove championship and get third place with the ISCS Series was great. We're thankful for everyone who supports our team and we can't wait to get 2020 underway."
SEASON STATS -
36 races, 7 wins, 18 top fives, 27 top 10s, 30 top 15s, 31 top 20s
Sammy Swindell Continues Winning Ways for 49th Straight Season
Inside Line Promotions - GERMANTOWN, Tenn. (Nov. 18, 2019) - Many 64-year-olds are either enjoying retirement or gearing up to retire, but not Sammy Swindell.
The Hall of Fame sprint car driver overcame a challenging season to earn one feature victory, extending his streak of scoring at least one triumph per season during each of the last 49 years.
"I don't think there's too many people that can say they've done that or come close to that," he said. "It's something that was hanging out there and I didn't want to let it slip. It was great to get that win. It took a little while, but when you're bouncing around in different cars that's not the easiest."
Swindell had one of the lightest and most diverse schedules his career has ever seen. While he only made 25 starts, Swindell competed in midgets, 360ci winged sprint cars, 410ci winged sprint cars and pavement winged midgets. He drove for eight different teams.
"There were a lot of times we had some good runs or good starts to the night, but sometimes things didn't go right for us," he said. "A lot of that is working with different people and different cars. I think this year I've been in more different cars than I can remember in one year.
"It was a little disappointing that we weren't able to do the things the way it was planned in the offseason or the beginning of this year, but most all of that was out of my control. I think (the success with so many teams) says a lot for my experience and my commitment to trying to do the best I can every time I go out there. Even at my age I feel I can be competitive. If we could have got more than 10 races in the same car I think we could have had more wins. I've been really blessed to have been able to learn so much and still have my health and the things that goes with it to drive these cars."
A couple of special moments came in the seat of a team owned by his son, Kevin, and daughter-in-law, Jordan. The Swindell crew led the first 10 laps and posted a seventh-place result during the famed Kings Royal. A month later the team scored an eighth-place outing during the Hard Knox Night of the Knoxville Nationals.
"We went to the Kings Royal and I think we improved every night," Sammy Swindell said. "We just needed those 10 races before we got there and we really could have been competitive. It was kind of the same at Knoxville. We had some issues in our warm-ups that got us behind. We got some oil in the mag and didn't qualify well on our preliminary night. At some of these bigger races a majority of your weekend is how you qualify. I think we had a good run going on Friday and would have been in the Saturday main, but unfortunately we had a shock bolt break on the right rear. It was nice to run for Kevin and have some success."
Swindell is scheduled to compete in one final event in 2019 - the Arizona Sport Shirts Gateway Dirt Nationals Presented by O'Reilly Auto Parts Dec. 19-21 at The Dome at America's Center in St. Louis, Mo. He will pilot his midget during the event.
SEASON STATS -
25 races, 1 win, 6 top fives, 11 top 10s, 15 top 15s, 16 top 20s
UP NEXT -
Dec. 19-21 at The Dome at America's Center in St. Louis, Mo., for the Arizona Sport Shirts Gateway Dirt Nationals Presented by O'Reilly Auto Parts
Dominic Scelzi Preparing for Pair of Non-Wing and Winged Sprint Car Shows to Close Season
Inside Line Promotions - HANFORD, Calif. (Nov. 18, 2019) - Dominic Scelzi has four races on tap next week when the 2019 season wraps up.
Scelzi will pilot his family owned non-wing sprint car Nov. 27-28 at Ventura Raceway in Ventura, Calif., during the 79th annual Turkey Night Grand Prix before they put the wings on for races Nov. 29-30 at Arizona Speedway in Queen Creek, Ariz., during the Copper Classic with the ASCS Southwest Region.
The two nights at Ventura Raceway will mark his first start in non-wing sprint cars in several years.
"I've run two non-wing races in my life," he said. "I ran a CRA show at Ocean Speedway (in Watsonville, Calif.) in 2013 and a local race at Ventura Raceway in 2014. I ran second in Watsonville and fourth at Ventura. I remember the first time I didn't feel comfortable, but we were fast. The second time we had motor issues until the main event. I think we started 18 th and ran it to fourth. I'm looking to have fun and enjoy the week with friends and family."
Scelzi will follow the non-wing sprint car action with a pair of winged sprint car starts at an oval where he last raced in 2017. He placed eighth and 11th, respectively, during the Copper Classic that year.
"We were there in the VanLare car that year and we've raced at Arizona Speedway during World of Outlaws NOS Energy Drink Sprint Car Series events once or twice," he said. "Hopefully it's a great surface and we can end the year on a high note."
Scelzi ran into misfortune last Saturday when he drove for Nick McColloch at Keller Auto Speedway. The team timed in eighth quickest during qualifying before a runner-up result in a heat race lined Scelzi up 10 th for the A Main.
"We were all right in qualifying, but were a little snug," he said. "In the heat race a steering problem started. It was really tight when we were turning right. We tried to help it for the main event, but the steering broke going into turn one on the opening lap.
"It didn't end the way we wanted, but it was fun to get back together with Nick and Kerry. Maybe some day down the road we can team up together again when it'd work for everyone's schedule."
QUICK RESULTS -
Nov. 16 - Keller Auto Speedway in Hanford, Calif. - Qualifying: 8; Heat race: 2 (2); Feature: DNF (10).
SEASON STATS -
82 races, 8 wins, 28 top fives, 35 top 10s, 51 top 15s, 62 top 20s
UP NEXT -
Nov. 27-28 at Ventura Raceway in Ventura, Calif., for the 79th annual Turkey Night Grand Prix and Nov. 29-30 at Arizona Speedway in Queen Creek, Ariz., for the Copper Classic with the ASCS Southwest Region
Kraig Kinser Takes Step Forward During 2019 Season
Inside Line Promotions - BLOOMINGTON, Ind. (Nov. 18, 2019) - Kraig Kinser more than doubled his top-10 finishes this season compared to the previous year.
Kinser posted five top fives and 28 top 10s, which led to an 11 th-place showing in the World of Outlaws NOS Energy Drink Sprint Car Series championship standings.
"We made another year and had some good runs," he said. "We had a great partnership with Profile by Sanford. MVT and our other sponsors are behind us so we're really happy with their support. We want to continue those great relationships and to pick up our performance on the track."
Kinser took a step forward in 2019, recording top-five runs at Devil's Bowl Speedway in Mesquite, Texas; at Fairbury Speedway in Fairbury, Ill.; at Hartford Speedway in Hartford, Mich.; at Skagit Speedway in Alger, Wash.; and at Dodge City Raceway Park in Dodge City, Kan.
Kinser earned two quick time awards, a pair of heat race wins and a duo of dash triumphs. He led 19 feature laps and also garnered five Hard Charger Awards - tied for the third most - for passing the most cars in a feature.
"We've gotten great finishes, but we always wish we could have gotten a lot better," he said. "When we'd qualify good we wouldn't take advantage of it. When we'd qualify bad we would race well. We need to continue to get better on the consistency and putting together complete nights."
Kinser's best run of the season was a second-place finish at Skagit Speedway. It marked his career-best result at the track.
"As long as we keep working we'll make bigger steps forward," he said. "By no means are we satisfied with this year. We look forward to continuing to work hard and improving."
SEASON STATS -
76 races, 0 wins, 5 top fives, 28 top 10s, 47 top 15s, 60 top 20s
Kerry Madsen's Two Triumphs Lead the Way for Big Game Motorsports
Inside Line Promotions - WINDOM, Minn. (Nov. 18, 2019) - Kerry Madsen pocketed a pair of feature victories at the famed Knoxville Raceway to highlight the 2019 season for Big Game Motorsports.
The KI Crossbows backed driver was victorious at the oval in Knoxville, Iowa, on July 13 and on Aug. 9, which was the Hard Knox Night during the Knoxville Nationals.
Madsen ended the season with seven podium finishes, which ranked second overall, along with one quick time award and one heat race triumph at the track. He placed ninth in the championship standings despite missing multiple races.
"Any time we were at Knoxville other than the World of Outlaws races and the Knoxville Nationals we were on the podium," he said. "We had a great season at Knoxville and we were consistent there."
Madsen also finished 14th in the World of Outlaws NOS Energy Drink Sprint Car Series championship standings - the highest-ranked driver who wasn't a full-time competitor. He netted five top fives and 14 top 10s during series competition.
In the end Madsen scored 15 top fives and 28 top 10s during 59 starts.
"We wanted to have more in the win column, but with the late start and having different people in and out it didn't happen," he said. "I was hoping to get on pace a little quicker than we did. We had great cars, but we lacked consistency early. We didn't really get started until May. We had such a late start to the season that it was a pretty tangled web to get through to go out and be consistent, but the potential was there. I felt like by the end of the season we really found some good pace."
SEASON STATS -
59 races, 2 wins, 15 top fives, 28 top 10s, 45 top 15s, 51 top 20s
Cisney Sets Career-Best Marks With Three Wins and 25 Top 10s in Impressive Season
Inside Line Promotions - PORT ROYAL, Pa. (Nov. 18, 2019) - Dylan Cisney enjoyed a breakout year during the 2019 campaign as he raced more often than any other season in his sprint car career.
Cisney doubled his career win total by earning a trio of victories. He previously netted one triumph in each of three different seasons. Cisney also finished the 2019 season with eight top fives and a career-best 25 top 10s.
"It was pretty good," he said. "I think the last couple of years we had the consistency, just not the wins. We got three wins this year. Our main goal was to race more and get better. We more than doubled the amount of races we ran last year and racing helps you get better. I was pretty happy with it."
Cisney claimed the Port Royal Speedway season opener on March 23 and he added a second triumph at the half-mile oval in his hometown on July 13. He also captured a Pennsylvania Speedweek victory - the first of his career - on June 30 at Selinsgrove Speedway in Selinsgrove, Pa.
"That was definitely the biggest win so far," he said. "Winning a Speedweek race and beating Tony Stewart to do it was the highlight of the year. We're improving and getting better. I think we're on the right track. We have a long way to go and things to get better on, but we're getting there. We did what we needed to do this year."
Cisney finished eighth in the Speedweek standings during his first year of running the spectacle. He also tied a career-best finish of second in the Port Royal Speedway championship standings.
"I want to say thanks to our sponsors, the tracks, promoters, track crews and fans," he said. "It was another great year and I can't wait to do it again next year. There were a lot of firsts for us. It was a lot of racing for us. If everyone comes back on board I think we can do the same schedule if not more in 2020."
Giovanni Scelzi Earns Career-Best USAC National Result During Western World Championships
Inside Line Promotions - QUEEN CREEK, Ariz. (Nov. 18, 2019) - Giovanni Scelzi scored his career-best USAC NOS Energy Drink National Midget Series race last Saturday during the final night of the 52nd annual Western World Championships presented by San Tan Ford hosted by Arizona Speedway.
"We got a lot better from Friday to Saturday," he said. "It's unique in a midget. It's tough to get comfortable because I'm so used to racing winged sprint cars. On Saturday in the B Main we were night and day different than we were all weekend. It's a different kind of racing than I'm used to so it takes time to adjust and compete with the best drivers."
Scelzi did just that while behind the wheel of a Tucker-Boat Motorsports entry during only his ninth and 10th career midget starts. He qualified eighth quickest and advanced from fifth to third place in a heat race on Friday to garner the second starting position for the main event.
"I ran the top too long and fell back gradually," he said. "The predominant lane was around the bottom at both ends. I couldn't get it comfortable and we struggled for grip."
Scelzi salvaged a 12th-place result, which marked his career-best outing during a USAC National event. An improvement was visible during the event finale on Saturday.
"We struggled Friday and in the heat race on Saturday," Scelzi said after qualifying sixth quickest and placing sixth in a heat race. "We talked about it and made some big changes to get it to work like I wanted. I was more comfortable making adjustments in the cockpit, too. We figured out more of a baseline to start at."
Scelzi finished in the runner-up position in the B Main before he capped the night with a career-best ninth-place finish in the main event.
"I rode around in sixth and got to fourth at one point," he said. "One of the restarts got called back and everything got shuffled around and we fell to ninth. There's no dirty air so you can enter the corner right on someone's bumper. I'm learning a lot each race and we're making gains so that's exciting."
Scelzi continues USAC NOS Energy Drink National Midget Series competition with the team this Tuesday and Wednesday at Placerville Speedway in Placerville, Calif., during the Hangtown 100 and Saturday at Bakersfield Speedway in Bakersfield, Calif. He has raced a winged sprint car at both tracks, but this week will mark his first midget start at both ovals.
"Placerville will be a great race for midgets," he said. "You'll probably have three lanes of racing. The car count will be great and the purse is good so it should make for a fun event. And we're looking forward to Bakersfield, where I've been one time in a sprint car."
QUICK RESULTS -
Nov. 15 - Arizona Speedway in Queen Creek, Ariz. - Qualifying: 8; Heat race: 3 (5); Feature: 12 (2).
Nov. 16 - Arizona Speedway in Queen Creek, Ariz. - Qualifying: 6; Heat race: 6 (5); B Main: 2 (3); Feature: 9 (8).
Kaeding, Shaffer and Sides Lead Sides Motorsports Through Another Year on the Road
Inside Line Promotions - BARTLETT, Tenn. (Nov. 19, 2019) - A top-five outing during the famed Knoxville Nationals highlighted the season for Sides Motorsports.
Tim Kaeding spent a little more than two dozen races behind the wheel for the team, earning seven top fives during World of Outlaws NOS Energy Drink Sprint Car Series competition. The best moment came in August when Kaeding guided the team to a career-best fourth-place finish during the sport's biggest event.
"TK is an underrated driver that needs a full-time ride," team owner Jason Sides said. "Any time he'd get in our car he was capable of winning. Every time he hit the track it seemed like it was potential for a top five.
"At the Capitani Classic the weekend before the Knoxville Nationals he had to run the B Main and came out of that (from 12th to win) and then he started 20th and ran sixth in the feature. With the same caliber of cars as the Nationals it's pretty good to get through the field like that. Then in the Nationals to start 10th and finish fourth was great. I think there was maybe a top three at one point."
Veteran Tim Shaffer also competed in nearly a half dozen races with the team.
"Shaffer jumped in it and had a really good run at Lernerville," Sides said. "Williams Grove is all about the luck of the draw. To make the show one night and have a good night going was a decent showing given how challenging it is there."
Sides ran the entire World of Outlaws schedule, finishing 13th in the championship standings highlighted by five top 10s.
"We weren't on our game this year at all," he said. "Sometimes you get over it for a year. Now I'm motivated to do it again. I'm rejuvenated and looking forward to next year.
"I want to thank everyone for their support of our team. Also, we wish Kimball Wetherington well in his recuperation. We have some great people who are a part of this team and we're looking forward to a better season next year."
SIDES MOTORSPORTS SEASON STATS -
108 races, 0 wins, 7 top fives, 19 top 10s, 37 top 15s, 68 top 20s
Starks Notes Knoxville Nationals Prelim Win and All Star Triumph as Best Moments of Season
Inside Line Promotions - PUYALLUP, Wash. (Nov. 19, 2019) - Trey Starks scored a pair of huge wins during the 2019 season, which was a year he ran into a different opponent quite often.
"Rain," he quipped. "That kind of was the theme to the start of the season. It felt like we never got going because of so many rainouts. Being at a new track it's hard to get into a rhythm when everything was getting cancelled. We really started getting going toward the end of the season at Knoxville though."
The Gobrecht Motorsports driver had spent the previous couple of seasons focused on Central Pennsylvania competition before the team tackled the full season at Knoxville Raceway in Knoxville, Iowa, for the first time. Although a handful of races rained out in the Midwest to open the campaign, Starks found a groove in the summer.
The biggest moment came in August when Starks took the lead on Lap 5 of a Knoxville Nationals preliminary night. He powered to the triumph, which was his first at the track and first during a World of Outlaws NOS Energy Drink Sprint Car Series sanctioned event.
"Leading up to that night wasn't necessarily drawn up perfectly," he said. "We weren't very consistent and because of the rainouts it took us awhile to get going. We kept doing what we were supposed to do and kept working hard as if we were in position so that when we were in position we could capitalize on it. Leading into the Nationals it was the worst couple of weeks of the year. I think we kept our head down and when the time came we were there to capitalize on the position we were put in. It was the biggest stage I've ever won on."
That performance locked Starks into his second career Knoxville Nationals A Main.
The team backed up the strong run during the biggest event of the season a month later when Starks posted his second career Ollie's Bargain Outlet All Star Circuit of Champions win during the Night Before the Tuscarora 50 at Port Royal Speedway in Port Royal, Pa.
"I was really happy to back it up with a win in Pennsylvania," he said. "Going into Port Royal I wasn't sure how it was going to go. We've been really good at that track in the past. We had pretty much changed our program around after going to Knoxville. It was really cool to see we changed all these things for the better. I was able to pick up where I left off. The car was fast out of the gate and we did what we had to do to win the race."
In addition to the two triumphs, Starks finished the season ranked eighth in the championship standings at Knoxville Raceway. He also garnered the Rookie of the Year Award.
"This was a bit of a different year for us, but we had some great moments after a slow start thanks to the rain," he said. "I want to thank Scott Gobrecht and Jeff McCall for the opportunity to drive for them as well as everyone who helps crew and support the team."
SEASON STATS -
47 races, 2 wins, 8 top fives, 17 top 10s, 21 top 15s, 30 top 20s
Mallett Fills Up Notebook During Rookie Season on ASCS National Tour
Inside Line Promotions - GREENBRIER, Ark. (Nov. 19, 2019) - Jordon Mallett is fresh off a roller coaster of a season as he successfully completed his rookie year on the Lucas Oil ASCS National Tour.
The Greenbrier, Ark., native picked up five top-five finishes to go along with 10 top-10 results as he ended ninth in the championship standings.
Mallett's best showing on the tour came in June at Salina Speedway in Salina, Kan., where he charged forward six positions during the feature to finish third.
"It was definitely a learning experience as much as anything," he said. "We got things rolling there around the middle of the season and our goal was to get to all of the races and finish in the top 10 in points. We achieved that goal and I'm really proud of this team."
Mallett did earn a win in July at Big Sky Speedway in Billings, Mont., during ASCS Frontier Region action. The victory was his first career ASCS sanctioned triumph and was extremely exciting as he bested fellow national competitor Harli White by mere inches at the checkered flag.
"We really looked at ourselves as an all-out rookie and we entered every race with that attitude," Mallett said. "We really hadn't won anything, let alone an ASCS race. So to get that out of the way was a cool deal and really rewarding for everyone involved in our team."
Other highlights included a top five to open the season during USCS Series competition at Hendry County Motorsports Park in Clewiston, Fla., in January and a first-ever attempt to qualify for the 360 Knoxville Nationals hosted by Knoxville Raceway in Knoxville, Iowa, in August.
While his attempt to make the feature stalled out in the D Main of Saturday night's finale, Mallett picked up valuable experience against a stout field of cars that will pay dividends in the future.
"I don't think people really get how hard this deal is and getting up and down the road and being prepared every night," he said. "When you show up and there are 70-plus cars signed in you know the best of the best is there.
"The finishes may not have been what we wanted always, but we get to say we are running against the best this division has to offer. From starting the season not making shows to getting going at the end of the season and feeling confident about punching our ticket to the A Main every night, we learned a ton and that's going to make me much better next year."
SEASON STATS -
41 races, 1 win, 8 top fives, 15 top 10s, 26 top 15s, 31 top 20s
Mercedes-AMG GT3 and Team Black Falcon Win Second-Consecutive Hankook 24H USA Overall Victory at Circuit of The Americas ​
No. 4 Black Falcon Mercedes-AMG GT3 Scores Overall and A6-Pro Victory in Hankook 24H USA as Mercedes-AMG Motorsport Customer Racing Teams Earn Four Podium Finishes Across Three Classes at Circuit of The Americas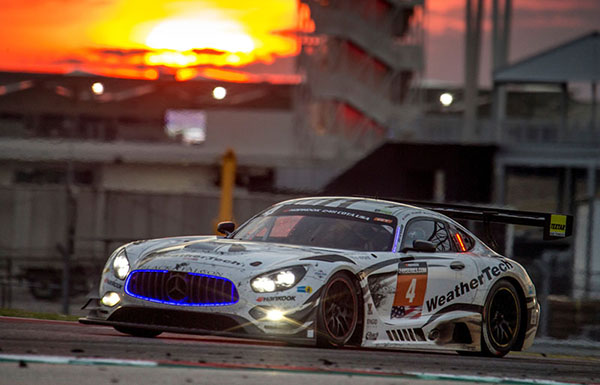 AUSTIN, Texas. The No. 4 Black Falcon Mercedes-AMG GT3 team of Ben Keating, Cooper MacNeil, Jeroen Bleekemolen and Felipe Fraga won the Hankook 24H USA at Circuit of The Americas (COTA) this past weekend in a dominating run from the pole. This victory was the second-consecutive win for the Mercedes-AMG GT3 and Black Falcon in the Hankook 24H USA. The repeat win highlighted a run of four podium finishes in three different classes for Mercedes-AMG Motorsport Customer Racing teams that included first and third in the top-tier A6-Pro class and runner-up showings in the A6-Am and SPX classes.

The No. 4 Mercedes-AMG GT3 was the team to beat all weekend, topping day and night practice sessions and winning the pole with Fraga in qualifying Friday.
Keating, MacNeil, Bleekemolen and Fraga combined to lead overall for the majority of Saturday's race-opening 11 hours, the first part of a unique two-segment format for the 24H USA that ended at 10:30 p.m. local time Saturday evening.

When competition resumed at 8 a.m. Sunday, the No. 4 team continued its commanding run to lead every lap of the final 13-hour segment. Keating took the checkered flag four laps ahead of the second-place competitor and joined his teammates in setting a new distance record for the third-year event. The No. 4 Mercedes-AMG GT3 completed 610 laps on the 3.4-mile Grand Prix circuit, improving on the 608-lap total set in the inaugural COTA 24H in 2017.
Mercedes-AMG GT3 teams filled three of the overall top-five finishing positions.
In addition to the winners, the No. 85 CP Racing Mercedes-AMG GT3 of Charlie Putman, Charles Espenlaub, Joe Foster and Shane Lewis finished fourth overall and second in the Pro-Am class. Espenlaub crossed the finish line just over 20 seconds behind the class winner.
Fifth place overall went to the No. 90 Toksport WRT Mercedes-AMG GT3, which was the No. 4 Black Falcon team's strongest challenger before losing 20 minutes in the pits for a rear suspension repair on Sunday. Team drivers Luca Stolz, Hendrik Still, Martin Konrad and Axcil Jefferies rebounded for the overall top-five and third in the A6-Pro class.
The No. 464 Black Falcon Team Textar Mercedes-AMG GTX, which is a Mercedes-AMG GT4 modified for SPX division competition, finished eighth overall and second in the SPX class with co-drivers Alex Böhm, Axel König, Norbert Schneider, Axel Sartingen and Daniel Schwerfeld.

Ben Keating, Driver – No. 4 Black Falcon Mercedes-AMG GT3: "With this particular series, it's a big deal to know exactly how to get a strategy advantage. Being able to take advantage of the yellow-flag periods, which are called 'Code 60' cautions, is key to winning this race. We were in a position to take advantage of every Code 60. We were lucky and good, but we didn't have any problems at all the entire race weekend. We just focused on taking care of our car as this has become one of the toughest 24-hour races. I am really proud of our Mercedes-AMG GT3 car in being able to make it to the end without incident. We didn't have any issues at any point the entire weekend. It was a flawless run for the car, but I also have to give major kudos to the Black Falcon team. The preparation and engineering are incredible, and they called a perfect race."
Cooper MacNeil, Driver – No. 4 Black Falcon Mercedes-AMG GT3: "An absolutely fantastic way to end the 2019 racing season. It was my first overall 24-hour win and doing it with two new teammates in Ben and Felipe in a Mercedes-AMG GT3 is very cool. I hadn't driven a Mercedes-AMG GT3 since 2017. A big thanks to the Black Falcon guys, Ben, Felipe, and Jeroen for a flawless effort all weekend. We never had any real issues with the car or on pit lane. The drivers never put a wheel off and kept the car clean all race. To give the Black Falcon their second win in two years at COTA is special. Big thanks to Mercedes-AMG as well. We had a fast and reliable car all weekend."

Jeroen Bleekemolen, Driver – No. 4 Black Falcon Mercedes-AMG GT3: "It was almost perfect. We didn't have any issues, no mistakes by the teams or drivers, and a really good strategy. It was awesome, couldn't have gone better really, but it was a really tough race. We heard Formula 1 drivers complain about lots of bumps at the track. It was pretty bumpy, but the Mercedes-AMG GT3 was flawless. Really, no issues on the bumps when lots of other cars had trouble with them, but our car was good until the end. It was really impressive that everything held up. We had a great time and it was awesome to finish our American season with an overall 24-hour race win."

Joe Foster, Driver – No. 85 CP Racing Mercedes-AMG GT3: "The thing we like about the Mercedes-AMG GT3 is its adaptability to conditions. We actually adjusted it during the race, because conditions change from the day into the nighttime. We could tune it during pit stops as we went. It was good with the tires in the long runs. The Mercedes-AMG GT3 has good adjustability, is built like a tank and survived a very difficult race like the overall winners. It's a tough car. We knew the circuit was bumpy, so we definitely prepared for that with the right ride height and setup on the car to make it last. In the end, it worked, and we had an exciting back-and-forth race for the lead. To have it be less than 30 seconds apart after 24 hours of racing shows what a close race it was. It was definitely a game of strategy, pit stops and trying to not make mistakes, so it was a lot of fun."

Shane Lewis, Driver – No. 85 CP Racing Mercedes-AMG GT3: "The pounding our Mercedes-AMG GT3 Mercedes took over the course of the 24 hours was brutal. Harsher than any other 24-hour race I have ever been part of in my entire career, but our car never missed a beat. Not one single issue. The build quality of this car is amazing! For everyone that watched the live stream coverage, they know what a nail biter it was for the last several hours. Swapping the lead over and over, and 22 seconds is all that separated us from the top step. Proud, tired, sore. Gave it everything I had every single lap"
Moorespeed Caps 2019 Season with Radical Cup North America Win and Four Podium Finishes at COTA

Drivers Riley Dickinson, Terry Olson, Mark Crader and Tad Cusack Contributed to Successful Triple Header for Moorespeed at its Home Track

AUSTIN, Texas (November 18, 2019) – Moorespeed's Blue Marble Cocktails Radical Cup North America program helped the team end the 2019 season on a high note with a one-two sweep in the Radical Cup Masters Class and a weekend at Circuit of the Americas that included a total of four podiums spread out among three different drivers.
Moorespeed drivers provided the highlights in Saturday's third race of the weekend. Riley Dickinson started the No. 53 Moorespeed Radical SR8 28th on the grid after a mechanical failure at the start of race two left him without any laps for qualifying. It didn't take him long to make his way to the front, passing 24 cars and running fourth after the opening 3.4-mile lap of the race.
By lap six, Moorespeed had the first two positions covered. The No. 120 Hall Kemp London/Belmont Holmes Radical SR8 shared by co-drivers Mark Crader and Alex Mortimer led after starting third, followed by Dickinson. The pair ran in that order, with Dickinson closing the gap after the mandatory pit stop, until swapping positions with three laps to go.
Dickinson completed his drive to first from 28th on the grid, but Mortimer – now in the car – fell victim to a last-lap mechanical issue that left him a lap down and in fifth place. Terry Olson, however, picked up the ball for Moorespeed and improved three positions on the final lap alone to finish fourth overall and second in the Masters class driving his No. 16 Olson Racing/Moorespeed Radical SR8.
"This was a great way to end an intense season for all of our programs here at Moorespeed," Moorespeed President David Moore said. "If it weren't for some bad luck, it would have been a clean sweep on the podium. Riley was a rocket ship coming from the back, Mark and Alex did a fantastic job to get up front and hold the lead for as long as they did, and Terry took advantage of every opportunity that came his way to climb onto the podium. Unfortunately, Tad Cusack got hit at the start and ended his day early."
Crader missed out on the third race, but scored a pair of podiums throughout the weekend in the Masters class during his first weekend of Radical Cup competition in 2019.
Olson was fourth in the first race of the weekend, but opening lap contact in race two limited him to just two completed laps in the race. The Moorespeed crew got his car back together and watched as he climbed from 27th on the grid to fourth overall, nearly matching Dickinson's achievement.
"Mark and Terry both did a fantastic job with us this weekend," Moore said. "Both took what was available to them, and Terry was able to finish fourth in the season points even after being hit in race two."
Cusack ran the weekend behind the wheel of the No. 115 YETI/Cusack Racing Radical SR3 in the 1500 class. Cusack started race three in the middle of a crowded field and was hit on the front straight just after the green flag, but finished in the top-10 during Friday's race two and was 11th to open the weekend.
"Tad did a great job coming back for his first Radical Cup race since June at Road America," Moore said. "He was improving every session, and I know he would have made some noise on Saturday if he didn't have that contact at the start. It was a tough finish to a good weekend for Tad."
The Blue Marble Cocktails Radical Cup North America finale waves the checkered flag on a busy 2019 season for Moorespeed, who also fielded cars in IMSA WeatherTech Sports Car Championship GT Daytona (GTD), IMSA Michelin Pilot Challenge Grand Sport (GS), and IMSA Porsche GT3 Cup Challenge USA by Yokohama. An announcement on Moorespeed's 2020 plans will be coming in the future.
About Moorespeed: Based in Austin, Texas, Moorespeed is a full-service automotive company specializing in sales, service, repairs and restoration of luxury sports cars and competition on the track in numerous North American road racing series. Founded in 1991 in Austin by brothers David and Chris Moore, Moorespeed offers comprehensive, turn-key service in which people are just as important as parts and relationships are just as vital as results. David Moore and Winslow Mankin, GM -- Director of Customer Racing, welcome and work with every customer as a member of the Moorespeed family, regardless if they are racing or enjoying their sports car on the open road. Moorespeed's road racing programs are designed for all skill levels, and driver development, both on and off the track, is a Moorespeed specialty. Moorespeed is all about the passion for high-performance automobiles and the people who drive them. A commitment to personal service and performance permeates every corner of the company. Learn more at www.moorespeed.com, and contact us at (512) 474-7223. Look for us on Facebook at www.facebook.com/MoorespeedRaceEngineering and Twitter @MoorespeedTX.